Teaching Project
>
>
>
Volunteer as an English teacher in stunning Thailand!
Teaching English Project (Surin)
Volunteer as an English teacher in stunning Thailand!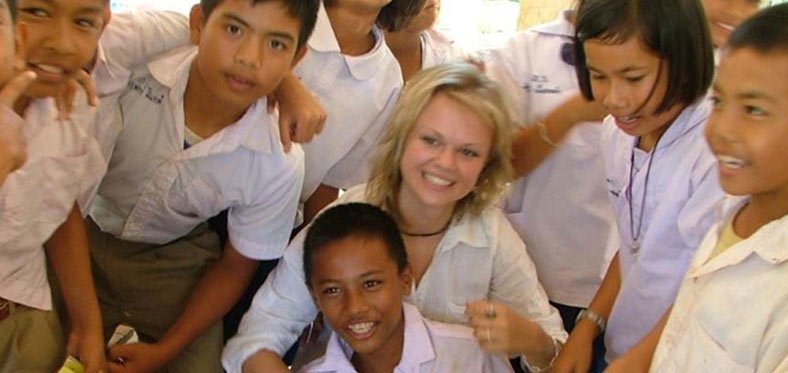 Share your love of the English language

Get real world experience working in a classroom

Work alongside fellow educators

Volunteer abroad safely & affordably
Project Summary
Volunteer to teach English in Thailand and have an extremely rewarding experience. In this project, volunteers will teach English to the students in primary and secondary schools for five days a week - Monday to Friday. Thai English students possess a unique passion for learning. As our world economy grows with globalization and increased travel, the need for English fluency increases every day. The English language has truly become the language of economic opportunity.
Primary and secondary schools in Thailand are struggling to meet the growing need for English education. In Thailand, primary schools provide education to children between the ages of 5-12 years, grades 1-6. The class sizes range from 10-40 students, depending upon the size of the community as well as the quality of the school. Secondary schools are located in larger communities, towns or cities. These schools are comprised of children/young adults between the ages of 12-19 and are usually quite large, with a student populations ranging from 1000-4000 in each. Most schools are co-ed and have a foreign language department in which English is included. Volunteers are urgently needed to create creative and effective educational environments for Thai children to learn English and therefore, expand their future opportunities.
Please note that school holidays in Thailand run from mid March to mid May and from mid September to end of October. The school will organize extra classes and other activities during this time for volunteers.
Skills/Qualifications Needed
Volunteers wishing to teach English in Thailand must have fluent English skills. Though no teaching experience or skills are needed, it is beneficial to have taught or trained others. Volunteers are expected to be flexible, patient and possess a passion and love for children.
Volunteer Responsibilities
Working as a volunteer in the Teaching English Project in Thailand, you will work 4-5 hours per day, Monday through Friday. Depending on individual skills and interests and the needs of the local teachers and staff, daily activities involve:
Teaching basic English 3-4 hours a day
Teaching other subjects such as math and science
Teaching health and personal hygiene
Planning and leading extracurricular activities such as dance, games, sports, arts, music, etc
Helping children with their homework
Providing assistance to school administrations with administration, curriculum development and fundraising
Room/Food/Supervision
IFRE manages living accommodations, provides meals and supervision for volunteers for the entirety of their stay in Thailand. IFRE's Thailand office is located in a beautiful area about 50 km from the Suvarnabhumi International Airport in Ayutthaya City – the former capital of Thailand. We offer home base in Thailand. Our Home base is very safe. It is a clean, sparsely furnished home but will meet all your needs as an IFRE volunteer. We try to create a "home away from home" for volunteers staying at our home base. It is a perfect situation for volunteers to live safely and comfortably while making many new friends and sharing experience every day. Most of volunteers project in Thailand are located within 1-10 KM of our home base so you may walk or ride a local bus to your project. In the evening when you return to home base, you can relax, eat dinner, explore local areas or simply share experience with volunteer comrades.
Occasionally, depending on volunteer traffic, available projects or distance to a volunteer's assigned project, we may also place our volunteers with carefully pre-screened host families. Our host families are socially respected and are experienced with hosting international volunteers. They have strong interest in our volunteers' safety and well being and demonstrate this with caution and care. In most host family situations, volunteers will share a room with another volunteer of the same gender. Volunteers staying with a host family will be able to have home cooked meals with the family. Those who have stayed with a host family describe an enriched experience as a result of having done so. Once you have applied, you will receive specific details of your accommodations in your personal placement documents.
Our field staff visits volunteers regularly and always happy to help our volunteers in any way needed. We offer 3 meals a day of local cuisine. Typically, volunteers eat breakfast and dinner at the home base (or host family) and have lunch at their project. We offer fresh, nutritious and safe local foods to our volunteers to eat.
FAQ
Please provide a typical day schedule in this project.

The project day is from 9.00am – 3.00pm. However this will be subject to your teaching timetable that will be given to you during your orientation. You can expect to teach an average of 4 hours each day with the remainder allocated to lesson planning.

What is the name of the school I would be placed?

We work with various schools within the area and frequently receive request from additional schools for volunteers. Please note that we respond to the needs of the community as they develop so for the most accurate information of which school you'll be placed please contact our in country team once you apply

What is the age range of the students in the school?

We work primarily with primary schools and teach children ages 5-11.

How many students are in the school? How many of them are in each class?

Some of the rural village schools can number 100-300 children while the larger inner city schools will have many more. On average class sizes are quite large, approximately 30-40 children per class.

Will I be handling the classes on my own or will there be someone assisting me while teaching?

Where possible you will teach in small group of 2-4 teachers. You're coordinator will also be on hand to assist in class room with translation when needed. Your coordinator will help you plan your lessons and support you in the classroom throughout your teaching experience.

Do they have teaching curriculum?

The children have a set government curriculum taught by their Thai English teachers. However the Schools would rather that volunteers focus on speaking and communication. This provides scope for volunteers to be creative and design their own lesson plans. Your coordinator can help you pick suitable topics and assist you with planning. For those who would rather follow a structured program, our local office has adopted the Speak First Curriculum, a resource that is freely available on http://www.mes-english.com/ .

Do I need to bring teaching materials? Or does the school have teaching materials which I can use?

We encourage our volunteers to donate their own materials so as to limit the impact on school resources. Your coordinator can help your source all necessary material locally and can facilitate photo-copying and printing for you.

Is teaching available all-round the year? When will it close for how long?

The School will be CLOSED for all of October and again for 2 months during April and May. These are the two major school holidays in Thailand.

Please note that over the Christmas and December/January New Year period our local teams will be on annual leave and projects will be closed for 1 week. If you are wishing to volunteer during this time please make an enquiry to confirm whether the project will be available.

Any important information you want to share about this project.

English is a very important subject in Thai schools and forms part of the core curriculum. Children who develop their English language skills have a huge advantage moving into higher education or finding employment. Historically the Thai school system put emphasis on complex and often impractical grammar exercises. Teaching and learning was done by rote. However Thai schools are now appreciating the contribution of native English speaking teachers more and more as the focus shifts towards communication and practical usage. Sadly many rural schools do not have the funding to hire full- time native English speakers so are grateful for the support from volunteers. In exchange, you will have a memorable time learning about rural Thai culture and the challenges that Thai teachers face. You will also meet so of the most charming and hardworking students ever!

The focus of your classes will be communication and encouraging the children to have fun learning English. You will be responsible for planning your own lessons and will be provided a range of topics to choose from. Don't worry you'll have plenty of time to get prepared and will be given advice and lesson materials to help you with your planning.

The Surin Teaching program is an exciting opportunity to experience life in a rural Thai school. You will be supported by a bilingual coordinator and working in small groups you will plan and teach English lessons for students' aged 5 -16 in local schools. Your coordinator will give you full details of your timetable and school location during orientation.