Volunteer in India Himalayas
>
>
Volunteer in India - Himalaya (Dharmasala/Palampur)
Affordable, Exciting, Life-Changing India—Himalaya Volunteer Experiences!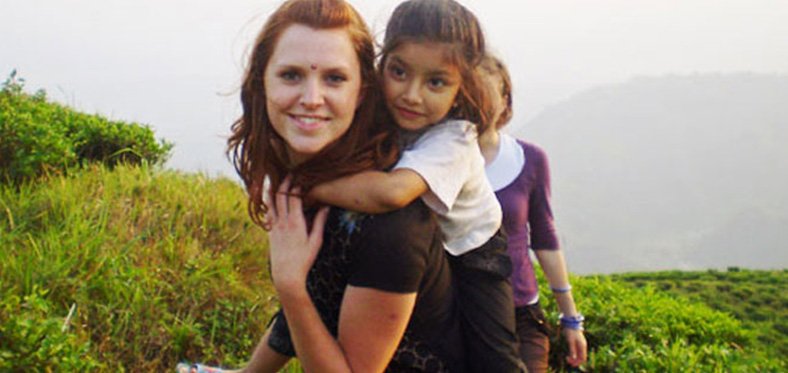 A unique journey and unforgettable experience await you in a small town in India at the feet of the majestic Himalaya Mountains. If you're considering volunteering abroad as a way to see the world and help its downtrodden, or as a path to transforming your life into something more meaningful, you've come to the perfect site!
IFRE's Himalaya volunteer experience takes you to a small, beautiful town surrounded by awe-inspiring panoramas. You'll have the opportunity to visit many of India's unique attractions and make friends for life with the people you help. We invite you to join IFRE's very special Volunteer in India—Himalaya project and experience the profound beauty and spirit that define the true India. The people of this ancient country will touch your heart, and you will, in turn, have the great satisfaction of having helped others toward a brighter future.
Make the decision now. Just write for more information, and we'll be more than happy to send you all the irresistible details about our unforgettable Volunteer in India—Himalaya experience!
Volunteer Work Projects in India- Himalaya
IFRE offers English teaching programs as well as work with local children in both Palampur and Dharamsala
Volunteer Program Fees & Dates:
Start Dates: Our programs start every Monday, although we allow for flexibility due to travel constraints.
IFRE is a 501(c)3 organization, so your program fee will be tax deductible. IFRE Volunteers is proud to offer the world's best fee. Our programs are now more affordable than ever. We are proud to focus on the humanitarian aspect of our business, not on profit. We work very hard and smart to keep our costs down, especially for the volunteers because we know the value of your donated time and efforts. We remain devoted to maintaining both the quality of the program and the safety of all volunteers involved. Below is a brief summary of the program fee and services that IFRE Volunteers offers.
IFRE fees comprise of two separate fees. An application fee of $299 USD (covers advertising, staff/office expenses, etc.) and a nominal weekly program fee (covers room/board, field support, etc). You will pay your fee directly to host families and projects. In this way, what you pay will go for you or people who deserve it (not for profit).
Volunteer Program Fee (US$)
| Duration | Himalaya |
| --- | --- |
| 1 Weeks | $300 |
| 2 Weeks | $420 |
| 3 Weeks | $540 |
| 4 Weeks | $660 |
| 5 Weeks | $780 |
| 6 Weeks | $900 |
| 7 Weeks | $1,020 |
| 8 Weeks | $1,140 |
| 9 Weeks | $1,260 |
| 10 Weeks | $1,380 |
| 11 Weeks | $1,500 |
| 12 Weeks | $1,620 |
| | |
Mandatory Comprehensive Travel Insurance $3.49/day

Language and cultural immersion program $250

Airport pickup and transfer (50 KM) $49

Transportation cost from Delhi to Palampur is not included in program fee - estimated cost: airfare $100-$125, bus $15-$20
Language and cultural immersion program includes:
One-week language and culture training, food and accommodations with host family (Breakfast, lunch & dinner), training materials (books, papers, etc) and Comprehensive Travel Insurance.
Additional costs for volunteers:
Flight or train cost of International flights, visa application/extension, daily personal expenses, laundry etc.
Language and Cultural Immersion
In this project, you participate in one week of language and cultural orientation in Delhi and then move to the project destination which is in Palampur/Dharamsala. This week long intensive language and cultural immersion program includes: language training, historical lessons, exposure to various Indian cultures and ways of life, visits to local villages/towns/markets, guided exploration of Delhi and local tourist attractions. This IFRE program will submerge you in Indian culture, customs, history and day to day life which will greatly improve your time as a volunteer in India. When you understand the language and cultural details in your surroundings, your volunteer experience will be elevated and much more gratifying.
However, you can choose to take the Language and Cultural immersion program or go directly into a volunteer project. If you choose to participate in this one week Language and Cultural immersion course, your volunteer program will begin the Monday following this one-week of Language and Cultural Immersion class taught in and around Delhi. This experience should not be missed! Often international travelers reflect and say they wished they would have had the opportunity to first receive training on customs, language and history. This is your chance!
Arrangement of Room/Food/Supervision
IFRE will make appropriate provision for your food, room and supervision during the time you volunteer. During the first week of the language and cultural immersion program, volunteers stay in IFRE's hostel in Delhi where cooks will prepare a variety of Indian food (Nan, curry, dal, chapatti, rice and pickle). During volunteering programs, volunteers stay with a host family. You'll be offered a clean, simple, and safe accommodation and local foods 3 times a day and served 3 local meals a day. With a host family, you'll have the opportunity to learn about local culture and can find a warm and welcoming environment. Details covering the arrangements for room/food are outlined in the prepared placement details. Volunteers will also have 24/7 access to IFRE's office as well as the mobile numbers of in-country coordinators. In addition, the director of the orphanage will serve as a local contact person for volunteers. IFRE's staff also visits each volunteer every 1-2 weeks as part of our program.
Volunteer Program Free Time
During the volunteer projects, volunteers do get enough free time to go around and enjoy their stay. While IFRE does not arrange activities during this time off, our local staff, members and coordinators can provide priceless assistance in making appropriate arrangements for travel in India. It's the time for self discovery and learning. There are beautiful art galleries around Palampur and Dharmshala that you can visit if you're interested in art. Hanggliding and paragliding are other adventure sports that are very popular around this area. You can participate in those sports during your free time. Make the best of your free time by exploring the foreign culture and exotic land! IFRE local coordinators/staff will give you free advice, travel tips and help to book your travel.
Learn more about our programmes