Internship in Brazil
Would you like to get involved with a meaningful program? Have you been searching for an internship in Brazil? Do you want to improve others' lives while developing your skills and discovering new talents?
Spending your summer in Brazil is a great idea. Through this affordable abroad experience, you will explore some of Brazil's most amazing features, like natural landscapes and unique cuisine, while expanding your horizons and discovering your potential career path. You will gain practical experience, sharpen interpersonal skills, and explore cultural perspectives that will contribute to your future career and personal growth. You will push the boundaries of what you're capable of to become more independent and flexible, boosting your confidence and making you a more desirable applicant for future jobs!
Based out of Rio De Janeiro (also known as the 'marvelous city'), IFRE Volunteers offers internships opportunities to students who want to learn about social issues of Rio de Janeiro and provide a helping hand to the communities that are tackling these problems. You can discover projects in teaching computer skills, working with children, empowering women's groups through handicrafts, and more! Our Brazil internship programs offer something for everyone.
IFRE invites you to explore the wonders of Brazil while giving back to those in need and gaining invaluable world knowledge. Browse through some of our most popular programs listed below or contact us for more details.
Take a minute to complete the form and we will be in touch.
Popular Internship Opportunities in Brazil
Every detail from the graffiti painted walls, lush rainforests, and pristine beaches make Brazil a great place.IFRE works with a variety of local organizations to support a great variety of opportunities. We've listed some of our most popular projects below.
Internship Program Fees & Dates:
Our programs start every Monday, although we allow for flexibility due to travel constraints.
Since 2003, IFRE has been the most trusted and respected intern abroad organization in the world, and also the most affordable. We're dedicated to providing the highest quality intern programs at the lowest fees, which make it possible for everyone, especially students, to intern internationally and make a positive impact in the lives of others.
We believe in 100% transparency. Rest assured; we never use middlemen. Your one-time registration fee of $299 covers our administrative costs. The low weekly program fee is paid in the host country directly to your service project (via country coordinator), and includes housing, food, and minor expenses. IFRE is a non-profit organization, so your program fees are tax deductible.
The Brazil internship program and volunteering fee is basically same. However, unlike volunteers, interns often work closely with guided supervision from a local project director, and a small weekly supervision fee ($25-50/ week) may be incurred in addition to volunteer program fees.
Learn more about our highly affordable volunteer program fees in Brazil.
Take a minute to complete the form and we will be in touch.
Internships vs. Volunteers Programs
In general, volunteer programs abroad focus on humanitarian outreach and project support. Volunteering is popular amongst people who want to share their love and passion for underprivileged children, impoverished communities, or conservation efforts in need of resources.
Internship programs focus on creating a real-world learning environment for interns and students so that they practice professional development and obtain new skills. Similar to volunteers, interns may work on a variety of projects (many times alongside volunteers) that benefits local communities, children, wildlife and similar projects. Teaching programs, medical outreach, and children's support are the most popular internship projects.
Accommodation & Food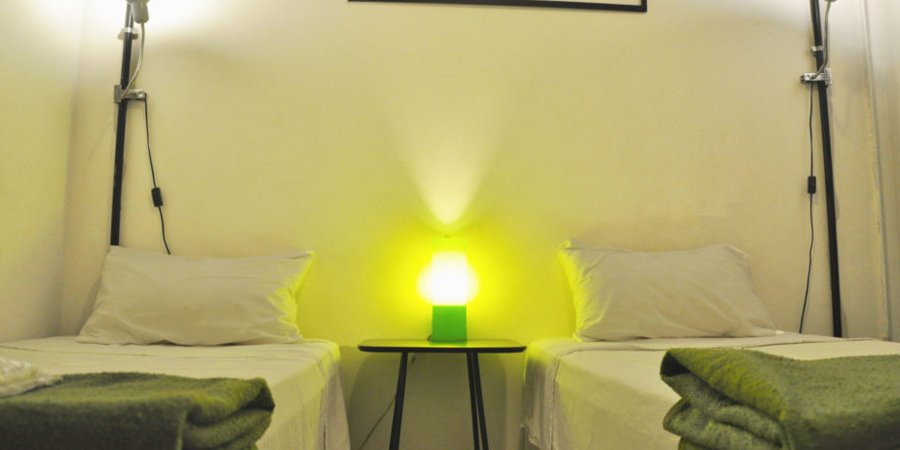 Brazil interns will have the choice of staying in one of two hostels. Both have a kitchen and western style bathrooms available for use. Rio Hostel is located in the downtown area of Rio De Janeiro and is in a safe and secure neighborhood. The neighborhood is called Santa Teresa and consists of picturesque views, charming shops and bohemian culture.
The other hostel, Cabana Copa, is located within walking distance of the world-famous Copacabana Beach, a metro station and a beautiful natural park.
You will find it easy to travel from both hostels to the project sites, as well as to other places in Rio famous to visitors, such as beaches and other attractions. In the hostels, our interns in Brazil will share rooms with other international interns or volunteers of the same gender.
Breakfast will be served in the hostels, but you will need to eat lunch and dinner outside, and you will be responsible for this cost. Good food is inexpensive in Brazil and readily available and if you have dietary restrictions (food allergies, vegan/vegetarian) inform IFRE in advance so that we can accommodate you.
Learn more about your accommodation and meal plans in Brazil.
Take a minute to complete the form and we will be in touch.
Field Support and Supervision
Once your Brazil internship program begins, our local internship staff members in Brazil will stay in touch with you constantly. Our staff will visit you every two to four weeks whenever possible and you will always be welcome at the office. We recommend that you stop by the office once a week to give feedback on their hostel stay and project, especially if you are staying/working in the local area. Many minor issues can avoid escalation with a just little extra communication.
Your will be working with local staff members and an in-country coordination team. If your project is located far from our offices, then our local staff will communicate with you regularly via email and/or phone call.
We are available at the local office via email and phone during your entire internship in Brazil. It's our job to make sure that you feel safe and healthy.
To learn about IFRE's focus on safety and the in-country support we provide, click here.
Academic Credit
You can earn academic credit for most internship projects in Brazil. The best way to receive academic credit is by pre-arranging the project with your college/university. It is up to YOU to communicate with faculty/academic advisors regarding college credit for internship work PRIOR to applying to IFRE. Your college/university may require additional information prior to approval and may require students to submit pre/post research or other requirements.
Free Time
During your internship opportunity in Brazil, you will have the weekends off. IFRE does not arrange activities during your time off, but our local staff, members and coordinators can provide priceless assistance in making appropriate arrangements to travel in Brazil. It's a great time to learn and explore. Our IFRE internship coordinators and staff are available to give you free advice, travel tips and to help booking your trips.
Rio De Janeiro, the second largest city in Brazil, is situated in the South Atlantic coast. Its breathtaking views, magnificent beaches and vibrant carnival are renowned throughout the world and turn Rio de Janeiro in one of the most visited cities in the globe.
You can go around the city, visit renowned monuments, and enjoy the Carioca night life, visit attractions like Christ the Redeemer, the Sugar Loaf Mountain, beautiful beaches like Copacabana, Ramos and Flamingo and end the day watching a beautiful sunset, just to mention a few things you can do during your internship placement in Brazil.
To read more about all the amazing things you can do in your free time and weekend travel options.
Take a minute to complete the form and we will be in touch.
FAQs: Internship in Brazil
Arrival and Departure
Your internship requires arriving into Rio de Janeiro International Airport. Once you arrive, an IFRE representative will be waiting to pick you up.
Please consult our country coordinator before leaving your home country for your internship, and make sure to send us your correct flight information once you have booked your travel. If there are any changes, delays, or if you miss your flight please contact us as soon as possible.
We do not offer airport drop-off service.
Visa
To prepare for your trip to Brazil, you should secure a tourist visa. Depending on your nationality, a 'visa on arrival' may be available. You may extend your visa by visiting the department of immigration if you decide to stay in Brazil longer.
Vaccination
Before you embark on your internship in Brazil, the CDC recommends obtaining vaccinations against:
Rabies, Hepatitis A-B, Yellow Fever, Malaria, Meningitis, Typhoid
How can I apply?
Brazil intern applications are very straightforward and easy to navigate. Simply go to the program website, fill out the online application, and then submit it to us. We will follow up with you within 24-hours of your application submittal.
Why go with IFRE Volunteers?
IFRE Volunteers is a non-profit organization who wants to change the world. Established in 2006 and trusted by more than 22,000 people, IFRE is well experienced in providing outstanding, safe, and meaningful intern experiences not only in Brazil but all over the world. Our transparent, tax-deductible fees are the most affordable rates in the world.
When you give back through one of IFRE's intern abroad program, we will connect you with an amazing and unparalleled team of people who will support you through your journey.
Our Volunteer Abroad Programs
IFRE offers best affordable volunteer opportunities across 20 countries around the world. If you are interested in our highly impactful and rewarding volunteering opportunities in India, Sri Lanka Thailand, China, Nepal, Bali, Ghana , Kenya , South Africa , Tanzania , Uganda , Zimbabwe, Costa Rica , Ecuador , Peru , Guatemala , Argentina , and Brazil
Check out A Complete Volunteer Abroad Guide : Everything You Need To Know to learn more about what is volunteering abroad. If you want to know how to volunteer abroad for free, go through our Volunteer Abroad for Free article. If you are a college student and searching for meaningful summer volunteering programs, check out our popular articles Community Service Trips For College Students and Summer Volunteer Programs For College Students .
Take a minute to complete the form and we will be in touch.