Internship in Sri Lanka
Are you searching for a life-changing experience you'll remember forever? Would you like to go on the adventure of a lifetime while making a real difference in the world? Have you considered an internship as an opportunity to gain practical experience in another country?
During your internship in Sri Lanka program, you will have the opportunity to travel to an exotic country while gaining invaluable life experience and helping people in need. IFRE Volunteers' affordable internship opportunities offer an exhilarating challenge of real-world experience combined with professional skill building and cultural immersion. While in Sri Lanka, you will have the chance to explore a stunning land full of tropical forests, pristine beaches, important wildlife sanctuaries, and significant Buddhist relics. Your time abroad will also give you practical experience, sharpen your communication skills, and allow you to explore cultural perspectives that will contribute to your future career and personal growth.
IFRE offers an amazing and affordable variety of internship programs such as teaching computer skills, youth projects, and empowering women through handicrafts. There's something for everyone in Sri Lanka. We value your time, energy, and personal experience, so no matter what kind of internship experience your looking for, we will work with you to connect you with the internship project that will best meet your needs.
When you join one of our intern programs in Sri Lanka you will have the opportunity to make a positive impact on the lives of poor children, communities, and elephants helping to make this world a better place. IFRE invites you to take a few moments to contact us by email for more information or keep reading to learn about Sri Lanka program details.
Take a minute to complete the form and we will be in touch.
Internship Opportunities in Sri Lanka
Read about some of our most popular intern program below for program and project details, housing and food information, prices, etc. If you don't see any opportunities that work for you, please contact us so we can work with you to find the right fit.
Program Fees & Dates
Our internship in Sri Lanka opportunity starts every Monday, although we allow for flexibility due to travel constraints.
Since 2003, IFRE has been the most trusted and respected intern abroad organization in the world, and also the most affordable. We're dedicated to providing the highest quality intern programs at the lowest fees, which make it possible for everyone, especially students, to intern internationally and make a positive impact in the lives of others.
We believe in 100% transparency. Rest assured; we never use middlemen. Your one-time registration fee of $299 covers our administrative costs. The low weekly program fee is paid in the host country directly to your service project (via country coordinator), and includes housing, food, and minor expenses. IFRE is a non-profit organization, so your program fees are tax deductible.
The program fee for internship and volunteering is basically same in Sri Lanka. However, unlike volunteers, interns often work closely with guided supervision from a local project director, and a small weekly supervision fee ($25-50/ week) may be incurred in addition to volunteer program fees.
Learn more about our highly affordable volunteer program fees in Sri Lanka.
Take a minute to complete the form and we will be in touch.
Internships vs. Volunteers Programs
In general, volunteer programs focus on humanitarian outreach and project support. Volunteering is popular amongst people who want to share their love and passion for underprivileged children, impoverished communities, or conservation efforts in need of resources.
Internship programs in Sri Lanka focus on creating a real-world learning environment for interns and students so that they practice professional development and obtain new skills. Similar to volunteers, interns may work on a variety of projects (many times alongside volunteers) that benefits local communities, children, wildlife and similar projects. Teaching programs, medical outreach, and children's support are the most popular internship projects.
Room & food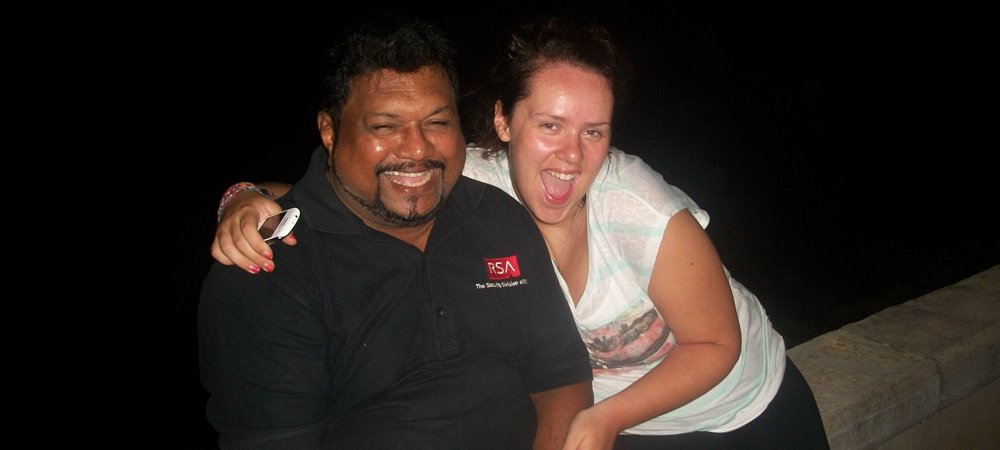 In Sri Lanka, all internship participants stay with well-screened host families (in most situations this is with our in-country coordinator or local staffs). Our host families are socially respected and are well versed in the art of hosting international interns.
Host families offer a safe home, shared rooms and shared bathroom facilities with running water and a western style toilet. You receive three prepared meals per day. If you will be out of the house during lunch hour, you can request a lunch "to go" that you can take with you or eat out on your own.
Find detailed information about your accommodation and meals in Sri Lanka.
Take a minute to complete the form and we will be in touch.
Field Support and Supervision
Once your internship in Sri Lanka begins, our local staff members stay in constant touch with you. We recommend that the interns stop by the office once a week, if they are staying/working in the local area, to provide feedback on their home stay and project. Many minor issues can be avoided with a just little extra communication before they develop into major issues.
Projects have local staff members in addition to our in-country coordination staff. If your project is located a great distance from our offices, then our local staff communicates by either email and/or phone and visits every 2-4 weeks when possible. We are available for you at the local office via email and phone for your entire trip. It is our job to make sure that you are safe and healthy.
Free Time
Internship participants in Sri Lanka have free time for the duration of their project, weekends and the Language and Culture program. While IFRE does not arrange activities during this time off, our local staff, members and coordinators can provide priceless assistance in making appropriate arrangements for travel around Sri Lanka.
Sri Lanka is a natural paradise of Asia. There are tremendous opportunities for travel and exploration. Free time allows for travel to major tourist areas such as Colombo, Kandy, Negombo, Anuradhapura, Sigiriya and Dambulla. Interns can relax and simply hike in their village or ride bicycles.
Sri Lankans also perform a variety of daily rituals and religious activities that interns can participate in, with their host family. Please discuss your recreation options with our Sri Lanka project staff for activities available in your free time.
Learn more about some exciting ways to spend your free time in Sri Lanka.
FAQS: Internship in Sri Lanka
Arrival and Departure
Once you are accepted as an intern in Sri Lanka, you will need to arrange travel plans arriving into the Colombo International Airport. Please make sure to send us your correct fight information and consult with our country coordinator before leaving your home country.
We will send an IFRE representative to pick you up from the airport, so it is important that you send us any flight delay information as soon as possible. You should also let us know immediately if you miss your flight.
You will need to make your own program departure arrangements as IFRE does not offer airport drop-off service.
Visa
Before you arrive in Sri Lanka for your internship, you will need to secure a tourist visa which also requires Electronic Travel Authorization (ETA).
You may extend your visa if you decide you'd like to spend more time in the country after you have arrived by visiting the department of Immigration in Colombo.
For more information on Sri Lanka visa requirements, please visit Entry requirements visa Sri Lanka.
Vaccination
For travel to Sri Lanka, the CDC recommends vaccinations against:
Rabies, Hepatitis B, Japanese Encephalitis and Meningococcal Meningitis, Yellow Fever, Malaria
Learn more by visiting CDC Sri Lanka.
How can I apply?
Sri Lanka intern applications are straightforward. Simply go to the our website, fill out the online application, and then submit it to us. We will follow up with you within 24-hours of your application submittal.
To learn more about how to apply for internship abroad opportunities, please visit this link.
Why go with IFRE Volunteers?
IFRE Volunteers is a non-profit organization who wants to change the world. Established in 2006 and trusted by more than 22,000 people, IFRE is well experienced in providing outstanding, safe, and meaningful intern experiences in Sri Lanka. Our transparent, tax-deductible fees are the most affordable rates in the world.
When you give back through one of IFRE's intern abroad program, we will connect you with an amazing and unparalleled team of people who will support you through your journey.
Our Volunteer Abroad Programs
IFRE offers best affordable volunteer opportunities across 20 countries around the world. If you are interested in our highly impactful and rewarding volunteering opportunities in India, Nepal Thailand, China , Cambodia, Bali, Ghana , Kenya , South Africa , Tanzania , Uganda , Zimbabwe , Costa Rica , Ecuador , Peru , Guatemala , Argentina , and Brazil
Check out A Complete Volunteer Abroad Guide : Everything You Need To Know to learn more about what is volunteering abroad. If you want to know how to volunteer abroad for free, go through our Volunteer Abroad for Free article. If you are a college student and searching for meaningful summer volunteering programs, check out our popular articles Community Service Trips For College Students and Summer Volunteer Programs For College Students .
Take a minute to complete the form and we will be in touch.