Internship in Cambodia
Are you looking for an affordable and quality internship in Cambodia that can help you gain a new perspective on life? Do you want to use refine your skills and explore new passions while making a real difference in a less fortunate country?
When you join an internship program, you will explore beautiful landscapes, rich culture, and remarkable temple monasteries while gaining practical experience, sharpening inter personal skills, and exploring cultural perspectives that will contribute to your future career and personal growth. You will push the boundaries of what you're capable of to become more independent and flexible, boosting your confidence and making you a more desirable applicant for future jobs!
Internship programs in Cambodia are unique and affordable opportunities that offer something for everyone. IFRE collaborates with local organizations to work with orphans, support HIV/AIDS projects, medical internships, community development projects and more. Even if you don't see a project that suits your needs and interests, reach out to IFRE and we will work with you to find the perfect fit for you in Cambodia.
IFRE invites you to use your skills and passion for service work in Cambodia. Please keep reading to learn about project and program details, and don't hesitate to contact us for more information or any questions you may have!
Take a minute to complete the form and we will be in touch.
Popular Internship Opportunities in Cambodia
IFRE offers a variety of unique internship opportunities in Cambodia with many options to match your specific needs and interests. Here are a few of our most popular programs:
Internship Fee and Program Dates:
Our Cambodia intern programs begin every Monday; however, you may start any day if you have a travel conflict.
Since 2003, IFRE has been the most trusted and respected intern abroad organization in the world, and also the most affordable. We're dedicated to providing the highest quality intern programs at the lowest fees, which make it possible for everyone, especially students, to intern internationally and make a positive impact in the lives of others.
We believe in 100% transparency. Rest assured; we never use middlemen. Your one-time registration fee of $299 covers our administrative costs. The low weekly program fee is paid in the host country directly to your service project (via country coordinator), and includes housing, food, and minor expenses. IFRE is a non-profit organization, so your program fees are tax deductible.
The Cambodia internship program fee and volunteer program fee is basically same. However, unlike volunteers, interns often work closely with guided supervision from a local project director, and a small weekly supervision fee ($25-50/ week) may be incurred in addition to volunteer program fees.
Learn more about our highly affordable volunteer program fees in Cambodia .
Take a minute to complete the form and we will be in touch.
Internships vs. Volunteers Programs
In general, volunteer programs focus on humanitarian outreach and project support. Volunteering is popular amongst people who want to share their love and passion for underprivileged children, impoverished communities, or conservation efforts in need of resources.
Internship programs focus on creating a real-world learning environment for interns and students so that they practice professional development and obtain new skills. Similar to volunteers, interns may work on a variety of projects (many times alongside volunteers) that benefits local communities, children, wildlife and similar projects. Teaching programs, medical outreach, and children's support are the most popular internship projects.
Accommodations & Food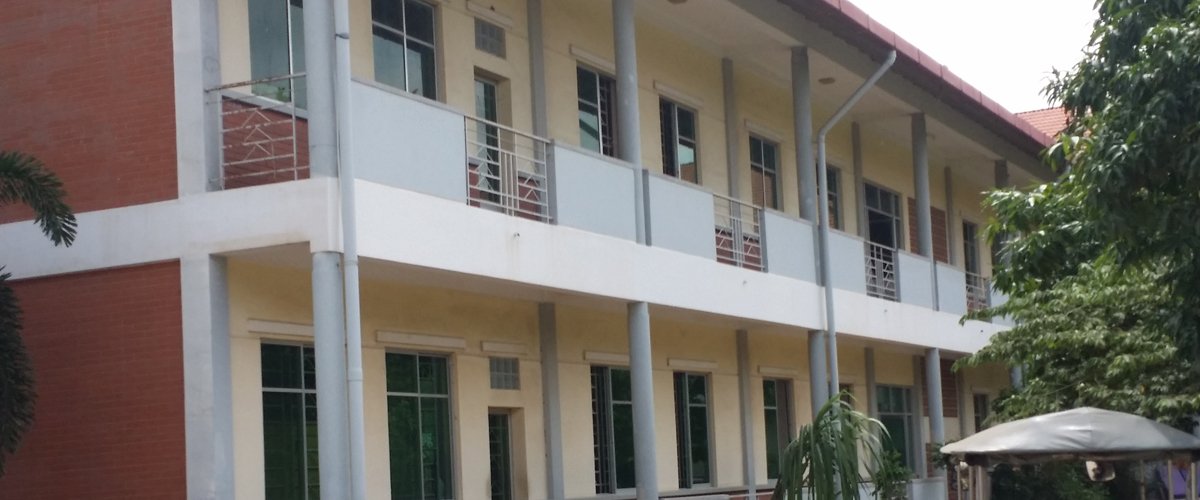 IFRE will your board, meals, and supervision during your time in Cambodia. Depending on the location of the project, you will either stay in our volunteer/intern house or with a host family.
If you intern in Phnom Penh, Cambodia you will stay in our volunteer/intern house is located in the center the city, near the Olympic Stadium and the Orussey Market. There is a large roof terrace with hammocks, a TV and internet access. Nearby there is a restaurant and other facilities to make your stay in Cambodia as an intern memorable and enjoyable.
If your project is located outside of Phnom Penh city, you will stay with one of our host families. Our host families are very friendly and hospitable. They look forward to learning more about your country, culture, and way of life.
Learn more about our accommodation and meal in Cambodia.
Take a minute to complete the form and we will be in touch.
Filed Support and Supervision
Once your Cambodia internship program begins, our local staff members will stay in constant touch with you. However, if you are staying far from the Phnom Penh office, our staff will visit you every two to four weeks , if possible. You are always welcome at the Cambodia local office.
We recommend that you stop by the office once a week, if you are staying/working in the area, this way you can give us feedback on your accommodation and project work. Many minor issues can be avoided with a just little extra communication and may never develop into major issues. You will be working with local staff members and our Cambodia internship coordination staff.
If your project is located far from our office, then our local staff will be in touch with you via email and/or phone.
We are available at the local office in Cambodia via email and phone during your entire trip. It is our job to make sure that you feel safe and stay healthy.
Academic Credit
You can earn academic credit for most internship projects in Cambodia. The best way to receive academic credit is by pre-arranging the project with your college/university. It is up to YOU to communicate with faculty/academic advisors regarding college credit for internship work PRIOR to applying to IFRE. Your college/university may require additional information prior to approval and may require students to submit pre/post research or other requirements.
Internship Program Free Time
You will have free time during your internship project during the evenings and the weekends. While IFRE does not arrange activities during your time off, our local staff, members and internship coordinators can provide you with invaluable assistance and make travel arrangements for you to explore this lovely ancient country. Free time is an opportunity for self-discovery, learning and exploration.
Internships in Phnom Penh, Cambodia will give you plenty of chances to explore! Phnom Penh City was once known as the "Pearl of Asia". It was said to be one of the most beautiful French-built cities in the French colonies. It is a charming, rapidly developing city positioned where three large rivers come together: The Mekong, Tonle Sap, and Bassac. The city is known for its many tourist attractions such as the Royal Palace, Wat Phnom , National Museum and ToulSleng Genocide Museum.
There are many interesting sites for interns to discover in Phnom Penh.There are a few French colonial buildings such as the Royal Palace and Phsar Thmei, as well as other French style buildings along the grand boulevards. The town offers a perfect base and can be a great starting point for day or weekend trips to the provinces and the coast. Phnom Penh has a wide range of national and international restaurants, markets, internet cafes and a wealth of places away from the beaten path.
The plethora of tourist attractions throughout Cambodia includes the infamous Angkor Wat, a great wonder of the world. Tours to Angkor Wat include learning about its legends and symbolism. You can also find in Phnom Penh many ancient temples and monasteries ("wats"). All major tourist attractions provide an amazing glimpse into this region's mystical past.
There are also natural wonders to experience when you take advantage of an internship opportunity in Cambodia. Kratie is home to fresh water dolphins, and many white sand beaches hug the Gulf of Thailand. Throughout Cambodia, there are numerous natural landscapes and different environments absorb the tranquil atmosphere of the country. Our IFRE Cambodia coordinators/staff are available to give you free advice, travel tips and help you making plans to explore the country.
Read more about your free time and weekend exploration options in Cambodia .
Take a minute to complete the form and we will be in touch.
FAQs: Internship in Cambodia
Arrival and Departure
You should plan to arrive into Phnom Penh International Airport . Once you arrive, an IFRE representative will be waiting to pick you up.
Please consult our country coordinator before leaving your home country for your Cambodia internship, and make sure to send us your correct flight information once you have booked your travel. If there are any changes, delays, or if you miss your flight please contact us as soon as possible.
We do not offer airport drop-off service.
Visa
To prepare for your internship trip in Cambodia, you should secure a tourist visa. Depending on your nationality, a 'visa on arrival' may be available. You may extend your visa if you decide to stay in Cambodia longer.
To learn more about visa requirements in Cambodia, please follow these links:
Trip planner- Visa Information Cambodia
Vaccination
Before you embark on your internship opportunity in Cambodia, the CDC recommends obtaining vaccinations against:
Rabies, Hepatitis B, Japanese Encephalitis and Meningococcal Meningitis, Yellow Fever, Malaria
How can I apply?
Applications for internship programs in Cambodia are very straightforward and easy to navigate. Simply go to the program website, fill out the online application, and then submit it to us. We will follow up with you within 24-hours of your application submittal.
Why go with IFRE Volunteers?
IFRE Volunteers is a non-profit organization who wants to change the world. Established in 2006 and trusted by more than 22,000 people, IFRE is well experienced in providing outstanding, safe, and meaningful international experiences. Our transparent, tax-deductible fees are the most affordable rates in the world.
When you give back through one of IFRE's intern abroad program, we will connect you with an amazing and unparalleled team of people who will support you through your journey.
Our Volunteer Abroad Programs
IFRE offers best affordable volunteer opportunities across 20 countries around the world. If you are interested in our highly impactful and rewarding volunteering opportunities in India, Sri Lanka Thailand, China, Nepal, Bali, Ghana , Kenya , South Africa , Tanzania , Uganda , Zimbabwe, Costa Rica , Ecuador , Peru , Guatemala , Argentina , and Brazil
Check out A Complete Volunteer Abroad Guide : Everything You Need To Know to learn more about what is volunteering abroad. If you want to know how to volunteer abroad for free, go through our Volunteer Abroad for Free article. If you are a college student and searching for meaningful summer volunteering programs, check out our popular articles Community Service Trips For College Students and Summer Volunteer Programs For College Students .
Take a minute to complete the form and we will be in touch.