Medical Volunteer in Cambodia
Do you want to gain invaluable medical volunteer experience? Have you dreamed of visiting this mystical and exciting country while also giving back while you're there? Then this is the perfect volunteering opportunity for you.
Cambodia is a country with a long and interesting history. All over the country there are gorgeous temples, ruins and natural scenery for you to explore and discover. Its people are among the friendliest in the world, and they will welcome you with open arms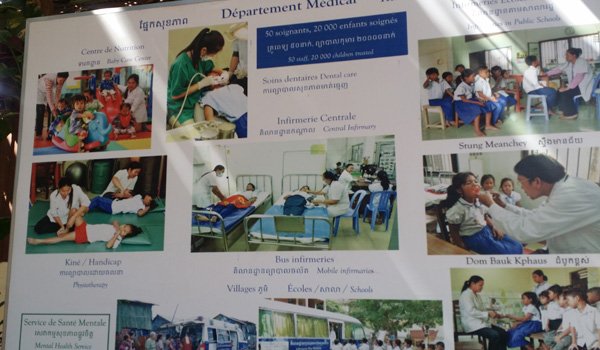 and take every opportunity to teach you about their fascinating corner of the world.
Sadly, despite improving conditions in the country, many low-income Cambodians still lack basic access to healthcare. On top of this, locals often have poor knowledge and education on how to treat and prevent diseases and suffer needlessly due to this.
While medical volunteering in Cambodia, you will get to work in government hospitals and community clinics located in the areas most at need, side by side with local doctors and medical professionals. This work is helpful in improving the general health and well-being of the local people, and you will have an incredibly rewarding medical volunteering experience.
If you're a medical professional interested to gain life changing medical volunteering experience while serving the most disadvantaged people, then contact IFRE possible to learn more about this opportunity to make the world a better place by volunteer working in the medical project in Cambodia.
Take a minute to complete the form and we will be in touch.
Volunteers' Responsibilities & Impact
As a volunteer, your exact responsibilities will vary with your qualifications and from day to day. You will mostly shadow the local doctors,and duties may include physical therapy/rehabilitation, providing basic care, observing the work of local medical staff, assisting with administrative tasks, taking patient details and measurements, distributing medicines, providing basic first aid and assistance in the emergency room.
Volunteers are not allowed to perform surgery or major diagnostic work, and your time will mostly be spent shadowing local doctors and learning from them by helping them in their work, giving you valuable hands-on medical experience.
Your work will allow you to make a huge difference in the lives of Cambodians without access to proper medical care, and you will gain massive amounts of medical experience by working closely with dedicated medical professionals and observing them at work.
Skills and Qualifications:
Volunteers interested in our medical program in Cambodia need prior experience or training in the medical field. Whether you're a doctor, a nurse or a medical student, there is important work for you to do here. You should also be a kind and patient person with a deep passion for providing the needy with medical care.
Volunteers must be between 18 to 70 years old
Your time as a volunteer in the medical project will be fun and exciting. You will be able to fulfill your passion for medicine as you learn from experienced doctors and make lifelong connections with both medical staff and patients.
First Day: On your first day of medical volunteering opportunity in Cambodia, you will be picked up at your accommodation by your coordinator and taken to your volunteering placement. Here you'll be introduced to your new colleagues and given the day to learn the available facilities and what you'll be working with during your project.
Weekdays: Every day will bring new and exciting experiences and your exact duties will vary based on your placement, but in general your workdays will look something like this:
7.00 to 7.30 AM: You'll be served a delicious breakfast together with your fellow volunteers and/or host family to start the day.
7.45 AM: After breakfast, you leave for a gratifying day filled with providing healthcare and helping people.
12.00 PM: At noon you'll get a break for lunch, allowing you time to get to know your new colleagues on a deeper level.
3.00 PM: Your medical work will end around this time, and the rest of the day is your free time to spend in any way you wish.
Medical Volunteer in Cambodia: Progama Date
Program Dates
Cambodia programs start on Mondays in the first week and third week of the month.
Our Fees
Since 2006, IFRE has been the most trusted and respected volunteer abroad organization in the world, and also the most affordable. We're dedicated to providing the highest quality volunteer programs at the lowest fees, which make it possible for everyone, especially students, to volunteer internationally and make a positive impact in the lives of others.
We believe in 100% transparency. Rest assured; we never use middlemen. Your one-time registration fee of $299 covers our administrative costs. The low weekly fee is paid in the host country directly to your host family and project (via country coordinator), and includes housing, food, and minor expenses. IFRE is a non-profit organization, so your program fees are tax deductible.
Volunteer Program Fee (US$)
| Weeks | Medical project |
| --- | --- |
| 2 Weeks | $620 |
| 3 Weeks | $770 |
| 4 Weeks | $920 |
| 5 Weeks | $1,120 |
| 6 Weeks | $1,230 |
| 7 Weeks | $1,340 |
| 8 Weeks | $1,410 |
| 9 Weeks | $1,595 |
| 10 Weeks | $1,780 |
| 11 Weeks | $1,965 |
| 12 Weeks | $2,150 |
Comprehensive Travel Insurance $3.49/day »
Program Fees Cover:
Accommodation (host family)

Food (only breakfast and dinnery)

Program Orientation

In-country support

Personalized project

Pre-departure information

Certificate of completion

Fundraising ideas and letters

Discount for returning volunteers
Program Fees Exclude:
Visas

Airfare

Personal expenses on soft drinks and foods

Daily transportation

Airport return transfer