Medical Health Volunteer in Peru
Are you looking to gain meaningful medical volunteer experience and improve serve underprivileged communities in Peru? Have you ever wanted to travel to Peru to experience the beautiful scenery and learn about their culture and traditions? Well, by joining this program you will get to do all that and much more than you could imagine.
Peru is an amazing and large country in South America and encompasses an array of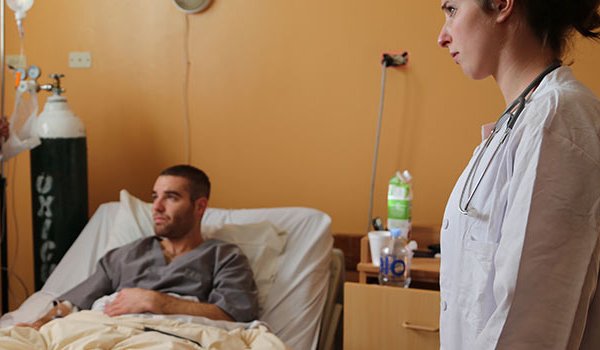 dramatic landscapes including high mountains, sandy white beaches, and the Amazon rainforest. It also has one of the most diverse biospheres in the world due to the presence of the coast, the Andes, and the Amazon.
Unfortunately, quality healthcare is limited and only provided in major cities. The rural areas have been in constant struggle for years to get access quality and affordable healthcare services. However, there are a few public hospitals trying their best help local people who welcome international volunteers giving you an incredible opportunity to learn and to serve the local people.
IFRE's medical volunteering program in Peru will provide youwith a great opportunity to gain professional experience and provide medical attention to impoverished patients while exploring Peru's mix of Incan, Andean and Spanish cultures.
Do you want to go on a thrilling adventure while making a difference and gaining huge amounts of practical medical experience? Then reach out to IFRE today for more information about this great opportunity to do just that!
Volunteers' Responsibilities & Impact
As a volunteer working in the medical/healthcare project in Peru, your responsibilities will depend on your level of training, certifications and licensing. All clinics and hospitals seek to use their volunteers efficiently and create a learning environment.
As a volunteer with or without experience, you shadow and observe the work of doctors and nurses and help them according to your skills in the medical field. Volunteers with specialties will be able to help in their specific fields. The clinics may also provide basic trainings for volunteers with less experience. Again, depending on qualifications and experience, volunteers carry out duties such as:
Assisting with lab work
Helping in the pharmacy
Helping with triage
Providing basic care
Observing the work of nurses or doctors
Carry out daily administrative tasks
Taking patient details
Measuring vital signs such as blood pressure, height, weight
Distributing medicines
Performing basic first aid
Helping with medical procedures
Assisting incoming patients
Providing assistance in the in-day emergency room
Partnering with local doctors
Qualified doctors can diagnose and treat patients based on their certification and specialty
Peru Medical Volunteer: Skills/Qualifications
Medical volunteers in Peru require some medical training or previous medical experience. If you are a medical student, paramedic, nurse, midwife, physical therapist or you have any kind of healthcare certification then you qualify to participate in this project. Most important is that you are enthusiastic and dedicated to administering medical care to the less privileged in society and have great love and passion for people in need.
Intermediate knowledge of Spanish is preferred. If you cannot speak Spanish, we suggest you enroll in our Spanish language course to make your stay more rewarding – both for you and for the people you help. Applicants interested in joining our volunteer health program can participate with or without experience.
Those without experience observe medical procedures and emergencies where minor surgeries or blood may be involved. Those who possess healthcare certification, such as an ID as a medical student, EMT, paramedic certification, nursing, physical therapy, midwifery or physician's credentials can participate accordingly.
IFRE requires a copy of volunteers' resumes, clearly documenting credentials and education, before arrival at the project. Projects will also require an official copy of credentials. Volunteers must be proactive, patient, responsible, enthusiastic and passionate about healthcare.
Peru Medical Volunteer Dates and Fees
Program Dates
IFRE programs begin every Monday year-round. If you have travel constraints, you can still start your chosen program on any day of the year.
Our Fees
Since 2006, IFRE has been the most trusted and respected volunteer abroad organization in the world, and also the most affordable. We're dedicated to providing the highest quality volunteer programs at the lowest fees, which make it possible for everyone, especially students, to volunteer internationally and make a positive impact in the lives of others.
We believe in 100% transparency. Rest assured, we never use middlemen. Your one-time registration fee of $299 covers our administrative costs. The low weekly fee is paid in the host country directly to your host family and project (via country coordinator), and includes housing, food, and minor expenses. IFRE is a non-profit organization, so your program fees are tax deductible.
Volunteer Program Fees (US$)
| Duration | Health Project |
| --- | --- |
| 1 Week | $264 |
| 2 Weeks | $428 |
| 3 Weeks | $592 |
| 4 Weeks | $706 |
| 5 Weeks | $820 |
| 6 Weeks | $934 |
| 7 Weeks | $1,048 |
| 8 Weeks | $1,162 |
| 9 Weeks | $1,276 |
| 10 Weeks | $1,390 |
| 11 Weeks | $1,504 |
| 12 Weeks | $1,618 |
Comprehensive Travel Insurance $3.49/day »
Airport Pickup and Transfer $20.00
Spanish Lessons : ( Monday-Friday ) 2 hours a day : $120/ week - mandatory for medical project
$25/week surcharge for medical project
Summer volunteer and adventure: $2069
Program Fees Cover:
Accommodation (host family)

Food (only breakfast and dinnery)

Program Orientation

In-country support

Personalized project

Pre-departure information

Certificate of completion

Fundraising ideas and letters

Discount for returning volunteers
Program Fees Exclude:
Visas

Airfare

Personal expenses on soft drinks and foods

Daily transportation

Airport return transfer
Accommodation and Meal
IFRE manages your living accommodations in Peru. In Cusco, most volunteers live with a host family. Our host families are socially respected and experienced hosts of international volunteers. They have strong interest in our volunteers' safety and well-being and demonstrate this with caution and care. Host families will prepare three meals a day for volunteers consisting of local ingredients and foods traditional to Peru. In most host family situations, volunteers will share a room with another volunteer of the same gender. Our host families do not offer laundry services, but some will happily take up the task for a small fee.
Throughout the volunteer project, our local staff stays in contact with volunteers either with face-to-face visits or via email/telephone. Volunteers are always welcome at our local offices in Peru. If project placement is local, we request that volunteers stop by the office once a week to keep us posted on how they are doing with their home stay and project. If project placement is very far, then our local staff members maintain communication by either email and/or phone and try to visit every 2-4 weeks if possible.
Read more about the accommodation and meals provided by your lovely host family while volunteering.
Free Time and Weekends Exploration
You will spend 4 to 5 hours working at the clinic from Monday to Friday, leaving you a lot of free time to visit various sites and attractions in the local area. On the weekends you have Saturday and Sunday to travel around the country on longer excursions and tours, either in Machu Picchu or in the Amazon Rainforest.
Learn more about the breathtaking sites and tours available while volunteering in Peru.
Peru Medical Volunteer: FAQs:
Please Provide A Typical Day Schedule For This Project
Working at a Health Care Project in Peru means volunteering at a small-medium sized medical clinic. A typical day for volunteers assigned to this project begins with a breakfast prepared by their host family around 7 am.
First Day: On your first day as a volunteer working in the medical project in Peru your in-country coordinator will take you to the clinic and hospital and introduce you the other medical staff. You will spend the day getting to know them and learning the facilities and your responsibilities.
Weekdays: Your work begins on the second day, and the responsibilities and tasks are different each day. However, a typical day will be something like this:
7.00 to 7.30 AM: The day starts early with a local family breakfast at your host family's home.
7.45 AM: Following breakfast, you will make your way by public bus (about 15 – 20 minutes ride) to the medical clinic where you will observe and assist the doctors for about 4 hours every morning, starting at 8 am.
12.00 PM: You will return to your host family and enjoy a typical Peruvian lunch.
1.30 PM: If you signed up for our Spanish course, you will make your way to your Spanish class. The ride takes about 20 minutes to the city center of Cusco.
3.00 PM: Around this time, you will generally finish the Spanish class with your fellow volunteers and the rest of the day you are free to head into town and discover the Cusco culture.
Arrival and departure
You should fly into Alejandro Velasco Astete International Airport, Cusco for your volunteer work in Peru. It is advised that you share your flight itinerary with your in-country coordinator before your departure. Sometimes, your placement may require arrival at a different airport. Do not book you travel until your placement is complete.
Airport Pick-Up and Drop-Off
Your in-country representative will be there to pick you from the airport and take you to your host family. Ensure that you share the correct flight details to make sure the coordinator arrives on time.
We do not arrange for airport drop off at the end of your volunteering project, but your host family or the in-country coordinator will advise you accordingly.
Visa
You need to have a tourist visa to volunteer and travel in Peru. You are responsible for having all the proper documentation necessary to be eligible for a tourist visa. We usually suggest that you secure a visa before leaving your home country. You can obtain a Peruvian tourist visa from the Embassy of Peru in your home country.However, citizens of USA, UK, Canada, Mexico, Australia, New Zealand and many other countries do not require a visa to travel as a tourist in Peru.
It is not possible to extend your tourist visa once you have entered Peru. When arriving at the airport or border, make sure you get a visa for the time you intend to stay. According toPeruvian law the maximum time for a tourist to stay in the country is 183 days per year.
Vaccination
We advise you to consult your travel doctor for advice on current health issues and epidemics in Peru. This information is also availablefrom the Centers for Disease Control and Prevention, Global Health Canada or in Travelers' Health United Kingdom. We strongly adviceyou to take all the needed vaccinations before heading to Peru for volunteering in our program.
For further readings:
Safety tips for your volunteer abroad trip
Where Do I Stay? How Far Is The Project From The Accommodation? How Do I Commute?
You will stay in a typical Peruvian home with a host family. The project is about 20 minutes by public bus from your accommodations. We generally use public transportation in Cusco, however, if you wish there are taxis available for about $4 USD a ride.
What Kind Of Activities Volunteers Do In Healthcare Project?
In the area of medicine, what a volunteer can do depends on their level of training, their certifications and their licensing. All clinics and hospitals seek to use their volunteers fully and have the spirit of learning from each other.
As a volunteer with or without experience, you can observe the work of the doctor or other members of the staff and assist according to your skills in the medical field. Many times, you may be requested to assist with rehabilitation, feeding and dressing patients, especially the children, assisting with medical procedures, and shadowing.
Doctors, nurses, physical therapists, occupational therapists or medical students based on their certifications can help with incoming patients, triage, basic first aid, work in the inpatient hospital caring for patients, work in physical and occupational therapy activities, and doctors can diagnose, and treat patients based on their certification and specialty. Volunteers may be called upon for tasks ranging from observation to assistance to carrying out procedures as a qualified health professional.
Volunteers in the healthcare project may assist in taking a patient's blood pressure or temperatures, helping administration and distributing medicines. If you have the specific skills, you can also have the opportunity to help in any specialized area you may be certified in. The clinic will evaluate and discuss with you what you have training in to be able to use your training and abilities to the maximum in your volunteer experience.
Where Are They Placed; In Clinic Or Hospital?
All medical clinics are placed in the city of Cusco about 20 minutes by bus from your host family. Your local coordinator will provide you with all directions on the day of your arrival in Cusco. She will accompany you the first day to your project to ensure you arrive accordingly.
What Are The Requirements To Join The Program?
Volunteers need to speak at least intermediate Spanish when working at the medical clinic. Most doctors and nurses in Cusco do not speak any English. We recommend volunteers participate in the Spanish language group class offered in Cusco. Furthermore, it is recommendable to have interest in the field of medicine and an education in some level of medical treatment.
Do We Get Hands On Experience At This Project?
Hands-on experience during the Healthcare Project in Peru depends on the volunteer's engagement, their knowledge of the Spanish language as well as their experience in the medical field.
What Kind Of Support Do We Get During The Project Time?
Your local coordinator provides you with the support and information needed throughout the duration of your volunteer trip.
How Many Hours A Day Do We Need To Work?
Volunteers work approximately 4 hours per day at the medical clinic. If there is an unforeseen surgery you are interested in observing, you may stay longer.
Is Healthcare Available All-Round The Year? If Not, When Does It Close For How Long?
The medical project is available all-round the year with the exception of Christmas and public holidays.
Any Important Information You Want To Share About This Project.
It is important to respect that in Peru the workflow may vary from the one that you are used to in your home country. Volunteers within the healthcare project need to have an open mind to experience a new culture.
Why volunteer in medical project in Peru?
Volunteering in a medical project in Peru gives you the chance to make a difference and acquire great amounts of first-hand real-world experience by learning from local professionals. Not only that, you'll get to have an amazing time meeting like-minded people and travelling in a fascinating country.
Gain valuable work experience in a hospital
As a medical volunteer in Peru, you will spend most of your time shadowing or assisting medical staff and professionals. Taking part in this project gives you a chance to gain some really valuable experience in order to be successful in your professional career.
Educate locals by running educational programs about health issues
Occasionally, local hospital run public outreach programs which you are invited to join. Participating in this project will give you the opportunity to educate the local community on different health topics such as personal hygiene, nutrition, sanitation, disease prevention, basic care and so on. Doing so will significantly improve the odds of securing a quality life with less medical problems to deal withfor the community.
Opportunity to perform basic medical and healthcare procedures
One of the major benefits of volunteering in medical Peru project is that it allows volunteers to get a sense of real life medical situations where they can learn and understand certain basic yet important medical procedures to treat sick patients on a daily basis.
Helps expand your professional network
By taking part in this project you get a chance to expand your professional network and build relationships with hospital employees, patients and the community. This will greatly boost you when securing a good job position in the medical field.
Get acquainted with the medical systems in Peru
Participating in Peru medical volunteer programs helps you learn about a newand different healthcare system. You will have a new appreciation for the profound differences between all the medical systems available to different communities and countries.
Other Volunteer Opportunities in Peru
If you want to volunteer in Peru but lack the medical background to take part in this project, don't worry! With IFRE you can
Help struggling teenage mothers,
in an orphanage, and much more.
Contact us today to find out which project is right for you!
Medical Volunteer Programs in Other Countries
Access to adequate healthcare is sadly a huge problem all over the world. To help alleviate this, IFRE arranges medical volunteer programs worldwide in many different countries. Have a look at the list below for some of our most popular ones: