Teaching Project
>
>
>
Teach English In Rural School In Peru
Teach English In Rural School In Peru
Share the English language in beautiful Peru!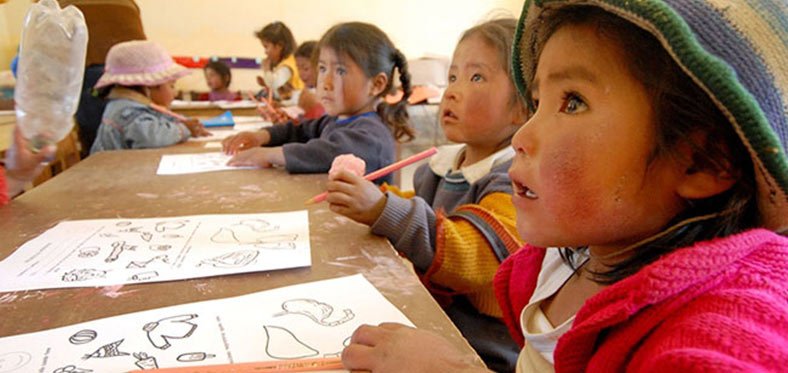 Provide a brighter future through education for Peru's youth

Immerse yourself in the culture of Peru

Assist in underfunded education programs

Volunteer abroad safely & affordably
Project Summary
Volunteer in Peru teaching English and improve school environments, provide children with greater opportunities and engage in Peruvian culture. Schools in Peru are drastically underfunded and although English, art and physical education are required, they are typically not available due to the lack of funding and staff. In some schools, these courses may be taught but at a very low skill level as local teachers are not qualified to teach the courses. Peru needs volunteers to teach these important but often overlooked subjects of art, computer skills, physical education and more than anything, English. With the tourism in Cusco, English is one of the easiest ways to open doors for children, as the job market in tourism and hospitality is dominant. Volunteer to teach English to children in Peru and interject a passion and love for learning into their lives!
Skills/Qualifications
No specific skills or qualifications are required to volunteer in the Teaching English Project in Peru. Beginner to intermediate knowledge of Spanish is preferred (not mandatory). If you cannot speak Spanish, we suggest you enroll in our Spanish language course to make your stay more rewarding – both for you and for the children you are helping. There are no specific qualifications needed to join IFRE's volunteer teaching projects in Peru. Dress code is required in the schools (no shorts or sleeveless shirts) and volunteers must be physically presentable (no excessive tattoos or piercings). Volunteers are expected to be reliable, flexible and patient and strive to be good role models for the children.
Volunteer Responsibilities
Working as a volunteer in the Teaching English Project in Peru, you will work 4-5 hours per day, Monday through Friday. Depending on individual skills and interests and the needs of the local staff, daily activities involve:
Teaching basic English 3-4 hours a day
Teaching other subjects such as math and science
Teaching health and personal hygiene
Planning and leading extracurricular activities such as dance, games, sports, arts, music, etc
Helping children with their homework
Providing assistance to school administrations with administration, curriculum development and fundraising
PLEASE NOTE: schools in Peru use a trimester system and are closed for winter and summer breaks. If you would like to volunteer during this time we can gladly find you a similar project.
Room/Food/Supervision
IFRE manages your living accommodations in Peru. In Cusco, most volunteers live with a host family, but some may live in a hostel. Our host families are socially respected and experienced hosts of international volunteers. They have strong interest in our volunteers' safety and well-being and demonstrate this with caution and care. Host families will prepare three meals a day for volunteers consisting of local ingredients and foods traditional to Peru. In most host family situations, volunteers will share a room with another volunteer of the same gender. Our host families do not offer laundry services, but some will happily take up the task for a small fee.
Throughout the volunteer project, our local staff stays in contact with volunteers either with face-to-face visits or via email/telephone. Volunteers are always welcome at our local offices in Peru. If project placement is local, we request that volunteers stop by the office once a week to keep us posted on how they are doing with their home stay and project. If project placement is very far, then our local staff members maintain communication by either email and/or phone and try to visit every 2-4 weeks if possible.
FAQ
Please provide a typical day schedule for this project

This project is perfect for those who speak basic - intermediate Spanish.

A typical day for volunteers assigned to this project starts with a breakfast prepared by the host family around 7 am. Following breakfast, you will make your way by public bus (about 15 – 20 minutes ride) to the public school where you will teach English to different classes for about 4 hours per day in the morning, starting at about 8 am. Depending on your level of Spanish, you will assist the local English teacher or teach on your own to students between the ages 11-18. You will teach basic English, mainly present and past tense. After finishing school around 1 pm, you will return to your host family and enjoy a typical Peruvian lunch (e.g. Ceviche). Around 2 pm, you will make your way to your Spanish class. The ride takes about 20 minutes to the city center of Cusco. After an intense 2-hour group class with your fellow volunteers you have chance to spend the rest of the afternoon at the city center, enjoy a typical Peruvian coffee at one of the nice cafes at the Plaza de Armas or explore the many colorful markets of Cusco. Just before it is getting dark you will make your way back to the bus stop and take a ride back to your host family where your will enjoy a delicious warm dinner. You will need to get up early for school the next day and thus get to bed at a decent hour.

Where do I stay? How far is the project from the accommodation? How do I commute every day?

You will stay in a typical Peruvian home with a host family. The project is about 20 minutes by public bus from your accommodations. We generally use public transportation in Cusco, however, if you wish there are taxis available for about $4 USD a ride.

What is the name of the school I would be placed?

Your local coordinator will provide you with all school and placement information on the day of your arrival. On your first working day, your coordinator will accompany you to your project and make sure you arrive well and safe. Your local coordinator will provide telephone numbers and directions as well.

What is the age range of the students in the school?

The students you will be instructing range in age between 11-18-years-old

How many students are in the school? How many of them are in each class?

There are about 150 students at the school with the average of 18 students per class.

Will I be handling the classes on my own or will there be someone assisting me while teaching?

You will be teaching alongside a local teacher. Depending on your Spanish language level you may teach some days independently, this depends on your interaction and engagement with the students.

Do they have teaching curriculum?

Yes, there is a teaching curriculum that teachers need to follow. Any ideas for teaching methods or teaching content are very welcome though. There is a high demand for native English speakers to work as teachers in Peru.

How many hours a day do I need to teach?

You will teach about 4 hours a day on average.

Do I need to bring teaching materials? Or does the school have teaching materials which I can use?

The school has their own books; however, English teaching volunteers are welcome to bring additional books, school supplies or anything else that they feel may be a beneficial to their students.

Is teaching available all-round the year? If not, when does it close for how long?

Teaching is only available during the school year. Peruvian schools are closed between December 10th – March 10th and July 30th – August 18th.

Any important information you want to share about this project.

It is important to respect that in Peru the teaching methods may vary from those that you are used to at your home country. Teachers may know less English than you would expect from an English teacher in your home country. Lessons are taught often in a repetitive and slow way. It is important to support the teacher in motivating the students for learning English. In Peru, about 80% of all jobs are in tourism. It is critical for students to learn English for their future profession, which may very well be in tourism where the English language is vital to receive a well-paying job.
could not connect