Teaching English
>
>
>
Teaching English In Rural Schools In Ghana
Teaching English In Rural Schools In Ghana
Travel to Ghana and share the English language with young minds!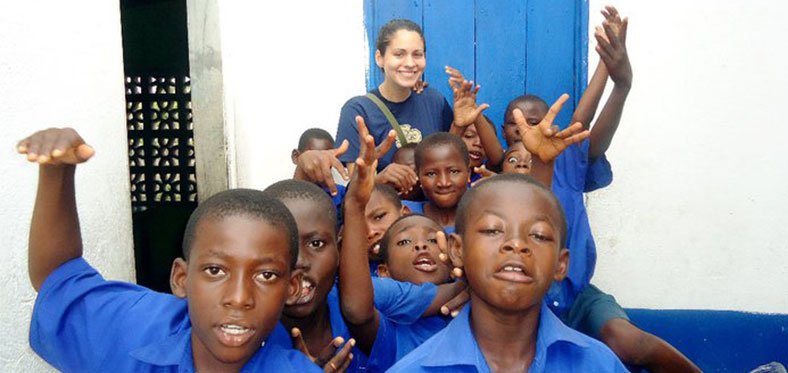 Immerse yourself in the educational system of a new country

Share your passion for education

Teach English to eager school children in Ghana

Volunteer abroad affordably & safely
Project Summary
The demand of English education in Ghana is growing among teenagers and the younger generations. Unfortunately, opportunities for quality English education are not provided to public school students. IFRE volunteers help in government (public) schools. Through this project, students and English teachers in Ghana can participate in an exchange of ideas that often leads to a valuable dialogue regarding different cultures and teaching methods. Our volunteers who work with local teachers provide new and innovative ways to teach the English language from a "native speaker" perspective. This native speaker perspective is highly prized in the realm of Teaching English and can often vastly improve teaching methods. This fact alone creates a long-lasting, positive impact which can eventually benefit the entire community. Teaching English in Ghana is a very demanding but a highly rewarding volunteer position.
Note: Ghana has 3 academic trimesters a year: January-March, May-July and September-December. During the School holidays, we help to organize holiday classes for the School children. Your sight-seeing itinerary and work schedule may vary a bit during school holiday times.
First Session
Start Date: 10th January to 12th April Mid-January to Mid-April
School Holiday: 13th April to 1st May
Second Session
Start Date: 2nd May to 4th August
School Holiday: 5th August to 12th September
Third Session
Start Date: 13th September to 15th December
School Holiday: 16th December to January
*The school holidays are subject to change.
Skills/Qualifications Needed
Volunteers may teach more subjects than just English. Math, science and sports classes may need assistance. NO specific skills or teaching qualifications are required. However, some kind of teaching certification or education degree is appreciated. A major in science, math or computer oriented classes is also preferred if you have no teaching education/credentials. Volunteers must have passion and interest to help children and improve their education.
Volunteer Responsibilities
Volunteer teachers in Ghana focus mainly on teaching English to local children in primary, middle, or high schools. If you are skilled, you can teach math, science, or other subjects in Ghana. If you are a qualified teacher or teaching experience you can lead a class but mostly volunteers will be working as an assistant teacher. Most classrooms are crowded and the number of students ranges from 20-60 in each class. All schools of Ghana follow a set English curriculum, so basically volunteers will teach straight from the text book. The school headmaster provides teaching resources. You may come prepared with storybooks or any other teaching materials you think you might need. School children in Ghana are very enthusiastic and eager learners of English. Although most of people speak English in Ghana, there are many issues with correct grammar and challenges with pronunciation, so your native speaker background will help many children change for the better.
Room/Food/Supervision
IFRE manages living accommodations, provides meals and supervision for volunteers for the entirety of their stay in Ghana. We offer a "home base" in Ghana. Our home base is about an hour drive from Accra. We try to create a "home away from home" for volunteers staying at our home base. It is a perfect situation for volunteers to live safely and comfortably while making many new friends and sharing experience every day. Most of volunteers project in Ghana are located within 1-20 KM of our home base so you may walk or ride a local bus to your project. In the evening when you return to home base, you can relax, eat dinner, explore local areas or simply share experience with volunteer comrades.
Occasionally if a project is located far from the IFRE home base or when our home base is fully occupied with volunteers, we will place volunteers with host families. Our host families are carefully screened, socially respected and experienced with hosting international volunteers. Wherever you stay, your accommodation with IFRE is safe, clean and comfortable. In most cases, you will share a room with volunteers (of same gender). In Ghana, our field staff is an experienced team comprising of country coordinators, assistant coordinators, managers, cooks and field assistants. Our field staff visits volunteers regularly and always happy to help our volunteers in any way needed. We offer 3 meals a day of local cuisine. Typically, volunteers eat breakfast and dinner at the home base (or host family) and have lunch at their project. We offer fresh, nutritious and safe local foods to our volunteers to eat. We also work extremely hard to maintain our facilities in a positive condition.
FAQ
Please provide a typical day schedule for the school teaching project.

All public schools in Ghana are in session during the week 8am- 3pm, some private schools have extended hours from 3pm-5pm.

The typical school day is:

08.00am

–

School Begins

10.00am

–

Break

10.30am-12.00pm

–

Studies Continue

12.00pm-01.00pm

–

Lunch Beak

01.00pm-03.00pm

–

Studies Continue

03.00pm

–

Children are dismissed

What is the name of the school I would be placed?

We work with a number of schools and volunteers are provided with details following their registration for the project.

What is the age range of the students in the school?

Students' age range from 2-16.

How many students are in the school? How many of them are in each class?

The population of each school differs but ranges between 200-600 pupils depending on the area. There will be 20-40 students in each class

Will I be handling the classes on my own or will there be someone assisting me while teaching?

You will be assisting another teacher, however depending on your ability and engagement with the students; you may able to instruct classes on your own.

Do they have teaching curriculum?

Yes, every school has a teaching curriculum and an English book.

How many hours a day do I need to teach?

In general the school day in Ghana is between 8am-3pm, the number of hours a volunteer may work is dependent on the allocations on the school timetable and as well as the volunteers teaching ability.

Do I need to bring teaching materials? Or does the school have teaching materials which I can use?

The school has teaching materials. However, volunteers are welcome to bring their supplemental materials.

Is teaching available all-round the year? When will it close for how long?

The volunteer teaching project in Ghana is available during the following times in the year: January –April, May-July, September-December

Any important information you want to share about this project.

The educational system in Ghana is not as advanced as in developing countries and is lacking in teaching methods. It is important that volunteers teaching in Ghana can easily adapt and work accordingly with the current educators. Also, Ghana does not have a well-developed punishment and reward system, you will sometimes see teachers wielding the cane and sometimes using them on disobedient students. Please note that this is a different culture and do not be offended if you see a child be spanked.
could not connect