Volunteer in the Himalayas
>
>
Volunteer in the Himalayas
Affordable, Exciting, Life-Changing Himalayas Volunteer Experiences!
Give in to your passion for adventure and humanitarian aid

IFRE has been trusted by thousands of volunteers since 2006

Most affordable volunteer programs in Nepal (Himalaya) starting at just $350

Choice from teaching English to Buddhist Monks or teaching English to children
Looking to change your life through meaning travel and volunteer work? The time is right and the time is right now! Team up with one of our affordable and reputable volunteer abroad opportunities in Nepal (Himalaya) for the experience of a lifetime in the gorgeous Himalayas!
The Himalayas stretch majestically from China to India to Nepal and all the way to Bhutan. The Everest region in Nepal ranks in the top ten favorite travel destinations in the world for tourists. Mountain-top monasteries and rolling landscapes covered in rhododendrons are just some of the amazing photo ops you'll encounter.
Your volunteer in the Himalayas in Nepal experience through IFRE, however, is truly about your own compassion and conscience. The ability to communicate in English is a skill set that is highly prized in Nepal especially in the realm of tourism. Buddhist Monks want to embrace the language in order to better share their religion and traditions with the growing number of English-speaking tourists. You can chose to teach English at a local school or teach English to Buddhist Monks during your time here.
You can combine your noblest instincts with your wanderlust and create the most meaningful vacation of your entire life! Email us today. We'll be happy to tell you all about our rewarding and life-changing volunteer programs in the Nepal (Himalaya).
Volunteer Work Projects and Locations
IFRE's Nepal volunteer programs support community orphanages and schools, medical/healthcare projects, monasteries, conservation efforts and photo-journalists working to capture Nepali history. Volunteer projects placements are available in Kathmandu, Chitwan and Pokhara.
Volunteer Program Fees & Dates:
Start Dates: Our programs start every Monday, although we allow for flexibility due to travel constraints.
IFRE is a 501(c)3 organization, so your program fee will be tax deductible. IFRE Volunteers is proud to offer the world's best fee. Our programs are now more affordable than ever. We are proud to focus on the humanitarian aspect of our business, not on profit. We work very hard and smart to keep our costs down, especially for the volunteers because we know the value of your donated time and efforts. We remain devoted to maintaining both the quality of the program and the safety of all volunteers involved. Below is a brief summary of the program fee and services that IFRE Volunteers offers.
IFRE fees comprise of two separate fees. An application fee of $299 USD (covers advertising, staff/office expenses, etc.) and a nominal weekly program fee (covers room/board, field support, etc). You will pay your fee directly to host families and projects. In this way, what you pay will go for you or people who deserve it (not for profit).
Volunteer Program Fee (US$)
| Duration | All projects |
| --- | --- |
| 1 Week | $350 |
| 2 Weeks | $500 |
| 3 Weeks | $650 |
| 4 Weeks | $800 |
| 5 Weeks | $950 |
| 6 Weeks | $1100 |
| 7 Weeks | $1250 |
| 8 Weeks | $1400 |
| 9 Weeks | $1550 |
| 10 Weeks | $1700 |
| 11 Weeks | $1850 |
| 12 Weeks | $2000 |
| | |
Mandatory Comprehensive Travel Insurance $3.49/day

Airport pickup, drop and first accomodation $50

Fly to Himalaya (Lukla) $330 (depends on season)

Language and Culture Program fee $250
Language and cultural immersion program includes:
One-week language and culture training, food and accommodations with host family (Breakfast, lunch & dinner), training materials (books, papers, etc) and Comprehensive Travel Insurance.
Additional costs for volunteers:
International flights, local flight to Lukla, visa application/extension, daily personal expenses on beverages/entertainment, laundry, telephone, immunizations
Language and Cultural Immersion
In Nepal, IFRE offers one week of Language and Cultural orientation in Kathmandu. The capital of Nepal, Kathmandu has two faces. One is a fabled capital populated by hospitable pilgrims and meticulously carved rose-brick temples. The second is a frenetic sprawl of modern towers, which is mobbed by beggars and monkeys and smothered in diesel fumes. These two faces simultaneously demonstrate the country's history and the invading, inevitable wear and tear of the uncompromising modern world.
Our weeklong intensive language and cultural immersion program includes language training, lessons on history, culture, ways of life, visits to local villages/towns/markets, guided Kathmandu exploration and local tourist attractions. This IFRE program aims to submerge you in Nepali culture, history and ways of life to vastly improve your time as a volunteer in Nepal. When you understand the life and culture around you, your experience is richer and more rewarding. However, you can choose to take the Language and Cultural immersion program or go directly into a volunteer project. This experience should not be missed! So many international travelers wish they could have an opportunity such as this to receive a briefing on customs, language and history.
Arrangement of Room/Food/Supervision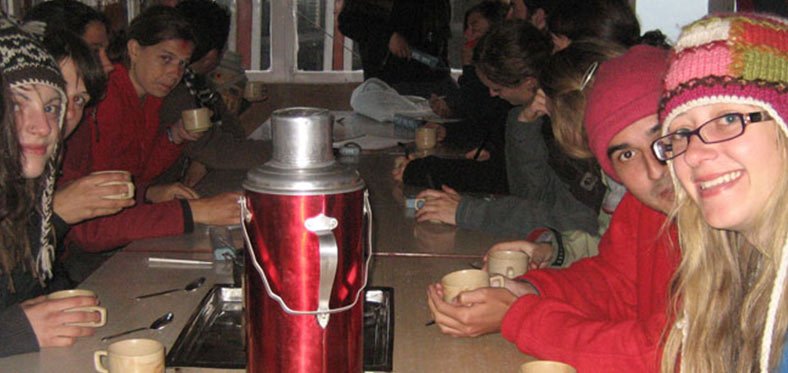 IFRE manages living accommodations, meals and supervision for volunteers throughout their stay in Nepal. In the Teaching Monastery Project, you will stay in an onsite accommodation inside the monastery. You will have a room for yourself or might have to share with other volunteer. In the teaching English project, you will stay in Sherpa host family. The Sherpas are known for their legendary hospitality and friendliness, so your stay with the host family is bound to be a home away from home. You will also be able to get an insight into their lives and can participate in their festivals. Wherever you stay, we provide 3 local meals a day. The meals will be like any traditional Nepalese meals. On breakfast, you will be given tea, sometimes toast, and for lunch and dinner you will have dal, bhat (rice and lentils) with other vegetables.
IFRE has a coordinator who is based in Khumbu region. The coordinator will pick you up from the airport and take you to the project site. You will have the coordinator's mobile phone number and can call him anytime, should any problem arise or need to discuss anything. You can also call our country coordinator in Kathmandu.
Volunteer Program Free Time
Volunteers have free time for the duration of their volunteer project during evenings and weekends. While IFRE does not arrange activities during this time off, our local staff, members and coordinators can provide priceless assistance in making appropriate arrangements for travel around the Himalayas. It is the time for self-discovery and learning. It is time to immerse in foreign culture and explore this exotic land. It is definitely time for a trek! Our IFRE local coordinators/staff are available to give you free advice, travel tips and helps to book your travel. Of course you can explore local villages and the Everest region.
The Everest region- A spectacular scenic region
The Khumbu, or the Everest region is the most popular trekking area of Nepal. In this region lies the highest mountain in the world- Mount Everest. This is also the place where Sherpas have lived for centuries attending cattle, farming vegetables or trading with Tibet and the low lands of Nepal. This region is over 2500 meters high and is surrounded by Himalayas that are over 7 thousand meters high. The nearest motorable road is 7 days away. Today, with the advent of tourists, Sherpas have seen their lives transformed. Many of them now enjoy a steady stream of good income working as porters, guides, climbers and many own lodges, hotels and tea houses. But for those Sherpas who aren't involved in tourism industry or whose houses aren't in the tourist trail, including other ethnic groups who have migrated to Khumbu region, life is still a hard toil with very little hope for better future. Their children, their only hope for a better future, attend schools that aren't well funded and many continue to have no motivation to continue their studies.
Learn more about our programmes