Teach Buddhist Monks
Project Summary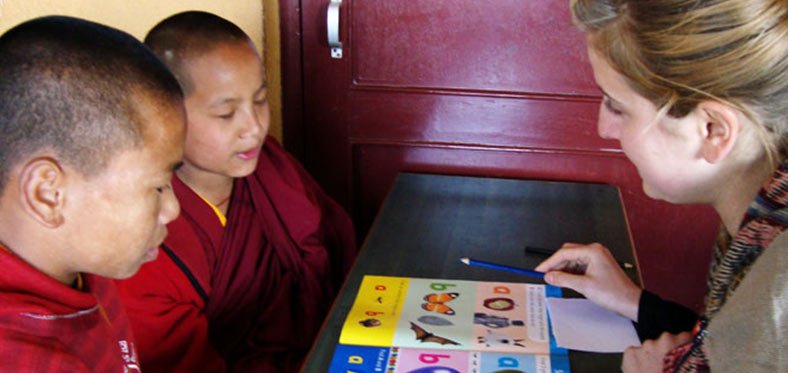 Monk Teaching is not available from the Last week of December to First week of March.
Since Monastery plays a vital role in the lives of Sherpas, monks here are enrolled in the monastery from early age. While some choose to remain monks their whole lives, some do get married and start a family. For the young monks in the monastery, it is very important to learn English as well as their traditional scriptures. Learning English will allow the monks who choose to become householder later in life, to work as guides or start a business. Whereas, those who prefer to stay on as a monk can use their English language skills to communicate effectively with outsiders and spread their message. When you volunteer in monastery, you will help the monks with their English and give them the confidence to communicate with outside world. You will also witness the monastery rituals and also participate in meditation and prayer ceremonies!
Skills/Qualifications Needed
Volunteers must have good English (not necessarily of very high standard). No other skills or qualifications are required to volunteer in this project. Volunteers are expected to be respectful to monks, Sherpa community and observe monastery rules. Volunteers should also dress conservatively. You will not be allowed to wear shorts or tank tops except in your room.
Volunteer Responsibilities
Volunteers will enjoy teaching in the project because the monks will be extremely enthusiastic about learning from an international volunteer. You conduct 2 to 3 classes per day, each 45 minutes to an hour long. The monks range from the age of 5 to 17. Some monks understand and can speak few words of English whereas some won't have any knowledge of English. The classes are divided according to their level of English. Volunteers may have to conduct kindergarten level class once, and a class for grade 2 to 4. There will be a resident Lopon (a master) who will assist you during the class. The Lopon will be able to communicate with you well in English.
In addition to English teaching, volunteers will assist with extra-curricular activities and administration. In the evening, volunteers organize games, drawing, singing, dancing and other creative education and extracurricular activities. Morning and late evening time is free. If you love Buddhism, this is the perfect time to join meditation, rituals, prayers and songs with the Buddhist monks. This project gives ample opportunities to immerse in the Buddhist religion and lifestyle.
Room/Food/Supervision
Volunteers will stay inside the monastery in an onsite location. You will be given a separate room or you may have to share the room with other volunteers as well. The monastery is situated on a hillside just 10 minutes walk away from the village of Thulo Gumela. The village of Phakdin, which lies on the Everest trekking route, is 30 minutes below. Phakdin is about 60 to 90 minutes from Lukla. While volunteering, you will also enjoy 3 local meals (breakfast, lunch and dinner) with the monks in their dining room. The monastery is surrounded by pine trees and you can see spectacular views of Thamserku and Kongde Ri Mountains. During the project, you will be support by our Himalayan Coordinator who is based in Gat, about an hour away, and also by the monks in the monastery. You can also call our Nepal coordinator in Kathmandu to discuss any problem you may come across.