Internship Opportunities in Uganda
Are you looking for an international internship that will allow you to gain practical experience and make a real difference in the world? Have you always wanted to explore internship opportunities in Uganda?
When you join, your education and future career may benefit in ways you may not have considered. When employers see that you have interned abroad, they will understand the flexibility, interpersonal skills, and critical thinking that traveling and working abroad entrails. Additionally, the people you connect with while in a different country may help you secure a job later on. Interning internationally will also help expand your cross-cultural perspectives and increase your global awareness, which may enable you to better understand your own cultural values and beliefs with respect to others.
From unique birds and animals to the forested shores of Lake Victoria, Uganda has something to offer everyone who visits. You can explore the breathtaking landscapes of this majestic country while taking part in an invaluable and life-changing abroad experience. IFRE offers a variety of programs and projects such as teaching English in rural communities and supporting Uganda's progress in healthcare. IFRE will work with you to connect you with your dream opportunity in Uganda.
No matter which Ugandan internship program you decide to support, you will be making a positive impact for both yourself and a Ugandan in need. IFRE invites you to join us in this newly peaceful and stable African destination to partake in some of our most popular internship opportunities (listed below):
Take a minute to complete the form and we will be in touch.
Popular Internship programs in Uganda
IFRE offers a variety of internship programs and service work opportunities in Uganda so you can explore this fascinating country while gaining experience in your selected field of study. Here are a few of our most popular programs:
Fees & Dates
Uganda internship programs start every Monday, although we allow for flexibility due to travel constraints.
Since 2003, IFRE has been the most trusted and respected intern abroad organization in the world, and also the most affordable. We're dedicated to providing the highest quality intern programs at the lowest fees, which make it possible for everyone, especially students, to intern internationally and make a positive impact in the lives of others.
We believe in 100% transparency. Rest assured; we never use middlemen. Your one-time registration fee of $299 covers our administrative costs. The low weekly program fee is paid in the host country directly to your service project (via country coordinator), and includes housing, food, and minor expenses. IFRE is a non-profit organization, so your program fees are tax deductible.
The program fee for internship and volunteering is basically same. However, unlike volunteers, interns often work closely with guided supervision from a local project director, and a small weekly supervision fee ($25-50/ week) may be incurred in addition to volunteer program fees.
Learn more about our highly affordable volunteer program fees in Uganda.
Take a minute to complete the form and we will be in touch.
Internships vs. Volunteers Programs
In general, volunteer abroad programs focus on humanitarian outreach and project support. Volunteering is popular amongst people who want to share their love and passion for underprivileged children, impoverished communities, or conservation efforts in need of resources.
Internship programs focus on creating a real-world learning environment for interns and students so that they practice professional development and obtain new skills. Similar to volunteers, interns may work on a variety of projects (many times alongside volunteers) that benefits local communities, children, wildlife and similar projects. Teaching programs, medical outreach, and children's support are the most popular internship projects.
Accommodations& Food: Internship Opportunities in Uganda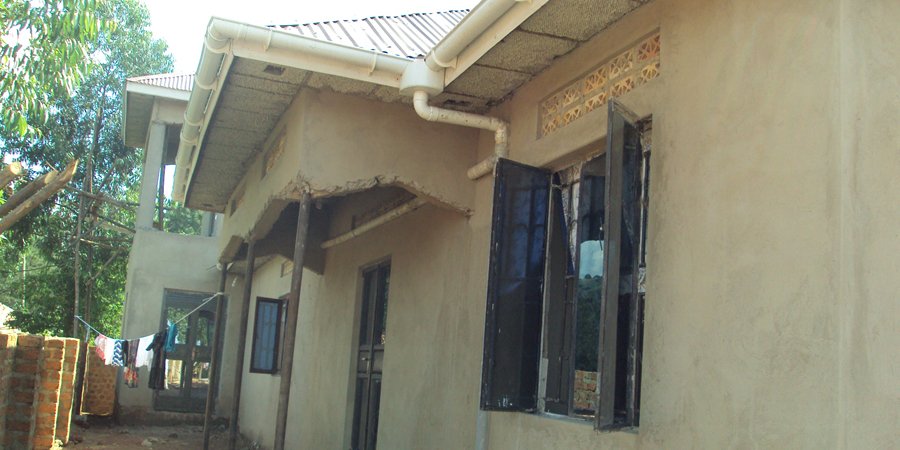 IFRE manages living accommodations, provides meals and supervision for interns for the entirety of their stay in Uganda. We offer a Home Base in Uganda. IFRE's Uganda home base is located in a Kampala. We try to create a "home away from home" for Uganda program interns. It is a perfect situation for interns to live safely and comfortably while making many new friends and sharing experience every day. Most of project in Uganda are located within 1-20 KM of our home base so you may walk or ride a local bus to your project. In the evening when you return to home base, you can relax, eat dinner, explore local areas or simply share experience with internship comrades.
Occasionally, depending on intern traffic, available projects or distance to a intern's assigned project, we may also place our interns with carefully pre-screened host families. Our host families are socially respected and are experienced with hosting international interns. They have strong interest in our interns' safety and well-being and demonstrate this with caution and care. In most host family situations, interns will share a room with another intern of the same gender.
Another viable option is an at-orphanage stay. Interns in Uganda orphanage may reside within the confines of the orphanage's compound in a room set aside for interns.
Wherever you stay, we offer 3 meals a day of local cuisine. Typically, interns eat breakfast and dinner at the home base (or host family) and have lunch at their project. We offer fresh, nutritious and safe local foods to our interns to eat. We also work extremely hard to maintain our facilities in a positive condition.
Learn more about our accommodation and meal in Uganda.
Take a minute to complete the form and we will be in touch.
Field Support and Supervision
Once your internship program begins, our local staff members will stay in constant touch with you via personal visits, telephone calls or emails. The director of each project will serve as participants' immediate supervisor. IFRE's Uganda coordinator maintains a mobile phone so participants are able to reach him with questions and concerns.
We recommend that you ask questions and make comments regarding your experience. Many minor issues can be avoided with a just little extra communication before they develop into major issues.
Your Uganda internship opportunity will have local staff members in addition to our in-country coordination staff. If your project is located a great distance from our offices, then our local staff will communicate via email and/or phone. We are available for you at the local office via email and phone before and during your trip. It's our job to make sure that you are safe, healthy and happy.
Learn more about our safety arrangements and in-country support .
Academic Credit
You can earn academic credit for most internship opportunities in Uganda. The best way to receive academic credit is by pre-arranging the project with your college/university. It is up to YOU to communicate with faculty/academic advisors regarding college credit for internship work PRIOR to applying to IFRE. Your college/university may require additional information prior to approval and may require students to submit pre/post research or other requirements.
Free Time
You will have weekend free time for the duration of your internship opportunity in Uganda. While IFRE does not arrange activities during this time off, our local staff, members, and coordinators can provide priceless assistance in making approve arrangements for travel in Uganda.
It's the time for self-discovery and learning. It's time to explore this Ugandan culture and exotic land. It's definitely time to visit gorillas or go on safari while in Uganda! Our IFRE local coordinators/staff are available to give you free advice, travel tips and help to book your travel.
Uganda has the most amazing attractions such as wildlife, numerous safaris, fascinating landscapes, colorful customs, gorgeous beaches, historic castles, etc. Hikes through the local villages and country-sides can also be the perfect backdrop for an authentic, cultural experience. Our local staff members can provide invaluable assistance in booking travel and/or tours around Uganda. Please discuss your options with our local project staff to find the best way for you to spend your free time in Uganda.
Read more about some of the exciting places you can go during weekend and weekdays while in Uganda .
Take a minute to complete the form and we will be in touch.
FAQs: Internship Opportunities in Uganda
Arrival and Departure
Please arrive at the Entebbe International Airport. Once you have bought your flight, it is important that you send us your correct flight information.
On the day of your departure, please consult your country coordinator to let them know you are leaving your home country. If you miss your flight or the flight is delayed, please contact us as soon as possible.
Once you arrive, an IFRE representative will pick you up. We do no offer airport drop-off service.
Visa
Before you arrive for your Ugandan internship program, you must ensure that you have a valid tourist visa. Depending on your nationality, 'visa on arrival' may be available.
A visa extension through the department of immigration may be possible if you would like to extend your time in Uganda.
For the most up-to-date visa information including fees, contact the Embassy of Uganda at 5911 16th Street NW, Washington, DC 20011; telephone (202) 726-7100 or visit their website. Travelers may also contact the Permanent Mission of Uganda to the United Nations in New York. Overseas, inquiries can be made at the nearest Ugandan embassy or consulate.
Vaccination
Before you start your internship in Uganda, you need to obtain certain vaccinations. The CDC recommends that you get the following vaccinations before you arrive:
Rabies, Cholera, Hepatitis A-B, Yellow Fever, Malaria, Meningitis, Typhoid
How can I apply to internship opportunities in Uganda?
Internship applications are very straightforward. All you need to do is apply online and then submit the application to us. Once we have received your application, we will follow up with you within 24 hours.
Why go with IFRE Volunteers?
IFRE Volunteers is a well-respected global non-profit whose goal is to make a real and lasting impact on the world through our international programs. Established in 2006 and trusted by more than 22,000 individuals, our programs encourage individual and community growth. When you take advantage of internship projects in Uganda with IFRE, you know where your money goes because you pay your program fees directly to the locals involved in your project.
Our safety standards are outstanding, and despite being the most affordable program in the world, we still deliver impeccably high-quality programs. When you intern with IFRE, you'll form strong bonds with our field staff and heart-warming local community members, who will enrich your experience and make your time abroad worth so much more than you expected.
Our Volunteer Abroad Programs
IFRE offers best affordable volunteer opportunities across 20 countries around the world. If you are interested in our highly impactful and rewarding volunteering opportunities in India, Sri Lanka Thailand, China, Nepal, Bali, Ghana , Kenya , South Africa , Tanzania , Uganda , Zimbabwe, Costa Rica , Ecuador , Peru , Guatemala , Argentina , and Brazil
Check out A Complete Volunteer Abroad Guide : Everything You Need To Know to learn more about what is volunteering abroad. If you want to know how to volunteer abroad for free, go through our Volunteer Abroad for Free article. If you are a college student and searching for meaningful summer volunteering programs, check out our popular articles Community Service Trips For College Students and Summer Volunteer Programs For College Students .
Take a minute to complete the form and we will be in touch.