Work in an Orphanage in Uganda
Share your skills, kindness, and time with youngsters who really appreciate the chance to learn on this meaningful and worthwhile program.
The best prices, with affordable fees to suit your budget

No middle-men mean communities enjoy the direct benefit of your work and payment

A well organized and safe volunteer experience you will never forget

Make a significant difference in the lives of disadvantaged children
Take a minute to complete the form and we will be in touch.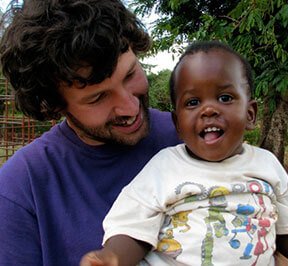 There are many orphans in Uganda. Many children have been orphaned by the HIV/AIDS epidemic or have been abandoned due to extreme poverty or other unfortunate social situations.
Oftentimes children are saved from a life of young soldiers or are rescued from human trafficking circumstances. There is an immense need for people to volunteer with orphaned Ugandan children.
IFRE presently works with more than 10 orphanages in Uganda. In our projects, you help orphaned children with daily life and extra-curricular activities.
However, the most important thing you offer these poor children is love and attention that they so desperately crave and truly deserve.
Resources for orphans are spread thin. Orphanage workers in Uganda do their best, but manpower is low and it is the face-to-face contact that this children greatly need. Hugs from volunteers working with orphans in Uganda are priceless!
Skills/Qualifications Needed
There is no specific qualification needed to join the orphanage volunteer project. However, volunteers must be flexible and patient. You should have passion and love for children.
Volunteer Responsibilities
Volunteers working in Ugandan orphanages generally show support by tutoring (mostly English) the children at the orphanage where they are home-schooled and assisting/educating them in areas of personal hygiene (i.e. brushing, flossing their teeth) and life skills.
You may also help with math, science or other subjects. As a volunteer in the orphanage project, you also help with homework and encourage their academic progress.
Afternoons and evenings are fun times. You will organize activities, games, sing-a-longs and dances as well as other creativity-based activities to teach the children In the orphanages where children attend a school, daytime activities for volunteers include: administrative work and helping with cleaning, cooking and gardening or teaching at the local school.
You will be kept busy during the day if the children go to a local school, by helping clean, cook as well as working in the garden or you may also help teachers at the local school.

These last six weeks of volunteering have been a truly amazing and life-changing & very wonderful experience for me.
Alexandra Miller
- USA

I had an excellent time, better than I ever could have imagined. Other volunteers were so nice and willing to help.
Leslie Slade
- Vermont, USA

I had a wonderful experience. I had the opportunity to teach children of all different ages.I am sad to leave!

Don Maddocks
- USA

My volunteer experience with IFRE has been unforgettable. It has opened my mind & heart. Staffs were very helpful.
Manko Blakely
- Germany
Room/Food/Supervision
IFRE manages living accommodations, provides meals and supervision for volunteers for the entirety of their stay in Uganda.
We offer a Home Base in a Kampala, Uganda. At the home base, volunteers will reside in a large home of the country coordinator with fellow volunteers. We try to create a "home away from home" for volunteers staying at our home base.
It is a perfect situation for volunteers to live safely and comfortably while making new friends and sharing experience every day. Most of volunteers project in Uganda are located within 1-20 KM of our home base so you may walk or ride a local bus to your project. In the evening when you return to home base, you can relax, eat dinner, explore local areas or simply share experience with volunteer comrades.
Occasionally, depending on volunteer traffic, available projects or distance to a volunteer's assigned project, we may also place our volunteers with carefully pre-screened host families.
Our host families are socially respected and are experienced with hosting international volunteers. They have strong interest in our volunteers' safety and well-being and demonstrate this with caution and care.
In most host family situations, volunteers will share a room with another volunteer of the same gender. Another viable option is an at-orphanage stay.
Volunteers participating in the orphanage project may reside within the confines of the orphanage's compound in a room set aside for volunteers. Once you have applied for program placement, you will find the specific details of your accommodations in your personal placement documents for your project.
Our field staff visits volunteers regularly and always happy to help our volunteers in any way needed. We offer 3 meals a day of local cuisine. Typically, volunteers eat breakfast and dinner at the home base (or host family) and have lunch at their project.
We offer fresh, nutritious and safe local foods to our volunteers to eat. We also work extremely hard to maintain our facilities in a positive condition.