Childcare Project
>
>
>
Childcare Project (Surin)
Childcare Project (Surin)
Childcare Volunteering - More than just Child's Play!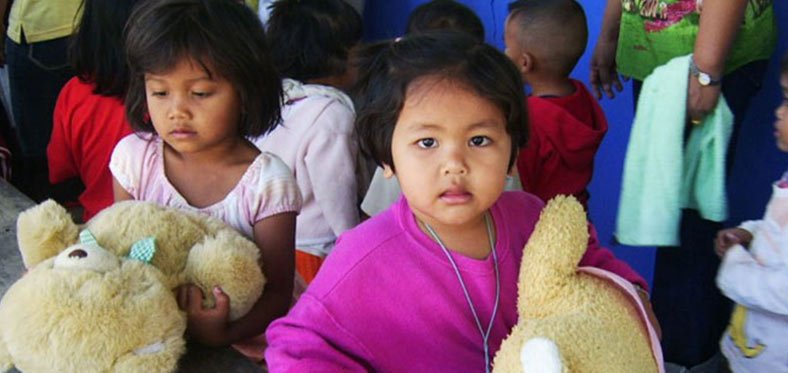 Volunteer with children in majestic Thailand

Lend your love, support and compassion to these children

Support daily operations and activities

Volunteer abroad safely & affordably
Project Summary
Surin is one of Thailand's poorest provinces and there are many childcare projects in and around Surin providing a safe and secure location for children of very poor families. With monthly wages as low as $60 - $80 for an adult working on a farm, this is an essential resource. Moreover, in many cases parents move to the cities to find work, leaving elderly and grandparents to bring up the children. The use of childcare centers is a very welcoming break for these people.
Since the very beginning, we have been supporting childcare projects in northeast Thailand. From basic child interaction and stimulation programs to developing the children's skills, our volunteers have always had great success and their work and dedication is truly appreciated. Volunteers work at several childcare locations situated around the province of Surin. Each location is in huge need of support and development. They are massively under-funded by the very poor communities which they support. In addition, as a part of our ongoing dedication to improving the health, safety and hygiene of children in the province, your time as a childcare volunteer can also be spent doing just that. We often run simple projects that are designed to help the children live cleaner and safer lives. Along with helping the local staff to look after the children, the childcare centers are all in need of renovation and repair. Many groups will be asked to undertake maintenance projects in conjunction with their childcare volunteering.
These children just want to have fun. Keeping yourselves busy arranging games and activities will put such big smiles on their faces and give you a huge sense of satisfaction. We will supply all the equipment required and our staff work alongside you ensuring the project is a success. Previous groups have painted walls, drawn fantastic murals, renovated kitchens and much more. Just a few hours a day can make such a difference. All of this work has a long-term positive affect on the staff, the children, the families and the local community. We currently support a number of childcare centers in and around Surin and rotate our volunteers so each center benefits from our support.
Skills/Qualifications Needed
There are no specific qualifications needed to volunteer in the childcare/child development program in Thailand. However, volunteers are expected to be flexible and patient as well as possess a passion and love for children.
Volunteer Responsibilities
Unlike most childcare projects, we take a holistic approach to caring for children. This means that we look at childcare as a whole. While we interact with the children and teach, educate and enrich them, we also look at their surroundings to improve their health, safety and welfare. In the afternoon, when the children are usually napping, our volunteers will be assigned tasks to create a healthier, safer and happier environment. These tasks could be clearing rubbish, repairing broken doors and windows, painting, removing nails and so on. None of these tasks are labor-intensive and can be done without any experience or qualifications.
Most volunteer work is 4 days a week (Monday to Thursday), 8:30am - 3.30pm. You and your fellow volunteers will have the long weekend to explore locally or further afield. Travelling and experiencing Thailand's beauty is all part of the volunteer experience. Our staff will help you organize your free time or end of placement travel. Come to Thailand, volunteer, travel and have an amazing time.
PLEASE NOTE: work with the children varies from location to location and not all that is listed is offered at each location.
Additional information on schedule, food, room, field support
When in Surin, volunteers live together sharing one of several houses rented from the local community. Each house features several twin (or triple) share bedrooms and bathrooms with hot water showers, fully functioning kitchens, in and outdoor living areas and are located very close to all amenities including supermarkets, restaurants, internet café's, ATM's, bars, markets and more. The houses are safe, clean and located a very short walk from each other and our Surin office. Locals are extremely friendly and welcoming to our volunteers. After being in the city for only a short period, you'll feel like one of the community.
A coordinator and translator accompany volunteers in Surin every day at their project. While we encourage volunteers to create their own daily schedule for the children, the staff is very experienced and can assist in preparations and schedule planning. Daily transport to and from the project location is also included.
FAQ
Please provide a typical day schedule

Volunteer days at the childcare are typically 09:00 – 3:00, Monday-Friday but may vary depending on the center's schedule. The center is a short walk from your accommodation. During the mornings 09:00 – 11:30 you will work directly with the children. At lunch time (11:30 – 12:30) you'll assist with serving the children food. Lunch will then be provided for you at the center. In the afternoons (12:00 – 3:00), the children take a nap. During this time our coordinators will support you with the renovation of the center's facilities or working on small community projects around the village. Full details are provided during orientation.

What kind of accommodation do we get at the project?

Accommodation is included throughout your stay with us. While in Surin you will stay in one of two shared houses with other volunteers. The houses are comfortable Thai style homes rented from the local community.

Shared Dormitory Style Rooms with bedding.
Shared Bathrooms with Warm/cool shower & western toilet. (Toilets need to be flushed manually by pouring water from a nearby container. Please put toilet tissue in the bins provided so as to avoid blockages)
Working Kitchen with Utensils, cutlery, kettle, Gas Hob, Refrigerator, kettle
Lounge Area
Free Wi-Fi. (Please note, internet access can be temperamental in rural Thailand)
Fan -Cooled
Mosquito Nets/ Mosquito Mesh Windows

The houses are located a short walk your coordinators office and very close to amenities such as ATMs, cafes, restaurants and supermarkets.

How far is the project from the accommodation? How do I commute daily?

You will volunteer at a rural village childcare center outside of Surin city. You will be picked up by Song Taew (Typical Thailand public transport – pickup trucks with covered seating) All drivers are licensed and vehicles carefully vetted before use. The journey to the childcare center will take approximately 20-30minutes.

Could you please send me the contact details of the host family and the project?

We will provide you the detail of host family, project, and coordinator once you apply to the program

How many children are in the disadvantaged children project and what are their ages?

The center supports approximately 50 children aged 2 to 5 years of age.

What are the day to day activities at disadvantaged children project? What I actually do?

The childcare center is keen for you to help familiarize the children with English language. You may be expected to spend a short time each day teaching alphabet, numbers and simple vocabulary to the children. To have the most rewarding experience, it is helpful to spend a little time preparing. Volunteers are encouraged to be creative and have fun planning additional activities such as arts and crafts as well as songs and games. Your Coordinator will help you liaise with childcare staff to structure your activities as well as provide translation. Other duties include preparing and serving the children's food. You are also responsible for helping to keep the center clean and safe.

You will be provided a traditional Thai Style lunch everyday while at the project (Monday—Friday).

At 12:30 the children will settle for their afternoon nap.

For the remainder of the afternoon until 3:00, our coordinators will ask your assistance on micro-development projects either at the center or around the local area. Past examples include renovating / redecorating classrooms, repairing playground equipment, maintaining the gardens and joining in with community events and festivals.

Throughout your placement you will be supported by a member of our team. Your coordinators are available to assist you in any way they can. No previous experience or skills are necessary and training is provided on site.

The program focuses on cultural immersion and facilitates learning experiences for our volunteers. We remind you that the program is not about intervention and suggest that a flexible attitude is key to having the most rewarding experience.

How many hours a day do we work in the disadvantaged children project?

Typical project hours are 9.00am to 3.00pm. The mornings 9.00am – 11:30am, are spent working with the children directly. During the afternoon the children will nap so you will have the opportunity to join in with the micro-development work to renovate the center or assist with general duties.

Is disadvantaged children project available all-round the year?

The childcare center follows the Thailand School year. The Center will be CLOSED during October and during April and May.

Please note that over the Christmas and December/January New Year period our local teams will be on annual leave and projects will be closed for 1 week.

If you are wishing to volunteer during this time please make an enquiry to confirm that the project will be available.

Any important information you want to share about this project.

Working with children is great fun and extremely worthwhile. The Surin Childcare program is based at a local government childcare center that supports an underprivileged community. The center provides childcare enabling parents and family members to work during the day.

Your involvement with the program offers increased resources for the center for renovation and expansion of facilities. You will also give valued support to the local Thai professionals and the children in their care. The program aims to provide awareness and understanding of the local community and provides opportunity for cultural exchange.

You will experience the traditional way of life in a Thai village. You will have fun helping at the childcare center and will contribute further with micro-development and renovation projects.