Monk Teaching Project
>
>
>
Teaching English In A Buddhist Temple School (Ayutthaya)
Teaching English In A Buddhist Temple School (Ayutthaya)
Immerse yourself in Buddhism while teaching English!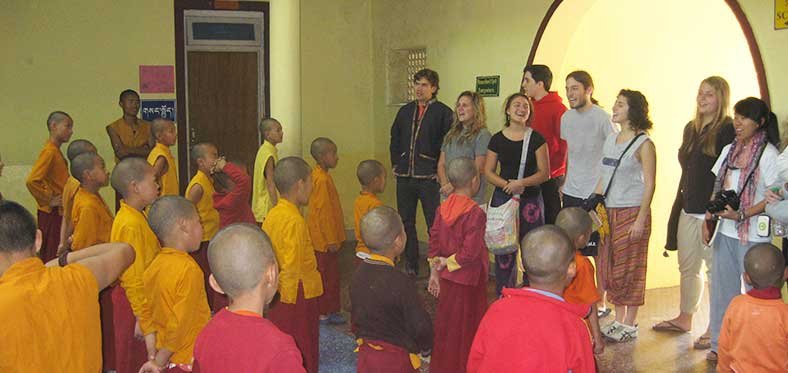 Share your love for education in Thailand

Experience daily life volunteering at a Buddhist Temple

Assist on educating students at all levels

Volunteer abroad safely & affordably
Project Summary
Volunteer to teach in Thailand in a Buddhist temple school! IFRE's volunteer projects support teaching in schools housed at Wats or Buddhist temples, which are places of both religious and social activities. There are about 30,000 Buddhist temples in Thailand where monks live and participate in rigorous religious studies. In Thailand, Buddhist temples receive donations and position themselves to assist their local communities and support community social activities. Most Buddhist temples in Thailand offer primary or secondary schools, which offer educational opportunities for local children. These schools are situated in the same complex (compound) as the Buddhist temple. When you volunteer at a Buddhist temple school in Thailand, you will have a distinctive experience that is not available in any of our other projects worldwide. You will be able to help others as you explore Buddhism and Thailand's enchanting culture.
Skills/Qualifications Needed
Though no teaching experience or skill is needed, volunteers joining the Buddhist temple teaching program should have a mastery of English language and thorough speaking fluency. Though no teaching experience or skill is needed, it is beneficial to have taught or trained others. Volunteers are expected to be flexible and patient. You should have passion and love for teaching, English and conversation.
Volunteer Responsibilities
As a volunteer teaching English in a Buddhist temple school in Thailand, volunteers work with schools 4-5 hours per day, Monday through Friday. A supervisor at each school will be assigned to help develop teaching lessons and provide guidance to volunteers. Depending on individual skills and interests and the needs of the local staff, daily activities may include:
Teaching practical, conversational English to children (not monks)
Helping students with their homework
Planning and leading extracurricular activities such as dancing, singing, drawing, painting, playing sports,
Teaching children about health and personal hygiene
Teaching computer classes
Helping take children on field trips
Teaching life skills and daily tasks such as cleaning, cooking, business skills, getting dressed, sewing, gardening, etc
Working on maintenance of the facilities
Assisting in orphanage and school administrations with daily tasks
Fundraising
Room/Food/Supervision
IFRE manages living accommodations, provides meals and supervision for volunteers for the entirety of their stay in Thailand. IFRE's Thailand office is located in a beautiful area about 50 km from the Suvarnabhumi International Airport in Ayutthaya City – the former capital of Thailand. We offer home base in Thailand. Our Home base is very safe. It is a clean, sparsely furnished home but will meet all your needs as an IFRE volunteer. We try to create a "home away from home" for volunteers staying at our home base. It is a perfect situation for volunteers to live safely and comfortably while making many new friends and sharing experience every day. Most of volunteers project in Thailand are located within 1-10 KM of our home base so you may walk or ride a local bus to your project. In the evening when you return to home base, you can relax, eat dinner, explore local areas or simply share experience with volunteer comrades.
Occasionally, depending on volunteer traffic, available projects or distance to a volunteer's assigned project, we may also place our volunteers with carefully pre-screened host families. Our host families are socially respected and are experienced with hosting international volunteers. They have strong interest in our volunteers' safety and well being and demonstrate this with caution and care. In most host family situations, volunteers will share a room with another volunteer of the same gender. Volunteers staying with a host family will be able to have home cooked meals with the family. Those who have stayed with a host family describe an enriched experience as a result of having done so. Once you have applied, you will receive specific details of your accommodations in your personal placement documents.
Our field staff visits volunteers regularly and always happy to help our volunteers in any way needed. We offer 3 meals a day of local cuisine. Typically, volunteers eat breakfast and dinner at the home base (or host family) and have lunch at their project. We offer fresh, nutritious and safe local foods to our volunteers to eat.