Thailand Projects
This project is currently unavailable.
Volunteer as an English Teacher in a Temple in Thailand!
Have you dreamed of spending time in a mystical Buddhist monastery in Thailand? Do you want to help improve English skills while also having the experience of a lifetime exploring everything the country has to offer?
Thailand has long been a popular destination for its gorgeous temples, mystical ancient ruins and jaw-dropping tropical beaches. Whether you enjoy a stroll through mist-clad ruins and temples, observing locals performing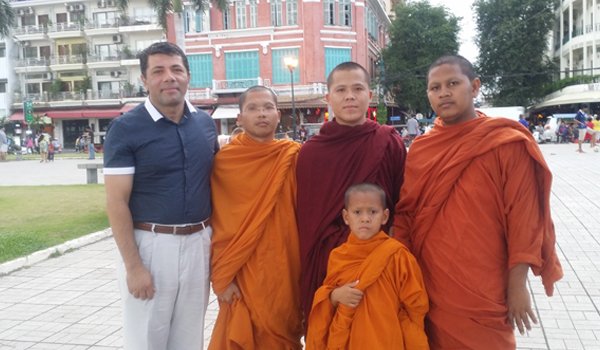 rituals, relaxing on a sandy beach, or going on amazing hikes through hills and forests, Thailand has something for you.
Sadly, Buddhist temple schools (public schools which are run and managed by Buddhist temple/monastery) in Thailand are unable to provide sufficient education to its students, especially when it comes to the English language. As tourism is a vital industry in Thailand, and English has become the universal language of economic opportunity, the demand for this skill has skyrocketed, leaving local teachers overworked attempting to meet it.
As Buddhist temples rely on donations and charity, they are completely dependent on volunteers fluent in English to help them provide an adequate English language education, and this is where you come in. When you volunteer at a Buddhist temple school in Thailand, not only will you provide crucial skills to your students, but also free up the local monks and staff to focus on other critical areas of the children's education and well-being, leading to a better future for them all-around.
If you're looking for a once-in-a-lifetime experience working in a Buddhist temple, while also exploring the wonders of Thailand at an affordable rate, contact IFRE today for more information about this opportunity to Volunteer to teach in Thailand in a Buddhist temple school!
Volunteers' Responsibilities & Impact
As a volunteer teaching English in a Buddhist temple school in Thailand, you will work in the school for 4 to 5 hours a day from Monday to Friday. You'll be working closely with a local supervisor who will provide guidance and assistance with lesson planning. Your precise responsibilities will vary, but other than teaching English to children you will help them with their homework, plan extracurricular activities, teach other subjects like health, hygiene and computers, assist on field trips and with maintenance/daily tasks as well as fundraising.
Through your volunteering, you will provide critical English skills that will provide a greater range of opportunity for the children in the future. You will also inspire the children through fun and creative activities and prepare them for the future by imparting useful life skills.
Volunteering in Thailand with Buddhist Monks: Skills and Qualifications:
While this program is open to anyone regardless of education or experience, you need to be a kind and loving person who enjoys working with and being around children. Additionally, you should have a passion for making the world a better place through education and have a personal mastery of the English language. Native speakers and those with prior teaching experience have an advantage, but neither are required.
Working as a teacher in a Buddhist monastery in Thailand is an incredibly fun and rewarding experience. Interacting closely with the temple and its residents will allow you a deeper understanding of Buddhist philosophy and immerse you in Thai culture.
On arrival in Thailand, you will be picked up at the airport and shown to your accommodation. The following morning you will receive a project orientation from our local staff regarding Thailand, safety and the project.
First Day: On your first day volunteering in Buddhist monastery in Thailand, your coordinator will take you to the monastery you'll be working at and introduce you to the staff. You'll be given the day to learn about your placement and your upcoming work duties.
Weekdays: You start work on the second day, and while your precise schedule and responsibilities will change depending on the placement and your skills, but a typical day looks as such:
7.00 to 7.30 AM: Delicious breakfast is served at our volunteer house, a great chance to get to know your fellow guests as you enjoy together.
7.45 AM: At this time you set out to the monastery for a rewarding day of teaching kids English. You'll spend the first half of the day here.
12.00 PM: Break for lunch enjoyed together with your students and fellow teachers, letting you immerse yourself in Thai culture.
3.00 PM: Work usually ends at this time, and you are then free to enjoy everything Ayutthaya has to offer or head home to relax.
6.45 PM: Dinner is served, again at the volunteer house, letting you relax in the chilled atmosphere and make some new friends from all over the world.
Volunteer Buddhist Monastery Thailand Dates and Fees
Program Dates
IFRE programs begin every Monday year-round. If you have travel constraints, you can still start your chosen program on any day of the year.
Our Fees
Since 2006, IFRE has been the most trusted and respected volunteer abroad organization in the world, and also the most affordable. We're dedicated to providing the highest quality volunteer programs at the lowest fees, which make it possible for everyone, especially students, to volunteer internationally and make a positive impact in the lives of others.
We believe in 100% transparency. Rest assured, we never use middlemen. Your one-time registration fee of $299 covers our administrative costs. The low weekly fee is paid in the host country directly to your host family and project (via country coordinator), and includes housing, food, and minor expenses. IFRE is a non-profit organization, so your program fees are tax deductible.
Volunteer Program Fees (US$)
| Weeks | Buddhist Monastery Project |
| --- | --- |
| 1 Week | $260 |
| 2 Weeks | $440 |
| 3 Weeks | $660 |
| 4 Weeks | $880 |
| 5 Weeks | $1,100 |
| 6 Weeks | $1,320 |
| 7 Weeks | $1,540 |
| 8 Weeks | $1,760 |
| 9 Weeks | $1,980 |
| 10 Weeks | $2,200 |
| 11 Weeks | $2,420 |
| 12 Weeks | $2,640 |
Comprehensive Travel Insurance $3.49/day »
Program Fees Cover:
Accommodation (host family)

Food (only breakfast and dinnery)

Program Orientation

In-country support

Personalized project

Pre-departure information

Certificate of completion

Fundraising ideas and letters

Discount for returning volunteers
Program Fees Exclude:
Visas

Airfare

Personal expenses on soft drinks and foods

Daily transportation

Airport return transfer
Volunteer Buddhist Monastery Thailand Accommodation and Meal
Our volunteer house in Ayutthaya is safe, secure and comfortable. You will be staying in dorms shared with other volunteers of the same gender, and the relaxed atmosphere makes for a great place to socialize and make new friends. You'll be given two delicious meals a day, and there are plenty of amenities nearby.
Volunteer Buddhist Monastery Thailand Free Time and Weekend Exploration
Not only do you get to help make the world a more educated and better place, you'll also have plenty of time to explore both Ayutthaya and its surroundings, as well as wider Thailand during the weekends when you'll have plenty of time to go on longer trips throughout the country.
Learn more about some exciting attractions you should visit while volunteering.
FAQs
Arrival and Departure
You need to fly to the Suvarnabhumi International Airport, Bangkok when volunteering in Buddhist monastery in Thailand. Please send us your final flight details before so that arrangements can be made for your pick-up. If your flight is delayed or if you miss your flight, contact us as early as possible, so that we can arrange a new pick up schedule.
We do not offer any kind of airport drop off service for your departure; you have to book this by yourself.
Visa
To volunteer teaching English in Buddhist monastery in Thailand you need get a tourist visa. You can get the visa by visiting the nearest Thai embassy. On arrival visas for Thailand is available but only for the Nationals of 21 countries.
You can extend your visa while you are in Thailand, but your visa should have a minimum validity period of 60 days for extension. The tourist visa can be extended at Thai immigration in Bangkok, Pattaya or Phuket.
Vaccinations
You need to have vaccinations with you as per the recommendations made by the CDC for volunteering in Thailand in monk teaching program. Kindly have a look at the list provided below:
Diphtheria and tetanus
Hepatitis B
Hepatitis A
Typhoid
Polio
Yellow fever
Japanese encephalitis
Rubella
Influenza
For more information on what vaccinations you need to carry you can visit the CDC websites and consult with your medical doctor back home.
Is there any other important information that you want to share about this Buddhist monastery volunteer project?
The lifestyle within the monastery is highly disciplined and all visitors and volunteers are expected to respect that fully by abiding by the rules set forth. While outdoor games are prohibited, indoor games are allowed. Physical attachment is completely prohibited, and monks are not allowed outside the premises without permission. Alcohol and smoking are completely prohibited inside the monastery and volunteers should return to the monastery in a timely manner.
Why volunteering in teaching English to Buddhist monks project in Thailand?
Volunteering in Teaching English in Buddhist temple Thailand programs is an eye-opening experience. Your dedicated efforts would help Buddhist monks provide an English education to disadvantaged children in Thailand.
You will make a difference.
By giving children the gift of education and English fluency, you will help them prosper and lead happy, successful lives in the future.
You will get deep knowledge about Buddhism
While participating in teaching English to the Buddhist monks programs you get to spend time with these monks and learn about their religion. Get a closer, deeper insight and be enlightened about the Buddhist practices of Thailand.
You will become a part of everyday life in a monastery
Working and spending so much time in the monastery, you will get a real feel for how daily life here works, and quickly feel at home in the relaxing and peaceful atmosphere.
You will get the opportunity to elevate the level of education of Buddhist monks
The majority of the population in Thailand face a lot of hardships educating themselves and learning the English language. So, by participating in this Teaching volunteering program in Thailand, you'll be able to provide easy access to learning English and elevate the overall level of education in the country.
Other Volunteering Opportunities in Thailand
There are many other ways for you to make a difference in Thailand. You can
Teach English to disadvantaged kids,
work in an orphanage,
provide childcare and child development,
work in the medical field, and much more.
Contact IFRE today for more information!
Other Projects Teaching English to Monks
Buddhist monks are in need of a quality English education to help spread their message in many countries in Asia. See the list below for some of our most popular monastery teaching projects: