Intern in Peru
Do you want to join internship abroad program to gain real world experience and make a difference in the world? Have you always wanted to develop your skills while giving back to those in need as an intern in Peru?
Joining an internship program offers exciting opportunities for you to explore an amazing country (and the archeological capital of the Americas!).This country is a perfect place for students who seek a balance of exciting activities and meaningful projects to share their love, explore their passions, and develop new skillsets. This internship opportunity will also give you an experience in cultural immersion, which may help you broaden your world view or shift your personal perspectives on global affairs.
In Peru we offer amazing and affordable internship program that are sure to give you a safe, comfortable, and meaningful abroad experience. Some of the opportunities you can explore include teaching English in rural schools or working to support professionals in the medical field. You will be able to connect with any kind of program you are looking for in Peru when you plan your internship with IFRE Volunteers.
Learn about a new culture, experience a foreign language, and discover your talents when you intern in Peru. IFRE invites you to look through some of our most popular intern programs and their subsequent project details to get a better idea of where you can learn the most!
Take a minute to complete the form and we will be in touch.
Internship Opportunities in Peru
No matter what field of study or personal passion you want to explore through your internship, we can connect you with a program that will suit your needs and interests. Please take a look at some of our most popular internship programs in Peru below or contact us for more info.
Schools in Peru are drastically underfunded. In the rural schools, English, art and physical Education are required subjects, but are not available due to lack of funding and staff. In some schools, these courses may be taught but at a very low skill level as the teachers are not qualified to teach the courses. Peru needs interns to teach these important but often overlooked subjects of art, computer skills, physical education and English.
Peruvian children are falling behind their global counterparts and rural schools in Peru are in the worst shape. The children of Peru want to learn and improve their lives, but the school system is challenged. Intern in Peru to teach children - putting more passion and love for learning into their lives!
Skills/Qualifications Needed
Beginner to intermediate knowledge of Spanish is preferred (not mandatory). If you cannot speak Spanish, we suggest you enroll in our Spanish language course to make your stay more rewarding – both for you and for the children you are helping.
There are no specific qualifications needed to join IFRE's internship teaching programs in Peru. Dress code is required in the schools (no shorts or sleeveless shirts) and interns must be physically presentable (no excessive tattoos or piercings). Interns are expected to be reliable, flexible and patient and strive to be good role models for the children.
An Intern's Responsibilities
When you intern through this program, you will usually instruct English; however, other subjects like art, computer skills or physical education may also require support. We place interns in public or private schools to teach basic English (grammar and conversational) skills for about 2-3 hours/day (six days a week). Students are aged 6 to 13-years-old. Classes are large. Schools often request intern teacher support with extra-curricular activities in addition to teaching hours.
If you are interested in volunteer programs, we also offer rewarding teaching volunteer program in Peru .
IFRE's Peru internship programs place interested medical/healthcare professionals to support the often-intimidating front line of medicine and healthcare in Peru.
Healthcare project interns in Peru's can expect to supply beyond the "know-how" of their training (no matter how in-depth or basic), but can also expect to share their proactive attitude and innate abilities.
There are limited flu shots and things as simple as antibiotics are in short supply. Medical/healthcare interns are greatly welcomed in these projects to share their time, knowledge, skills and support with the immensely challenged Peru healthcare industry.
Skills/Qualifications Needed
Beginner to intermediate knowledge of Spanish for this Peru medical internship is preferred (not mandatory) . If you cannot speak Spanish, we suggest you enroll in our Spanish language course to make your stay more rewarding – both for you and for the children you are helping. Applicants interested in joining our internship health program must possess healthcare certification, such as an ID as a medical student, EMT, paramedic certification, nursing or physician's credentials.
We do not permit interns without medical credentials to work in this program due to the potential risk. The projects require a copy of interns' resumes, clearly documenting credentials and education, before arrival at the project. Projects will also require an official copy of credentials.
An Intern's Responsibilities
Job responsibilities for medical interns in Peru vary dependent on education, skills, experience and qualifications and on the community's current needs. Interns could be delivering babies, suturing wounds or giving vaccinations. Some interns may also be asked to support public health campaigns.
As a medical intern in Peru, interns could be placed in a large hospital or small clinic. Most of the hospitals (regardless of size) have many departments, like western hospitals, so an intern may be placed in any department dependent on skills, qualifications and training
If you are interested in volunteer programs, we also offer rewarding medical volunteer program in Peru.
If you are interested in amazing volunteer opportunities in Peru, please feel free to contact us.
Program Fees & Dates
Peru internship opportunities start every Monday, although we allow for flexibility due to travel constraints.
Since 2003, IFRE has been the most trusted and respected intern abroad organization in the world, and also the most affordable. We're dedicated to providing the highest quality intern programs at the lowest fees, which make it possible for everyone, especially students, to intern internationally and make a positive impact in the lives of others.
We believe in 100% transparency. Rest assured; we never use middlemen. Your one-time registration fee of $299 covers our administrative costs. The low weekly program fee is paid in the host country directly to your service project (via country coordinator), and includes housing, food, and minor expenses. IFRE is a non-profit organization, so your program fees are tax deductible.
The program fee for internship and volunteering is basically same in Peru. However, unlike volunteers, interns often work closely with guided supervision from a local project director, and a small weekly supervision fee ($25-50/ week) may be incurred in addition to volunteer program fees.
Learn more about our highly affordable volunteer program fees in Peru .
Take a minute to complete the form and we will be in touch.
Internships vs. Volunteers Programs
In general, volunteer programs abroad focus on humanitarian outreach and project support. Volunteering is popular amongst people who want to share their love and passion for underprivileged children, impoverished communities, or conservation efforts in need of resources.
Internship programs focus on creating a real-world learning environment for interns and students so that they practice professional development and obtain new skills. Similar to volunteers, interns may work on a variety of projects (many times alongside volunteers) that benefits local communities, children, wildlife and similar projects. Teaching programs, medical outreach, and children's support are the most popular internship projects.
Room & Food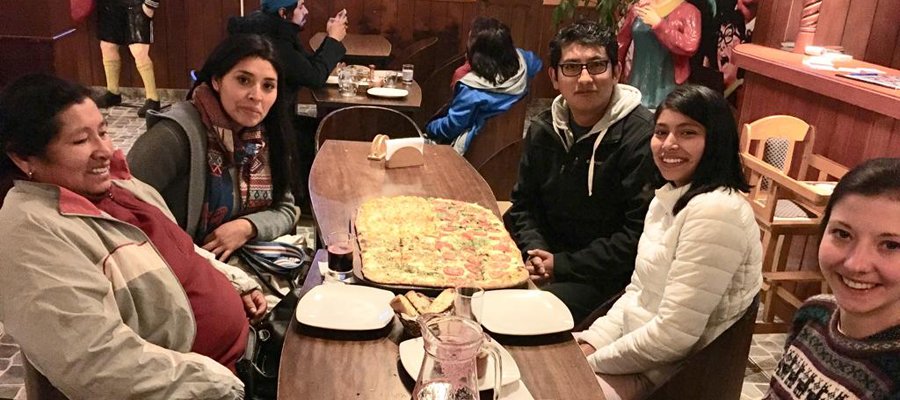 Most interns in Peru placed in Cusco programs stay at our home base – a permanent home set aside for international interns and manned with a local staff. Our home base provides a same-gender shared room and shared bathroom with running hot water and a "western" style toilet. You will have the ability to do laundry at the host family. You receive three prepared meals per day. If you will be out of the house during lunch hour, you can request a lunch "to go" or eat out. Meals are cuisine, which is traditional to Peru.
Occasionally, depending on how many interns are in the Peru program, available projects, or distance to your assigned project, we may also place you with carefully pre-screened host families. Our host families are socially respected and experienced hosts of international interns. They have strong interest in our interns' safety and well-being and demonstrate this with caution and care.
In most host family situations, you will share a room with another intern of the same gender. You will receive three meals a day. Our host families do not offer laundry services, but some will happily take up the task for a small fee. This is up to you to negotiate upon arrival. If you choose to do your own laundry, most families are happy to let you use their washbasins where you will wash by hand then line-dry your clothes.
Read more about the accommodation and meals provided in Peru .
Take a minute to complete the form and we will be in touch.
Field Support and Supervision
Once your Peru internship program begins, our local staff members stay in constant touch with you.
When interns stay far from the Cusco office, our staff will visit every 2-4 weeks (if possible) and interns are always welcome at the office. We recommend that interns stop by the office once a week, if they are staying/working in the local area, to give feedback on their home stay and project. Many minor issues can avoid escalation with a just little extra communication.
Your program in Peru will have local staff members in addition to our in-country coordination staff. If your project is located a substantial distance from our offices, then our local staff communicates by either email and/or phone.
We are available for you at the local office via email and phone for your entire trip. It is our job to make sure that you are safe and healthy.
Read more about the extensive safety and in-country support .
Academic Credit
You can earn academic credit for most internship opportunities in Peru. The best way to receive academic credit is by pre-arranging the project with your college/university. It is up to an intern to communicate with faculty/academic advisors regarding college credit for internship work PRIOR to applying to IFRE. Your college/university may require additional information prior to approval and may require students to submit pre/post research or other requirements.
Free Time
When you intern in Peru, you can really utilize your free time to explore the country's natural wonders. Always keep in mind that IFRE can help launch an amazing Machu Picchu quest from Cusco! In the meantime, there are amazing activities in and around Cuzco. Check out the Plaza de Armas . This beautiful square (lit up at night) is lined by churches, shops, restaurants and bars. It is a great place to spend an afternoon. The historical center of Cusco is a beautiful, but hectic experience with all the street vendors.
Coffee shops are abundant in the Plaza de San Francisco area. There are options for whitewater rafting nearby to Cusco. Upstream are the Chuqicahuana or Cusipata sections of the Rio Urubamba/Vilcanota where the water is clean and the rapids are excellent fun, up to class five depending on what time of year it is.
Learn more about your free time and weekend travel options in Peru .
Take a minute to complete the form and we will be in touch.
FAQs: Intern in Peru
Arrival and Departure
You should plan to arrive into Alejandro Velasco Astete International Airport. Once you arrive, an IFRE representative will be waiting to pick you up.
Please consult our country coordinator before leaving your home country, and make sure to send us your correct flight information once you have booked your travel. If there are any changes, delays, or if you miss your flight please contact us as soon as possible.
We do not offer airport drop-off service, so you will need to arrange your own departure plans.
Visa
To prepare for your internship experience in Peru, you should secure a tourist visa . Depending on your nationality, a 'visa on arrival' may be available. You may extend your visa if you decide to stay in Peru longer after you arrive by visiting to the department of Immigration.
Vaccination
For travel to Peru, the CDC recommends vaccinations against: Rabies, Hepatitis A, Hepatitis B, Yellow Fever, Malaria, Typhoid
How can I apply?
The Peru internship application is straightforward: go online, fill out the program application , and submit it to us. We will follow up with you within 24-hours of your application submittal.
Why go with IFRE Volunteers?
IFRE Volunteers is a global humanitarian non-profit who has partnered with over 22,000 people and hundreds of local organizations since 2006 to facilitate outstandingly significant and incredibly safe volunteer and intern abroad experiences.
We offer the most affordable international internships in Peru when compared with other organizations. We use the tax-deductible registration fee to support your experience and enhance local projects while the program fee gets paid directly to your service project.
You will to create long lasting connections through this program with your host family, project coordinators, and fellow interns. If for any reason you feel uncomfortable during your time abroad, our unparalleled support staff will do everything they can to improve your situation and ensure that you have a good experience.
Our Volunteer Abroad Programs
IFRE offers best affordable volunteer opportunities across 20 countries around the world. If you are interested in our highly impactful and rewarding volunteering opportunities in India, Sri Lanka Thailand, China, Nepal, Bali, Ghana , Kenya , South Africa , Tanzania , Uganda , Zimbabwe, Costa Rica , Ecuador , Peru , Guatemala , Argentina , and Brazil
Check out A Complete Volunteer Abroad Guide : Everything You Need To Know to learn more about what is volunteering abroad. If you want to know how to volunteer abroad for free, go through our Volunteer Abroad for Free article. If you are a college student and searching for meaningful summer volunteering programs, check out our popular articles Community Service Trips For College Students and Summer Volunteer Programs For College Students .
Take a minute to complete the form and we will be in touch.