Intern in South Africa
Have you always dreamed of visiting South Africa? Do you want to participate in an abroad program that will give you real-world experience while supporting local communities? Have you ever thought about investing in an affordable, safe and meaningful internship programs?
When you Intern South Africa, you will explore a spectacular country filled with natural beauty and kind people. You will develop professional skills and grow personally through the challenges that come with practical field experience and cultural immersion. Your time spent abroad will make you more aware of international issues, allowing you to re-evaluate your global perspectives. Not to mention, the skills you develop during this internship will make you a stronger job candidate -all while giving back to communities in need!
In South Africa, we offer a variety of internships, all of which are set in smaller towns and rural areas, so they offer help where it's needed the most. Popular internships in South Africa include working in rural schools, supporting HIV/AIDs projects, and projects in medical and healthcare. No matter what kind of internship experience you want to take part in (even if it's not listed) we can create a program that will suit your needs.
There are so many different ways you can make a difference; IFRE invites you to browse through our programs in South Africa or contact us so we can find the perfect project for you!
Take a minute to complete the form and we will be in touch.
Popular Internship Opportunities in South Africa
Are you ready to embrace South African culture and your passion for learning?Embark on one of the most rewarding experiences of your life. We've listed some of our most popular South Africa programs below.
Many of the schools IFRE partners with are structured to help uplift students and prepare them for a better life. When you intern South Africa, you will work with local English teachers at the school with grades 3-9. Interns can request a specific grade level once they have arrived and spent a day or two in the project.
In the English teaching projects, you will either lead or assist teaching in an English classroom in primary, middle or high schools. Schools may be private, public, or informal, but in all cases the teaching is focused on conversational English rather than formal grammar.
Whether you are an experienced instructor or novice teacher, the teaching internship collaborators will support you by providing many resources to plan and carry out their school day. Textbooks, teaching guides, and less planning assistance are all available to support you while you teach in South Africa.
Skills/Qualifications Needed
No specific qualifications are required to join the English teachinginternship in South Africa. However, you should have mastery of conversational English and a passion/desire to teach younger children (and occasionally teenagers). You must also be comfortable fulfilling the role of English-instructor and/or teachers' aid. All interns are encouraged to be flexible, patient and adaptive.
An Intern's Responsibilities
You may choose to teach any subject (Math, Science, etc) in the schools, in addition to teaching English, if there is a need for additional teachers. South Africa teaching internship opportunities activities may include:
Teaching conversational English, Math or Science to students aged 5 to 10-years-old primary school students or 11 to 16-years-old secondary school students.
Reading literature with students to improve low comprehension levels and pronunciation skills.
Providing theoretical and practical assistance and aid to teachers.
Interacting with the students during lessons and free time.
Note: Intern South Africa programs are based in rural communities that are sometimes located a great distance from the city limits of Cape Town. In each local community, we support multiple projects such as orphanages, schools, HIV/AIDS project, hospital etc. You may support or participate in more than one project during your internship. This multi-tasking presents a more varied internship experience and the extra help is greatly appreciated by the community.
If you are interested in our rewarding teaching volunteer program in South Africa, please feel free to contact us.
Medical projects in Cape Town are understaffed and lack many of the resources needed for patients meaning people can be forced to wait a long time for much needed medical care. This can create a stressful environment for staff and interns as the structure and organization of medical project can be chaotic at times. Most facilities are government-funded, meaning they mainly help individuals who cannot afford expensive private medical care.
Though this chaos can be a bit frustrating at times, you will find health care internship program in South Africa extremely rewarding as you get to help those in desperate need of medical care. Interns will play an active role in the clinics, but it should be noted that no major operations are performed at the facilities. Struggling with even minor health issues can have a major impact on people's abilities to live their lives and provide for their families.
Skills/Qualifications Needed:
Applicants over the age of 18 interested in joining our South Africa intern healthcare opportunity do not need previous healthcare experience or education. Our programs are designed to accommodate interns with a medic background and entry level med students a valuable understanding of the South African medical health system.
Those with higher level medical qualifications and work experience will have the skills to provide a greater impact to the patients in need. However, this medical internship program is focused on skill sharing to benefit both you and the local staff. Regardless of your experience and background a passion for humanitarian work and ability to show patience and flexibility when working in stressful environments is a must.
An Interns' Responsibilities
As a medical intern South Africa you will work in local clinics helping with basic medical care as well as work alongside HIV/AIDS awareness programs. In local clinics you will help with wound dressing, taking blood pressure and pulse readings, weight and temperature measurements, as well as assisting patients from one service location to another.
You may be required to work in a baby clinic, help with administration and patient observation with local doctors and nurses. Interns often also spend time working with local medical awareness programs and helping to raise much needed funds to support medical programs. Due to South African law medical interns will never be asked to treat patients or prescribe medications without a resident doctor present.
If you are interested in our life changing medical volunteer program in South Africa, please feel free to contact us.
If you are interested in our amazing volunteer program in South Africa, please feel free to contact us.
Fees & Dates to Intern South Africa
All South Africa programs begin every Monday, although we allow for flexibility due to travel constraints.
Since 2003, IFRE has been the most trusted and respected volunteer and intern abroad organization in the world, and also the most affordable. We're dedicated to providing the highest quality internship programs at the lowest fees, which make it possible for everyone, especially students, to intern internationally and make a positive impact in the lives of others.
We believe in 100% transparency. Rest assured; we never use middlemen. Your one-time registration fee of $299 covers our administrative costs. The low weekly program fee is paid in the host country directly to your service project (via country coordinator), and includes housing, food, and minor expenses. IFRE is a non-profit organization, so your program fees are tax deductible.
The South Africa internship program fee and volunteering fee is basically same. However, unlike volunteers, interns often work closely with guided supervision from a local project director, and a small weekly supervision fee ($25-50/ week) may be incurred in addition to volunteer program fees.
Learn our highly affordable volunteer program fees in South Africa.
Take a minute to complete the form and we will be in touch.
Internships vs. Volunteers Programs
In general, volunteer programs abroad focus on humanitarian outreach and project support. Volunteering is popular amongst people who want to share their love and passion for underprivileged children, impoverished communities, or conservation efforts in need of resources.
Internship programs in South Africa focus on creating a real-world learning environment for interns and students so that they practice professional development and obtain new skills. Similar to volunteers, interns may work on a variety of projects (many times alongside volunteers) that benefits local communities, children, wildlife and similar projects. Teaching programs, medical outreach, and children's support are the most popular internship projects.
Accommodation & Food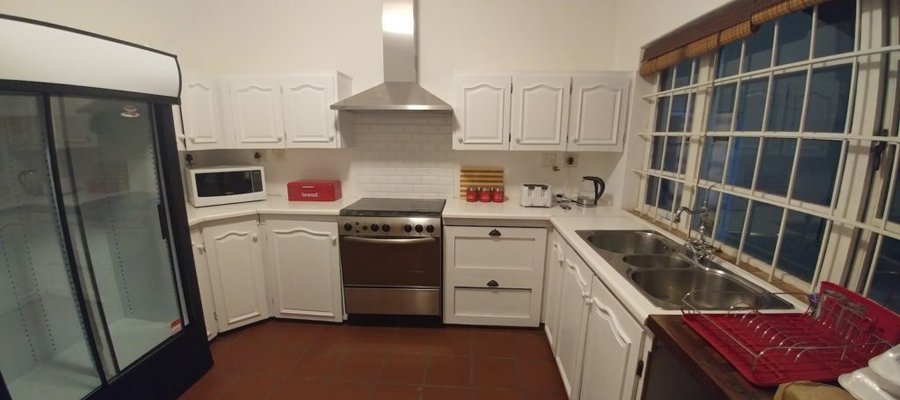 IFRE arranges all of your South Africa internship accommodations and food (2 local meals per day) for the duration of your stay. You may stay in our well managed volunteer/intern house in Cape Town. Our house is located in the heart of the city giving interns easy access to all parts of the city.
You will receive two meals of South African cuisine each day. Breakfast normally consists of cereal and toast; and dinner is a nutritious home cooked local meal (meat & vegetables, rice or potatoes & salad). Throughout your summer internship project, our local staff stays in contact with interns either with face-to-face visits or via email/telephone.
Read more about your accommodations and meals in South Africa.
Take a minute to complete the form and we will be in touch.
Field Support and Supervision
International student internships in South Africa are supported by our local staff members who stay in constant touch with you. However, if you stay far from our in-country office, our staff will visit every 2-4 weeks (if possible) and you will always be welcome at the office. In fact, we recommend that you stop by the office once a week to check in with us and give us feedback on your program and accommodations.
We are available for you at the local office via email and phone for your entire trip. It's our job to make sure that you are safe and healthy.
Academic Credit
You can earn academic credit for most term or summer intern South Africa. The best way to receive academic credit is by pre-arranging the project with your college/university. It is up to YOU to communicate with faculty/academic advisors regarding college credit for internship work PRIOR to applying to IFRE. Your college/university may require additional information prior to approval and may require students to submit pre/post research or other requirements.
Free Time
You will have free time for the duration of their project in the evenings and on weekends. While IFRE does not arrange activities during this time off, our local staff, members and coordinators can provide priceless assistance in making appropriate arrangements for travel in South Africa.
Free time is perfect for social and physical adventure. South Africa is one of the most beautiful countries in the world offering numerous opportunities for a truly amazing experience. Our South African intern coordinators/staff are available to give interns free advice, travel tips and help with interns' travel plans.
The Wineland - Part of the Great Cape Wine lands Region, Stellenbosch was established in 1679 primarily for wine production. The town contains many fine examples of historic Cape Dutch architecture, especially the residences and offices on Dorpstreet.
The buildings have been carefully restored and many surround the town square, "the Braak". Numerous wine estates and cellars can be visited in the immediate area. Hiking trails abound at Jonkershoek and Assegaai Nature Reserves.
The Garden Route-The area surrounding Albertinia offers breathtaking views stretching from the coastal area along the Gouritz River, up into the foothills of the Langeberg Mountains. There are some local wineries outside Albertinia. This is something international students interning in South Africa should not miss!
The famous Gouritz Bridge offers the second highest Bungee Jumping spot in the country and the nearby Garden Route Game Reserve offers a chance for big game tracking. Albertinia is also a 20 minute drive to the stunning Stilbaai beach resort and 40 minutes from the seaport town of Mosselbay.
The golden beaches, tranquil lakes mountains and rivers of Knysna offer an unforgettable experience for water sports, hikers, horse riders and cyclists. Knysna is famous for its homegrown oysters, washed down with locally brewed beer. From the Knysna Quays on the Waterfront development interns can take a boat trip over the lagoon to the Heads and Featherbed Nature Reserve.
Learn more about some of the exciting destinations you can visit while interning in South Africa.
Take a minute to complete the form and we will be in touch.
FAQs: Intern south Africa
Arrival and Departure
You will need to make travel arrangements to arrive in the Cape Town International Airport. Before you depart your home country, please consult our country coordinator so we know that you are well and prepared for you travels.
Our airport representative will pick you up once you've landed in South Africa, so please make sure you have sent us correct flight information and please contact us if there is any delay or if you miss your flight.
We do not offer drop off service.
Visa
You will need to secure a tourist visa before arriving to your South Africa intern project. Depending on your nationality, a 'visa on arrival' may be available. Visa extensions are possible through South Africa's department of Immigration if you decide you would like to spend more time in the country after you've arrived. To learn more about visa requirements, please read through the following links:
Vaccination
You should ensure that you receive proper vaccinations before departing for you internship in South Africa. The CDC recommends vaccinations against: Rabies, Hepatitis A-B, Yellow Fever, Malaria, Meningitis, Typhoid
How can I apply to intern South Africa?
South Africa program applications are straightforward. Just complete and submit your online application to us. We will be in touch within 24 hours of your application submittal.
Why go with IFRE Volunteers?
You should explore internship opportunities in South Africa through IFRE because we are an honest and proud non-profit organization whose mission is to change the world one individual at a time. With plenty of experience (established in 2006) and trusted by more than 22,000 individuals, IFRE provides exciting, safe, and life-changing experiences for all of our volunteers and interns. Not to mention, our transparent, tax-deductible fees are the most affordable prices in the world.
During your time abroad, IFRE will connect you with unparalleled field support and heart-warming communities who will make you feel like your time spent in your host country is your home away from home.
Our Volunteer Abroad Programs
IFRE offers best affordable volunteer opportunities across 20 countries around the world. If you are interested in our highly impactful and rewarding volunteering opportunities in India, Sri Lanka, Thailand, China, Nepal, Bali, , Cambodia , Ghana , Kenya , South Africa , Tanzania , Uganda , Zimbabwe, Costa Rica , Ecuador , Peru , Guatemala , Argentina , and Brazil
Check out A Complete Volunteer Abroad Guide : Everything You Need To Know to learn more about what is volunteering abroad. If you want to know how to volunteer abroad for free, go through our Volunteer Abroad for Free article. If you are a college student and searching for meaningful summer volunteering programs, check out our popular articles Community Service Trips For College Students and Summer Volunteer Programs For College Students .
Take a minute to complete the form and we will be in touch.