Volunteer in Zimbabwe
Have you always dreamed of seeing the rushing waters of Africa's Victoria Falls? How would you like to volunteer helping kids in need while you're there?
Victoria Falls in Zimbabwe is twice the height of Niagara Falls and attracts millions of visitors each year. Its staggering beauty has earned it a place on the list of the seven natural wonders of the world.
While the falls have made some people in the nearby Victoria Falls town quite wealthy, most of the people in the surrounding rural areas are desperately poor.
What's more, the HIV/AIDS epidemic that is ravaging this nation have left countless children in this area as orphans.
IFRE offers three meaningful Victoria Falls, Zimbabwe volunteer programs, and we need the help of international volunteers like you to keep them running. You can help out an orphanage, work in childcare, or teach kids at a local school.
Offer compassionate care and education and see the faces of these underprivileged light up as you make a profound difference in their lives.
Contact IFRE today to learn more about volunteering in Victoria Falls, Zimbabwe!
Available Projects in Victoria Falls
Orphanage
Volunteer helping children of Zimbabwe who have sadly lost their families.The orphanage is home to 23 children between the ages of 3-18. 55 more children receive meals and afterschool care. With a full-time staff of only three people, the help of volunteers like yourself is very much needed.
You will help the children with their homework, clean and assist in keeping up the home, play with the kids, walk them to and from school, serve them meals, and help in fundraising efforts.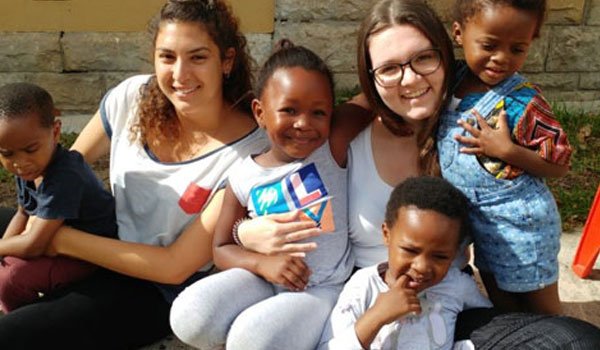 You can expect to volunteer in Victoria Fall's orphanage from 8-4, Monday-Friday. Help support the hard-working staff of this safe haven for Zimbabwe's orphans, and make a profound difference in these kid's lives. Offer them the care and attention they truly deserve.
Childcare
Volunteer with kids in Zimbabwe offering care and attention to 3-5-year-olds who need your help. IFRE works with two childcare centers, one in a rural village and one in Victoria Falls Town.
You will have a variety of duties at this project, including watching the kids during playtime, running art, sports, and music programs for them, cleaning, helping with administrative duties, preparing and serving food, and assisting with fundraising. You will work 8-4 Monday-Friday.
There are only a handful of teachers to serve up to 65 kids, so the support you offer while volunteering helps both teachers and kids. Instead of sticking to basic academics, you can introduce extracurricular activities the children would never have the chance to experience without your help.
Teaching
Volunteer teaching in Zimbabwe to students between the ages of 5 and 13. Schooling here used to be held under trees and informal shelters.
Although they built a real school in 2012, it still experiences a lack of funding and resources, teacher shortages, and is without power or electricity.
Help is needed from international volunteers like you!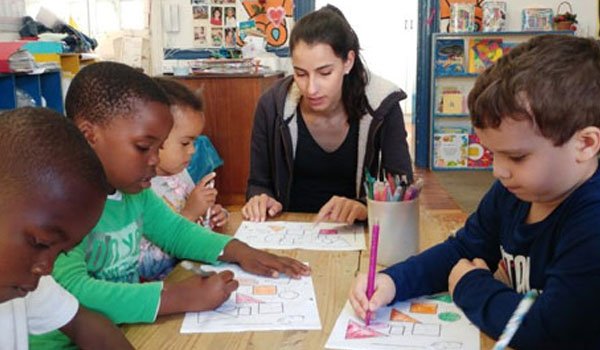 Your main duties will be to assist local teachers with lessons in the classroom, tutor individual students who are struggling and need one on one attention, and to watch over the kids during free time. You will also help the school in other ways as needed, such as administrative duties and fundraising. You will work 8-4, Monday-Friday.
Help teach kids who have never ventured outside of their village learn more about the world and support the hard-working teachers who struggle daily to offer these poor children the education they deserve.
Volunteer in Zimbabwe :Program Dates
Our Fees
IFRE is the most trusted and respected volunteer abroad organization in the world, and also the most affordable. We're dedicated to providing the highest quality volunteer programs at the lowest fees, which make it possible for everyone, especially students, to travel internationally and make a positive impact in the lives of others.
We believe in 100% transparency. Rest assured, we never use middlemen. Your one-time registration fee of $299 covers our administrative costs. The low weekly program fee goes directly to your host family, and includes housing, food, project donation and minor expenses. IFRE is a non-profit organization, so your program fees are tax deductible.
Program Dates
IFRE's Victoria Falls, Zimbabwe volunteer programs begin every Monday year-round. If you have travel constraints, you can still start your chosen program on any day of the year.
Volunteer Program Fees (US$)
| Duration | Projects |
| --- | --- |
| 2 Weeks | $650 |
| 3 Weeks | $880 |
| 4 Weeks | $1,200 |
Accommodations and Meals
You will be staying in our comfortable volunteer house in Victoria Falls Town. Located in a safe and quiet neighborhood, you'll be a 5-minute walk to the nearest store and a 20- minute walk to the town center. The house can hold up to 20 volunteers and offers a lot of amenities including western style toilets, A/C, cable tv, Wi-Fi, and laundry service at the reasonable rate of $5 per bag.
Transportation to and from your project site are included. Also included in your program fee will be three healthy meals per day, which you will share with your fellow volunteers. Use the time to connect with like-minded new friends from around the world!
Free Time
One of the best parts of volunteering abroad is traveling to an exciting new place. While you're a volunteer in Zimbabwe, you'll have your evenings and weekends free. You can really make the most of that time, since the Victoria Falls area has a lot to offer in the way of recreation. Here are some great options for you:
Victoria Falls Unguided Tour
Elephant Encounter (No rides! Only support ethical wildlife tourism!)
Zip-Line Canopy Tour
Bungee jump
Abseiling
Boma Dinner with African dance show
Devils Pool swim
Helicopter flight over falls
White-water rafting
Safety and In-country Support
Your safety while volunteering in Victoria Falls, Zimbabwe is our first priority. We have carefully vetted every single aspect of your trip. We offer pre-trip guidance, select safe destinations for our volunteers, only work with trusted local partners, and help you every step of the way.
We have an amazing in-country team that is right there on the ground in Zimbabwe to help ensure you have the most amazing experience abroad possible. Our team is comprised of dedicated humanitarians working hard to make the world a better place, and they'll offer you unparalleled guidance and support.
Frequently Asked Questions- FAQ
There's a lot that goes into planning a successful volunteer trip to Zimbabwe, and IFRE is here to help you every step of the way. We answer questions from prospective volunteers like you every day, so we've compiled some of the most commonly asked about subjects and put them in one convenient place for you here.

Arrival and departure

Victoria Falls Town has its own international airport, so you'll fly straight to your destination. Provide your flight details to our in-country coordinator after you book, and we'll have someone waiting for you when you land. They'll be holding a sign with your name on it and will take you safely to your accommodations.

When you are done volunteering in Victoria Falls, Zimbabwe, you will need to book your own departure transportation. Just chat with the local project staff, and they will offer you advice on booking a taxi to the airport.

Visa

You will need to apply for a business visa, not a tourist visa, for your volunteer work. The requirements for this will vary based on your home country, so please do some research based on your nationality and apply several weeks in advance of your travel. Some nationalities may be eligible for an e-visa.

We advise you getting a double-entry stamp, as you will likely take an overnight trip to Chobe, Botswana for

To learn more about visa requirements, visit Zimbabwe's official immigration website.

Vaccination

Africa has high rates of epidemics and communicable diseases, so make sure you get vaccinated and also take proper precautions once you are there. Before volunteering in Zimbabwe, make an appointment with your doctor and get up to date on your vaccines.

Recommended vaccines to travel to this destination include hepatitis A, hepatitis B, typhoid, cholera, yellow fever, rabies, meningitis, polio, measles, mumps and rubella (MMR), Tdap (tetanus, diphtheria and pertussis), chickenpox, shingles, pneumonia and influenza. You can also find information on Centers for Disease Control and Prevention, Global Health Canada or in Travelers' Health United Kingdom

For further readings:
Vaccination
Volunteer Health and Safety.
Safety Tips for Your Volunteer Abroad Trip

Why volunteer in Victoria Falls, Zimbabwe?

Help children in need
If you have always loved kids and want to help out where it is most needed, this is the project for you! Many children in Victoria Falls are without families, adequate care, or a proper education and they need your help!

Travel to Africa
A trip to Africa is on almost every single person on the planet's bucket list, and now you can finally make your dreams of traveling to Africa come true!

Visit one of the seven wonders of the world
Of all the amazing natural wonders in the world, a mere seven make this famous list. Victoria Falls is a sight to behold and visiting it will be an experience you'll never forget

Help support orphanages, schools, and childcare centers   
The orphanages, schools, and childcare centers that struggle to offer care, stability, and education to these poor kids are understaffed and underfunded. They desperately need the support of international volunteers in Zimbabwe, and you can join IFRE and help!

Make the world a better place
You'll be making the world a better place, one child at a time. This will filter out to the larger community, and every small act of kindness adds up until it makes a big difference in the world. Get started now!

Contact IFRE today to learn more about volunteering in Victoria Falls, Zimbabwe!




Popular Articles
Other Volunteer Destinations