Accommodation/Food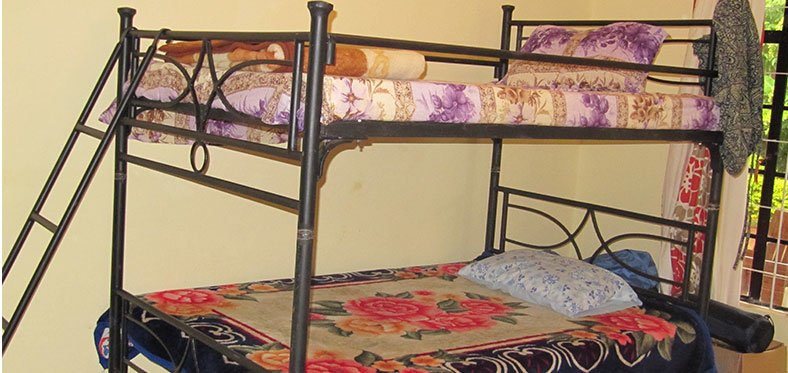 Volunteer abroad accommodation is an important part of your volunteering experience. Regardless of whether you stay in a hostel with other volunteers or volunteer abroad with host families, your living environment can really make or break your total experience. Having a good volunteer abroad accommodation ensures you a comfortable environment to work in and a chance to immerse yourself in the local culture. In this article, we will explain to you everything you need to know regarding your accommodation arrangements.
Where do I live in while volunteering abroad?
This really depends on the project, program location, and host countries. Most (99%) of volunteer abroad programs will arrange for you to stay with host families. However, some projects will require you to stay in a volunteer house or hostel with your fellow volunteers. If you join projects that require you to be in very remote areas such as turtle and elephant conservation, you may have to stay in a cabin close to the project site. Volunteers working on health projects sometimes have to stay in tents or temporary shelters, depending on the host country.
Can I choose where to live?
In most cases, you will not be able to choose your volunteer abroad accommodation. Most volunteer abroad companies have already created accommodation with host families or hostel/home base so you may not have a choice. However, in some cases, you will be able to choose between several different housing options. Please check with the volunteer abroad organization for more information.
Which type of accommodation is best?
There is no right answer to this, as it really depends on your personal preferences. Some volunteers prefer having a lot of cultural exposure, so they tend to enjoy staying with host families. However, if you want more privacy and freedom, you would prefer staying at a hostel with fellow volunteers.
Is there any rules in accommodation?
There will definitely be some rules when it comes to your volunteer abroad accommodation. For instance, you may not be allowed to bring an outside friend to stay with you in your room. Additionally, a lot of accommodations will not allow you to come home drunk, have any sexual activities at the premise, or smoke. In general, you should be respectful of the local culture and take a good care of your room.
Can I get my own room or do I need to share?
This really depends on the program and volunteer abroad company that you choose. If you are staying with host families, you will most probably get a single room. However, if you are staying in a hostel, you may have to share the room with one or more volunteers.
Can family, boyfriend/girlfriend, wife/husband live together?
Most project accommodation will allow families or couples to stay together. Make sure that you request for this earlier so that the organization can make the necessary arrangements.
What kind of food will I get? How many times?
This differs according to each project and company. Most volunteers staying with host families will be provided with 3 meals a day. However, if you live in a hostel, you will most likely have to figure out your own meals. Check with the organization regarding this arrangement prior to the trip.
I am vegetarian or allergic to some food, will my needs be a problem?
Most organizations will be able to accommodate your dietary requirements if they are informed about it early. Please check with them prior to your trip.
Can I ask for food that I like?
You will most likely not be able to request for specific food.
What about laundry? Who takes care of it?
This depends on the country that you travel to. In some Asian countries such as India, cleaning volunteers' laundry may be considered offensive. Meanwhile, in other countries, laundry service may be provided for additional charges. Please check with your volunteer organization prior to the trip.
Will there be basic amenities?
This depends on the project. Some project sites will have hot water, 24/7 electricity, phone connections, and even Wi-Fi! Meanwhile, other project sites may not have these facilities. Please check with the organization prior to the trip.
Do I need to bring toiletries?
Yes, you should bring your own toiletries