Intern in Kenya
Are you searching for amazing and affordable abroad intern experiences? Do you want to use your passions to make a real impact on the world as an intern in Kenya?
When you embark on in Kenya program, you will learn invaluable lessons from cultural immersion while working with communities in the cities of Mombasa and Nairobi. Traveling to Kenya will encourage professional growth that will help you in your future career; you will become more independent, proactive, and adaptable when you're pushed outside of your comfort zone. What's more, the time you devote to your internship will support others in need!
IFRE Volunteers offers internships opportunities to students who want to learn about global issues. While in Kenya, you can discover intern opportunities in teaching English to children in rural school, working with families affected by HIV/AIDS, supporting progress in Kenya's healthcare, and so much more! Even though we only list our most popular internship projects below, you will be able to find any kind of program you are looking for when you intern with IFRE.
IFRE invites you to explore the incredible country of Kenya through a unique internship while giving back to those in need and gaining worthwhile real-world knowledge. Browse through some of our most popular programs listed below or contact us for more details.
Take a minute to complete the form and we will be in touch.
Popular Intern in Kenya Programs
Whether you are looking to explore the community of Nairobi ("Green City in the Sun") or practice your teaching skills to schools in rural towns, Kenya has an internship for you! We've listed some of our most popular opportunities in Kenya below:
In Kenya, income level creates a large gap amongst school children's quality of education. Most upper-class children receive exemplary English instruction. However, children of poorer families and communities, who cannot afford expensive English instruction, lag far behind. This lag creates an even larger rift as children progress through their schooling and eventually into the workforce.
IFRE strives to bridge this chasm to offer quality English instruction by collaborating with local rural schools and international interns like yourself! Internship opportunities exist in Nairobi and Mombasa for people with strong English skills. As an English teacher, your work will be a valued and welcomed resource! You will work in the rural schools mostly under the direction of the head teacher.
Skills/Qualification
No specific skills or qualifications are required to intern in Kenya as an English teacher. However, some kind of teaching certification or education degree is appreciated. A major in science, math or computer oriented classes is also preferred if you have no teaching education/credentials. You must have passion and interest to help children and improve their education.
An Intern's Responsibilities
As an intern teacher in Kenya, you will focus mainly on teaching English to local children in primary, middle or high schools. If you are skilled, you can teach math, science, or other subjects. Most classrooms are crowded in Kenya. The number of the students ranges from 40-60.
Because most schools already have a main, local English teacher, much of your time in this Kenyan internship program will be spent working as assistant. However, if you are confident and the local teacher finds you capable or if you have teaching experience, you may teach independently. In Kenya, there is a planned English curriculum, so you will need to follow the course outline. Intern teachers generally teach 3-4 hours a day.
If you are interested in volunteer programs, we also offer rewarding teaching volunteer program in Kenya .
Medical internship programs are often set in rural places with limited resources. Usually, you will act as an assistant to available doctors, helping with whatever task necessary. Work responsibilities vary with education, skill and experience. There many areas in which the medical community and Kenyan citizens need help.
Skills/Qualifications Needed
You must possess health care certification, such as an ID as a medical student, EMT or paramedic certification, or nursing or physician's credentials.
IFRE does not permit individuals into Kenya's medical internship opportunity without medical credentials due to the potential risk. The hospitals require a copy of your resume, clearly documenting credentials and education, before your arrival to the project. Projects will also require an official copy of your credentials.
An Intern's Responsibilities
Job responsibilities for medical projects will vary depending on your education, skills, experience, and current community's needs. You will not be permitted to perform major exams or surgeries. You will most often help doctors or work as their assistants.
When you apply for a medical internship programs in Kenya, you may be placed in a large hospital or small rural health center. Most of the hospitals (regardless of size ) have many departments: Emergency, Gynecology, Pediatrics Gastroenterology, Infectious Diseases, Hematology, Endocrinology, Oncology, Internal Medicine, Clinical Pathology etc. You may be placed in any department, but your skills/qualifications will also be considered.
You may be asked take patients' blood pressure, temperature, height, weight and carry out health center tasks. You will also assist in health camps, distribute medicines, provide tips to patients on health, nutrition and sanitation or provide counseling to patients. You may provide treatment for minor injuries or wounds and document patient records. The tasks and activities vary day by day, which makes this internship particularly engaging!
If you are interested in volunteer programs, we also offer rewarding medical volunteer program in Kenya.
There is a severe and widespread HIV/AIDS epidemic in Kenya. Each year HIV/AIDS claims the lives of thousands of Kenyan children and adults. It is estimated that about 900,000 Kenyans are infected with HIV/AIDS. The good news is there has been some improvement in recent years. Drugs have become more readily available and distributed, but there have also been significant behavioral changes in the population due to education and outreach through internship opportunity in Kenya.
If you intern in Kenya, you will collaborate with local groups and organizations help foster awareness among local communities. Along with hospitals, NGOs and local groups, you will help to prevent loss of life and are improve the lives of those already infected. As an intern in our Kenya HIV/AIDS project you can support the ongoing efforts to stop the spread of HIV/AIDS and provide the manpower needed to comfort HIV/AIDS infected patients in Kenya.
Skills/Qualifications Needed
There is no specific education, experience, skills and/or qualifications needed to join our fight against HIV/AIDS. However, you will be expected to be flexible and patient as well as compassionate for the poor and HIV-infected people of Africa.
An Intern's Responsibilities
Many local organizations working on HIV/AIDS internship program in Kenya are focused on two areas. The first focus area includes: treatment, psychological counseling and support to whose people infected with HIV/AIDS.
Interns within the scope of the first focus area generally visit with HIV/AIDS patients (along with a local worker) and distribute food, clothes, medicine and give mental counseling and support. You may provide basic but valuable tips to patients on health, nutrition and sanitation and you may be involved in keeping patient records.
The second focus area includes: HIV/AIDS awareness or outreach programs to increase the community's understanding of HIV/AIDS, ways to prevent the spread of the disease and how to protect themselves from contracting the disease.
Interns supporting the second focus area normally participate in HIV/AIDS awareness campaigns and/or community outreach. If you focus on outreach and awareness programs as part of your internship in Kenya, you will often visit many schools, villages, churches and present information and media, posters, distribute pamphlets, distribute condoms etc.
If you are interested in volunteer programs, we also offer rewarding HIV volunteer program in Kenya.
If you are interested in our amazing volunteer opportunities in Kenya , please free to contact us.
Dates & Fees to Intern in Kenya
Internship programs start every Monday, although we allow for flexibility due to travel constraints.
Since 2003, IFRE has been the most trusted and respected intern abroad organization in the world, and also the most affordable. We're dedicated to providing the highest quality intern programs at the lowest fees, which make it possible for everyone, especially students, to intern internationally and make a positive impact in the lives of others.
We believe in 100% transparency. Rest assured; we never use middlemen. Your one-time registration fee of $299 covers our administrative costs. The low weekly program fee is paid in the host country directly to your service project (via country coordinator), and includes housing, food, and minor expenses. IFRE is a non-profit organization, so your program fees are tax deductible.
The program fee for internship and volunteering is basically same in Kenya. However, unlike volunteers, interns often work closely with guided supervision from a local project director, and a small weekly supervision fee ($25-50/ week) may be incurred in addition to volunteer program fees.
Learn more about our highly affordable volunteer program fees in Kenya.
Take a minute to complete the form and we will be in touch.
Internships vs. Volunteers Programs
In general, volunteer abroad programs focus on humanitarian outreach and project support. Volunteering is popular amongst people who want to share their love and passion for underprivileged children, impoverished communities, or conservation efforts in need of resources.
Internship programs in Kenya focus on creating a real-world learning environment for interns and students so that they practice professional development and obtain new skills. Similar to volunteers, interns may work on a variety of projects (many times alongside volunteers) that benefits local communities, children, wildlife and similar projects. Teaching programs, medical outreach, and children's support are the most popular internship projects.
Food and Accommodation: Intern in Kenya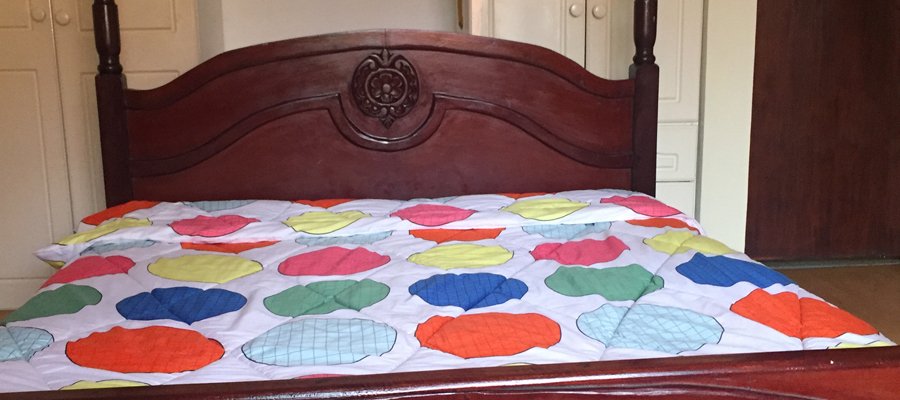 IFRE will manage your living accommodations, provide meals and supervision for interns for the entirety of their stay in Kenya. During the internship period, you may stay in our safe and secure Nairobi home base. IFRE's Nairobi home base is located in a beautiful area nearly 30 km from the Nairobi (Jomo Kenyatta) International Airport in the Thome 1 Estate in the Kasarani division of Nairobi. This estate is very safe and manned with onsite security. It is a clean, sparsely furnished home but will meet all your needs as an IFRE intern. It is close to the local bus station.
Occasionally, depending on intern traffic, available projects or distance to a intern's assigned project, you may also be placed with carefully pre-screened host families. Our host families are socially respected and are experienced with hosting international interns. They have strong interest in our interns' safety and wellbeing and demonstrate this with caution and care. In most host family situations, interns will share a room with another intern of the same gender.
Another viable option while you're interning in Kenya, is an at-orphanage stay. Many orphanages in Kenya have set aside special rooms to house international interns. Interns who have stayed with a host family or at an orphanage describe an enriched experience because of having done so. Once you have applied for program placement, you will find the specific details of your accommodations in your personal placement documents for your project.
Learn more about your accommodation and meal plans while in Kenya.
Take a minute to complete the form and we will be in touch.
Field Support and Supervision for interns in Kenya
Once your internship program begins, our local staff members stay in constant touch with you. We recommend that you stop by the office once a week, if you are staying/working in the local area, to give feedback on your accommodations and service project.
Many minor issues can be avoided with a just little extra communication before they develop into major issues. Your project will have local staff members in addition to our in-country coordination staff. If your project is located a great distance from our offices, then our local staff communicates by either email and/or phone.
We are available for you at the local office via email and phone for your entire trip. It's our job to make sure that you are safe and healthy.
Academic Credit
You can earn academic credit for most internship programs in Kenya. The best way to receive academic credit is by pre-arranging the project with your college/university. It is up to YOU to communicate with faculty/academic advisors regarding college credit for internship work PRIOR to applying to IFRE. Your college/university may require additional information prior to approval and may require students to submit pre/post research or other requirements.
Free Time
Weekends will be yourfree time during your Kenya internship program. While IFRE does not arrange activities during this time off, our local staff, members and coordinators can provide priceless assistance in making appropriate arrangements for travel in Kenya .
It's the time for self-discovery and learning. It's time to explore this Kenyan culture and exotic land. It's definitely time for a safari in Kenya! Our IFRE local coordinators/staff are available to give you free advice, travel tips and helps to book your travel.
Kenya has coastal beaches and game reserves, not to mention an amazing assortment of safari adventures in Kenya to enjoy. In your free time, you can explore the amazing wildlife, fascinating landscape and colorful cultures and customs. Alternatively, you can simply hike in the village.
Please discuss your options with our local project staff to find the best way for you to spend your free time while in our Kenya program.
Read more about your free time and weekend exploration options in Kenya.
Take a minute to complete the form and we will be in touch.
FAQs: Intern in Kenya
Arrival and Departure

You will need to book your flights so that you arrive at the Jomo Kenyatta International Airport. Once you have bought flight tickets, it is important that you send us your correct flight information.

On the day of your departure, please consult your country coordinator to let them know you are leaving your home country. If you miss your flight or the flight is delayed, please contact us as soon as possible.

Once you arrive, an IFRE representative will pick you up. We do not offer airport drop-off service.

Visa

Before traveling to your internship program in Kenya, you must secure a tourist visa . A 'Visa on arrival' may be available to you depending on your nationally.

It is possible to extend your visa once in the country through Kenya's department of immigration.

Vaccination

Before traveling to Kenya , you need to ensure you have received the proper vaccinations. The CDC Kenya recommends vaccinations against:

Rabies, Hepatitis B, Japanese Encephalitis and Meningococcal Meningitis, Yellow Fever, Malaria, Meningitis

To learn more about required vaccinations for internship opportunities in Kenya, please follow the link below:
How can I apply to intern in Kenya?
Internship applications are very straightforward. All you need to do is apply online and then submit the application to us. Once we have received your application, we will follow up with you within 24 hours.
Why go with IFRE Volunteers?
IFRE Volunteers is a non-profit organization whose makes real impacts on the world one individual at a time. Since 2006, we have been trusted by more than 22,000 people to provide safe, meaningful, and affordable international service project experiences. In addition to being well-experienced, our transparent and tax-deductible fees are the lowest internship prices in the world.
With the help of our unparalleled field staff, you will feel like your time spent interning is valued and that you have a new home away from home.
Our Volunteer Abroad Programs
IFRE offers best affordable volunteer opportunities across 20 countries around the world. If you are interested in our highly impactful and rewarding volunteering opportunities in India, Sri Lanka, Thailand, China, Nepal, Bali, , Cambodia , Ghana , Kenya , South Africa , Tanzania , Uganda , Zimbabwe, Costa Rica , Ecuador , Peru , Guatemala , Argentina , and Brazil
Check out A Complete Volunteer Abroad Guide : Everything You Need To Know to learn more about what is volunteering abroad. If you want to know how to volunteer abroad for free, go through our Volunteer Abroad for Free article. If you are a college student and searching for meaningful summer volunteering programs, check out our popular articles Community Service Trips For College Students and Summer Volunteer Programs For College Students .
Take a minute to complete the form and we will be in touch.