Volunteer in Guatemala
Take your natural gifts to the local Guatemalan communities and see them thrive
Dive deep in the Guatemalan culture 

Use your experience to empower the lives of those in need

Listen to the sounds of Quetzals singing and Mayas speaking

Fill your horizons with Mayan ruins, green rainforests, and colonial cities

Choose one of two local cities nested in a cradle of Guatemalan mountains and volcanoes

Travel with a trustworthy volunteer organization... today!

Join one of the most affordable programs starting at $110 and trusted by over 22,000 since 2006
Take a minute to complete the form and we will be in touch.
Volunteer in Guatemala – Two amazing locations (Antigua & Xela)
The wondrous country of Guatemala is a one of a kind spot to explore, volunteer, and become completely immersed in its culture! IFRE Volunteers currently offers the most affordable, safe, and exciting volunteer opportunities in two amazing locations!
Volunteer in Xela, Guatemala
Affordable, Exciting, Life-Changing Guatemala Volunteer Experiences!
Contribute positive change to the lives of desperately poor people in this rural area.
Experience a lovely climate, wonderful food, and fascinating architecture while sharing your love and compassion with adults and children in need through our volunteer-in-Guatemala programs.
Today, Guatemala needs volunteers more than ever!
In Xela, you'll choose from a variety of service projects, such as working in an orphanage, helping at-risk children, teaching English at a rural school, assisting in a health care program, or dedicating time to women's empowerment.
While your makes a lasting impact on these communities, those you help will be giving you a lifetime of memories, love, and gratitude.
A volunteer program in Xela will enable you to change the lives of children and adults, be inspired, and grow personally, and experience the adventure of a lifetime!
Get ready for a lifetime of memories! Request information by clicking below.
Volunteer Work Projects and Locations
IFRE's volunteer program in Guatemala currently places volunteers in community service projects in Quetzaltenango. Our volunteers contribute time and effort to orphanages, street children projects, healthcare projects, social work projects and English projects.
Volunteer Project Location
Quetzaltenango, Guatemala
Quetzaltenango, also known as Xela (pronounced SHAY-la) or Xelaju, is the second largest city in Guatemala. Situated in the southwest part of the country, it is surrounded by a variety of landscapes from cold highlands to the warmer Pacific coast. There are numerous volcanoes, hot springs, valleys, mountains and rivers. The region provides a harvest of numerous products such as coffee, wheat, fruits and vegetables, as well as sheep and cattle breeding. The classical, neoclassical and Italian renaissance styles are apparent in the buildings and the houses, which have been built during the past century and the beginning of the 20th, with volcanic stones by artistic "Quetzalteco" masons. Xela is also well known for its abundance of volcanoes, mountains, and hot springs as well as other natural beauty and experiences.
Volunteer Program Fees & Dates:
Volunteer Program Dates
Most programs are available year-round. We recommend volunteers begin their placements on a Monday, scheduling their arrival and departure on the weekends. However, due to flight availability, particularly traveling internationally, start dates are flexible.
We ask that all volunteers ensure to communicate their arrival and departure plans clearly to their country coordinator to ensure transportation and accommodations are properly arranged.
Volunteer Program Fees
IFRE Volunteers strives to provide the lowest fees along with transparency to all of their volunteers!
IFRE Volunteers is proud to offer the world's most affordable fee for international volunteering and as a 501(c)3 organization, your program fee will be tax deductible. We are proud to focus on the humanitarian aspect of our business, not on profit.
We strive to maintain affordable cost, particularly for volunteers; we recognize the value of your donated time and efforts. We remain devoted to maintaining both the quality of the program and the safety of all volunteers involved.
IFRE fees comprise of two separate fees:
Application fee of $299 USD (covers advertising, staff/office expenses, etc.)
Weekly program fee paid directly to your project (covers room/board, field support, etc).
You will pay your fee directly to host families and projects. In this way, what you pay will go directly from you to the people who deserve it (not for profit).
Volunteer Program Fee (US$)
| Weeks | All Other Projects (includes 10 hours per week group Spanish) | Medical project (Includes 10 hours per week group Spanish) |
| --- | --- | --- |
| 1 Week | $110 | $135 |
| 2 Weeks | $220 | $270 |
| 3 Weeks | $330 | $405 |
| 4 Weeks | $440 | $540 |
| 5 Weeks | $550 | $675 |
| 6 Weeks | $660 | $810 |
| 7 Weeks | $770 | $945 |
| 8 Weeks | $880 | $1,080 |
| 9 Weeks | $990 | $1,215 |
| 10 Weeks | $1,100 | $1,350 |
| 11 Weeks | $1,210 | $1,485 |
| 12 Weeks | $1,320 | $1,620 |
Airport Pick up and Transfer to Xela from Guatemala City- $40 to $80 (depending on type of accommodation)
Program Fees Cover:
Group Spanish Lessons (10hrs a week)

Accommodation (host family)

Food (local food 3 times a day)

Program Orientation

In-country support

Personalized project

Pre-departure information

Certificate of completion

Fundraising ideas and letters

Discount for returning volunteers
Program Fees Exclude:
Visas

Airfare

Personal expenses on soft drinks and foods

Daily transportation

Airport return transfer
The volunteering programs in Antigua, Guatemala fees will cover expenses that will begin on the first day of the program (usually the first or third Monday of the month) to the last day of the program. If you arrive before the first day of the program or you decide you stay beyond your program's last day, you will be responsible for the additional expenses, which would typically be around $30 a day for room and meals at a hostel.
Spanish Language Immersion Program
Are you considering improving your Spanish language skills? Then IFRE's Guatemala Spanish Language Program is the perfect choice.
IFRE currently offers highly affordable Spanish language classes in Quetzaltenango. These classes are exclusive to IFRE volunteers participating in the Guatemala volunteer program. In Guatemala, IFRE partners with a highly reputable Spanish school. They employ qualified and experienced Spanish teachers and offer the most intensive and effective Spanish courses in Guatemala. In this program, volunteers work at their volunteer project and learn Spanish simultaneously. For example, volunteers can take Spanish classes from 9:00-11:00 AM (before lunch) followed by volunteer activities. Alternatively, volunteers may take Spanish classes from 3:00-5:00 PM (after their day's volunteer work). Most of the projects are located close to the Spanish school, so it is possible for volunteers to design a personal schedule. IFRE invites you to improve your Guatemala experience by learning or improving your Spanish.
Spanish Language Cost: $5 / hour
Arrangement of Room/Food/Supervision
In Guatemala, all volunteers stay with well-screened host families. Our host families are socially respected and are well versed in the art of hosting international volunteers. Host families offer a safe home with private rooms (occasionally rooms will be shared with other same-gender volunteers) and shared bathroom facilities with running water and a "western" style toilet. Volunteers have the ability to do laundry at the house or the host family may offer to do it for you for a nominal extra fee. You receive three prepared meals per day. If you will be out of the house during lunch hour, you can request a lunch "to go" that you can take with you or eat out on your own. Host families provide typical meals that are traditional to Guatemala.
Throughout the volunteer project, our local staff stays in contact with volunteers either with face-to-face visits or via email/telephone. With longer placements, we visit our volunteers every two weeks (when possible) and volunteers are always welcome at the local office. If project placement is local, we request that volunteers stop by the office once a week to keep us posted on how they are doing with their home stay and project. If project placement is very far, then our local staff members maintain communication by either email and/or phone.
Volunteer Program Free Time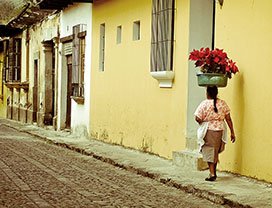 Volunteers in Guatemala free time for the duration of their volunteer project, weekends and the Spanish language program. While IFRE does not arrange activities during this time off, our local staff, members and coordinators can provide priceless assistance in making appropriate arrangements for travel in Guatemala. It's the time for self-discovery and learning. It's time to explore this foreign culture and exotic land. It's definitely time for a canopy tour in Guatemala! Our IFRE local coordinators/staff are available to give you free advice, travel tips and helps to book your travel.
Quetzaltenango free time will include architectural tours, parks and vistas. Espiritu Santo Cathedral : Consist of two structures. The "Espiritu Santo" parish's ancient facade (1535/1896) and to the back the "Diócesis de los Altos" (1899). The Municipal Theatre is a very important Neoclassical work. The city's main park (known as "Parque Central) is located in the center of the town is also center for cultural activities and entertainment. A beautiful vista is found at the Cerro del Baúl, where one can take in the sights of Quetzaltenango's valley, day or night (accessible by foot, car or taxi).
About IFRE's Guatemala Volunteer Program (in general)
How long has IFRE been working in Guatemala? With whom do you partner? Where are you located? What are IFRE's programs?
IFRE has been running volunteer projects for a number of years all over Latin America. We partner with many orphanages, schools, NGOs, governmental organizations, non-profits and communities. IFRE's volunteer projects in Guatemala are located in Quetzaltenango and La Antigua. With people as diverse as its history and landscaped, Guatemala is a paradise for anyone – be it an archeologist, architect or world-traveler. There are ever-developing and sprawling cities which echo remnants of its multi-faceted past. Guatemala's lands offer opportunities for those wanting to not only travel to another country, but another time as well.
Currently, IFRE offers the following projects in Guatemala: orphanage, street children project, English-Teaching Project, Healthcare Project and a Social Work Project. IFRE offers free Spanish lessons to participants volunteering in projects based in Quetzaltenango. For some projects, a certain level of Spanish fluency is preferred to prevent volunteers from becoming frustrated due to the occasionally-occurring language barriers.
Applying for the Guatemala Volunteer Program
How can I apply? What happens once I apply? Do you guarantee placement? How long does it take to receive confirmation?
Please read IFRE's 4-step application process
There are two options for applying to volunteer in our Guatemala programs. You can apply online (http://www.ifrevolunteers.org/apply-now.php ) or you can simply download an application form, fill it out and mail it into IFRE's offices. Participants are required to submit their application with a $299 application fee plus the program fee for the number of weeks you choose. However to simply start the placement process, all that is needed upfront is a $99 deposit which will be deducted from the final invoice.
Once IFRE receives your application, we immediately forward it to country coordinator for processing. The in-country coordinator reviews the application carefully to determine the most optimal project for you while you volunteer in Guatemala. Decisions pertaining to room and board are made at this time - depending on the location of the project. The vast majority of participants stay in fully immersed in-home stays.
IFRE receives the details of the participants' placements from the in-country coordinator.
The information is then passed on to the prospective participants along with a final invoice. Final payment is due six weeks prior to departure and, in expedited cases, as soon as possible. The placement details contain local contact information to be used when applying for a visa and/or to get in touch with the local staff and host family.
Preparation for your volunteer vacation in Guatemala should include reading about travel to Guatemala, immunization, acquiring a travel visa and booking airfare for your volunteer journey to Guatemala. If you face any problems, IFRE's Program Manager is always available for any assistance.
IMPORTANT : Once participants purchase airline tickets, we request flight information be forwarded to IFRE's U.S. office by fax or by email. Participants' flight information will then be forwarded to the in-country coordinator in Guatemala, who will then arrange an airport pick-up.
Airport and Arrival Information
Who will meet me at the airport? What should I do if I get delayed or miss a flight? When should I arrive?
All Guatemala volunteers are asked to arrive at the Aurora International Airport, Guatemala City. Upon arrival in Guatemala City, volunteers will be met and picked up by a local IFRE representative who will then transfer volunteers to their assigned accommodations/volunteer projects.
We ask that you fly with all your important documents, including your volunteer placement, passport, visa and vaccination booklet. Please have them accessible in case you are asked to produce them. Volunteers will receive a tourist stamp on their passport good for 90 days upon arrival in Guatemala. Our volunteers join our program on a tourist visa basis. IFRE volunteers do not need a long term or working visa.
If some sort of delay occurs, including flight delays or missed flights, contact our Guatemala office as soon as possible. Volunteers coming to Guatemala are advised to arrive one day before their program start date. The program fee will cover expenses beginning of the first day of the program (Usually first or third Monday) to the last day of the program. If you arrive before the first day of the program and/or stay beyond the last day of the program, expenses will be the responsibility of the volunteer (usually $30 per day for room/food in hostel).
Room and Food
Where do I stay during my volunteering program? What do I eat? What about shower and restroom facilities? Do you accommodate special diets?
In Guatemala, all volunteers stay with well-screened host families. Our host families are socially respected and are well versed in the art of hosting international volunteers. Host families offer a safe home, private rooms (occasionally rooms will be shared with other same-gender volunteers) and shared bathroom facilities with running water and a "western" style toilet. Volunteers have the ability to do laundry at the house or the host family may offer to do it for you for a nominal extra fee. You receive three prepared meals per day. If you will be out of the house during lunch hour, you can request a lunch "to go" that you can take with you or eat out on your own. Host families provide typical meals that are traditional to Guatemala.
Throughout the volunteer project, our local staff stays in contact with volunteers either with face-to-face visits or via email/telephone. With longer placements, we visit our volunteers every two weeks (when possible) and volunteers are always welcome at the local office. If project placement is local, we request that volunteers stop by the office once a week to keep us posted on how they are doing with their home stay and project. If project placement is very far, then our local staff members maintain communication by either email and/or phone.
Visa Information
Where do I stay during my volunteering program? What do I eat? What about shower and restroom facilities? Do you accommodate special diets?
IFRE suggests all volunteers apply for a tourist visa before leaving for Guatemala. Though American, UK and Canadian citizens are able to acquire a visa at the airport, this can be time-consuming and is not guaranteed. Volunteers can acquire a Guatemalan visa from the Guatemalan Embassy or consulate in their home countries.
For stays exceeding 90 days, apply for an extension within the first week of arrival with the Guatemalan Immigration Department or exit the country for a minimum of 72 hours before re-entering on a new visa.
Health and Safety in Guatemala
Being informed is your first defense against disease and safety risks. We recommend visiting some of the following websites for health and safety information:
WHO website for international travelers ( http://www.who.int/csr/ihr/en/ )
General Health Tips for Volunteers in Guatemala
Public water is not considered safe to drink in most of Guatemala. When traveling to the beaches or very rural areas, drink only bottled or boiled water or carbonated (bubbly) drinks in cans or sealed bottles. Tap water should not be considered safe at the beaches, nor are drinking fountains, fountain drinks (soda pop) and ice cubes. If purchasing pre-packaged water isn't possible, make water safer by both filtering through an "absolute 1 micron or less" filter AND adding iodine tablets to the filtered water. Filters and tablets are found in camping/outdoor supply stores.
Buy bottled water from respectable outlets/vendors to guard against an upset stomach. Make sure that the seal of the bottle is intact as it is not uncommon for local street merchants to sell tap water in resealed bottles.
The most common health complaint in any developing nation is an ailing digestive system. In many cases, the illness may be attributed merely to a change in diet, but occasional cases of food poisoning can occur, whereby the symptoms occur very quickly, severely and explosively. These are seldom serious or extended illnesses, but medical treatment should be sought if it occurs.
Avoid eating food from road side stalls/vendors. Don't eat unpeeled fruits or fruits that have already been cut by unknown handlers on the street. If you must eat food at a place that you have doubts about, make sure the food is served hot.
If you require any prescription drugs, bring enough for the duration of your stay in Guatemala. They will need to be carried in their original prescription bottle and the prescription must be in your name.
It is advisable that you carry a small health kit which should include remedy for upset stomach, some antiseptic cream, hydration powder, deer mosquito repellant, sun block, band aids, etc.
We recommend all traveling volunteers visit the Center for Disease Control's website (www.cdc.gov ) for traveler's health recommendations. You should also consult with your personal regarding current epidemics and medical concerns.
Recommended Vaccinations and Preventive Medications
The following vaccines may be recommended for your travel to Central America. including Guatemala. Discuss your travel plans and personal health with your healthcare provider to determine which vaccines you will need.
Hepatitis A or immune globulin (IG). Transmission of hepatitis A virus can occur through direct person-to-person contact; through exposure to contaminated water, ice, or shellfish harvested in contaminated water; or from fruits, vegetables, or other foods that are eaten uncooked and that were contaminated during harvesting or subsequent handling.
Hepatitis B , especially if you might be exposed to blood or body fluids (for example, health-care workers), have sexual contact with the local population, or be exposed through medical treatment. Hepatitis B vaccine is now recommended for all infants and for children ages 11-12 years who did not receive the series as infants.
Malaria: if you are traveling to a malaria-risk area in this region, see your health care provider for a prescription anti-malarial drug. For details concerning risk and preventive medications, see Malaria Information for Travelers to Central America and Mexico .
Rabies , if you experience extensive unprotected outdoor exposure in rural areas, such as might occur during camping, hiking, or bicycling, or engaging in certain occupational activities.
Typhoid vaccine. Typhoid fever can be contracted through contaminated drinking water or food, or by eating food or drinking beverages that have been handled by a person who is infected. Large outbreaks are most often related to fecal contamination of water supplies or foods sold by street vendors
Yellow fever , for travelers to endemic areas in Panama
As needed, booster doses for tetanus-diphtheria and measles .
Precaution again Malaria
The best prevention of mosquito born diseases is long-sleeves and pants (especially in the early evening) in addition to using insect repellants. This area of Guatemala has no malaria, but there are other mosquito-carried/transmitted diseases, such as dengue, that are just as bad and there is no vaccine, just prevention through clothing and repellent.
Money Matter
What is the currency of Guatemala? What is the exchange rate? Where should I change my currency? Can I use a debit card or credit card? Should I bring travelers checks?
Guatemala's local currency is the "Guatemalan Quetzal" (GTQ). Dollars can be changed at the exchange houses in the airport. Many businesses accept dollars at the current exchange rate. ATM machines are available in various regions throughout Guatemala, especially Guatemala City and the airport where the option of US dollars or the Quetzal is often available.
Do not arrive in Guatemala without any cash as ATM machines can be down or fail to accept your card. It is wise to check with your bank ahead of time to confirm that your card will work overseas. Debit cards and credit cards are becoming more acceptable at major stores; however, they are still not accepted as widely as in your home country.
Credit card fraud is an issue in Guatemala. Do not use your cards at any smaller or non-reputable locations. Information is often stolen and used fraudulently just by paying with a credit card. For this reason, IFRE suggests cash and travelers checks to settle your bills. You will have trouble actually paying with traveler's checks, but you will be able to exchange them at local banks. Traveler's Checks are recommended as a safe way to carry money with you, make sure you write down the check numbers and contact information you need to cancel stolen checks. Different brands of traveler's checks work better in different countries so consult your local financial institution regarding which Traveler's Checks to bring to Thailand.
How much money you bring depends on your personal spending habits. Thrifty people can get by on less than $10/day. Your budget should also include money to explore Thailand in free time as well as for your personal use. A good rule of thumb for money management is the 1/3 method, bring 1/3 cash, 1/3 traveler's check and leave 1/3 of your money in your account - plus a credit card for emergencies.
Field Support and Supervision
How does IFRE helps me when I am in the field? How can I maintain communication? Do you visit me?
Once your volunteer program begins, our local staff members stay in constant touch with you. However, volunteers staying far from our Quetzaltenango office, our staff will be visited every 2-4 weeks (if possible) and they are always welcome at the office. We recommend that volunteers stop by the office once a week, if they are staying/working in the local area, to give feedback on their home stay and project. Many minor issues can avoid escalation with a just little extra communication. Your project will have local staff members in addition to our in-country coordination staff. If your project is located a substantial distance from our offices, then our local staff communicates by either email and/or phone.
We are available for you at the local office via email and phone for your entire trip. It's our job to make sure that you are safe and healthy.
Communication
How do I communicate with my family? With IFRE staff members? Is there internet available?
There are a number of internet cafes located in some of the major cities such as Guatemala City. La Antigua and Quetzaltenango and usually cost about $1/hour. There are also international phone cards available to make international calls. Also, please use local phone cards for local calls as every minute of local or international use is billed to the families. If you need to contact the local IFRE staff members, your host family or project will generally allow you to use the phone for short periods of time.
Climate in Guatemala
Guatemala has a lovely climate year round. The rainy season generally occurs from May to November. Fluctuations in weather are usually due to escalating altitudes, but warm temperatures are normally found throughout the country. Northern Guatemala features a hot, tropical climate with the majority of the rainfall occurring between May and September.
Both the coastal and northeast regions are hot and the drier period occurs from November to April, with average temperatures of 68°F (20°C). Guatemala City and La Antigua (designated as the "highlands") both have a pleasant climate with less rainfall (as compared to the coastal regions), but experience colder temperatures in the evenings.
Materials to Bring:
Most items of daily use are available in Guatemala and are fairly inexpensive. However, we suggest volunteers pack the following items:
Camera
Mobile phone (you can use your mobile phone after changing the sim card). NOTE: only bring cell phones that have multi-national coverage. You cannot switch to a new card here on the local phone system without being a resident and having a receipt for your phone on you.
Sleeping bag
Mosquito repellents
Insect repellents
Sun-block
Work gloves (if joining conservation or construction project)
Some books about Guatemala
Map of Guatemala
Toiletries
First aid kit
Flash light
Electricity adapter/converter
Sunglasses
Shoes/boots (for work and travel)
Towel
Hot weather clothing but not overly-skimpy (conservative clothing)
Jeans or pants or skirts
Swimsuit
Long-sleeve shirt and jacket for cooler areas (cool temperatures occur in the evenings in Guatemala City and Antigua )
Raingear (especially during the rainy season which occurs from May to November)
Gift for Host Family and Project
What gifts should I bring for my project and/or host family?
It is a common courtesy to bring a small gift for the staff that will be hosting you. You are not required to do so, but if you choose to bring something it can be pretty simple. We suggest a box of chocolates, a t-shirt with a hometown/country logo or pictures of your family and local post cards.
If you want to bring gifts for your project and if you are working for an orphanage or a school, please bring pencils, pens and paper, art supplies like markers and construction paper pads, as well as games for the children to enjoy. Remember that every child will need these items so you may wish to bring enough for a number of children.
The Complete Guide to Volunteering in Guatemala: Step by Step
Chapter 1: Getting started: Volunteer in Guatemala
Welcome to Guatemala
A country rich in Mayan history, culture and unique natural biodiversity, Guatemala is a playground for action, adventure and exploration . However, although it is rich in culture and natural resources Guatemala is still a 3rd world country, stricken with poverty. The country welcomes volunteers with open arms to assist in the development of their health, construction and education systems and invite them to explore the stunning countryside
Guatemala is a country of hidden paradises, colonial history and architecture, Mayan ancestry and vibrant colors.  Geographically it may be small but it is home to exotic, majestic and diverse landscapes, vibrant modern cities and friendly people full of charm and character. A volunteering experience in Guatemala will be one like no other. It will be filled with adventure, discovery, beauty, sadness, smiles, stories, emotions,and appreciation. Working and working with the people of Guatemala and in their environment will be offers an amazing journey of discovery and which will change the way you perceive life.
Why volunteer in Guatemala?
Sadly,Guatemala is a country suffering from poverty, therefore quality living conditions, healthcare systems, employment and education opportunities for a large portion of the population are almost non-existent.extinct and it has been reported to have one of the lowest rates in literacy across all of Central America. Guatemala needs volunteers to help assist in the development and support of their country. If you are looking for a volunteer experience where you will give back to those who are really in need, want to strengthen your ties with a sense of community spirit and want to feel a real reward and sense of appreciation during and after your placement then Guatemala is for you.
Mayan culture: Steeped in ancient history from the Mayan civilization, you will be taken away to another world when you visit the archeological sites of the Mayan people and astounded by the incredible innovation, engineering and construction of pyramids, temples and ancient cities. The Mayan culture is still present and thriving in the around 50% of Guatemala's population, played out  and you will see displays of this in the streets where you will see women and children traditionally dressed  along with displays of colorful arts and crafts. While volunteering in Guatemala take the time you'll have plenty of opportunities to immerse yourself in both the history and present day living culture of the Mayan people.
Natural wonders: A volunteering experience in Guatemala will open your eyes to the wonder of the country and its nature. It's rich in natural resources and possesses breathtaking landscapes. The country is home to 33 volcanoes, several stunning lakes, the Pacific and Caribbean coastlines, jungles, waterfalls, rivers, natural pools, caves, stunning views, hidden paradises and a diverse range of wildlife, flora and fauna, making it a nature lover's paradise.
Character and Charm: With a mix of Mayan ancestry and Colonial Spanish heritage, there is a strong sense of character and charm waiting to be discovered in the people and streets of Guatemala. The blend of Modern and colonial architecture , colorful facades, cobblestoned streets add charm and traditional dress, arts and crafts and cuisines all add to its character. Walk the streets, talk to the people and it won't be long before you discover this for yourself.
Appreciation: Volunteering in Guatemala will open your eyes to how those who are less fortunate live.  While discovering this beautiful and culturally rich country you will learn about the people, the way they live, their stories and their big hearts and souls. It will be a rewarding experience giving back to these people and their community, while learning to appreciate the value of little things in life and what you personaly  have.
Some volunteer projects available in Guatemala
Work with Street Children/Children At-Risk in Guatemala
This project focuses on looking after street children who are at risk, by providing them with emotional support, education and development in English and life skills, shelter and nutritious foods in the hope to get them off the streets.  Your role as a volunteer with this project is to provide the children with educational assistance, lead and participate in activities and games, provide emotional support for the children and undertake daily tasks and chores such as laundry and cooking.
Teaching and Assisting in Schools
This project aims to develop English skills in all educational areas by providing teaching and assistance to young children and teenagers from low income families. In this role you will provide teaching and assistance, work closely with students and aide in the development of self-esteem, provide after school help, assist with translation of lessons and participate in activities. Conversational Spanish is required for this volunteer position.
Animal Care/Animal Rights
The aim of the Animal Care/Animal Rights project is to aide in reusing and protecting street animals mainly cats and dogs by providing veterinary treatments, along with human interaction. Volunteers in this project are involved caring for the animals, washing and grooming, walking and playing with the animals, obedience training and cleaning cages.
Healthcare (working with the elderly)
The Healthcare project aims to support and provide assistance for the elderly who are in a vulnerable state. Volunteers will work in nursing homes and senior citizen centers assisting in providing the elderly with one on one attention, health care assistance, organization of activities, meals and support and a friendly face for those in need.
The Woman Empowerment Program aims to provide women with support in training in life-skills, education and self-esteem to develop their awareness of women's and children's rights and deal with issues of domestic violence, women's health and business skills to help them build confidence in the community. Volunteers for this position will need to have an intermediate level of Spanish and will be involved in conducting and assisting in workshops in areas of cooking, business, handicrafts. Volunteers will also be involved in leading presentations/forums and discussions based on a range of topics to benefit the women on the project. 
Where are some popular destinations to volunteer in Guatemala
Guatemala City:Also known as Guate by the locals is the largest city in Guatemala.Although on appearance this city is not as visually appearing as some of Guatemala's other cities, this relatively modern and some-what chaotic city takes some time to get to know. However once you do, you will find great fine dining and shopping experiences and some of the best museums and galleries in the country
Popular volunteer placements in Guatemala City are: Teaching English, education and literacy, business, healthcare and medicine, child care and development, support for disabilities, women's empowerment projects
Antigua: Surrounded by 3 of Guatemala's volcanoes, Antigua is a city full of colored facades, Spanish baroque architecture church ruins, cobbled stone streets, bustling markets and vibrant culture.When volunteering in Guatemala be sure to uncover the delights of the city and its surrounding areas for yourself!
Popular volunteer placements in Antigua are: Teaching, working with street children, orphanages and the elderly, healthcare, construction,
Quetzaltenango: Commonly known by the locals as Xela, is located in the middle of the Sierra Madre surrounded by hills and volcanoes. Quetzaltenango is Guatemala's second largest city and is a mix of Mayan, colonial and modern day influences and a place where you will see and hear the Mayan culture still existing. Xela is less touristic which makes it the perfect place for your volunteering experience to really integrate into and learn about the Guatemalan culture. It is also a base for exploring many of Guatemala's natural wonders.
Popular projects in Quetzaltenango/Xela are: Women's Empowerment programs, working with at risk children, medicine and health care, teaching English and orphanage work.
Lake Atitlan: Located in the highlands of the Sierra Madre and surrounded by Mayan villages and volcanoes, Lake Atitlan is a place which exudes natural beauty, is blessed with stunning views and boasts the best climate in Guatemala. Alongside its beauty the lake is host to a range of watersports and is a nature lover's paradise. Panajachel is the main tourist center for the lake, but there are many nearby villages in which to explore and discover the unique history, cultures and traditions of the friendly and welcoming Mayan people. A volunteering experience here will be a rewarding experience where you will feel like you have taken a step back in time.
Popular projects at Lake Atitlan are: Lake Conservation, Assistance and support for Mayan families and communities including education, construction and health care.
Santa Lucía Cotzumalguapa: Located in the municipality of Escuintla this town is characterized and influenced by the ancient Pipil culture which is displayed in the artworks, architecture and people. It is also home to some pre-Columbian archaeological sites.
Popular projects in Santa Lucia Cotzumalguapa are: Construction, teaching, and environment protection.
What is the best season to volunteer in Guatemala
Guatemala has a very tropical climate and consists of two distinct seasons. The wet season (May to October) and the dry season (November to April). On the Pacific and Caribbean coasts you are likely to experience higher temperatures with high humidity, while in the mountain areas you will experience some cooler temperatures especially during the evenings. The best time to visit Guatemala is during the dry season where the heat is generally quite bearable and rainfall is lower. The best time however to visit Guatemala as a volunteer will really depend on the project in which you will be undertaking. It is best to check with your organization when the best time is for your chosen project.
Selecting the best project and organization is often the hardest part of your volunteer experience as there are so many to choose from. Here are a few tips to helping you find the best organization for volunteering in Guatemala.
Program Costs: Volunteering placements can be quite expensive so when choosing your project and organization it is important to find out what is included in the program fee and what it goes towards. A good organization will ensure that a portion of your fee will go directly to your project or host family.
Industry Experience: Find out about the organization, when they were established, how many volunteers they have worked with, what their mission and goal is and what experience they have in Guatemala.
Professionalism: Check the organizations website, see if it looks like a professional site, with up to date information, clear and concise detail, photos of volunteer projects and placements, project details, company information, contact details and reviews or testimonials. Also contact the organization to see how willing they are to help you and how useful the information they provide is.
Supports your passion: You are volunteering because you have a passion to make a difference in the world. Be sure that you choose an organization that supports your passion in creating a positive impact with both short term and long term goals.
Chapter 2 : Getting ready to volunteer in Guatemala
Visas
For stays of 90 days or less US citizens do not require a visa.
Passport
For entry in to Guatemala US citizens must hold a valid passport.
Vaccinations
Housing conditions, healthcare and hygiene are of a low standard in Guatemala and it is recommended that before leaving your home country, you take precautions to ensure you will not encounter any illnesses or infections while away. It is strongly advised that you have the following vaccinations. Tetanus,Rubella, Mumps and Measles Chicken Pox, Polio and a flu shot. Hepatitis A & B,Typhoid and Rabies and talk to your medical practitioner about preventions against Malaria.
To check vaccination details and medical advice for Guatemala visit the website below http://wwwnc.cdc.gov/travel/destinations/traveler/none/guatemala
Air ticket
Once you have your volunteer placement you will need to organize your ticket to Guatemala. Here are some tips for helping you find the best deals around.
Be flexible with your travel dates
If you are looking for the cheapest price, look for non-direct flights and flights with multiple or long layovers.
Sign up for deal alerts from airlines and online booking engines such as Kayak.com
Check flights from alternate airports
Raising funds
So you have just signed up for volunteering in Guatemala and paid for your airfare, but you are now struggling to think about how you are going to fund and support the rest of your trip. Be assured that you are not the only volunteer who has experienced this and these days there are many ways in which you can raise funds to support your volunteer work
Set up an online fund raising campaign to raise awareness of your volunteering placement where friends, family and your local community can donate to your cause. Many people will admire your courage and ambition in doing this and will want to help support your cause. To help you get started check out the below online campaign sites.
http://www.gofundme.com/tour/      https://www.volunteerforever.com/
Suggested reading
Before heading off to Guatemala grab yourself a good guide book and read up on the geography, destinations, culture, history and recommended places to visit and things to see and do: Some suggested guidebooks are
To learn a bit about the history and culture of Guatemala check out:
"Guatemala: A Journey Through the Land of the Maya
" by author
Michael Shapiro and photographer Kraig Lieb. This book will take you on a visual journey through the country, its landscapes, culture, history and beliefs.
What to pack
Packing for a holiday abroad is never really an easy task and there are any many things that you will need to consider to make sure you have packed appropriately for your volunteer placement.
You will need to think about your volunteer work in Guatemala and what type of clothes you will be required to wear for your chosen project. A teaching or healthcare position may require you to dress formally where in construction or conservation you will need protective, durable wear.
The season in which you will be traveling, this will be an important factor in helping you decide what to pack but remember it's a tropical country so be on the safe side and pack that rain jacket regardless of the season.
The location of your volunteer placement, what you pack for a city placement will not be the same as a placement in the jungle. Think practically
Also think about the types of activities you want to do when you are there. If you are thinking about the beach than your swimming suit is a must, hiking than don't forget those sturdy yet comfortable walking shoes or enjoying a night out on the town than you might want to pack something nice to wear.
Don't forget to pack:
Passport
Travel documents and insurance
Cash in local currency - Guatemalan Quetzal (GTQ) and credit cards
Camera and memory cards
Chargers and cables for any electrical devices you take with you
Torch or headlight
Travel towel and pillow
Toiletries
Spanish phrase book
Your sense of good will and adventure
Gifts for the project
When volunteering in Guatemala you will realize that little gestures and signs of appreciation go a long way in building the strength of the Guatemalan community. A small gift for your project would show a great sign of respect to them. The types of gifts of course will depend on the type of placement you are involved in, but it could be something simple as an iconic gift from your home country. If working with children think about things like, paper, pens, picture books, cards, board games, toys and learning resources.
Get all details and info about your project in Guatemala
Before embarking on your volunteering placement in Guatemala be sure to confirm all your details and contact your organization or project to ensure that you have all your concerns and questions answered. This will help give you peace of mind when you arrive in the country and begin your placement.
Be sure to confirm your flight details so that your arrival pick-up will be there to greet you
Ask about what you may need to take with you or wear when undertaking your placement
Expected work hours and duties while volunteering in the project
Contact numbers and details for any in-country support
How you will get to and from your volunteer placement
Learn  about your host family
When volunteering in Guatemala you will most likely staying with a local host family. They will provide you with accommodation, meals, friendship and a chance to learn about the culture and customs of the Guatemalan people. Before you go try and find out as much about your host family as possible, having a bit of an understanding of them and their family structure and what they do will help create a bond with them when you arrive.
Get connected with local support
Once you are in Guatemala you may feel a little out of your depths and you may find you require some support. Be sure to find out before you leave if local support is provided. If so make contact with them, introduce yourself and ask for all their contact details. They will be your point of contact if you have any issues, concerns or problems with your placement or host family once in Guatemala.
Make a final call before leaving
So you are nearly ready to embark on that exciting Guatemalan volunteer experience! Before you go however make sure to contact your organization just to check all details are confirmed, flights times have been received, your organization has all your contact details, placement dates are correct, there have been no changes to your placement, and everything is in place to ensure that you have a positive volunteering experience.
Chapter  3: Arrive in Guatemala and Volunteering
How to make your volunteer experience rewarding
Guatemala is a country that has so much to offer tourists and visitors in terms of natural resources, activities, history and culture. However it is not all smiles in Guatemala, a large portion of the Guatemalan population live in poor conditions, have no money, and have little access to quality healthcare and education. No matter how much you read and research about Guatemala there is no way that you will be fully prepared for the impact that your volunteering experience will have on you, the people you meet along the way and the development of the country. Volunteering in Guatemala is bound to be a rewarding, memorable and life changing experience.
Below are a few tips to consider to help you embrace your volunteering work.
Consider your project:Choose a project or cause that you have a passion for supporting and that the organization and project share similar goals in achieving results as you do. Think about what skills, knowledge and attributes you can provide and also what you want to achieve from the project. i.e. a sense of accomplishment, achievement and satisfaction for your efforts .
Know what is expected of you: Before heading off to volunteer in Guatemala knowing exactly what is expect of you in your placement and by your host family will make all the difference. Ask your organization as many questions as you need to understand what will be required from you.
Get to know the locals: Being in a foreign place is never easy and can get lonely at times. Take the time to get to know your host family, the locals you work with and the community. They will provide a valuable source to helping you adapt to the Guatemalan lifestyle by providing you with cultural exchanges, language practice, local information and recommendations, stories and friendships.
Explore the Country: Guatemala is a small country which makes it easy to get around and discover all that it has to offer. Make the most of your free time during your placement and get out and explore the lakes, hike the volcanoes, visit the beaches, trek through the jungle, uncover the character and charm of towns and cities and marvel over the ancient Mayan ruins and cities.
Network: You will not be alone in your placement, get to know your fellow volunteers and the staff from your project. You are all there for the same reason so are likely to share the same passions and interests. These connections will not only be a valuable source for you while volunteering in Guatemala, but they can be used as support, guidance and references in the future.
Safety while volunteering in Guatemala
It has been reported that Guatemala has one of the highest crime rates in Central America, this however should not deter you from volunteering there. Most crimes are committed in Guatemala City and involve pick-pocketing, bag snatching and robbery. Remember Guatemala is a poor country so people are generally just looking for some money or items of value in which they can sell.  It is just important to understand the possible issues, be aware of your surrounding and use basic common sense and observe precautions in protecting yourself against potential safety hazards.
Before heading to Guatemala be sure to:
Invest in a good travel insurance policy
Inform the local embassy of your travel plans
Keep up to date with new events that may involve crime and safety
Find out all details of emergency services
Ensure that you give your family and friends a copy of your itinerary or travel details.
Do's and Don'ts for travelling in Guatemala
Do
Carry around a photocopy of your passport at all times
Conceal any valuable items that you need to carry around
Use ATMS that are inside buildings like high-end hotels.
Watch your belongings at all times and beware of your surrounds and pick-pockets.
Ask before taking any photographs of people
Speak quietly, it is considered rude and impolite to shout or talk loudly
Enjoy all the sites that the country has to offer
Visit the ruins and climb to the top of the pyramids for great views (most ruins will allow you to climb the pyramids but be sure to check before you do)
Try and speak the language. The locals will appreciate it
Talk to the locals
Leave a tip for street musicians or artists if you stop to listen or watch them
Don't
Drink tap water
Walk around on your own, especially in the evening
Bring unwanted attention upon yourself
Take any artifacts or pieces of pottery from any of the ruins. This is highly illegal
Use cash machines around the central parks. These have been known for card fraud scams
Ignore any kind of illness or symptoms
Look like you are lost
Culture Shock
During your volunteer placement in Guatemala you are bound to face a degree of culture shock. A visit to a 3rd world country will bring you face to face with poverty, beggars on the streets often children, disabled citizens, malnourished human and animals, poor living conditions and a lack of resources and facilities. Dealing with these sights and conditions and working with these people will bring an array of emotions and challenges.
Here are a few tips to help you with dealing with the culture shock.
Research:Read up about the economics, politics, laws, living conditions, history and current news of Guatemala before you leave. There is no way that it can fully prepare you for the experience but it will give you an insight into what are likely to witness and encounter.
Immerse yourself: Show an interest in all things Guatemala and get to know the country, its culture and the people. Talk to the locals, practice your Spanish, find local hangout spots, visit historical or cultural monuments and appreciate the natural surrounds.
Embrace the experience: Things may get tough but it is important to remember why you chose to volunteer in Guatemala, share your passion with the people you work with and  embrace the opportunity to provide those in need with your skills, support, care and friendship. Then feel rewarded by the smallest of achievements in having a positive impact on someone's life or in the sustainability of the wildlife and nature of this remarkable country.
Reminders from home: While undertaking your volunteer placement in Guatemala it is likely that you will encounter times where you feel homesick and miss the familiarities of your county. Before you leave take some photos of your friends, family, home town and maybe even pack some of those goodies that you know you will miss the most for those times in need.
Language lessons:  Not knowing some of the language can become an issue when volunteering in Guatemala. Not everyone is going to speak English and in some areas of the country you may find different dialects. Enroll in some lessons before you go or once you arrive to help you alleviate the language barrier.
Check out this site for some help with some common words and expressions.
http://www.veintemundos.com/en/spanish/guatemala/
Things to do in Guatemala
From nature to wildlife, adventure, history, culture and cities Guatemala has so much to offer. During your time off from your volunteering placement be sure to discover this paradise for yourself. Below however are a few things in which you should not miss.
Hike a volcano to discover breathtaking views across the country
Take a boat ride or swim in Lake Atitlan one of the deepest lakes in the country and surrounded by volcanos
Uncover the character and charm of Antigua
Visit an art inspired village run by women and witness their skills, techniques and talents in their handcrafted tapestries
Marvel at the ancient Mayan ruins at Peten and visit the UNESCO cultural heritage site of Tikal,
Explore the caves, swim in natural swimming pools and enjoy the natural paradise of Verapaces
Chapter 4 : Completion of project & follow up
Once you arrive back from your volunteer placement in Guatemala, share your stories with others and write constructive reviews for the benefit of your project, organization and future volunteers. Provide your project with feedback and any recommendations you may have to enhance the project and talk to them about ways in which you can continue to support them from abroad.
Most frequently Asked Question By Volunteers
How will I get from the airport to my host family/volunteer house?
Your organization will organize your airport transfers to your host family for you, and on arrival in Guatemala you will be greeted at the airport. Be sure to confirm all your flight details with your organization.
Will there be volunteer support from staff in Guatemala?
Yes, your organization should have an office or local staff to assist you once in Guatemala. Be sure to check before you leave if this support is available to you and obtain all the contact details.
How many other volunteers will be participating with me?
Numbers of volunteers vary depending on the season, the intake from the company, and project type.  However most people offer their volunteering services over the summer holiday period.
If I volunteer with my friend can we be placed in the project and housed together?
In most cases this should not be a problem, however it is best to check with your organization and notify them in advance of the situation.
Are meals and housing provided?
Accommodation with a host family is usually included in your fee cost, If you are placed with a host family then usually 2 -3 meals will be provided for you. If you stay in a hostel or hotel than food is generally not included and you will have to organize your own.
Do I have to bring my own bedding and mosquito nets?
If you are placed with a host family, than bedding is usually supplied and you will not be required to bring any bedding with you. However if you are in areas of high humidity or the jungle than a mosquito net is recommended
What if I don't speak the native language? In Guatemala, do not expect that everyone will speak English in-fact don't expect everyone will speak Spanish. In the indigenous areas you may find different dialects where Spanish and Mayan languages have been combined. Having knowledge of the Spanish language will however help.
Some volunteer projects in Guatemala require you to speak the language so be sure to check with your organization before signing up for your placement.
How will I get to my project every day? This will mostly likely depend on your project. Some projects many organize transport to and from your placement however there may be others which require you to organize this yourself. Check with your organization or placement to find out more about this.
What kind of food will I eat while I'm there?
If you are staying with a host family than you will be served traditional dishes. For breakfast you are likely to have fresh fruits or scrambled eggs with black beans, corn tortillas, fried plantains and white rice. While for lunch or dinner you are likely to be served a savory stew of meat and vegetables or alternatively a chicken or beef dish sautéed in chili sauce and accompanied with tortillas, rice and beans.
Do the volunteer project or organization offer treks or excursions? No, If you want to partake in any activities or excursions than you will need to organize this yourself. Ask locals for recommendations of places to go and the best deals around.
How many hours per day will I be volunteering?
Most volunteers work between 4-6 hours a day, however this will depend on the type of placement that you are in. Some projects may require longer hours and require either early morning or late night shifts. Be sure to check with your organization before you go what your expected volunteering hours are.
How much money do I need to bring?
This will really depend on how much you want to do and experience when in Guatemala. Your volunteer placement will include accommodation and food so you will only really need to think about your personal and travel expenses. It is possible to travel, eat well and experience Guatemala on a relatively tight budget and you should be able to get by on around $15-30 a day. However do your research and work out what you want to see and do so you can budget accordingly.
This free ebook is just written to help volunteers. So please use this book just as a general reference or source of information. We do not guaranteed the validity of information as we cannot keep yourself updated with changes in field or situation. So please do not use this book as a definite or authority guide. It is simple information to help volunteers 
>
>
Volunteer in Guatemala