WOMEN'S PROJECT IN GUATEMALA
>
>
>
WOMEN'S PROJECT IN GUATEMALA
WOMEN'S PROJECT IN GUATEMALA
Volunteer to empower women in beautiful Guatemala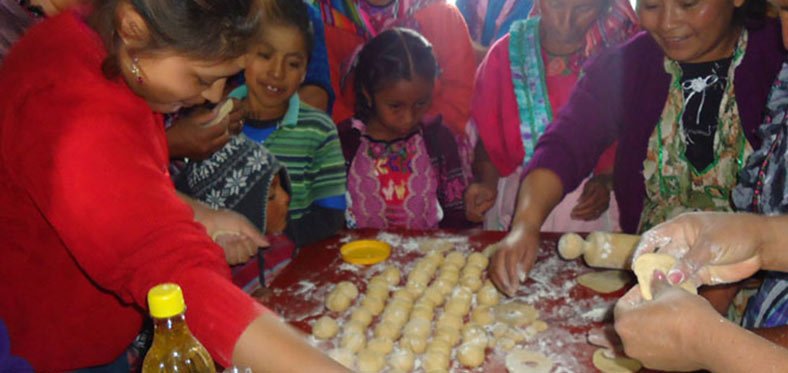 Educate and encourage women in varying aspects

Teaching handicrafts and other profitable skills

Work alongside local government staff members

Volunteer abroad safely & affordably
Project Summary
Life for Guatemalan women in low-income, rural areas can be quite challenging and difficult. Most women do not have the education or knowledge to earn independent incomes, making them dependent on others to care for themselves and their children, which often leads to becoming trapped in abusive marriages. Those who do have the courage to seek a better life for themselves and their children often do not understand their rights and have no assistance with custody and alimony issues. In Quetzaltenango, IFRE has women's project volunteer opportunities in the small rural villages surrounding the area. As an IFRE volunteer, you will work with women in the community. In the IFRE women's program, you will help Guatemalan women empower themselves by providing essential education and support, as well as teaching handicrafts so they can begin supporting themselves financially. It's time to help these women help themselves and their children.
Another positive side to the Women's Project in Guatemala with IFRE-Guatemala is that you can become an instructor even if you're in Quetzaltenango for a small amount of time. IFRE-Guatemala can place you in short-term women's projects.
Skills/Qualifications Needed
In the women's project in Guatemala, we accept women volunteers only. Volunteers must speak intermediate Spanish, but there are no age or education level restrictions. Interested individuals should have a passion and eagerness to work with women, and be patient, resourceful and flexible.
Volunteer Responsibilities
In the women's project in Guatemala, volunteers will assist local Guatemalan government staff who help fund the program. Volunteers will be responsible for a wide variety of duties, including helping with Spanish-English translations, accompanying women to court trials, help staff with planning, and helping with educational workshops on reproductive and preventative health, women's rights, etc. In the afternoons, volunteers will help teach handicrafts arts, such as cooking and pastry making. The organization which runs the project has radio and television programs, and volunteers may participate in planning activities for them, as well.
Room/Food/Supervision
IFRE arranges room, breakfast and supervision for volunteers for the entire duration of the volunteer in Guatemala program. In Guatemala, our volunteers will have the choice of staying in a hostel or in a hosted volunteer house. Our volunteers will find it easy to travel from both accommodations to the project site as well as to other places in Quetzaltenango famous for visitors, like the Parque Central area, known for its hotels, nightclubs and bars. This Guatemalan city is surrounded by volcanoes, mountains, valleys, rivers and hot springs, and it also has an amazing live music and arts scene. Our host families all have experience hosting international volunteers. They will offer a safe and secure place for our volunteers to stay. Staying with host family will also give opportunities for our volunteers to immerse in local culture.
In the hostels, our volunteers will have to share the room with other volunteers of same sex. Breakfast will be served in the hostels but volunteers will need to eat lunch and dinner outside. Good food is inexpensive in Guatemala and readily available.
During the project, our supervisor and project lead will be in touch with you. The volunteer coordinator lives minutes away if you need anything. If you need any advice or have any issue you need to discuss you can talk to them or call the coordinator.
FAQ
Please provide a typical day schedule for this project.

Working with the Woman's Project in Guatemala requires volunteers to be proactive and flexible since there is not a fixed schedule or activities. Volunteers can expect to work in the morning or afternoon depending on when they visit.

Generally volunteers can expect to begin their day with breakfast at 7:30 am and head to the woman's project where they will meet with the project coordinators to review the upcoming plans. The schedule is subject to change daily, as many of the events and activities happen in varying areas in and around the city. Volunteers will generally complete their day around 12:30 pm and return to their accommodations for lunch.

The remainder of the day is yours to do with as you please. For those who opt for the Spanish class, that is generally held in the afternoon around 3 pm. Dinner is traditionally served by the host families between 7-8 pm.

Where do I stay? How far is the project from the accommodation? How do I commute?

Volunteers are assigned to a host family while visiting Guatemala. This is great opportunity to improve on your Spanish language knowledge and truly be immerged in the culture. Volunteers can walk or take local transportation to their project location.

What kind of activities volunteers do in women support project?

The Women's Projects host a variety of programs in and around the local community to help and empower woman. These activities may include creating awareness about issues affecting women, providing training to organizing income-generating projects for the women.

While there is no lack of activities, some are well coordinated, while others are not due to the lack of resources.

Organize training programs to educate local women on their rights, reproductive health, gender equality etc.
For those with accurate Spanish language skills, volunteers may be asked to facilitate lectures for area women's groups.
Participate or lead in courses involving crafts, cooking, baking and more to economically empower local woman by teaching them skills to become economically independent.
Facilitate English courses for women. English courses are generally very expensive in Guatemala and therefore generally unavailable.
Assist in administrative tasks within the project offices, which may include translating websites, securing sponsorships and providing assistance in community outreach.

This is an extremely rewarding project where volunteers are sometimes able to see an immediate impact by encouraging and educating these women. A flexible and proactive attitude is a must!

Where are the projects located?

The administrative offices are located in the city, however activities for the project can be held in surrounding communities.

What are the requirements to join the program?

Not only should you be ready to work with woman in a country where education, resources and professionalism lack, but also you must be sensitive to issues faced by the women of Guatemala.

Our goal is to empower, educate and uplift these women while providing them with skills to improve their lives. Volunteers should speak at an intermediate level of Spanish.

Do we get hands on experience at this project?

Yes, this is a great project for those looking for a hands-on, interactive project!

How many hours a day do we need to work?

Each day varies, but generally 4 hours a day.

Is women support project available all-round the year? If not, when does it close for how long?

The project is available year-round, however November-January are rather slow.

Any important information you want to share about this project.

For this project, at least intermediate Spanish level is required.