Volunteering Guatemala with Women's Project
Would you like to empower women living in poverty and with inadequate education? Do you wish to work with disadvantaged people in the community and change the cycle of poverty? Do you dream of exploring world-famous volcanoes in Guatemala? Then you are in the right place asour Guatemala Women's Projectoffers all that and more.
Guatemala is a beautiful country best known for its fascinating Mayan culture and the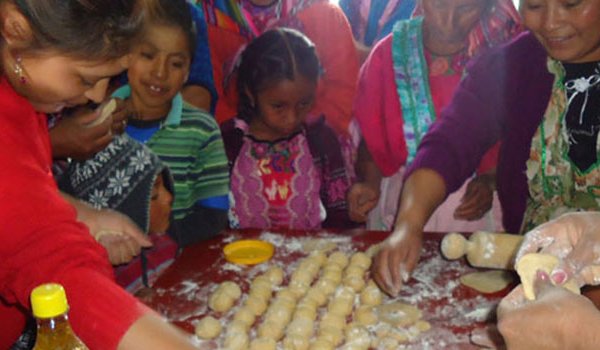 famous colorful colonial city of Antigua. It is home to many volcanoes both active and dormant. Many people around the world travel to Guatemala to see the incredible Maya ruins of Tikal and the beautiful and abundant natural scenery.
Volunteer Responsibilities & Impact
In this women's empowerment volunteer project in Guatemala, you will assist local Guatemalan government staff that help fund the program. Generally, youwill be responsible for a wide variety of duties, including helping with Spanish-English translations, accompanying women to court trials, help staff with planning, and helping with educational workshops on reproductive and preventative health, women's rights, and more.
In the afternoons, you will help teach handicrafts, such as cooking and pastry making. The organization that runs the project has radio and television programs, and you may be required to participate in planning activities for them, as well.
Your work with the women will help them create thriving businesses in their community, helping them generate additional income for their family. In addition, by sharingyour skills and love with the women you will help them gain confidence and rebuild their self-esteem to be better versions of themselves.
Skills and Qualifications:
In this women's empowerment volunteering program in Guatemala, you don't need any specific experience or qualifications.However, we accept femalevolunteers only. Intermediate Spanish level is required and there areno age restrictions besides being above 18 years of age.
You need to have a passion and commitment to work with disadvantaged people in the community, as well as be patient, resourceful and flexible while working with the women in our project.
Working in this project is an amazing experience and the amazing women you help will brighten your day and ensure that each moment is fun and rewarding.
When you arrive in Guatemala, our local staff picks you up at the airport and transport you to your accommodation. The next morning, our local staff gives you an orientation about the country, safety, the project, rules and regulations, etc.
After orientation, you will be taken to your respective project, introduced to local staff and women you will help. There is no fixed daily schedule as volunteering works vary every day.
First Day: On your first day of volunteering in Guatemala program, you will be escorted to your placement by a local coordinator and introduced to the placement staff you will be working with.
Weekdays: Your work begins on the second day. Your duties will vary but a typical day looks like this:
7.00 to 7.30 AM: Begin your day with a hearty breakfast shared with your host family.
7.45 AM: Be ready to set out for a rewarding day at your placement. Work and hours are dependent on the project and placement that you are working at.
12.00 PM: Around midday you can enjoy lunch with the women or choose to return for a good Guatemalan lunch with your host family.
3.00 PM: Work at the placement usually ends around this time and you are now free to travel home, prepare for the next day or do some shopping and sightseeing.
6.45 PM: A delicious and authentic family dinner is shared with your host family and this is your chance to learn more about their traditions and culture.
Volunteering Guatemala with Women's Project Dates and
Program Dates
IFRE programs begin every Monday year-round. If you have travel constraints, you can still start your chosen program on any day of the year.
Our Fees
Since 2006, IFRE has been the most trusted and respected volunteer abroad organization in the world, and also the most affordable. We're dedicated to providing the highest quality volunteer programs at the lowest fees, which make it possible for everyone, especially students, to volunteer internationally and make a positive impact in the lives of others.
We believe in 100% transparency. Rest assured, we never use middlemen. Your one-time registration fee of $299 covers our administrative costs. The low weekly fee is paid in the host country directly to your host family and project (via country coordinator), and includes housing, food, and minor expenses. IFRE is a non-profit organization, so your program fees are tax deductible.
Volunteer Program Fee (US$)
| Weeks | Women Projects |
| --- | --- |
| 1 Week | $120 |
| 2 Weeks | $240 |
| 3 Weeks | $360 |
| 4 Weeks | $480 |
| 5 Weeks | $600 |
| 6 Weeks | $720 |
| 7 Weeks | $840 |
| 8 Weeks | $960 |
| 9 Weeks | $1080 |
| 10 Weeks | $1,200 |
| 11 Weeks | $1,320 |
| 12 Weeks | $1,440 |
Comprehensive Travel Insurance $3.49/day »
Airport Pick up and Transfer to Xela from Guatemala City- $40 to $80 (depending on type of accommodation)
Spanish Classes: (Monday-Friday) 2 hours a day: $50/ week
Program Fees Cover:
Accommodation (host family)

Food (local food 3 times a day)

Program Orientation

In-country support

Personalized project

Pre-departure information

Certificate of completion

Fundraising ideas and letters

Discount for returning volunteers
Program Fees Exclude:
Visas

Airfare

Personal expenses on soft drinks and foods

Daily transportation

Airport return transfer
The volunteering programs in Xela, Guatemala fees will cover expenses that will begin on the first day of the program (usually the first or third Monday of the month) to the last day of the program. If you arrive before the first day of the program or you decide you stay beyond your program's last day, you will be responsible for the additional expenses, which would typically be around $30 a day for room and meals at a hostel.
Volunteering Guatemala with Women's Project: FAQs
Arrival and departure

To participate in our volunteer programs in Guatemala, you need to arrive at Aurora International Airport, Xela, Guatemala one day prior to the start of the project. Please provide us with the details of your flights, and keep us posted in the event of delays or missed flights, and we will make sure to pick you up at the airport.

Transportation back to the airport at the conclusion of your volunteer work is not included in your fee, but your coordinator or host family will happily help you arrange this.

Visa

Whether or not you need a visa depends on your country of origin. You should do some research and arrange a visa if necessary well in advance to ensure everything goes smoothly. A Guatemalan visa is not required for citizens of the United States, Canada, Australia, and the UK for a stay up to 90 days as long as yourpassport is valid for at least six months. Please visit the Guatemalan Immigration website and For the complete information.

Vaccination

You should talk to your doctor about what vaccines you need for volunteering in Guatemala. You can also find the information from the Centers for Disease Control and Prevention, Global Health Canada or in Travelers' Health United Kingdom. We strongly suggest that you take all recommended vaccines prior to departure. Some of these vaccines are hepatitis A, hepatitis B, typhoid, yellow fever, rabies, meningitis, polio, measles, mumps and rubella (MMR), Tdap (tetanus, diphtheria and pertussis), chickenpox, shingles, pneumonia and influenza.

For Further readings:
Vaccination
Volunteer Health and Safety
Safety tips for your volunteer abroad trip

Why volunteer in Guatemala in women's project?

This project is a great way to fight against oppression and inequality and help ensure a happy and thriving future for women who have been abused and discriminated against.

Empowering women for their future sustenance

While taking part in this Guatemala volunteer program for women you will act as a mentor and role model for young girls, empowering them to become strong, independent and confident women. In addition, you will help girls discover their strengths and passions to rise up to and gain confidence to support themselves in the future.

Provide support and help women in meeting their needs

The majority of Guatemalan women face many hardships and struggle to make ends meet. These women belong to low-income families or are single-momsthat are unable to take care of themselves. Your support will help women transitioning out of homeless shelters by educating and guiding them to be self-reliant.

Lend a helping hand in the fightagainst domestic violence

About 1 in 3 women will experience some form of physical violence in their lifetime. By working in Guatemala volunteer opportunities, you will support these women through fundraising, community outreach, and other initiatives. Additionally,you will be supporting victims of domestic abuse, and join the fight to help put an end to the violence.

Use your unique skills and passion to help

While working with women in Guatemala, you will create an initiative of your own that helps to meet the needs of women in the community. Your help and support will not only fill the unmet needs of the women but also give them a ray of hope for sustainable living.

Provide impoverished women and children with quality care

While working in one of ourGuatemala volunteer opportunities you will be using your skills and interests to support women and their children. You will be partof a team with shared values and goals that takes initiative in giving a better life to these women. This eye-opening experience will help women and children have safer, brighter lives far into the future.

Other Volunteering Opportunities in Xela, Guatemala

If this project isn't for you but you still want to volunteer in Xela, don't worry, there's more for you to do! You can

Support street children in need,

Work in the medical sector and much more.

Reach out today and learn how you can make a difference!

Other Women's Empowerment Volunteering Opportunities Worldwide

Sexism and inequality are rampant all over the world. To help in the fight for equality for women, IFRE arranges empowerment projects in many different countries, the most popular of which are listed below: