Vaccination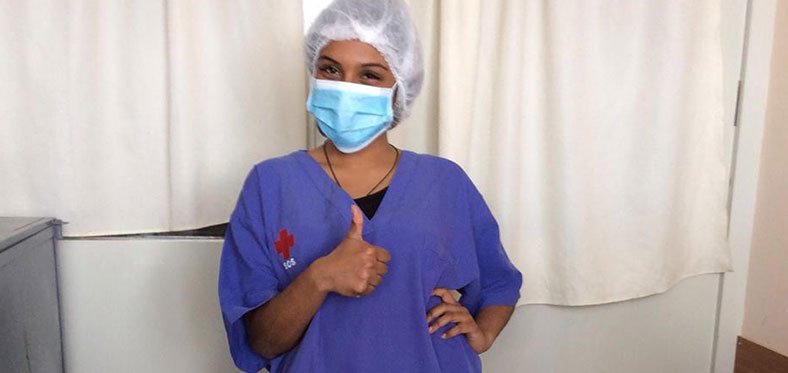 All international travelers should be up to date on their routine vaccines, as well as getting vaccines that are specific to the health risks they may encounter in the specific country they will be traveling to. Meeting with a doctor up to date on current epidemics and health risks associated with travel abroad is a must for every traveler before setting off on their trip.
People who are going to volunteer abroad are at an even higher risk for contracting infectious diseases. They are often working in areas with poor sanitary conditions, and volunteering in close contact with impoverished people who might have never or rarely had access to even basic healthcare. All of this puts international volunteers at an increased risk for getting sick while traveling, and proper vaccinations before their travel can help minimize this risk considerably.
You should meet with your doctor and see about getting your vaccines at least 4-6 weeks before your trip. Some vaccinations need one or more boosters after the initial shot to be effective, and often need to be spread apart by a minimum amount of days. To give yourself enough time, start the process well in advance.
Volunteers working at nature conservation projects or wildlife rescues may need some additional vaccines to protect themselves against the unique risks they might encounter during their volunteer experience abroad. The Rabies vaccine can be pretty pricey, and requires three additional boosters after the first shot, so plan far in advance for this one if you will need it.
Below is a checklist to help make your vaccination planning easier:
Schedule an appointment with your local travel medicine provider in advance (minimum 4 weeks before your trip).
Research which vaccinations you may need for the country that you are volunteering at. Some vaccinations may be recommended, but not required. You may not want to get all the vaccinations that are recommended by the travel nurse.
Check if you have immune-competence problems because of diabetes or HIV. If you do, consult your doctor before getting any vaccination.
If Are you pregnant or breastfeeding, you may not be allowed to get certain vaccinations. Consult your doctor before visiting the travel nurse.
If you are traveling with infants or children, the little ones may need extra vaccination due to their weaker immune system. Consult your paediatrician before traveling abroad with children.
Please visit CDC Travel Health site for more information on up to date health risks organized by country, and on what vaccinations you will need to get for volunteering abroad.
Do I really need vaccination?
When traveling across the globe, your health and safety cannot be taken for granted. Risk of disease is a huge factor when traveling to a developing country, and the last thing you want is to have an emergency or get sick during your project.
The kind of health risk you may face depends on factors like where you are travelling, what you will be doing while volunteering abroad, your current health status, and your past vaccination history. It's very important to get all necessary or strongly recommended vaccinations before you go. Vaccination will protect you from many serious health risks such as typhoid, yellow fever, polio, and measles, which are mostly found in developing countries.
What vaccination do I need?
What vaccination to get depends on your volunteer destination, your vaccination history, and your current medical or health conditions, so it's important to examine all factors and consult a doctor before beginning a course of pre-trip vaccinations. The Centre for Disease Control suggests the following vaccinations for these major volunteer destinations in Asia, Africa and Latin America.
Asia
For most Asian countries, the standard suggested vaccines are similar; routine vaccines include MMR, chickenpox and the yearly flu shot, and many travelers are also encouraged to get Hepatitis A and Typhoid. Certain travelers might need Malaria, Rabies, Polio, Yellow Fever, Hepatitis B and Japanese Encephalitis vaccination, but these risks depend on where you'll be and what you'll be doing. Please consult the following CDC pages to learn about vaccines for volunteering abroad In Asia.
Africa
Countries in Africa have a much bigger problem with certain diseases, and you will likely need more vaccines to eliminate the risk of illness. There are more underdeveloped areas where water or food contamination is an issue, and animal contact can also be harmful.
While most travellers can get away with only routine vaccinations ( MMR, flu, hepatitis A, typhoid, chickenpox), many travellers to Kenya, Ghana and Uganda in particular also need Rabies, Malaria, Hepatitis B, Meningitis and Yellow Fever. Please check out each country's CDC page for the most up-to-date information for needed vaccines to volunteer abroad in Africa:
Central and South America
If your destination is a country in Latin America, it's unlikely that you'll need more than the standard vaccines for MMR, chickenpox, flu, hepatitis A and typhoid. Other vaccines are only required for specific locations and activities. These are the following CDC pages for recommended vaccines for volunteering abroad in Latin America:
How much does it cost?
The cost of vaccination depends on whether or not your health insurance covers it, and which vaccinations you need. Insurance companies in the United States might charge a $10-40 co-pay that includes a consultation and standard routine vaccine shots, but your costs can be considerably higher. Consult this page for more information on costs and vaccine shopping tips: http://health.costhelper.com/travel-vaccinations.html
If your insurance does not cover the vaccinations you need to volunteer abroad, here is a general cost breakdown:
Initial consultation fee of $15 to $100
a shot administration fee of $10 to $20 per shot
cost of the vaccines, ranging from less than $10 per dose to $150 or more per dose
Travel vaccinations may cost less than $50 for one routine booster shot to $1,000 or more for several vaccinations
Passport Health USA is the nation largest provider of travel medicine services with travel clinics throughout the United States. It offers Travel Consultations, Travel Vaccines, and has more than 250 clinics nationwide. Do contact them should you have further questions!
How far ahead do I need to take vaccination?
When figuring out what vaccinations to get for volunteering abroad, volunteers often are confused on how far ahead they should get vaccinated. This really depends on the risks involved in your destination country, how long you'll be gone for and what type of work you'll be doing. Speak to your country coordinator to find out which vaccines are necessary and what other volunteers have done previously. Trust your doctor's recommendation. If you are advised to go beyond the routine vaccinations, it's important to do so to avoid health risks.
We hope that by now, you are have a clear idea on vaccines for volunteering in Asia, vaccines to volunteer in Latin America, and vaccines to volunteer in Africa. Vaccination is a vital step in the volunteer process, so do give yourself ample time to complete your vaccinations.