Volunteer in Guatemala – Two amazing locations (Antigua & Xela)
The wondrous country of Guatemala is a one of a kind spot to explore, volunteer, and become completely immersed in its culture! IFRE Volunteers currently offers the most affordable, safe, and exciting volunteer opportunities in two amazing locations!
Volunteer in Antigua, Guatemala
Experience personal growth and satisfaction doing rewarding work that creates positive change in this beautiful but impoverished country.
Share your love and compassion with adults and children in need through our volunteer-in-Guatemala programs.
Antigua, once the country's capital, is a UNESCO world-heritage site located near Guatemala City. It comprises striking churches, bustling markets, spectacular volcanoes, and welcoming people.
Today, Guatemala needs volunteers more than ever!
This is where you come in. Some of the available programs in Antigua include working as a health care or social work assistant, working with indigenous Mayan communities, assisting in children's classrooms, supporting community development, offering daycare support, and many others. The possibilities are limited only by your imagination.
While you work to solve actual problems and improve the lives of individuals and communities in need, those you help will rewarding you with a lifetime of memories and deep gratitude.
Be inspired and get ready for a lifetime of memories! Request information by clicking below.
Volunteer in Guatemala Programs
IFRE Volunteers offer many programs to choose from. Feel free to look through the projects and pick the right fit for you, a volunteer in Antigua, Guatemala.
Volunteer Program Fees & Dates:
Volunteer Program Dates
Guatemala Volunteer program starts every Monday.  We still allow flexibility if you have travel constraints.
IFRE Volunteers strives to offer economically friendly programs for those who truly want to make a difference. We work hard to insure all costs are kept affordable, because we care more about the wellbeing of the planet, than making a profit. We promote safe, quality programs that satisfy all our volunteers. Here's a breakdown of the program costs and services we offer.
IFRE Volunteers program fees are divided into two parts. First, an application fee ($299) covers advertising, staff salaries, and general office expenses and upkeep. The second part is a weekly program fee. This covers room/board and 24 hour support. You will pay your fees directly to your host families and in country coordinator so that the money benefits the people directly involved, not for company profits.
Volunteer Program Fee (US$)
| Weeks | No Spanish | With 10 Hours Group Spanish |
| --- | --- | --- |
| 1 Week | $255 | $285 |
| 2 Weeks | $405 | $465 |
| 3 Weeks | $555 | $645 |
| 4 Weeks | $705 | $825 |
| 5 Weeks | $855 | $1,005 |
| 6 Weeks | $1,005 | $1,185 |
| 7 Weeks | $1,155 | $1,365 |
| 8 Weeks | $1,305 | $1,545 |
| 9 Weeks | $1,455 | $1,725 |
| 10 Weeks | $1,605 | $1,905 |
| 11 Weeks | $1,755 | $2,085 |
| 12 Weeks | $1,905 | $2,265 |
Program Fees Cover:
Accommodation (volunteer house or host family)

Food (local food 3 times a day)

Airport pick up/Transfer

Program Orientation

In-country support

Personalized project

Pre-departure information

Certificate of completion

Fundraising ideas and letters

Discount for returning volunteers
Program Fees Exclude:
Visas

Launch

Airfare

Personal expenses on soft drinks and foods

Daily transportation

Airport return transfer
The volunteering programs in Antigua, Guatemala fees will cover expenses that will begin on the first day of the program (usually the first or third Monday of the month) to the last day of the program. If you arrive before the first day of the program or you decide you stay beyond your program's last day, you will be responsible for the additional expenses, which would typically be around $30 a day for room and meals at a hostel.
Study and Learn Spanish: Volunteer in Antigua, Guatemala
Volunteer and Learn Spanish in Guatemala and improve your overall volunteer experience in Antigua, Guatemala!
Have you been thinking to yourself lately, I wish I could improve my Spanish? If you join a volunteer program in Antigua, Guatemala, we've partnered with local Spanish school to make your goals a reality.
While you volunteer on one of our many incredible projects, you can improve your Spanish with a reputable, qualified school that employs experienced teachers and offers the best coursed in Guatemala. Volunteer and learn Spanish with a program today!
We make it easy to do both, take Spanish courses in the morning, and volunteer in the afternoon. Or switch it up, depending on the needs of your volunteer project. With the school so close to the projects, it's simply a matter of scheduling.
Accommodations and Meals: Volunteer in Antigua, Guatemala
Wherever you end up staying is a good choice. You'll have a clean bed, bathroom, and ample living space. You'll get three authentic, delicious meals a day, and have a vegetarian friendly menu if applicable. Snacks and drinks outside of breakfast, lunch, and dinner are up to your own doing.
If you're looking for a more affordable, and completely immersed experience. Come stay in a homestay house, located in the town of San Juan Del Obispo, just outside Antigua. While there is no wi-fi at this location, there are plenty of Internet café's nearby, and transportation to Antigua is super convenient with a bus stop right outside.
Volunteer Program Free Time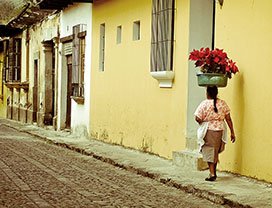 Volunteers in Guatemala free time for the duration of their volunteer project, weekends and the Spanish language program. While IFRE does not arrange activities during this time off, our local staff, members and coordinators can provide priceless assistance in making appropriate arrangements for travel in Guatemala. It's the time for self-discovery and learning. It's time to explore this foreign culture and exotic land. It's definitely time for a canopy tour in Guatemala! Our IFRE local coordinators/staff are available to give you free advice, travel tips and helps to book your travel.
Quetzaltenango free time will include architectural tours, parks and vistas. Espiritu Santo Cathedral : Consist of two structures. The "Espiritu Santo" parish's ancient facade (1535/1896) and to the back the "Diócesis de los Altos" (1899). The Municipal Theatre is a very important Neoclassical work. The city's main park (known as "Parque Central) is located in the center of the town is also center for cultural activities and entertainment. A beautiful vista is found at the Cerro del Baúl, where one can take in the sights of Quetzaltenango's valley, day or night (accessible by foot, car or taxi).
Arrival Information: Volunteer in Antigua, Guatemala
You will be met at the airport in Guatemala City before your project start date. It's advised to arrive a day before your volunteer project begins. Meals and accommodations before your trip are your responsibility.
Your representative will meet you at the airport holding your name on a sign. If there is a flight delay please contact the in-country coordinator. There shouldn't be any problems with your arrival. If you are forced to stay overnight, contact us and request a receipt from a taxi that delivers you to the designated hotel for your placement.
IMPORTANT INFORMATION: Ensure that you have contacted IFRE's in-country coordinator BEFORE getting in a taxi. Participants are advised to contact our Guatemala in-country coordinator the next day, as well, to let him or her know about your whereabouts.
Prior to the departure from your home country to your volunteer program in Antigua, Guatemala, please:
Make sure that you have packed all of your necessary documents (passport, copy of passport, and one other form of picture I.D.)
Bring your volunteer assignment placement details
Prepare financially to cover unforeseen expenses ($50-$100 a week) you might incur during your volunteer abroad in Antigua, Guatemala project.
Prepare your mind and spirit for a new experience in a new country.
Depending on the time of your arrival for your volunteering in Antigua, Guatemala program, you will either have your orientation that day or the following day. Our representative will give you all of the necessary information to begin your volunteer program in Antigua, Guatemala, including safety measures. If you arrive over the weekend, you will have your orientation and begin your volunteer opportunity in Antigua, Guatemala on Monday.
Most Frequently Asked Questions: Volunteer in Antigua, Guatemala
What is the language spoken in Guatemala?
Spanish is the official language. There are also over 20 Mayan dialects spoken in rural areas, two Amerindian dialects, Xinca and Garifuna, which are spoken on the Caribbean coast.
How long can I volunteer abroad in Antigua, Guatemala?
Generally, we have volunteers between 2-12 weeks. Most countries do not want people staying longer than 12 weeks. But this shouldn't stop you if you want to stay longer, talk with one of our representatives and see how they can help.
If I am under 18 years old, can I still volunteer abroad in Antigua, Guatemala?
Volunteers under 18 can volunteer but they need to be accompanied by an adult or bring a signed waiver from your legal guardian.
Are ATMs easily available? If yes, which debit and credit cards are accepted?
Most major cities will have plenty of ATMs, although not all will accept international cards. You can withdraw money with a 2-4 dollar transaction fee.
Make sure to notify your bank before you leave to insure that your bank doesn't but a freeze on your account for unusual international activity.
What is the local currency, and how do I know the exchange rate?
The quetzal is Guatemala's currency. Named after the national bird, it is divided into 100 cents (centavos). Look for the most recent exchange rate to see the difference with your currency.
How much money should I bring with me for my volunteer opportunity in Antigua, Guatemala?
While IFRE covers room and food costs during your volunteer trip, any outside activities, souvenirs, or snacks will be up to your discretion. There might be a visa fee (between 50-100) depending on the length of your stay, and an airport tax, paid upon your departure.
Is it safe to carry cash with me?
Never carry more cash than you need. Carry a money belt or wallet, with extra hidden cash.
Is there a special dress code that I should follow while volunteering in Antigua, Guatemala?
Volunteers should dress conservatively (no short shorts or tank tops) and be respectful f regional religious beliefs. Skirts and shorts should be knee-length and no one should see shoulders.
What should I know about religious conduct in Guatemala?
50-60% of the population is Catholic,40% is Protestant, and a few 1% follow the Mayan faith.
What is weather like in Guatemala?
Monthly Average Temperature
Official Holidays in Guatemala
Like many other countries in the world Guatemala schools also observe three sets of holidays: school, official and traditional holidays.
National Holidays
Jan 1: New Year's Day
March/April: Easter
May 1: Labor Day
June 30: Army Day
September 15: Independence Day
October 20: Revolution Day
November 1: All Saints Day
December 25: Christmas Day
EVENTS
January:
On January 15, the day of the Black Christ is celebrated in Esquipulas.
February or March:
Lent processions begin throughout Guatemala.
March or April:
Lent and Easter week processions throughout Guatemala: The largest processions occur in Antigua Guatemala on Good Friday.
May:
On May 2 and 3, the Day of the Cross is celebrated with colorful traditions at Lake Amatitlan near Guatemala City.
On May 9, Jueves de Ascencion is celebrated with traditional music, flowers and prayers at Lake Chicabal. Please be very respectful of this tradition and do not take photographs.
July:
July 25 is the town fair in Antigua Guatemala, with parades, music and other festivities.
On July 27, the annual Rabin Ajau beauty pageant is held in Coban, with traditional dances and ancestral music.
August:
On August 15, Guatemala City celebrates the day of our Lady of the Asuncion; also several other towns, like Solola, where you can see the brotherhood of the Lady of Asuncion passing through the streets of the town with their icon on their way to the church.
September:
September 15 is the national holiday to commemorate Guatemala's Independence from Spain in 1821; the largest holiday fair is in Quetzaltenango.
October:
On October 20, Guatemala celebrates the overthrow of Dictator Jorge Ubico in 1944 and the beginning of 10 years of revolution government known as the " 10 Years of spring".
November:
All Saints Day, celebrated on November 1, is celebrated with unique traditions throughout Guatemala; giant kites are flown in the cemeteries of Santiago Sacatepequez and Sumpango near Antigua Guatemala. Many Guatemalans feast on a traditional food known as fiambre. An unusual horse race is held in Todos Santos Cuchumatan.
December:
The town fair in Chichicastenango culminates on December 21 with traditional dances and music.
Nativity scenes, hand-made Christmas ornaments and small procession known as "posadas" create a joyful atmosphere during December.
What about tipping in Guatemala?
According to TripAdvisor.com you should tip a similar amount as you would in the U.S. Hotel staffs appear particularly appreciative of good tippers, and you are likely to get especially good service in return. If bills in restaurants include the word "propina" that is the tip, i.e., it has been included. If you want to pay more, go ahead.
The tipping to get a good service is a wrong attitude that twists the perception of the locals about where is the value of the service they should be delivering. So, it is not advised.
Materials to Bring
Backpack
Comfortable walking shoes or hiking boots
Sandals
2 pairs of pants (lightweight)
2 T-shirts
3 short-sleeved shirts
2 long-sleeved shirt
3 pairs of shorts and bathing suit
Lightweight jacket or rain jacket, depending on season
Layer for warmth, evenings may be cool regardless of season
Hat or cap
Towel and personal bath kit
SPF/sun protection, sunglasses
Camera
Mosquito net
Bedding (if noted in placement document)
NOTE: Frequently Asked Questions (FAQ) is generic information and should not be used as a definitive travel guide. Travel information and situations abroad change constantly. Participants should consult Global Crossroad or travel advisors to verify this information.
>
>
Volunteer in Guatemala