How can you reduce the cost of volunteer abroad?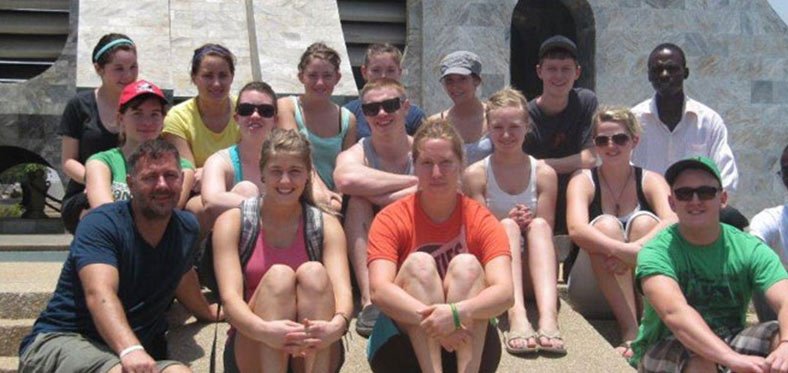 There is no getting around the fact that volunteering abroad is expensive to do. If you do some research online, you will find that program fees can range from $300-$3000. This does not include the cost of your airfare, visa, vaccinations, travel insurance and spending money.
However, this is not a reason to panic or feel discouraged. Using just a few helpful tips, you can reduce your costs significantly. In this article, we will explain to you how you can save money and still have an amazing and meaningful experience abroad!
First, you need to know the total cost of volunteering abroad.
So, what is that magic number to the right of the equal sign that will determine if you can afford that volunteer abroad adventure you've been dreaming about? If you've already done some research, you've probably come across program fees advertised by volunteer organizations. These can vary considerably based on which organization you go through, what type of program you choose to volunteer in, and your destination.
However, do keep in mind that there are other expenses in addition to this program fee that you will need to factor into your budget.
Program Fees
Your program fee is the weekly fee that you pay to the volunteer abroad organization. It generally covers accommodation, some meals, project expenses, airport pickup and insurance, although inclusions vary from program to program. It also covers the salary paid to your in-country coordinator and local staff members.
Airfare
Program fees almost never cover airfare, and this will probably be your second biggest expense. Airfare can range from $500-$2000, depending on the location of your home country and destination, airline chosen, and the time of year.
Vaccination
Volunteering abroad usually means traveling to a developing country with various health risks. You must protect yourself by getting the proper vaccinations, as and your doctor. The cost of vaccination varies according to your personal health and vaccination recommended by the Center for Disease Control history and the country you're traveling from. Depending on where you live, the cost for vaccination can vary considerably.
Visa
Many countries require that you get a visa prior to entry. Some countries, like Tanzania, have a volunteer visa or a special permit, and other countries such as South Africa will grant automatic 3 month tourist visas upon entry if you are from the UK, USA or select other countries (meaning you're exempt from needing to apply for a visa). Depending on where you are volunteering and how long you intend on staying, visa costs will vary.
Most often, the type of visa you will require to volunteer abroad is a tourist visa. It is vital to do your research ahead of time to find out what the requirements will be based on your home country and the country you are traveling to. Make sure you apply in advance, as the visa application process can take from a few minutes up to a few weeks of time.
In some cases, you may be eligible to apply for a visa upon arrival at the airport. However, IFRE does not suggest this. To avoid any hassles or possible complications, we always recommend volunteers apply for their visa before departing their home country.
It is always a good idea to research the rules regarding visa extension, as well. You may arrive your volunteer abroad project and fall in love with it, deciding to extend your stay. However, every country has its own regulations regarding this, and they are extremely variable based on a variety of factors such as your nationality, length of stay, reason for visit, etc.
Some countries will not allow you to extend your visa at all. Some allow only a certain amount of days to foreign visitors per year. Some require that you apply for an extension so many days ahead of your initial visa's expiration. Do your research ahead of time so you will know what your options are, just in case.
Travel items
You will undoubtedly need to do some pre-trip shopping before leaving to volunteer abroad. Packing lists for developing countries can be quite extensive, ranging from the usual tourist gear (camera, electric adaptors, backpack) to outdoor/wilderness specific items such a mosquito net, flashlight or binoculars. Depending on where you are traveling to and what you already have, this could be a big or small investment.
Reach out to your volunteer organization to see if your project offers a packing list. If not, do some research online to see what other travelers suggest bringing to your destination.
Make sure you have everything you need to volunteer abroad but resist the urge to overpack. You don't want to be weighted down by a lot of unnecessary clothing and gear you won't even be using. The space you save in your suitcase you can fill with supplies to donate to your project!
Pocket expenses for travel/food
Depending on the cost of living in your volunteer destination, it's a good idea to have $50-$200 set aside for food, travel and entertainment. Do your research ahead of time to determine the costs there, and to get an idea of what excursions you are likely to take and what activities are of interest to you. This can help you budget and have enough funds to make the most of your time abroad.
Your volunteer abroad program fees will likely include about 2 meals per day with your host family, but you will surely want to get out and explore the area on the weekend or your days off. You may never be traveling in this destination again, and this is your chance to explore and see a new part of the world.
You might have to figure out your own lunch on days you're volunteering. Find out the details ahead of time to properly plan, and always budget a little more than you think you will need to avoid coming up short.
So how can you reduce the cost of volunteer abroad?
In order to significantly reduce the cost of your volunteer abroad experience, you will need to cut expenses in every category so the cumulative effect on your budget really adds up.
The one area you can't really cut costs in is any potential visa fees, but you can try to save money in all the other areas. Keep reading for ideas on how to reduce your expenses a little bit at a time.
Tips to reduce your program fees
Selecting the right affordable organization is the first step in planning your volunteer abroad experience, and probably the most important one in terms of saving money. The good news is, you don't have to sacrifice quality for a good deal; your goal should be to find the best priced program with good ratings and online reviews.
Since your program fee is probably the largest expense you will incur, finding an affordable program will make the biggest difference on your budget. Do your homework, as program fees can vary wildly from $100 a week up to more than $1000 for the same experience in the same destination!
Research first for price and inclusions
Research the internet, find volunteer organizations and write down their prices and what they include, making sure to find and add any hidden costs. Select the top 3 organizations based on your research and compare them to one another. Determine which ones have interesting projects in a country you'd really love to volunteer abroad in.
Don't assume that a higher price naturally translates into a higher quality experience. Comparing prices and shopping around before settling on a program can literally save you thousands of dollars!
Let the online reviews speak for the organization
Read what others are saying about the organizations and their experience on projects. Take particular note of what volunteers are saying about the projects in your country of choice. Your fellow international volunteers are often your best source for unbiased information. They've taken the plunge, volunteered abroad, and been where you want to go. You can really benefit from their experience and learn a lot from reading their reviews.

It is important to understand that not all reviews will be positive. If you read a negative review, don't immediately discount the organization in question. How does the organization respond? Are they aggressive or apologetic? Every volunteer is going to arrive at a project with their own set of expectations, and some of these might not be realistic or relate to the experience that you will end up having.
Check if your program fee is tax deductible or if an organization is registered as a 501C3.
Tax deductibility means that you can most likely deduct your program fee from your income when filing taxes at the end of the year. This could really save you money on volunteering abroad. Check your total income and find out how much of the volunteer abroad program cost, if any, you can write off.
Even if you can only save $200 on a $1000 program, it's still worth looking into. Consult your accountant about the total amount you can save. IFRE Volunteers is a 501 C 3, which means we give you a tax exemption letter when you volunteer with us, so you can get a portion of your money back when filing your tax forms.
Another benefit of going with a non-profit registered as a 501C3 is you can feel great knowing that the organization is not motivated by making money and is not operating for a profit. This is proof positive that they are operating their volunteer abroad programs for the greater good, and you can know for certain your money is going right where it is needed most.
Travel in a group and ask for discount
Volunteering with a group is a fantastic way to reduce your costs. If you have a friend or a group of friends also interested in volunteering abroad, you can apply as a small group and request a discount. Nearly every single volunteer organization is going to offer a group rate or discount, so this is a surefire way to travel abroad for less.
Even at IFRE, which offers the world's most affordable fees, we will still extend a discount of $50 each if you are traveling with one or more friends. This is the perfect opportunity to encourage the people closest to you to make a life changing decision to volunteer, and perhaps get a buddy for the road.
If your close friends aren't quite ready to travel to a new country and dedicate themselves to an important cause, cast your net a bit wider. Put up a bulletin or spread the word at your church, school, or other organization you are involved with. Someone in your circle you haven't had the chance to get to know that well might be eager to volunteer abroad. Working together at a service project and traveling in a new country together is a fantastic way to bond and make memories which last a lifetime!
Check for last minute deals or specials
Many volunteer organizations offer special promotion or last-minute deals, so definitely check them out and see if the projects listed there interest you. Projects will often reach out to organizations to run these promotions for times when they are short-handed or need some extra help. You might be able to save some money by taking advantage of these last-minute bookings and make even more of an impact while you're at it!
How to reduce airfare when volunteering abroad
Buy your ticket in advance – do not wait until the last minute. The universal piece of advice is to always start looking a few months in advance, if possible. Last minute bookings are almost always going to be at an inflated rate, and you may get stuck with less than desirable seating, long lay-overs, or inconvenient flight times.
Travel during the off-season. As much as you might want to traverse Africa during safari season or volunteer in the summer when you have a break from school, these are generally more expensive times to travel. Perhaps you can get a decent deal at the tail end of a good season, or if you book far enough in advance. Try to find a healthy compromise between a good ticket price and a desirable time to be in that country.

Keep in mind peak travel times will vary from one location to another, and what might be peak time for your home country could well be off-season in another part of the world. For example, southern hemisphere countries such as Brazil may be cheaper in the summer, because it's winter there. Do some research to find the most affordable time of year to volunteer abroad in your desired destination.

Create a deal alert in Google and be on watch duty. This is simple, you can go to Google alerts https://www.google.com/alerts. In the "create an alert about" box you enter the words you want to get notifications for. This could be "good airline deals from Chicago to Kenya," for example. The "show options" feature will allow you to monitor how often you get the alerts. Once this is set up, you will get email alerts periodically based on new searches that relate to your topic, and this will allow you to maximize your search without spending all your time typing into a search engine.
Check for last minute airfare deals or specials. Don't think we are trying to confuse you; of course, the best prices are usually found in advance. However, airlines do occasionally run last minute specials so be on the lookout and you may be able to shave some dollars off your volunteer abroad budget.
Fly with a low-cost carrier such as Spirit Airlines, JetBlue or Southwest. However, do be advised that some of these discount airlines (particularly Spirit) will charge you extra money for everything, even for small check-in and carry-on luggage. Make sure to look for hidden fees and consider the overall cost of the flight to determine if this route will actually save you money in the long-run.
Shop around for the lowest fare. Popular sites include Kayak, Travelocity, Expedia and Orbitz. Do all your flight searches for your volunteer abroad trip in incognito mode, as your cookies are recording your searches otherwise. Airlines and flight aggregators pay search engines to remove low-cost rates from searches you are doing frequently in a scare tactic to make you buy a ticket right away, thinking prices are on the rise and you better act fast.
Consider flying into an alternate airport that's closer to your destination. For example, in Costa Rica, it's cheaper to fly to Liberia than San Jose if your volunteer project is in Guanacaste.
Look into booking your own connecting flights. Sometimes you can get a discount flight to an airport that offers a connection to your final volunteering abroad destination. Play around with options, as sometimes you can get lucky and save yourself some money this way rather than just going with the default lay-overs offered to you in flight searches.
How to reduce your vaccination costs
If you've already selected a program, the Center for Disease Control (CDS) website is the best source for information on vaccines needed for your volunteer abroad project destination: http://wwwnc.cdc.gov/travel/destinations/list
First, check to see which vaccinations you've already had and whether your current health insurance plan covers the ones you need. Consult your primary doctor if you don't have a record of your immunizations.
Most health insurance companies will cover basic vaccinations such as tetanus, diptheria and pertussis, and polio booster shots, which you should be up to date on prior to volunteering abroad. In some rare cases your insurance company might cover a rare travel-specific vaccination such as yellow fever.
In general, try to stick with a state or county health clinic, as opposed to a more costly private health clinic which is almost never covered by insurance. For US residents, the CDC site offers a directory if you wish to access your state's department of health website. This is always a good place to start if you want to save money. Travel clinics can be found in online directories such as American Society of Tropical Medicine and Hygiene or Yellow Fever Vaccination Clinics, which provide addresses and phone numbers to clinics directly.
Where you should NOT cut corners to save costs is skimping on recommended vaccines. International volunteers are often working in conditions which put them at a much higher risk for contracting diseases, and as a foreigner your immune system will not be prepared to defend against these illnesses. Despite the initial cost of vaccination, its far cheaper and much more pleasant than falling ill while volunteering abroad.
How to reduce other costs of volunteer abroad
We've covered the big and unavoidable expenses, but there are still ways you can save in smaller areas such as passport fees, telephone/communication and travel items. Keep reading for tips to cut costs in these areas.
Travel Items (Clothing, electronics, outdoor gear, etc.)
It's important to bring what you think or know you'll need to volunteer abroad – items that are either unavailable in your host country or exorbitant in price. Electronics, for example, tend to be very expensive in Central America, so don't forget your iPhone charger(s) when traveling to Costa Rica.
On the other hand, the only thing worse than over packing is overbuying before you travel, particularly if there are certain items that you can find really cheap in your host country. Do some research on this before you leave. Clothing can be cheaper in certain Asian countries, so you might be able to skip that trip to the fancy mall at home and wait to buy some artful summer clothing in Thailand.
Doing your supply shopping once you reach your destination does double duty. You can save yourself quite a bit of money, and you will also be contributing to the local economy of the community in need you are volunteering abroad to help!
Telephone/Communication
Thanks to Skype, Facebook phone, FaceTime and Viber, you now have the privilege of free video chat with anyone in the world, as long as you have Wifi. We do recommend you get a local phone number in your host country to communicate with people there, such as your project coordinator, host family, new friends, etc. But, the days of expensive calls home are over, so use the internet to your advantage.
Another great way to save money when it comes to communication is to buy a local SIM card. You'll need to check with your current mobile phone provider before departure to ensure your phone will work with the foreign SIM, as sometimes it can be locked and will not work. International roaming charges can become astronomical, and this is an easy way to avoid this. It will also increase your accessibility to the internet while volunteering abroad, as buying a data pack to go along with it will give you access to the internet wherever you have cell service.
Passport
There are a couple of ways you can save money when it comes to your passport. If will need to apply for a new one or renew your old one prior to travel, make sure you don't wait until the last moment and do it well in advance. Fees to expedite your passport can be quite pricey, so save yourself the money and plan ahead.
There are a lot of online "middleman" companies that charge a service fee for easy and fast passport applications. Avoid the hype and skip using their services when planning for your volunteer abroad trip. Make sure to go to an official state or government site to avoid third party agencies to save yourself unnecessary costs.