How can I find
Free volunteer opportunities abroad?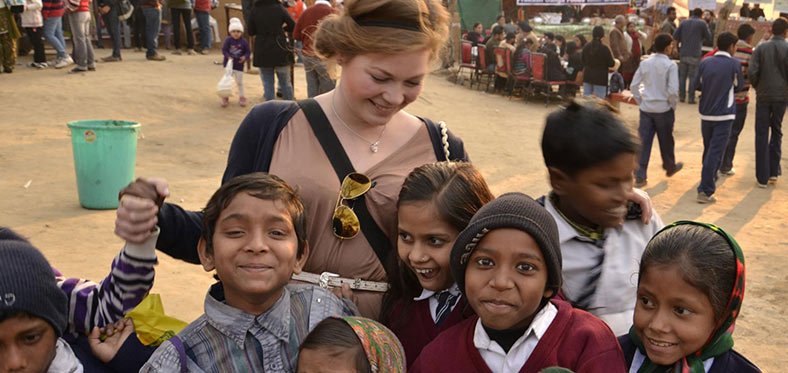 Some of you may have always wanted to volunteer abroad and contribute your time to help those in need, but never got around to it due to financial limitations. A lot of people passionate about making a difference are hindered by the cost associated with volunteering in another country. Finding free volunteer opportunities abroad is not an easy task, but definitely possible! In this article, we will help you to find free volunteer organizations abroad to make your volunteering experience easier!
Type "free volunteer abroad" in Google and research thoroughly
Are you unsure where to start? Go on Google! Search for "free volunteer abroad" and over 12 million results will show up. The amount of choices may be overwhelming, but this only means you have a higher chance of finding free volunteer experiences abroad. Click on as many of the top links as possible and read through them. You will come across many ideas and resources where you can find the program that best fits you! You may want to keep a pen and paper right beside you to jot down the names of free volunteer organizations abroad you are interested in.
Read all the available information on selected organizations
When researching online, you will come across some organizations that have a sign up or membership fee. However, keep in mind that this small fee is necessary so that they can connect you with selected volunteer hosts and cover for their overhead staffing costs. By paying this fee, you will be provided with free accommodation and meals. Below are some resources that are offering amazing free volunteer opportunities abroad:

Help stay (www.helpstay.com ) A great resource or contact platform between host and volunteers. The organization's database contact you to hundreds of paid, free, and low cost volunteering programs in many different fields.
WWOOF (World Wide Opportunities on Organic Farms): WWOOF enables people to volunteer on different organic projects. (WWOOFers) help on the land and home for 4-6 hours a day. The hosts will provide free food and accommodation. If you want to learn and share organic and sustainable ways of living while getting hands on experience, then WWOOF might be for you.
Moving worlds ( movingworlds.org ): Moving Worlds is a medium that connects volunteers (mostly skilled professionals IT engineer, city developers, and grant writers) directly to volunteer organizations around the world that provide local privileges in exchange for your skills.
Find local organizations offering free volunteer experiences abroad (or at least at minimum cost)
There are many local schools, orphanages, NGOs offering volunteer abroad programs and really need additional help. In some cases, these companies offer you free volunteer programs where you can make a positive difference without burning a hole in your wallet. You will pay a small administration and registration fee, but have the rest of your food and accommodation expenses covered.
Read former volunteers' blogs to get inspired
Many former volunteers start their own blog to share their experiences with others. These blogs are easy to find and very informational to read! The blog posts will give personal insights to different volunteering opportunities and life with host families abroad. You can contact the blogger and ask them any questions you may have regarding the program or organization. You can also ask them to put you in touch with the organization, thus skipping over the program fees of international volunteer companies.
Ask for advice from your friend who recently volunteered abroad
If you have a friend who has volunteered abroad for free, seek their advice on cutting your own trip expenses! This way, you will quickly learn about the project on a first-hand account. This would also give you an honest opinion on how the project experience is overall.
Share your skills in exchange for free volunteering
Do you have any talents that would be beneficial in developing countries? You may have teaching abilities, sports coaching, or other creative skills such as woodwork or painting. There are many orphanages, schools, and NGOs in developing countries where your skills will be greatly needed. You can find volunteer abroad projects on websites such as Help Stay and Moving World where you can exchange your skills for free accommodation and meals.
Post your volunteering interest in volunteer forums
It will be a great help to seek the wider volunteering community's assistance on the internet to get in touch and share some ideas. There are many discussion boards for people around the world wanting to volunteer for a good cause. You will get tips and advice on how to save as much money as possible and find the right volunteer abroad program for you.

Ask your friends who are living abroad
Do you have a friend who is living or studying abroad? If you do, then this is someone that could be very helpful in planning your volunteer trip! Your friend has likely made networks with the international community and will have some good contacts for you.
In the quest of finding a free volunteer program, you may make the mistake of choosing a sketchy volunteer company that does not care about your safety. You need to be cautious when you are doing your research to make sure there are no serious problems with the program. Keep an eye out for the following issues when looking for free volunteer experiences abroad:
Even if you find a program that does not charge any placement fee, chances are, you will need to pay for accommodation or food. This is quite common, but please make sure the charges are reasonable. Try finding out what a local person would be charged for these things, and make sure you are charged similarly.
Unexpected expenses
A lot of unpredictable things can happen during your travel and end up costing you extra money. This can be anything from transportation issues to compulsory donations to your program. It is always best to have some cash saved just in case anything like this pops up along the way.
IFRE Volunteers has proven to be one of the most affordable and highly rated volunteer abroad organization. Established in 2006, IFRE has served 17,000 volunteers in over 18 countries. Volunteer program fees are paid directly to the host families and communities who benefit from the 200+ projects in more than 18 countries that we work with. Our program fee starts at a registration fee of $299 and a program fee as low as $99. Below are some sample starting price of program fees offered by IFRE:
Cambodia 2 weeks - $200

China 1 week - $350

India 1 week - $135

India-Himalayas 1 week - $308

Nepal 1 week - $99

Nepal-Himalaya 1 week- $350

Sri Lanka 1 week - $155

Thailand 1 week - $250

Ghana 1 week - $135

Kenya 1 week - $150

South Africa 2 weeks - $500

Tanzania 1 week - $175

Uganda 1 week - $150

Argentina 1 week - $482

Brazil 2 weeks - $645

Costa Rica 1 week - $285

Ecuador 1 week - $316

Guatemala 1 week -$160

Mexico 1 week - $283

Peru 1 week - $209