Construction Volunteer in Guatemala, Antigua
Are you passionate about improving the lives of underprivileged people in Guatemala? Do you want to volunteer in Guatemala and help develop infrastructure for local communities? Then you should join IFRE's Construction volunteer opportunities Guatemala!
Are you passionate about improving the lives of underprivileged people in Guatemala? Guatemala is a rapidly developing country but sadly, the growth is uneven. Though tourist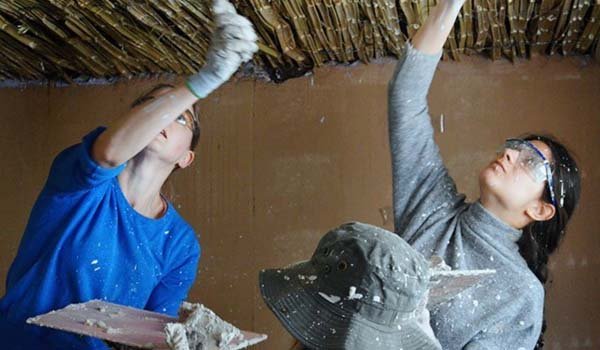 areas are built up, the poorer and rural regions are often run down and lack basic facilities. In these disadvantaged areas, people do not have the skill sets or money to do basic repairs or develop new infrastructures. There is an urgent need to improve these communities and provide them with access to basic facilities.
Are you passionate about improving the lives of underprivileged people in Guatemala? IFRE offers various construction and renovation volunteer opportunities to help improve community centers, housing, local schools and churches in Guatemala. The construction volunteer program in Guatemala will create a meaningful difference in the backward communities and you can see the impact of your work immediately. Your efforts will benefit the developing communities and provide much needed amenities to people in need.
Are you passionate about improving the lives of underprivileged people in Guatemala? By joining the Construction Volunteer in Guatemala program, you will also gain an opportunity to learn about construction work, build new infrastructures, get your hands dirty and ensure a positive future for children and poor communities. Local citizens will really appreciate your help and you will help improve the morale. You will learn about both traditional and modern building methods in Latin America. You will also get to work as a team with like-minded people and professional construction workers.
Are you passionate about improving the lives of underprivileged people in Guatemala? Make a difference in local communities of Guatemala today! Contact IFRE today to learn more about our Construction Volunteer in Guatemala program in Antigua!
Volunteer Responsibilities & Impact
Your primary responsibility volunteer in Antigua, Guatemala Teaching English program will be teaching Basic English to children. Volunteers will work 3-4 hours per day from Monday to Friday. Work hours may be in the morning, afternoon or evening depending on the project.
You will be working in underprivileged schools and communities. Besides teaching English, you might also pitch in teaching other subjects such as math, music, or art depending on your background and personal interests. You will also help the teachers, create lesson plans and conduct fun extracurricular activities that help the kids enrich their lives on a daily basis.
Your time spent teaching kids while volunteering in Guatemala will change both your life and those of the kids. Your students will acquire a valuable new skill which can help change the course of their futures, and you will be fulfilled knowing you are making a profound difference in the lives of children in need.
Skills and Qualifications:
In order to be eligible for this Construction Volunteer Program in Guatemala, you need to be physically fit and mentally prepared to do manual labor. Though you do not need any specific skills or experience for this program, the work could be physically demanding. You will also need to be flexible, hardworking and able to follow instructions. Work schedule may vary based on project needs, the construction schedule and weather. Volunteers need to bring gloves, work boots, and safety glasses.
Volunteers also need to be at least 16 years to participate in this program on their own. Volunteers below the age of 18 will need parental consent and those below the age of 16 need to be accompanied by their parent, guardian or faculty leader if they wish to volunteer. Though not mandatory, it is helpful to have basic Spanish skills. If you want to learn Spanish, you can join our Spanish immersion class during your volunteering.
Fees & Program Dates
Program Dates
IFRE programs begin every Monday year-round. If you have travel constraints, you can still start your chosen program on any day of the year.
Volunteers can participate in our program for a minimum of 1 week or up to 12 weeks.
Fees
Since 2006, IFRE has been the most trusted, respected, and affordable volunteer abroad organization in the world. We're dedicated to providing the highest quality volunteer programs at the lowest fees so that everyone, especially students, have the possibility to volunteer abroad and make a positive impact on the lives of others.
We believe in 100% transparency. Rest assured, we never use middlemen. Your one-time registration fee of $299 covers our administrative costs. The low weekly fee is paid directly to your host family and project (via country coordinator), and includes housing, food, and minor expenses. IFRE is a non-profit organization, so your program fees are tax deductible.
Volunteer Program Fees (US$)
| Duration | Project Fees |
| --- | --- |
| 1 Week | $465 |
| 2 Weeks | $810 |
| 3 Weeks | $1,075 |
| 4 Weeks | $1,330 |
| 5 Weeks | $1,580 |
| 6 Weeks | $1,830 |
| 7 Weeks | $2,080 |
| 8 Weeks | $2,330 |
| 9 Weeks | $2,580 |
| 10 Weeks | $2,830 |
| 11 Weeks | $3,080 |
| 12 Weeks | $3,330 |
Comprehensive Travel Insurance $3.49/day »
Spanish Lessons (2 hours per day) $55 per week
Program Fees Cover:
Shared Accommodation with host family

2 meals per day (Breakfast & Dinner)

Airport Pick up

Special Project Surcharge

In-country support

Program Orientation

Project Management

Volunteer Certificate

Discount for returning volunteers
Program Fees Exclude:
Visas

Airfare

Personal expenses on soft drinks and foods

Daily transportation

Airport return transfer
The volunteering programs in Antigua, Guatemala fees will cover expenses that will begin on the first day of the program to the last day of the program. If you arrive before the first day of the program or you decide you stay beyond your program's last day, you will be responsible for the additional expenses.
Accommodation and Meal
While doing volunteer work in Guatemala Antigua, you will be staying with a welcoming host family. The accommodations are located in safe neighborhoods. All the host families have been carefully selected and have experience hosting international volunteers. You will be provided with a shared accommodation and you will be sharing a room with another volunteer of the same gender. Volunteer rooms are basic, clean and comfortable, and you will have access to showers, hygienic toilets and electricity. The volunteer project may be walking distance from the accommodation or require public transportation.
Volunteers in Guatemala will be provided with 2 local meals a day (breakfast and dinner). We accommodate vegetarian needs but not special dietary requirements.
Read more about the accommodations and meals you'll enjoy while in Antigua, Guatemala.
For more readings:
Host family
What It's like to Stay with a Host Family
12 tips to enhance cultural experience in host families
Free Time and Weekend Exploration
After all the hard work you'll be doing in the Construction volunteer in Guatemala, you'll want to have some downtime to enjoy yourself and explore this exciting destination. You'll be happy to know that you'll have evenings and weekends free, which will give you plenty of time for sightseeing, tours and excursions.
Safety and in Country Support
Your safety is our number one priority. IFRE has been making sure volunteers have safe and meaningful volunteer experiences abroad since 2006, and we use our experience and knowledge to plan a secure and successful volunteering experience in Guatemala. You will have the guidance and support of our passionate in-country staff available to you 24/7.
Learn more about our dedication to safety and our in-country team.
Construction Volunteer in Guatemala: FAQs
IFRE takes care of all the details that go into planning an amazing volunteer trip abroad for you. Here are some details you should know when traveling with us:
Arrival and Departure
To join our Construction Volunteer Program in Antigua, Guatemala, you will fly into Aurora International Airport, in Guatemala City. We suggest arriving one day prior to the start of your project. As soon as you book your flight, provide your itinerary to our in-country coordinator. They will be happy to set up your airport pick-up, and our local representative will be waiting with your name on a sign as soon as you land. They will escort you safely to your accommodation.
IFRE does not provide departure transportation, so you'll need to make your own way to the airport after you are done volunteering in Guatemala. Just have a chat with our local project staff, and they will be happy to offer advice on how to set up a taxi to the airport.
Visa
Whether or not you need to apply in advance for a tourist visa will depend on your nationality. If you are a citizen of the United States, Canada, Australia, or the UK, all you need is a passport with a validity of six months in order to gain entry for 90 days.
Before heading off for your Construction Volunteer in Guatemala program, be sure to do your research on the requirements based on your home country. If you will need a tourist visa in advance, be sure to apply at least a few weeks ahead of time. Please visit Guatemala Immigration website and for more detailed information.
Vaccinations
Getting vaccinated is the first step to protecting yourself while traveling abroad. Since you will be joining our Construction project and working outdoors, this will be especially important for you.
Please consult your travel doctor who is knowledgeable about current health issues and epidemics in Guatemala. You can also find the information on Centers for Disease Control and Prevention, Global Health Canada or in Travelers' Health United Kingdom.
Some of the required vaccines for traveling and volunteering in Guatemala are hepatitis A, hepatitis B, typhoid, yellow fever, rabies, meningitis, polio, measles, mumps and rubella (MMR), Tdap (tetanus, diphtheria and pertussis), chickenpox, shingles, pneumonia and influenza.
For further readings:
Vaccination
Volunteer Health and Safety
Safety tips for your volunteer abroad trip
Why become a Construction volunteer in Guatemala?
Working as a Construction Volunteer in Guatemala is an incredibly fulfilling and life changing experience where you will gain new skills and build your team skills. You will also make a lasting difference in the local communities that will have a positive impact in the lives of many children and people.
Gain valuable work experience in construction field
You will be guided by professional foremen and will learn about principles of construction from general tasks to specific. You will gain hands-on experience with construction work. If you are planning to work in construction, this will provide valuable field experience.
Improve the morale of disadvantaged communities
By helping improve and build new infrastructures in downtrodden communities, you will provide poor citizens with much needed basic amenities, and you fill them with renewed hope. Your effort will help improve the quality of lives for many people and have a positive impact on their future.
Helps expand your professional network
You will have the chance to expand your professional network and work with like-minded people while volunteering in this Construction Volunteer project. You will make new friends, create new relationships, and develop your own interpersonal and professional skills.
Contact IFRE today to learn more about joining our Construction volunteer project in Guatemala.
Other Volunteering Opportunities in Antigua, Guatemala
If you are not keen on construction work, there are still ways for you to contribute in Antigua, Guatemala. You can join the projects below:
Contact IFRE today to learn more!
Volunteering in Construction Projects Worldwide
There is a great need for help with infrastructure building in underdeveloped communities and rural regions, to improve the quality of life for many people.
Besides Antigua, Guatemala, you can also volunteer in our Construction program in San Jose, Costa Rica.