Turtle Conservation Volunteer in Antigua, Guatemala
Are you passionate about working with marine life, especially sea-turtles? Do you want to make a positive impact on the lives of turtles while enjoying beautiful beaches and the sun? Then you should join IFRE's Turtle Conservation volunteer opportunities Guatemala!
The Pacific beaches of Guatemala have been important feeding and nesting grounds for several species of sea turtles for millions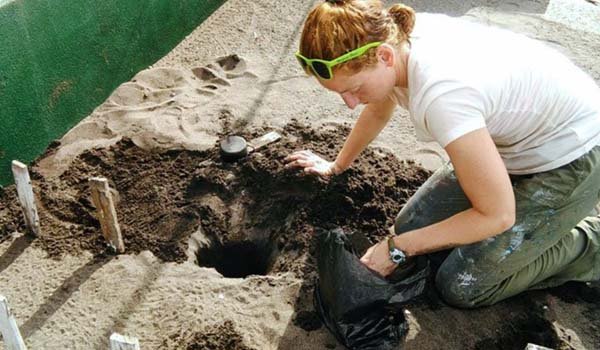 of years. However, in recent years, the sea-turtle population in Guatemala has declined rapidly and they are on the verge of extinction. Destruction of natural habitats, unsustainable fishing practices and an increase in ocean pollution have a devastating impact. Sea-turtles and other marine life are in danger. Lack of crucial data about turtle behavior and demographics hampers conservation efforts.
Sea-turtles need your help! If something is not done to protect them now, they will become extinct and we will lose these amazing ancient species. By joining this Turtle Conservation volunteer program, you will gather crucial data that will be used to further research on sea-turtles and come up with effective ways to safeguard and protect them. This is an amazing opportunity to work hands-on with sea-turtles directly in the field under expert guidance. Your efforts will help conserve the endangered sea-turtle population and prevent their extinction, as well as improve the natural habitats, which in turn will benefit many other marine species.
Do you want to share your passion for animals and help these incredible sea-turtles? Contact IFRE today to learn more about our Turtle Conservation volunteer in Guatemala, Antigua Program!
Volunteer Responsibilities & Impact
Your primary responsibility volunteer in Antigua, Guatemala Teaching English program will be teaching Basic English to children. Volunteers will work 3-4 hours per day from Monday to Friday. Work hours may be in the morning, afternoon or evening depending on the project.
You will be working in underprivileged schools and communities. Besides teaching English, you might also pitch in teaching other subjects such as math, music, or art depending on your background and personal interests. You will also help the teachers, create lesson plans and conduct fun extracurricular activities that help the kids enrich their lives on a daily basis.
Your time spent teaching kids while volunteering in Guatemala will change both your life and those of the kids. Your students will acquire a valuable new skill which can help change the course of their futures, and you will be fulfilled knowing you are making a profound difference in the lives of children in need.
Skills and Qualifications:
When you join this Turtle Conservation volunteer in Guatemala, Antigua Program, you will work on the Pacific Coast and assist a team of biologists, researchers, and environmentalists. Your responsibilities and specific daily duties will vary considerably depending on the needs of the project, your skills, and background. Volunteers will work 5-6 hours per day from Monday to Saturday. Work hours may be in the morning, afternoon, evening, or night.
As a Sea Turtle Conservation Volunteer in Guatemala, you will take part in various seasonal activities under the guidance of turtle experts. Your duties will include nighttime beach patrol and management of nesting grounds. You will also assist with catching and tagging turtles, counting eggs and nesting females, and gathering biometrics. You will work in the hatchery, assist with maintenance, as well as take care of sick turtles, injured turtles, and new hatchlings. You may also be part of community outreach programs, educational programs, and beach clean-up initiatives.
Turtle Conservation volunteer in Guatemala project provides an amazing opportunity for volunteers to work hands-on with amazing sea-turtles and aid marine conservation efforts. You will also get to learn about sea-turtles, observe their behavior, and learn new skills. Your efforts will go a long way in protecting these incredible species, which in turn will have a positive impact on countless marine lives.
Fees & Program Dates
Program Dates
IFRE programs begin every Monday year-round. If you have travel constraints, you can start your chosen program on any day of the year.
Volunteers can participate in our program for a minimum of 1 week or up to 12 weeks.
Fees
Since 2006, IFRE has been the most trusted, respected, and affordable volunteer abroad organization in the world. We're dedicated to providing the highest quality volunteer programs at the lowest fees so that everyone, especially students, have the possibility to volunteer abroad and make a positive impact on the lives of others.
We believe in 100% transparency. Rest assured, we never use middlemen. Your one-time registration fee of $299 covers our administrative costs. The low weekly fee is paid directly to your host family and project (via country coordinator), and includes housing, food, and minor expenses. IFRE is a non-profit organization, so your program fees are tax deductible.
Volunteer Program Fees (US$)
| Weeks | Program Fees |
| --- | --- |
| 1 Week | NA |
| 2 Weeks | $810 |
| 3 Weeks | $1,075 |
| 4 Weeks | $1,330 |
| 5 Weeks | $1,580 |
| 6 Weeks | $1,830 |
| 7 Weeks | $2,080 |
| 8 Weeks | $2,330 |
| 9 Weeks | $2,580 |
| 10 Weeks | $2,830 |
| 11 Weeks | $3,080 |
| 12 Weeks | $3,330 |
Comprehensive Travel Insurance $3.49/day »
Spanish Lessons (2 hours per day) $55 per week
Program Fees Cover:
Shared Accommodation with host family

2 meals per day (Breakfast & Dinner)

Airport Pick up

In-country support

Program Orientation

Project Management

Volunteer Certificate

Discount for returning volunteers
Program Fees Exclude:
Visas

Airfare

Personal expenses on soft drinks and foods

Daily transportation

Airport return transfer
The volunteering programs in Antigua, Guatemala fees will cover expenses that will begin on the first day of the program to the last day of the program. If you arrive before the first day of the program or you decide you stay beyond your program's last day, you will be responsible for the additional expenses.
Accommodation and Meal
While doing volunteer work in Guatemala Antigua, you will be staying with a welcoming host family. The accommodations are located in safe neighborhoods. All the host families have been carefully selected and have experiences hosting international volunteers. You will be provided with a shared accommodation with another volunteer of the same gender. Volunteer rooms are basic, clean, and comfortable, and you will have access to showers, hygienic toilets, and electricity. The volunteer project may be walking distance from the accommodation or require public transportation.
Volunteers in Guatemala will be provided with 2 local meals a day (breakfast and dinner). We accommodate vegetarian needs but not special dietary requirements.
Read more about the accommodations and meals you'll enjoy while in Antigua, Guatemala.
Free Time and Weekend Exploration
After all the hard work you'll be doing in the Turtle Conservation volunteer in Guatemala, you'll want to have some downtime to enjoy yourself and explore this exciting destination. You'll be happy to know that you'll have evenings and weekends free, which will give you plenty of time to sightsee, go on tours, and excursions.
Safety and in Country Support
Your safety is our number one priority. IFRE has been making sure volunteers have safe and meaningful volunteer experiences abroad since 2006, and we use our experience and knowledge to plan a secure and successful volunteering experience in Guatemala. You will have the guidance and support of our passionate in-country staff available to you 24/7.
Learn more about our dedication to safety and our in-country team.
Turtle Conservation Volunteer in Guatemala: FAQs
IFRE takes care of all the details that go into planning an amazing volunteer trip abroad for you. Here are some details you should know when traveling with us:
Arrival and Departure
To join our Turtle Conservation Volunteer in Guatemala Antigua project, you will fly into Aurora International Airport, in Guatemala City. We suggest arriving one day prior to the start of your project. As soon as you book your flight, send your itinerary to our in-country coordinator. They will be happy to set up your airport pick-up, and our local representative will be waiting with your name on a sign as soon as you land and will escort you safely to your accommodation.
IFRE does not provide departure transportation, so you'll need to make your own way to the airport after you are done volunteering in Guatemala. Just have a chat with our local project staff, and they will be happy to offer advice on how to set up a taxi to the airport.
Visa
Whether or not you need to apply in advance for a tourist visa will depend on your nationality. If you are a citizen of the United States, Canada, Australia, or the UK, all you need is a passport with a validity of six months in order to gain entry for 90 days.
Before heading off for your Turtle Conservation Volunteer in Guatemala, program, be sure to do your research on the requirements based on your home country. If you will need a tourist visa in advance, be sure to apply at least a few weeks ahead of time. Please visit the Guatemala Immigration website and for more detailed information.
Vaccinations
Getting vaccinated is the first step to protecting yourself while traveling abroad. Since you will be joining our Sea Turtle Conservation Volunteer project and working with wild animals, this will be especially important for you.
Please consult your travel doctor who is knowledgeable about current health issues and epidemics in Guatemala. You can also find the information on the Center for Disease Control and Prevention website, Global Health Canada or in Travelers' Health United Kingdom.
Some of the required vaccines for traveling and volunteering in Guatemala are hepatitis A, hepatitis B, typhoid, yellow fever, rabies, meningitis, polio, measles, mumps and rubella (MMR), Tdap (tetanus, diphtheria and pertussis), chickenpox, shingles, pneumonia and influenza.
For further readings:
Vaccination
Volunteer Health and Safety
Safety tips for your volunteer abroad trip
Why become a Turtle Conservation volunteer in Guatemala?
Working as a Turtle Conservation Volunteer in Guatemala is an incredibly rewarding experience that will change your life through huge amounts of hands-on experience and helping the endangered turtle population while enjoying off-the-beaten track destinations and beautiful beaches in the Pacific.
Gain valuable work experience in marine conservation efforts
You will gain hands-on experience with sea-turtles and a chance to learn about marine conservation work under the guidance of international professionals and biologists. Your efforts will help the sea-turtles in Guatemala have a better future.
Educate locals by running educational programs about importance of conservation
The Turtle Conservation Volunteer in Guatemala Antigua program gives you the opportunity to educate locals on the importance of protecting sea-turtles and their importance in the marine ecosystem. Your efforts will help raise awareness about the plight of sea-turtles in the local community.
Helps expand your professional network
This experience will expand your professional network. You will be working alongside and building relationships with biologists, conservationists, and animal experts, and visitors while volunteering in this Sea Turtle Conservation Volunteer project.
Make a difference in the lives of sea-turtles
You will help safeguard the turtle eggs and nesting females from poachers and illegal pet trade. Your help ensures their future and saves the turtle population from endangerment. Your volunteering efforts give the turtles and new hatchlings a chance to live a natural life at sea where they belong.
Contact IFRE today to learn more about joining our Turtle Conservation volunteer project in Guatemala.
Other Volunteer Opportunities in Guatemala, Antigua
If you are not keen on working with animals, there are still ways for you to contribute in Antigua, Guatemala. You can join the projects below:
Contact IFRE today to find the project that's right for you.
Volunteering with Wildlife Worldwide
Endangered animals around the world are in great need of help, and IFRE volunteers aim to create a meaningful difference in conservation efforts. Thus we arrange Wildlife Volunteer Opportunities in many countries, some of the most popular are listed below: