What It's like to Stay with a Host Family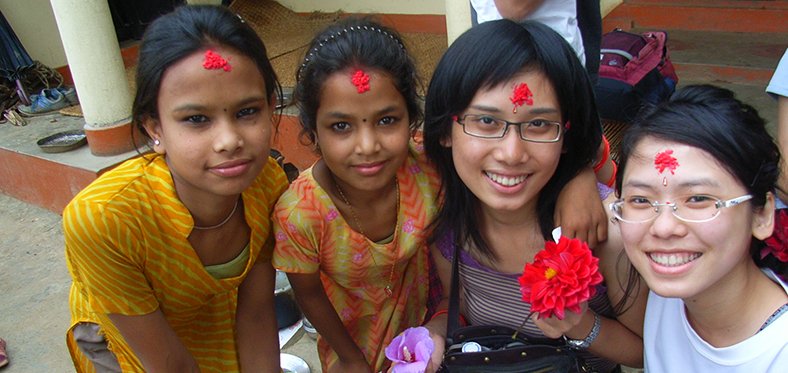 Volunteering abroad is an adventure you come to because you want to help others. You want to make a difference, but you can do that anywhere.
You are choosing to travel abroad for your volunteer adventure because you have a burning desire to travel somewhere amazing and help make it a better place in the world to live. You want to get immersed in a fascinating culture and learn all about it. There is no better way to do this than by staying with a host family.
A host family is a special family who has been chosen for their safe, comfortable home and welcoming nature. They are curious about you and your culture, but they love their country and want to share it with you. This is a richly rewarding way to experience a culture from the inside out.
You get a peek behind the curtain of daily life in the country you have traveled to, and as a result, will come to a much greater and deeper appreciation of your destination through the host family experience.
Here are few aspects of staying with a host family while volunteering abroad
You will experience different kind of Food
All over the world, people come together over food. Food gives us the energy we need to live, but it also adds flavor to our lives, it can define places, it's something we can all share with another. Every day of your volunteer abroad experience will begin and end with heartwarming and nourishing local meals shared around the table with your host family.
This is an amazing opportunity to really get immersed in a culture. From local ingredients, special regional dishes, and family favorites, you will begin to see the story of the country and the new international friends you are making told through food.
Practice the local language while you're at the table. Talk with your host family about their country, culture, great places you shouldn't miss, and even just what's going on in their day. You'll get a window into a fascinating new world.
Another great benefit of sharing meals with your host family is that it's one more thing you don't need to worry about while volunteering abroad. You know you'll have safe, healthy meals available, and you can focus on your experience. Some families will even send you with a to-go lunch if you need one during the day at your volunteer project!
If the occasion calls for it, offer to pitch in on kitchen duty and wash dishes or help cook. You might learn some delicious local recipes, bond more with your host family, and show them your gratitude for their hospitality.
With that being said, in some families or cultures a visitor in the kitchen won't be welcome, and make sure you don't help yourself to the general food in the kitchen outside of meals.
You will have a safe place to lay your head.
There's nothing that can ruin an amazing vacation faster than sub-par accommodations. If you don't have a clean, comfortable, safe place to lay your head at night, chances are the rest of your experience is going to suffer, too.
When staying with a host family, you can rest easy in a clean and comfortable room set aside for international volunteers just like you. Depending on the situation, you may have the room to yourself, or you might be sharing with fellow volunteers.
Host families are selected partially based on the fact that their homes are located in safe, secure locations and good neighborhoods. Not only will you know you are in a good area, the family will help watch out for you and be able to guide you safely around.
You will have amazing cultural immersion experience At Its Finest
The primary reason why staying with a homestay family is a great opportunity is the chance to fully immerse yourself in a new culture. You'll get to see what daily life is really like in your host country, and you'll come to a much deeper appreciation of the culture than you would if you were staying in a hotel.
Your host family loves their own country and culture, and is excited to share that with you. They are probably curious about your culture, as well, and you can swap stories and learn more about each other. Learn all about customs, traditions, beliefs, and ways of looking at the world.
You'll hear the local language being spoken in the home, and this is a great chance to try your hand at practicing it. Even if you only know a few words, use them and try making conversation. Listen to your host family speak, and try to pick up on what they're talking about. Immersion is the quickest and most effective way to learn a language!
Be Our Guest
You should always remember that you are a very special guest that your host family has been kind enough to welcome into their home. They are not employees of a hotel, and they are not your servants. They are your family, and are being kind enough to give you a home away from home while you volunteer abroad.
Always try to respect their culture, customs, and the rules of their household. Show up on time to meal-times, and make an effort to get to know your host family. Pick up after yourself, be kind and considerate, and don't bring home guests to your room.
Many of the families will have children, so you want to be sure to be a good role model. Avoid drinking, smoking, cursing, and exhibiting any behaviors which might be seen as inappropriate or offensive. Familiarize yourself with the local dress code, and make sure you dress modestly even inside the home.
Staying with a host family while volunteering abroad is a once-in-a-lifetime experience you won't want to miss!
Looking for volunteering abroad and experience of living with host families? Choose any of the following destination you love