Volunteer in Srilanka
Affordable, Exciting, Life-Changing Sri Lanka Volunteer Experiences!
Are you searching for a life-changing experience you'll remember forever? Would you like to experience the adventure of a lifetime while making an actual difference? Volunteering in Sri Lanka is a perfect way to travel this exotic country while helping the country's wonderful people!
Sri Lanka's tourist industry has been steadily expanding since 2009, when the country's civil war ended. This beautiful island country has something for every traveler. If you're a surfer, or would like to learn, Sri Lanka is a surfing paradise, with warm-water surfing for every ability level along the country's beautiful coast. Yoga is also popular, with a variety of yoga retreats and classes available. Lovely produce and delicious food abound, along with broad wildlife biodiversity, unspoiled beaches, and a deep cultural heritage making Sri Lanka a top tourist destination.
In spite of its beauty and burgeoning tourist industry, Sri Lanka is still a developing country beset by poverty. Torn by civil war from the early 1980s until 2009, portions of the country still struggle to recover. Development is unequal, with those living in rural areas disproportionately affected. The government's spending on education infrastructure is sorely lacking, trapping poor children in a cycle of poverty. Extreme weather disproportionately affects the poor, affecting the ability to earn a living and causing displacement, along with an increase in infectious diseases.
Today, Sri Lanka desperately needs volunteers more than ever.
There are a wide variety of rewarding and meaningful ways to volunteer your time to improve lives. You can choose to work in an orphanage, or teach English to local children and Buddhist monks. Work in the medical field, or in an elephant orphanage.
Be inspired  while you use your skills and compassion to create lasting change in the lives of the people you touch.
Open your heart and mind, while enriching your life! Click below for more information.

Volunteer Work Projects and Locations
IFRE's Sri Lanka volunteer program focuses on supporting local orphanages, teaching English in local schools, teaching Buddhist monks, and elephant orphanage and turtle conservation project.
Volunteer Program Fees & Dates:
Start Dates: Our programs start every Monday, although we allow for flexibility due to travel constraints.
IFRE is a 501(c)3 organization, so your program fee will be tax deductible. IFRE Volunteers is proud to offer the world's best fee. Our programs are now more affordable than ever. We are proud to focus on the humanitarian aspect of our business, not on profit.
We work very hard and smart to keep our costs down, especially for the volunteers because we know the value of your donated time and efforts. We remain devoted to maintaining both the quality of the program and the safety of all volunteers involved. Below is a brief summary of the program fee and services that IFRE Volunteers offers.
IFRE fees comprise of two separate fees. An application fee of $299 USD (covers advertising, staff/office expenses, etc.) and a nominal weekly program fee (covers room/board, field support, etc). You will pay your fee directly to host families and projects. In this way, what you pay will go for you or people who deserve it (not for profit).
Volunteer Program Fees (US$)
| Duration | Projects in Galle | Medical | Kegalle Elephant | Pinnewala Elephant |
| --- | --- | --- | --- | --- |
| 1 Week | $155 |   $310 | $335 | $325 |
| 2 Weeks | $310 |   $510 | $620 | $600 |
| 3 Weeks | $415 |   $710 | $905 | $875 |
| 4 Weeks | $520 |   $910 | $1,190 | $1,150 |
| 5 Weeks | $625 |   $1110 | $1,475 | $1,425 |
| 6 Weeks | $730 |   $1310 | $1,760 | $1,700 |
| 7 Weeks | $835 |   $1510 | $2,045 | $1,975 |
| 8 Weeks | $940 |   $1710 | $2,330 | $2,250 |
| 9 Weeks | $1,045 |   $1910 | $2,615 | $2,525 |
| 10 Weeks | $1,150 |   $2110 | $2,900 | $2,800 |
| 11 Weeks | $1,255 |   $2310 | $3,185 | $3,075 |
| 12 Weeks | $1,360 |   $2510 | $3,470 | $3,350 |
Airport Pickup and Transfer to Galle (2 hours) $85

Airport Pickup and Transfer to Kegalle (80 KM) $90

Transfer from Galle to Kegalle (3 hourss) $125

Language and Culture $250
Language and Cultural Immersion program fee includes: Language and Cultural training, food and accommodations for 7 days, training materials (books, papers, etc), cost of local sightseeing/tourist sites, cost of recreational activities, Comprehensive Travel Insurance.
Additional costs for volunteers: International flights, visa, daily personal expenses on beverages/entertainment , laundry, telephone, immunizations
Arrangement of Room/Food/Supervision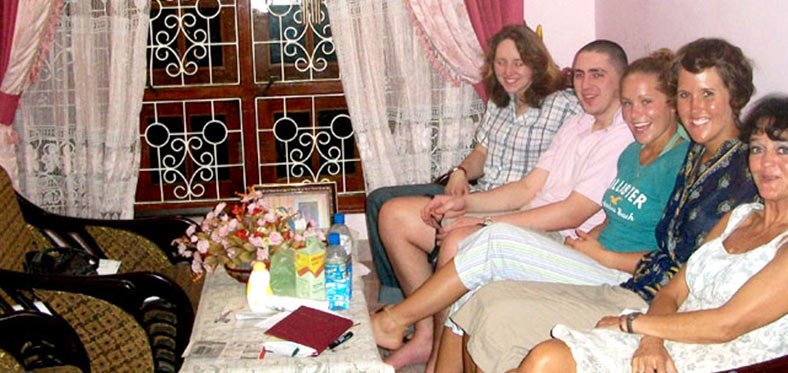 In Sri Lanka, all volunteers stay with well-screened host families (in most situations this is with our in-country coordinator or local staffs). Our host families are socially respected and are well versed in the art of hosting international volunteers. Host families offer a safe home, private rooms (occasionally rooms will be shared with other same-gender voluVolunteer is enjoing with kids while volunteering in Shri Lanka with IFREnteers) and shared bathroom facilities with running water and a "local" style toilet. You receive three prepared meals per day. If you will be out of the house during lunch hour, you can request a lunch "to go" that you can take with you or eat out on your own. Host families provide typical meals that are traditional to Sri Lanka. Rooms are shared, as are bathroom and kitchen facilities. For a small additional fee, volunteers can opt to stay in a modest seaside motel. Please note this preference in the initial volunteer application.
Throughout the volunteer project, our local staff stays in contact with volunteers with either face-to-face visits or via email/telephone and volunteers have 24/7 access to our in-country staff. With longer placements, we visit our volunteers every two weeks (when possible) and volunteers are always welcome at the local office. If project placement is local, we request that volunteers stop by the office once a week to keep us posted on how they are doing with their home stay and project. If project placement is very far, then our local staff members maintain communication by either email and/or phone.
Language and Cultural Immersion
In Sri Lanka, IFRE offers one week of Language and Cultural orientation in Galle, a small beautiful tourist city about 4 hours from Colombo. This weeklong intensive language and cultural immersion program includes language training, lessons on history, culture and Sri Lankan ways of life. Sinhalese and Tamil are the two official languages of Sri Lanka. Program participants will also visit local villages, towns and markets, guided city exploration and local tourist attractions including beautiful beaches and wildlife sanctuaries.
This IFRE language and culture program aims to submerge you in Sri Lankan culture, history and ways of life to vastly improve your time as a volunteer in Sri Lanka. When you understand the life and culture around you, your experience is richer and more rewarding. However, you can choose to take the Language and Cultural immersion program or go directly into a volunteer project. This experience should not be missed! So many international travelers wish they could have an opportunity such as this to receive a briefing on customs, language and history.
Volunteer Program Free Time
Volunteers have free time for the duration of their volunteer project, weekends and the Language and Culture program. While IFRE does not arrange activities during this time off, our local staff, members and coordinators can provide priceless assistance in making appropriate arrangements for travel around Sri Lanka. Sri Lanka is a natural paradise of Asia. There are tremendous opportunities for travel and exploration. Free time allows for travel to major tourist areas such as Colombo, Kandy, Negombo, Anuradhapura, Sigiriya and Dambulla. Volunteers can relax and simply hike in their village or ride bicycles. Sri Lankans also perform a variety of daily rituals and religious activities that volunteers can participate in, with their host family. Please discuss your recreation options with our Sri Lanka project staff for activities available in your free time.
About Sri Lanka volunteer program (In General)
How long has IFRE been working in Sri Lanka? Whom do you work with? Where are you located? What are IFRE's programs?
IFRE has coordinated our volunteer programs in Sri Lanka since 2007. We work with orphanages, Buddhist monks in Piriven, a turtle conservation project and an elephant orphanage.
IFRE maintains a small office in Galle, a small tourist town famous for its beautiful beaches and nature. Our first week of Language and Cultural immersion is operated here. Galle offers many services: internet access, banks, general shopping and recreational areas. Most of our volunteer projects in Sri Lanka are offered within 20 km radius of our local office, which allows us the opportunity to offer immediate and direct assistance to our volunteers. Our elephant orphanage project is far from our local office in Galle.
Applying for the Sri Lanka volunteer program?
How can I apply? What happens when I apply? Do you guarantee placement? How long does it take to receive confirmation?
Please read IFRE's 4-step application process:
There are two options for applying to volunteer in our Sri Lanka programs. You can apply online (http://www.ifrevolunteers.org/apply-now.php ) or you can simply download an application form, fill it out and mail it into IFRE's offices. Participants are required to submit their application with a $299 application fee plus the program fee for the number of weeks you choose. However to simply start the placement process, all that is needed upfront is a $99 deposit which will be deducted from the final invoice.
Once IFRE receives your application, we immediately forward it to country coordinator for processing. The in-country coordinator reviews the application carefully to determine the most optimal project for you while you volunteer in Sri Lanka. Decisions pertaining to room and board are made at this time - depending on the location of the project. The vast majority of participants stay in fully immersed in-home stays.
IFRE receives the details of the participants' placements from the in-country coordinator.
The information is then passed on to the prospective participants along with a final invoice. Final payment is due six weeks prior to departure and, in expedited cases, as soon as possible. The placement details contain local contact information to be used when applying for a visa and/or to get in touch with the local staff and host family.
Preparation for your volunteer vacation in Sri Lanka should include reading about travel to Sri Lanka, immunization, acquiring a travel visa and booking airfare for your volunteer journey to Sri Lanka. If you face any problems, IFRE's Program Manager is always available for any assistance.
IMPORTANT: Once participants purchase airline tickets, we request flight information be forwarded to IFRE's U.S. office by fax or by email. Participants' flight information will then be forwarded to the in-country coordinator in Sri Lanka, who will then arrange an airport pick-up.
Airport and Arrival Information
Who will meet me in airport? What should I do if I am delayed or miss my flight? When should I arrive?
Volunteers should arrive at Bandaranaike International Airport (CMB) in Colomboa, Sri Lanka. It is located in Katunayake, 35 km (22 miles) north of Colombo where a local staff member will meet you and transport you to your respective accommodation or project.
We ask that you fly with all your important documents, including your volunteer placement, passport, visa and vaccination booklet. Please have them accessible in case you are asked to produce them. Our volunteers join our program with a tourist visa. Volunteers do not need a long term or working visa.
If some sort of delay occurs, including flight delays or missed flights, contact our Sri Lanka office as soon as possible. We will obtain a volunteer's revised itinerary and reschedule pick-up. If volunteers should miss connecting with our staff at CMB, they should arrange a taxi and travel to the local office in Galle. This information is included in the volunteer's personal placement documents. Upon meeting the in-country representative at CMB, will transfer to the local office, project or accommodations.
Volunteers coming to Sri Lanka are advised to arrive one day before their program start date. The program fee will cover expenses beginning of the first day of the program (usually first or third Monday) to the last day of the program. If you arrive before the first day of the program and/or stay beyond the last day of the program, expenses will be the responsibility of the volunteer (usually $30 per day for room/food in hostel).
Room and Food
Where do I stay during one-week language program? Where Do I stay during volunteering program? What do I eat? Do you accommodate special diet?
In Sri Lanka, all volunteers stay with well-screened host families (in most situations this is with our in-country coordinator or local staffs). Our host families are socially respected and are well versed in the art of hosting international volunteers. Host families offer a safe home, private rooms (occasionally rooms will be shared with other same-gender volunteers) and shared bathroom facilities with running water and a "local" style toilet. You receive three prepared meals per day. If you will be out of the house during lunch hour, you can request a lunch "to go" that you can take with you or eat out on your own. Host families provide typical meals that are traditional to Sri Lanka. Rooms are shared, as are bathroom and kitchen facilities. For a small additional fee, volunteers can opt to stay in a modest seaside motel. Please note this preference in the initial volunteer application.
Throughout the volunteer project, our local staff stays in contact with volunteers with either face-to-face visits or via email/telephone and volunteers have 24/7 access to our in-country staff. With longer placements, we visit our volunteers every two weeks (when possible) and volunteers are always welcome at the local office. If project placement is local, we request that volunteers stop by the office once a week to keep us posted on how they are doing with their home stay and project. If project placement is very far, then our local staff members maintain communication by either email and/or phone.
Visa
IFRE requires volunteers to obtain a tourist visa before departing for Sri Lanka. Please contact the local Sri Lanka embassy to learn more about the proper steps to obtain a visa, visa fees and visa extensions. It is the sole responsibility of the volunteer to acquire your Sri Lankan tourist visa. Contact our American offices if there are questions beyond what the embassy can provide.
Health and safety
Being informed is your first defense against disease and safety risks. We recommend visiting some of the following websites for health and safety information:
WHO website for international travelers ( http://www.who.int/csr/ihr/en/ )
General Health Tips for volunteer in Sri Lanka
Drink only bottled or boiled water or carbonated (bubbly or fizzy) drinks in sealed cans or bottles. Avoid tap water, fountain drinks and ice cubes. If safe drinks are not available, you can make tap or other water safer by both filtering through an "absolute 1 micron or less" filter AND adding iodine tablets to the filtered water. "Absolute 1 micron filters" can be found in camping/outdoor supply stores.
Buy bottled water from respectable outlets to guard against upset stomach. Some of the better known brands are Bisleri, Kinley, Aquafina. Make sure that the seal of the bottle is intact.
Watch out for spicy dishes, especially at the beginning of your trip. Avoid eating food from road-side stalls. Eat unpeeled fruits and avoid fresh salads, especially in small hotels. If you are forced to eat food at questionable locations, make sure the food is cooked and served hot.
Always use an insect repellent if you find yourself in a mosquito laden area. Although Sri Lanka is not a very mosquito infested country, and tends to be pretty average for a tropical country with some mosquitoes (and some mosquito borne illnesses).
If traveling in extreme heat, remember to drink enough water, wear hats, sunglasses & SPF/sunscreen. Beware of the health effects that the mid day sun may cause, most importantly SUN BURNS and DEHYDRATION.
Be wary of spicy dishes, especially at the beginning of your travels. Stall eating is generally safe and some of the best food in the country can be found at inexpensive market carts. Check the tables, eating utensils, the hands (as well as the personal hygiene of the cook) to decide if they pay enough attention to cleanliness.
Pharmacies or chemists are available in every little town and village and you can buy over the counter medication. If you need to see a doctor, ask for help from your in-country coordinator or your host family. The cost of visiting a doctor is low (less than a dollar) when compared to western countries.
In Sri Lanka, most modern medicines are available over the counter in drugstores, but it is wise with any prescription drugs you require, bring enough for the duration of the trip. It is advisable that you carry a small health kit, which should include remedy for upset stomachs, some antiseptic cream, mosquito repellant, sun block, band aids, etc.
Vaccination
We use the Center for Disease Control traveler's health recommendations (www.cdc.gov.) Consult your travel doctor about current epidemics.
Entering Sri Lanka, vaccination against the Yellow Fever is legally required. Although, the requirement is only enforced on people traveling from infected areas like Central Africa and parts of South America, volunteers should consult a doctor regarding immunizing for Yellow Fever.
Other recommended immunizations for Sri Lanka travel include Diphtheria & Tetanus, Hepatitis A and B, Japanese B Encephalitis, Polio, Rabies, Tuberculosis and Typhoid. Volunteers should bring malaria medication in case of travel to a high-risk area. A basic personal first aid including bandages, medication and other should be packed.
Money Matter
What is the exchange rate? Where should I change my currency? Can I use my debit card or credit card? Should I bring traveler's checks?
Find the Exchange Rate of Sri Lanka Rupee (INR) http://www.xe.com/ucc/
The local currency is the Sri Lanka Rupee. Volunteers can exchange money upon arrival at Colombo International Airport. There are more than 10 banks in airport. Currency exchange transactions are monitored by the government and are based on the current day's foreign exchange rate. We suggest you change $200 in the beginning as you can change money in any bank (some banks are near to our office).
In Sri Lanka, credit card information is often stolen and used fraudulently just by paying with a credit card. For this reason, IFRE suggests cash and travelers checks to settle your bills. You will have trouble actually paying with traveler's checks, but you will be able to exchange them at local banks. Traveler's Checks are recommended as a safe way to carry money with you, make sure you write down the check numbers and contact information you need to cancel stolen checks. Different brands of traveler's checks work better in different countries so consult your local financial institution regarding which Traveler's Checks to bring to Sri Lanka.
You can also carry a debit/ATM card that can be used at ATM's to withdraw local currency. An ATM card is the best way of getting money. Vendors are available in major banks and department stores in the cities. Visa, MasterCard and American Express are accepted in some of the large stores and hotels in larger cities but not accepted in smaller cities.
How much money you bring depends on your personal spending habits. Thrifty people can get by on less than $10/day. Your budget should also include money to explore Sri Lanka in free time as well as for your personal use. A good rule of thumb for money management is the 1/3 method, bring 1/3 cash, 1/3 traveler's check and leave 1/3 of your money in your account - plus a credit card for emergencies.
Field Support and supervision
How does IFRE helps me when I am in the field? How can I maintain communication? Do you visit me?
Once your volunteer program begins, our local staff members stay in constant touch with you. We recommend that the volunteers stop by the office once a week, if they are staying/working in the local area, to provide feedback on their home stay and project. Many minor issues can be avoided with a just little extra communication before they develop into major issues. Projects have local staff members in addition to our in-country coordination staff. If your project is located a great distance from our offices, then our local staff communicates by either email and/or phone and visits every 2-4 weeks when possible. IFRE's in-country coordinator is available 24/7 via mobile phone.
We are available for you at the local office via email and phone for your entire trip. It is our job to make sure that you are safe and healthy.
Communication
How do I communicate with my family? IFRE staff? Is there internet?
We request that volunteers bring a mobile phone. Once you arrive in Sri Lanka, SIM cards can be exchanged and the phone used locally. This is the perfect way to stay in touch with family and IFRE office in Sri Lanka. Internet Café's are available in Galle. Details regarding communication and internet are provided in personal placement documents.
Take advantage of the Web which can bring you current weather and forecasts for your destination:
Sri Lanka is in the equatorial and tropical zone and is influenced by the monsoons, allowing two distinct seasons: wet and dry. The difference of elevation also influences temperature variation; it is always hot in the lowland and it gets cooler when reaching the higher altitudes. The annually average temperature of the country as a whole varies from 26°C-28°C and dips down to 14°C-16°C in the Central Highlands. November to January is the coolest time of the year whereas February through May is the hottest period.
There are two monsoonal seasons in Sri Lanka, making its climate more complex and varied in different regions. In mid-May through October, the Southwest monsoon, called in Lankan language as "Yala season", brings moisture from the Indian Ocean, resulting in the heavy rains in the south and west coasts as well as in the Central Highlands. Some windward slopes receive up to 250 centimeters of rain per month. In this period, the northern and eastern parts of the island are left drier with a little quantity of rainfall as lying in the leeside. When it comes to the Northeast monsoon (" Maha season" in Lankan) which lasts from December to March, the moisture brought from the Bay of Bengal causes downpours in the Northeast region of the island. The northeastern slopes of the mountains may be inundated with up to 125 centimeters of rains during these months.
Source: Sri Lanka Travel Guide
Climate in Galle
Month

Mean Temperature o F

Mean Total Rainfall (mm)

Mean Number of Rain Days

Daily Minimum

Daily Maximum

Jan

73.0

84.2

85.1

8

Feb

73.4

84.2

70.5

6

Mar

75.0

85.8

111.3

9

Apr

76.6

87.1

206.8

12

May

77.9

87.1

290.4

16

Jun

77.4

85.6

188.2

17

Jul

76.6

84.2

163.2

16

Aug

76.5

83.5

185.9

16

Sep

76.5

83.1

255.8

18

Oct

75.4

83.3

322.7

18

Nov

74.3

83.7

321.0

16

Dec

73.6

84.4

176.9

12
Materials to Bring
Most of stuffs of daily use are available in Sri Lanka at a cheaper price. However, we suggest volunteers pack the following things.
Camera
Mobile phone (you can use mobile phone after changing sim card)
Sleeping bag
Mosquito repellents
Insect repellents
Sun-block
Working gloves (if you are joining conservation or construction project)
Some books about Sri Lanka
Map of Sri Lanka
Toiletries
First aid kit
Flash light
Electricity adopter/converter
Sun glasses
Footwear (for work and travel)
Towel
Gift for Host Family and Project
What gift should I bring for my host family and/or project?
It is a common courtesy to bring a small gift for your hosts. You are not required to do so, but if you choose to bring a gift keep it simple. We suggest a box of chocolates, a t-shirt with a hometown/country logo, pictures of your family and local post cards.
If you want to bring gifts for your project and if you are working for an orphanage or a school, please bring pencils, pens and paper, art supplies like markers and construction paper pads, as well as games for the children to enjoy. Remember that every child will need these items so you may wish to bring enough for a number of children.
About Sri Lanka
Tourist Information from Government of Sri Lanka : http://www.srilankatourism.org/
Geography
Sri Lanka is an island in the Indian Ocean , located to the south of Indian Subcontinent. Sprawling over the area of 65, 610 square kilometers, Sri Lanka with its tear-dropped shape is dominated by the astonishingly varied features of topography, making it one of the most scenic places in the world. Three zones can be divided by its distinguished elevation: the Central Highland , the plains, and the coastal belt.
At the core of the island is dominated by a high plateau in which several highest mountains of Sri Lanka are situated. Among them, the highest pinnacle is Pidurutalagala Mountain levitating at 2,524 meters of its height; Sri Lankan people consider this mountain as the sacred site of pilgrimage. The Adam's Peak lying to the west, at the southern end of the plateau is better known for its spectacular scenery and sacred pilgrimage site with its elevation of 2224 meters.
Then the land descends from the Central Highlands to a series of flat plains between 30 and 200 meters above sea level, dominating the east and the north of the island. Extensive erosion in this area has worn down and deposited the rich soil good for agriculture.
A coastal belt surrounds the island, consisting of scenic sandy beaches and lagoons. Best beaches line along the southern coast, southwestern coast and eastern coast. In the northeast and the southwest, the coasts cut across the stratification of crystalline rocks, cliffs, bays, and offshore islands, creating one of the world's best natural harbors at Trincomalee on the northeastern coast and a smaller rock harbor at Galle on the southwestern coast. In the northwest, Mannar Island which is joined with the mainland by a bridge is almost connected to the southern India by a long chain of sandbanks and islets called Adam's Bridge .
Rivers in Sri Lanka originates in the Central Highlands, near Adam's Peak and flow through the gorges, broad valley and plains and finally empty in the sea near Trincomalee, creating the different landscapes of escarpments, waterfalls and deep gorges. Most of the rivers are short and frequently interrupted by the discontinuities of terrain. The longest river of Sri Lanka is the Mahaweli Ganga River with it length of 335 kilometers. The upper reach of the river is wild and non-navigable while the lower reaches are prone to the seasonal flooding. The river is the most important water necessity for the irrigation system in the northeast region in which natural rainfalls are deficient.
Source: Sri Lanka Travel Guide
Art and Religion
As Sri Lankan population is composed with multi-ethnic group, the religion in Sri Lanka is inevitably diverse. Various communities in Sri Lanka recognize four of the world's major religions: Buddhism, Hinduism, Islam, and Christianity. The majority people of the country, the Sinhalese are adherent to Buddhism while other ethnic groups like Tamils, Moors, Burghers, and others practice Hinduism, Islam and Christianity, respectively.
Experts say that religion in Sri Lanka is syncretism bending elements of Buddhism, Hinduism and spiritual beliefs of indigenous people, creating then the uniqueness of religious character of Sri Lanka . Undoubtedly, religion became an inseparably integral part of Sri Lankan society; it is the basis of social management, politics, as well as the spiritual guidance represented as the caste system, laws, and other traditional rituals. The flourishing culture of the country throughout its history is a result of religion
Buddhism in Sri Lanka
Buddhism among other religions in Sri Lanka seems to be the most important as it was claimed to be the religion of the majority Sinhalese who hold sway the country's power. In Sri Lankan history, Buddhism has played the significant role in the establishment of Sinhalese kingdoms since the early times, dating back to over two thousands years.
The first confrontation of the Sinhalese king named Devanampiyatissaand Arhat Mahinda, the celebrated missionary of Buddhism in 306 B.C. (237 years after the death of the Buddha) paved way for the establishment of Buddhism in Sri Lanka . The Arhat Mahinda was an own son of EmperorAsoka of India . The Emperor had completely converted to Buddhism and consecrated himself as patronage of religion. He intended to establish Buddhism in the island of Sri Lanka ,Arhat Mahinda was then sent for this mission.
When Arhat Mahinda came to Sri Lanka , he brought with him the Theravada canon or orthodox Buddhism,regarded as the most ancient sect of Buddhism using the Pali language unlike the Mahayana Buddhism which embraces Sanskrit. Arhat Mahinda preached the Buddha's teaching not only to rulers but also directly to common people, making Buddhist education spread out rapidly. Together, constant patronage of the succeeding kings allowed Buddhism to flourish throughout the island while the numerous religious edifices soon spotted the island. Among those monasteries, the most outstanding one is the Mahavihara monastery which became the historic center of Theravada Buddhism in Sri Lanka .
Mahinda' s arrival in Sri Lanka marked the significant development of Sri Lankan culture; he brought about not only a new religion, but also the whole civilization of Buddhist India, be it arts, architecture, and literature. Not only culture which was graced by Buddhism, political ideology based on Buddhism had, through the course of times, embedded in the island so profoundly as well. Since the time of King Devanampiyatissa , the political state and Buddhism has been merged together according to the adoption of Asoka' s strategy. The religious and the temporal institutions were closely related to one another that the support of Buddhist monks was as indispensable as that of kings had to offer to the religion. The constitutional position of Buddhism became so strong that the act against the religious institution was treated as a high treason; meanwhile, kings conduct well to gain the monk's favor for the sake of peaceful and successful government.
Buddhism was regarded the highest ethical and philosophical expression of Sinhalese culture and civilization, becoming later the significant influence on national identity among the Sinhalese Buddhists. The consciousness of Buddhist identity of the Sinhalese was so strong that they claimed Sri Lanka belonged to the Buddha, and the Sinhalese people themselves were then designated to be the "protector of Buddhism" according to the most important chronicle of the early Sinhalese-Buddhist in Sri Lanka, Mahavamsa . Particularly, for the kings, they were the "head" as well as the "defender of Buddhism". The suitable king to assert the throne must be Buddhist, and he was responsible for supporting religious institutions while constructing and restoring monasteries and other Buddhist shrines.
In times gone by, the flourishing Buddhism encountered the great change from the foreign occupation which resulted in the savagely persecuted Buddhism and introduction of Christianity into the island. Despite that, the faith in Buddhism steadily grew at the same time of nationalism against the invaders among the Sinhalese-Buddhists.
The movement of nationalism made efforts to assert the Sinhala Buddhist identity and to legitimize Sinhala control over the country's polity by reviving many elements of the "origin mythology" to reconstruct an image of the Sinhala past. The chronicle of Mahavamsa was thus served as the testament of Sinhala rights to reestablish Sinhala-Buddhist hegemony of the island over non-Sinhala and non-Buddhist groups. With the ideology that the Sinhalese were the protector of Buddhism and that Sri Lanka was belong to the Buddha, the animosity towards the foreigners and other minorities was reinforced, leading to a discrimination against non-Sinhalese and non-Buddhist.
Theravada Buddhism in Sri Lanka itself can be divided into three different sects.
Siyam Nikaya(the Siamese order): In the 18th century, the official line of monastic ordination had been broken since monks at that time no longer knew the Pali tradition. The Kandyan king invited then the Theravada monks from Thailand to ordain Sinhalese novices; it was set up later as a reformed sect that enlivened study and proliferation of Theravada Buddhism in Sri Lanka .
Amarapura Nikaya This sect was initiated by members of rising low-country castes discontent with monopoly over the monastic community by the upper castes in the 19th century. The sect was subsequently slit along the caste lines.
Ramanna Nikaya This sect was established in the late nineteenth century as a result of disputes over some points of doctrine and the practice of meditation.
Hinduism in Sri Lanka
Along side Buddhism, Hinduism is an important element in embodiment of Sri Lankan society. It is practiced by the Tamils in Sri Lanka whose origins trace to south India where Hinduism was predominantly practiced. Around the fifth and the sixth century A.D., the Tamil king from the south Indian kingdom named Chola usurped the throne of the Sinhalese Kingdom and conquered the island, leading to the considerable number of immigrants from south India into the northern Sri Lanka . Undoubtedly, these immigrants brought with them Hinduism to the island. During the reign of Tamil kings, Hindu shrines were widely constructed.
Unlike any other religion in the world which mostly holds monotheism, Hinduism endows a complex pantheon of gods and goddesses. A decentralized religion Hinduism is, it has no hierarchy of clergy and no supreme authority. Hinduism beliefs seem very complicated due to its countless gods and goddesses. However, the core of Hinduism is just simple; it believes in the only one "Supreme God", called Brahman. It is the "Supreme" in which every being in the universe originated; it is one unchanging and everlasting spirit. The soul or the "atman" of every being is part of the "Supreme". Gods and goddesses in Hinduism are also come from the same origin; they were only the attributes of the "Supreme". After death, every soul will reunite with this ultimate soul of the universe that means the ultimate goal of salvation.
Hinduism with the vision of gods and worship regained its popularity in 1000 A.D. after Buddhism has been in its prevalence since the third century B.C. Tamil Nadu State in south India was a major center of Brahmanical culture at that time, leading to the subsequent transmission to the Tamils immigrants in Sri Lanka Island. This type of culture strongly attaches to rituals and worship to the gods, also known as " puja ".
In Sri Lanka , there are several popular gods predominating in many myths, legends, and styles of worships. The major ones are:-
- Vishnu : The preserver or sustainer. He is usually depicted with four arms holding a conch shell indicating spread of divines sound " Om "; a discus, a reminder of the wheel of time and to lead a good life; a lotus representing an example of glorious existence; and a mace symbolizing the power and the punishing capacity of the Lord if discipline in life ignore. He is much revere due to his utmost mercy and grace to his devotees. Whenever, his devotees are in difficulties, he descends to the earth in various forms of his incarnations to help them. His incarnations numbered ten, among which the Rama and Krishna incarnations are the most popular. He has a consort named Lakshmi, regarded as the Goddess of beauty and wealth. His vehicle is Garuda, a half-bird half-beast creature.
- Shiva : The God of destruction is the second major Hindu Gods and the most important god among the Tamils in Sri Lanka . Shiva is symbolized by the lingam (phallus) which represents abundance. The Lord appears as yoga in meditating posture with a third eye on his forehead indicating wisdom, a serpent coiling around his neck, and a trident in his one hand. He has his vehicle as the bull Nandi. His consort Parvati can take many forms as well. His worshippers envisage him as a comic creator who will save those who pay him totally their respect.
- Kali : Known as the "black one", Kali is the most fearsome of the Hindu deities. She is believed to be an incarnation of Parvati, Shiva's consort who provides Shakti, female energy. She is often depicted dancing on Shiva's corpse and garlanded with human skulls.
- Ganesh : The elephant-headed god, a son of Shiva and Parvati is much adored among Hindus. He is worshipped as the god of knowledge and the remover of obstacles. In his fours hands, he carries rope, an axe, and a sweet dessert ball; his fourth hand extends to bless people.
- Skanda (Kataragama) : The second son of Shiva and Parvati, Skanda is also known as Subramaniam , Guha, Shadannana, Murugan, Kartikeya or Sanmukha . He is worshipped as the war God, equivalent to Mars or Ares in western mythology. Skanda bestows the spiritual powers, particularly, power of knowledge. Ironically, he is also regarded as a protective deity by Buddhist Sinhalese; they incorporated him with the battle in ancient times against South India 's Tamils.
Hinduism in Sri Lanka nowadays still exits along with the mainstream of Buddhist majority, the Sinhalese with little interaction. The Hindu shrines and temples in Sri Lanka are separately managed by the Hindu Tamils; the Brahmin priests still play an important role in directing the sacred rituals as ever.
Islam in Sri Lanka
Comprising 7 % of total population of Sri Lanka , Muslims and their Islamic culture have been the integral part of Sri Lankan society for thousand years. History records that Arab traders from the Middle East visited the southern part of Sri Lanka for their business and later settled in the island. The Muslim community in Sri Lanka came to its dominant growth by the 10th century A.D. Muslims in Sri Lanka has preserved the Islam doctrines derived from Arabia while adapting some social conditions of South Asia .
The religion of Islam was founded in the seventh century A.D. by the Prophet Muhammad who experienced a series of messages from God in Mecca , a trading and religious center of Arabia . The word islam in Arabic means "submission" or "surrender"; that means people who are adherent to Islam summit to the law and the will of the only one God, Allah.
According to Islam, the God is eternal, and he endowed both men and women with immortal souls. All human beings have only one life, and at death, their souls go to either heaven or hell depending on their behavior on earth. The decent behaviors for ascending heaven were determined by the God and were sent through his messengers (Prophet) who in turn revealed the divine will for people to follow. The religious text of Qur'an is believed to be the revelations of the God transmitted through Prophet Muhammad. The Qur'an is then not only religious text rich of theology and moral system, but at the same time includes a body of laws and customs for Muslims to follow.
All Muslims share a belief in the five pillars of Islam which are the basic duties: the recitation and acceptance of the Creed (Shahada) (by saying "there is no God but Allah, and Mohammad is His Prophet"; daily prayer (five times a day ideally) ; paying ritual alms (Zakat or Zakah) ; observing the fast of Ramadan ; and making the pilgrimage to Mecca (Haj) .
By the fifteenth century, Arab traders dominated the trade routes through the Indian Ocean and South East Asia . Many of them reached Sri Lanka , and decided to settle down in the Island, making them detaching from Islamic culture in the Middle East , their homeland. Although they still preserved the basic doctrines and Islamic law, they also adopted some local social customs, particularly language. Instead of speaking Arabic language, they adopted Tamil as their spoken language. Probably, Tamil was the language used widely in business and trade along the southern coast of India and northern coast of Sri Lanka during that time; they abandoned their own language for the matter of their trades. Hence, Muslims in Sri Lanka were not part of early Islamic society in the Arabian Peninsula , but developed in its own way under the different circumstances.
The community of Muslim traders was dramatically persecuted when the Portuguese took control over the Island in the sixteenth century. Many of them had to relocate from the southwest coast to the Central Highlands or the east coast, and still retained their religious identity separately from the other ethnic groups. The growing ethnic consciousness during the last two centuries resulted in the Islamic revivalism which appealed for their identity. The movement included an interest in the Arabic roots of the community as the basis of understanding the Qur'an and the separate schools for Muslim children. There emerged occasional agitation among Muslims against the government's attempts to regulate Muslim marriage and inheritance. So far, the conflict of Muslims and the other ethnic groups is still intractable.
Christianity in Sri Lanka
Christianity firstly came to Sri Lanka upon the arrival of the Portuguese in the sixteenth century. Under their rule, Roman Catholicism was spread out in a mass scale of the Island with many Roman Catholic schools for the Sinhalese and the Tamils. The missionary activities ran well, especially among communities on the western coast of the island.
With the attempts of the Portuguese to Christianize native people, Buddhism and Hinduism were severely affected. There were an increasing number of both Sinhalese and Tamils converting to Roman Catholicism, perhaps on one reason of social mobility.
When the Portuguese was driven out by the Dutch, Protestantism and the Dutch Reformed Church was introduced, coming to the prominence particularly in Colombo than elsewhere.
During the British Rule, more conversions could be seen among minor minorities as well. Christian churches were than the normal sight throughout Sri Lanka . However, due to the nationalism movement among the Sinhalese who held sway the political power, Christianity in Sri Lanka was somewhat restricted
Source: Sri Lanka Travel Guide
Festivals
Sri Lanka is one of the countries that are never free form lively festival a whole year round. Visitors will have an exceptional experience for witness its bright and colorful tradition of Sri Lanka if they stumble on the festive period. Most festivals in Sri Lanka are related to religion and depend on the lunar calendar, encompassing Buddhist, Hindu, Muslim, and Christian festivals. Apart from the religious holidays, Sri Lankan people also enjoy their national holidays, proving well the entertainment -lover-mind of people in this country. The followings are some major festivals of each religion in Sri Lanka .
Buddhist festivals
Since Sri Lanka is predominantly Buddhist country, Buddhist festivals are more frequent. In fact, full moon day of every month is regarded as a religious observance for the Buddhists; it is called Poya Day . However, the main full moon days reminiscent to the religious important events are:-
Duruthu (January): The full moon day of January marks the first visit of the Buddha to Sri Lanka . In memory of this visit, a procession consisting of well-decorated elephants, dancers, and drummers is held for three nights at Kelaniya (10 kilometers from Colombo ).
Vesak (May): This full moon day is a day of the great significant for the Buddhists around the world for it marks the Birth, Enlightenment, and Decease of the Buddha. The Buddhist houses on the island are decorated with bright Vesak lanterns. The alms halls offer free meals to passer-by and Buddhists go to temples or shrines for religious observance.
Poson (June): Poson commemorates the day Buddhism was introduced into Sri Lanka by Arahat Mahinda . There are processions held in many parts of the country in reminiscence to this celebrated Buddhist apostle who took Buddhism to the Island . But the celebrating centers on this day are at Anuradhapura and Mihintale.
Esala (July/August): July to August is a month of religious celebrations in several parts of the country, but the biggest and most famous is the Festival of the August Moon or Kandy Perahera at Kataragama in the eastern part of the country. In Kataragama, colorful processions are held for two weeks with an amazing "fire walking ceremony" to express respect and sacrifice to the God Kataragama, regarded the Warrior God.
Unduvap (December): This full day is a memorial day of Sangamitta, Asoka's daughter, who brought a sapling from a scared Bodhi Tree in India to Sri Lanka . The tree grown from that sapling still stands in Anuradhapura today.
Hindu Festivals
Hindu festivals also fill the festive periods in Sri Lanka with its distinctly colorful ceremonies, making the Hindu shrines across the country full of emanating faith and happiness of people. Major Hindu festivals are:-
Vel (July/August): This Hindu festival is held to honor the War God Skhanda in Colombo . The city's main streets are used for the magnificent processions of colorfully decorated chariots, accompanied by music and dance.
Deepavali(October/November): Also known as the festival of lights, Deepavali festival takes place in late October or early November. Thousand of oil lamps will be lit to celebrate the victory of good over evil and the return of Rama (the legendary character of the Hindu epic Ramayana, believed to be an incarnation of Vishnu) after his period of exile. Lakshmi , the goddess of wealth is worshipped on the third day of the festival.
Muslim festivals
Muslim community is quite isolated from other ethnic group, their celebration are not then displayed to public. Most of Muslim festivals are also closely connected to religion. The main Muslim festivals are the Milad-un-Nabi or the birth of the Prophet Mohammed in December, Id-ul-Fitr marking the end of the holy fasting during the month of Ramadan, and the Haj festival when Muslims make their pilgrimages to the holy Muslim shrine in Mecca.
National festivals
When it comes to national festivals, the most expecting, most colorful, and most vibrant festivals of the nation is the traditional New Year Festival. The festival is when the two major ethnic groups in Sri Lanka , the Sinhalese and the Tamils jointly celebrate this happy time, but in different styles according to their original tradition.
Although the conventional New Year is the 1st January, traditional New Year (Avurudu) of the Sinhalese and the Tamils occurs in the 13th or 14th April each year according to their lunar calendar. The precise days and times of celebration of the end of the old year and the beginning of the New Year are determined by the astrologers. The auspicious time is marked by the entry of the Sun from the zodiac sign of Pisces (the last phase of the Sun cycle) to Aries (the first phase of the Sun cycle). The festive period continues for about a week. The festival also coincides with the end of the harvest season and the beginning of new season. People enjoy the brand new day of the New Year by cleaning their house, buying their new clothes, and eating special meal in a union of family members. Unlike the long, continual Sinhalese New Year celebration, Hindu Tamil New Year is confined to the first day of the Year and is over within hours
Source: Sri Lanka Travel Guide
The Beginner's Guide to Volunteering in Sri Lanka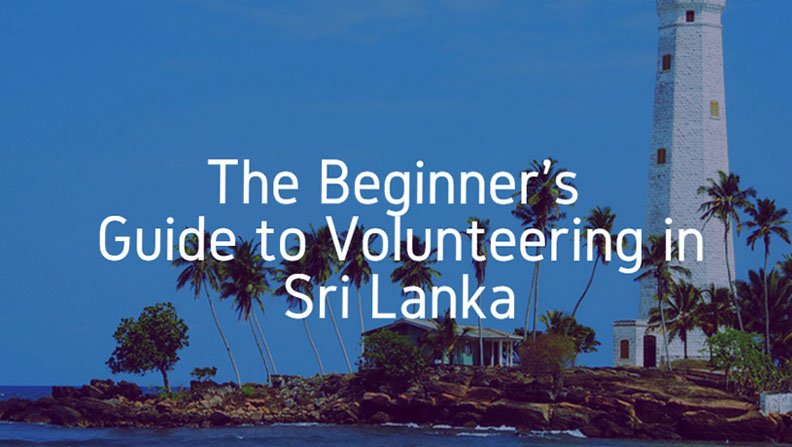 Welcome to volunteering in Sri Lanka
This ebook is a practical guide full of handy hints, tips and information about popular projects and organizations, pre-travel planning, what to expect from volunteering, how to get the most out of your experience and answers to frequently asked questions to help you prepare you for your volunteering experience in Sri Lanka.
Chapter 1: Getting Started – Volunteer in Sri Lanka
Welcome to Sri Lanka
Located in the Indian Ocean off the coast of Southern India, Sri Lanka is a true paradise, blessed with picturesque beaches, rugged tropical forests, cascading waterfalls and majestic tea plantations. As a volunteer you can enjoy nature, wildlife, adventure, or true relaxation, culture, lost cities, ancient ruins, Buddhist traditions and great cuisine. Experience the charms of Sri Lanka and be prepared for it to touch your heart, refresh your soul, open your eyes, bring out the adventurer in you make you feel like you don't ever want to leave this island paradise.
Unfortunately, despite its rich culture and natural beauty, Sri Lanka is a developing country still suffering from many years of civil war, and the destruction and devastation caused by the 2004 Tsunami. Sri Lanka needs help to improve the quality of life for those living below the poverty line, as well as with the conservation and preservation of their environment and wildlife. Whether you are looking to: work with animals, care for children, provide medical advice, teach life skills or build communities then Sri Lanka will have a volunteer project for you.  Your help and assistance will greatly benefit the county and its very deserving people.
Why you should volunteer in Sri Lanka
The People
Known for their big smiles, warm hearts and friendly welcoming nature; the people of Sri Lanka will make sure that your visit to their country is a rewarding and memorable one.
Cultures and Heritage
with a mix of Portuguese, Dutch and British influences, Sri Lanka is rich in culture, history and religion. Ancient and lost cities, temples, Buddhist monasteries, sacred relics and buildings combined with the delicious food, music and traditional dances will delight all of your senses.
Wildlife Encounters
Sri Lanka is home to a fascinating mix of wildlife including: mammals, reptiles, amphibians, birds and marine life. Head to the coast to swim with turtles, spot dolphins and whales, or head into the jungle for encounters with elephants, leopards, sloth bears, buffalo and some rare species unique to Sri Lanka. including the Purple faced Langur and Toque Macaque.
Landscapes
Sri Lanka is blessed with stunning landscapes, from pristine beaches, tropical rugged jungles, mountains covered in tea plantations and cascading waterfalls. Add in UNESCO World Heritage listed sites, and giant statues representing the Sri Lankan religious god Buddha, ancient ruins and colonial cities and you begin to understand what makes Sri Lanka a true island paradise.
Self-Discovery and Personal Growth
Sri Lanka is a country which will open your eyes, heart and mind to new ways of viewing the world, and your experience of integrating into the Sri Lankan community, embracing the culture and exploring the destination will take you on a journey of self-discovery. It will increase your confidence, build emotional strength, foster a greater sense of appreciation for the small things in life and provide you with new skills, knowledge and learning opportunities.
Sense of Achievement
Volunteering your time to support communities in need, and seeing the positive results that your efforts produce gives you a sense of achievement unlike anything else.
Experience a new culture from a local perspective
the people of Sri Lanka are warm-hearted, and will welcome you to their country with incredible friendliness and hospitality. Living with a host family and volunteering with the locals will give you the opportunity to get to know the people, and also to integrate into the Sri Lankan lifestyle and experience the country and its cultures from a local's perspective.
Spend time doing something different
although you'll have plenty of opportunities to see the sights and experience all Sri Lanka has to offer foreign visitors, your primary reason for being there is to volunteer. Ultimately this offers you a unique insight into the authentic lives of Sri Lankans, and memories that last longer than any suntan can.
What are some popular volunteer projects available in Sri Lanka?
Orphanage Project
Orphanage projects in Sri Lanka have been set up to provide support, care, encouragement and love to children in Sri Lanka who have been abandoned, abused or displaced. Volunteers in these projects are responsible for providing general care and a positive environment for the children. Tasks undertaken usually include spending time with the children, teaching them English and life skills, playing games and leading fun and educational activities, taking care of health and personal hygiene needs, cooking and serving food, laundry and general cleaning duties to maintain a clean, comfortable and safe environment for the children.
Teaching Projects
Volunteer teaching projects have been set up in impoverished communities of Sri Lanka to make education more accessible to the children and adults in these communities. Volunteers in these projects undertake a range of duties including: teaching English and/or other subjects, preparing and teaching lessons, assisting with homework, conducting assessments, participating and leading activities and extra-curricular activities.
Elephant Conservation
Elephant Conservation Projects aim to protect both the elephants and their environment as well as to minimize conflicts between the elephants and people. Volunteers on these projects are involved in conserving the elephants' habitat, plus tracking, observing, recording and data logging and identifying them, and developing sustainable land-use for communities.
Sea Turtle Conservation
The aim of Sea Turtle Conservation projects in Sri Lanka is to monitor the activity of the turtles, and to conserve and protect their natural habitats and nesting sites. Volunteers help contribute to the survival of the turtle species in Sri Lanka by: building and maintaining hatcheries, protecting  turtle eggs and the hatchlings during the early stages of life, caring for turtles - including feeding and releasing, maintaining the project area and beach and leading or assisting with hatchery tours.
Where are some popular places to volunteer in Sri Lanka?
Galle: Located on the southernmost point of Sri Lanka, Galle is the fourth largest city in the country. Along with its Dutch and colonial influences Galle is home to an historic fort which has earned a UNESCO World Heritage Site listing. The fort is surrounded by large bastions, and features some beautiful classic architecture behind its imposing walls.  With its relaxed, yet vibrant atmosphere the streets of Galle are full of character and charm. Kandy
Located in the Central Province in the Sri Lankan hills, Kandy is Sri Lanka's second largest city. The city is a haven for culture , history and traditions, street markets and colour and is home to the Temple of the Tooth Relic, which is one of the most sacred places in the world for Buddhists' to worship  and is declared a UNESCO  World Heritage Site.
Colombo
Located in the Western Province of the country, Colombo is Sri Lanka's capital city. It has a rich history which dates back to the 5th century  and possesses a mix of Portuguese, Dutch and British influences which can be seen through the cities architecture and historical monuments and experience through its cuisines and culture. The city offers fantastic shopping, from wholesale markets, bazaars, bustling markets and boutiques, fine dining and beautiful beaches.
Ambalangoda
Located along the coast in the Galle District, Ambalangoda is famous for its ancient traditions of the devil dancers and production of handcrafted wooden devil puppets and masks. It is also home to the longest sleeping Buddha in South Asia, one of the earliest Buddhist temples with the largest gateway, the Bandu Wijesooriya School of dancing, and the Manu Gangu wetlands.
What is the best season to volunteer Sri Lanka?
If you prefer warm or hot and dry weather you'll find it in Sri Lanka from January to April and mid-July to September. During these months the weather is generally quite warm around the country, with the hill areas experiencing slightly cooler but still pleasant temperatures, and the coastal/beach regions will be hot and dry. These months attract the most tourists, but you may have less choice about the season you arrive as some projects will only accept volunteers during certain times of the year, and others are dependent on seasons - especially if volunteering on conservation or wildlife projects. Check with your organization for the exact details of your program's dates.
Chapter 2: Choosing your Sri Lanka Volunteer Program
Volunteering is an amazing experience, one which gives you the opportunity to pass on your knowledge and use your skills to help benefit communities in need. There are however many volunteer projects and organizations to choose from, and when you are giving up your time, and spending large amounts of money on a volunteer program you want to know that you will be booking your placement through a reputable and ethical organization which is dedicated to supporting its projects and local communities.
Professional Website
A good way to get a feel for an organization, what it offers and their industry experience and reputation is to check out their official website and look for:
A clear mission statement and goals
Commitment to NGOS, local government organizations, projects, communities and host families
Details on how many years they have been in the industry, how many projects they offer, the countries they work in and how many volunteers they have placed
What they specialize in
Up to date and well written information
Photographs of volunteers and projects
Links to social media pages
Company history and any information on achievements, recognitions and successes
If they have an online chat service or 24 hour customer support
Volunteer reviews, forums or communities
Social Media Presence
A social media presence is pretty standard these days, and how an organization manages their accounts on platforms such as Facebook, Twitter, or Instagram offers valuable insight into the way they operate and relate to the world. When checking an organization's social media page look at:
How active they are with posts and updates – entries should be consistent and recent
How they use it to promote or inform readers – there should be a good balance
How many followers they have – this number should reflect the size of the organization
How they interact with their followers and community – queries should be answered and other posts acknowledged
How they use photos and videos to engage their audience
Program fees for volunteer program vary greatly, so it is important to know exactly what your program fee includes, and more importantly perhaps, how much of your fee goes towards supporting the local project you will work at and your host family. An ethical and honest organization will have these details available on their website, or if not they would be happy to provide it for you if requested. Be sure that you are booking with an organization whose mission is to genuinely support their communities and projects.
Reviews and Forums
Knowing that previous volunteers have had positive volunteer experiences with an organization is always a good sign, so look for reviews on the organization's website, as well as any left on general volunteer review websites.  A reputable and professional organization is likely to have mostly positive reviews from their volunteers. Also check to see it the organization has an online forum or volunteer community where you can get in contact with previous volunteers in relation to specific projects and their volunteering experiences.
Communication and Support
A professional organization will be available and happy to respond to any questions or concerns that you have in relation to specific projects, volunteering, your destination country or the organization itself. Start an online chat conversation, send an email or give them a call with any questions you have. From their response you should be able to gain some insight into how supportive they are, how efficient they are in terms of response time and their level of professionalism – which will show in the content and tone of their replies.
Chapter 3: Getting ready to volunteer in Sri Lanka
Before heading off on your volunteering adventure in Sri Lanka it is important to make sure you are organized and prepared. In this chapter you will find useful information on visas and vaccinations, handy hints for finding an affordable airfare, suggested reading to get you informed and packing advice tailored to the needs of a volunteer in Sri Lanka.
Visa
For entry into Sri Lanka all foreign tourists require a valid visa or Electronic Travel Authorization System (ETA). ETAS can be obtained online at Srilanka Electronic Travel Authorization system.
For up to date information on visas and the application process click on the link below:
Please note that technically a volunteer needs to apply for a type of employment visa, although many choose to opt for a tourist visa instead.
Passport
All non-Sri Lankan nationals entering Sri Lanka must hold a passport with at least 6 months validity from their expected date of departure, and a blank page for the Sri Lanka entry stamp.
Sri Lanka is a developing country, and health and safety standards are different to what you would find and expect in western cultures. To be sure that you have the best protection possible while volunteering in Sri Lanka it is important to consult a medical practitioner for advice on any vaccinations and medications you may need.
The following vaccinations are essential for travelling to Sri Lanka: tetanus, diphtheria, mumps/measles and rubella, polio, chicken pox, hepatitis A+B, typhoid and Japanese encephalitis. Dengue fever is also an issue in Sri Lanka, so you may wish to ask about that too.
The Centres for Disease Control and Prevention is a valuable resource for updates on health and safety while traveling in Sri Lanka.
http://wwwnc.cdc.gov/travel/destinations/traveler/none/sri-lanka
http://www.tmb.ie/destinations/vaccinations-for-sri-lanka
Once you have organized your volunteer placement in Sri Lanka it is time to book your airfare. This is one of the most expensive parts of your experience, but there are ways to find a bargain deal. Here are some tips to help:
Check online airfare search engines. There are many online sites which will compare multiple airlines and fares. Some examples of these are kayak.com, skyscanner.com and bestflights.com.
Sign up to newsletters from airlines and airfare booking search engines to receive updates on special offers.
Check routing and stopovers - if you are looking for the cheapest price possible than you might find one with multiple stopovers is cheaper than a direct flight.
Volunteer in the low season, as prices usually increase in the high season.
Be flexible with your travel dates, sometimes altering your dates by a few days can make all the difference.
Book in advance. If you are lucky you may be able to find a great deal last minute but in general the further ahead you book the greater chance you will have of securing that great deal.
Remember, cheapest is not always best. Cheap fares often have stricter fare rules, and changes and cancellations have higher fees associated with them.
Raising Funds
To help cover the costs of your Sri Lanka volunteer plans you may need to raise some cash quite quickly. There are lots of ways to do this, especially if you are willing to be creative and promote yourself. Some ideas on ways to raise money include:
Asking family, friends, work colleagues, neighbours and the local community to donate to your cause.
Organizing a garage sale or local market event.
Hosting an event, something like a film night, fashion parade, talent show or dinner would work.
Organize a raffle or hold a competition – something simple like guess how many marbles are in the jar.
Another option is to set up an online campaign for your volunteer experience. These are easy to create, promote on social media platforms and receive online donations from.
Some online campaign sites are:
Raise money for yourself, others, and charities : Go fund Me
Crowd Rise
Suggested Reading
Gain insight into the culture, history, heritage, religions and customs of Sri Lanka by reading both guide books and stories which are set in this amazing country.
Here are some books worth buying or checking out from your local library:
Madol Doova by Martin Wickramasinghe
Running in the Family by Michael Ondaatje
Cinnamon Gardens by Shyam Selvadurai
Funny Boy (Harvest Book) by Shyam Selvadurai
Lonely Planet – Sri Lanka Travel Guide
ROUGH GUIDES - THE ROUGH GUIDE to Sri Lanka
Packing advice and tips
Sri Lanka's climate is predominately tropical all year round, so it's essential to pack lightweight cotton clothing. Modest and conservative dress is advised, especially for visiting temples, monasteries and sacred sites. For women, long dresses or skirts and trousers are fine. Tops should not be too revealing. For men, long trousers or knee length shorts and tops with some sleeve are safest. If you are volunteering in or traveling to the mountainous areas then pack some warmer layers for the cool evenings.
Be sure to also check with your project if there are any guidelines or restrictions on what you should wear.
Some important things you definitely need to pack are:
Passport, visa, travel insurance, itineraries, flight tickets and confirmations
Any medications you need
Toiletries
Travel towel
Travel adaptor
Camera, cables, charger, memory cards
Sarong or lightweight scarf for ladies
Rain jacket or umbrella
Day pack with cover to keep it dry
Comfortable walking shoes
Torch or headlight
Gifts for projects
When you volunteer in Sri Lanka it is a great idea to take something small as a gift for your project and host family. Sri Lankan people will appreciate the gesture very much. If you will be working with children then books, educational or stationery supplies, toys or a board game would be ideal. For other projects and your host family a souvenir type gift which is representative of your home town or country would be perfect. Items with iconic places, or figures, or your country's map on them, or a product it is famous for are a few ideas to get you thinking.
Chapter 4: Information you must know about your project
Before you head off on your volunteering adventure in Sri Lanka you are likely to experience a range of feelings - from nervousness to excitement. Finding out as much as you can about Sri Lanka and your volunteer project, host family and local support system can help calm pre-travel nerves and give you some peace of mind.
Here are a few ideas of things you may wish to find out before you leave.
Get all the details about your project in Sri Lanka
Your volunteer experience in Sri Lanka is bound to have some challenges at some point, but the more you know about your project before you leave the more likely you are to have a smooth transition into your new role as a volunteer abroad.
Make sure you have the following details:
The name and location of your volunteer project.
Any guidelines or rules which you must follow or adhere to.
Duties and tasks you will be required to perform,
A clear idea of your role and responsibilities.
Your start and finish times, plus any break times.
If you are required to wear anything specific for the placement.
How you will get to and from your project.
Airport pick up and transfer details, including meeting place and name of person who will collect you.
Learn about your host family
When volunteering in Sri Lanka you are likely to be living with a Sri Lankan host family. Make the most of this opportunity and get to know your host family really well. They are not only there to provide you with accommodation but as a valuable source for gaining insight into the customs, culture, religions and language of the country, and to help you integrate into the local community. Before you go try and familiarise yourself with them by finding out some important details, such as:
Which city/town they live in and some details of its size/population.
The number of family members who live in the house, and their names.
Any religious beliefs they have which may impact on you.
If there are any house rules, duties or responsibilities.
Which meals will be provided.
Will you have a private or shared room?
Have they hosted any volunteers in the past?
Will there be any other volunteers sharing with you?
If anyone in the family speaks English.
Get connected with local support:
Before volunteering in Sri Lanka ask your organization if they have a local support system in place. This may be a formal office or a network of people, but it is important there is some option available to you, as if you have any future issues with your host family, project or the general volunteering experience they will be your first contact for support and assistance. Mostly though you'll look to local staff to help you out with day to day life, and they will be able to provide advice and recommendations on everything from where to eat out to which bus excursion is the best. Before you leave your home country make contact with the local support team so you have a connection before arriving to start your volunteer work.  
Make the final call
For true peace of mind make one last call to your volunteer organization before you set off to Sri Lanka. Use this to ask any last minute questions, and to confirm they have your current/correct contact details and all relevant travel information like your flight number, date and time of arrival, and the airport you will be met at. Check they have arranged for you to be collected, and get the details of who will meet you/how you will recognise them.
Chapter 5: Arriving and Volunteering in Sri Lanka
Volunteering in Sri Lanka and seeing firsthand the impact you have on their environment, communities and individual lives will be an invaluable and life changing experience, one full of personal achievements both big and small. Here are a few tips on how to get the most out of your time on a volunteer program.
Know what is expected
When you arrive with a clear idea of what is expected of you from your project things will run more smoothly from the start. Before you leave to start your volunteer in Sri Lanka placement find out:
What your roles and responsibilities are
If there are any rules or guidelines you need to follow
About any cultural or religious beliefs and customs which you need to respect
Embrace the culture
When in Sri Lanka traveling or volunteering make the most of every opportunity you get to immerse yourself into the country's unique and fascinating culture and traditions. From religious rituals, festivals and dance performances, to food feasts, yoga and language classes, Sri Lanka offers many ways to enjoy your time there.
Be committed to your project
The communities and people that you work with will greatly appreciate the time and assistance that you provide to help them rebuild, maintain or improve their quality of life. Showing that you are committed to and enthusiastic towards your project will make for a true sense of achievement for both them and yourself.
Raise any concerns
It is important that if any problem or situation occurs while you are volunteering in Sri Lanka that you contact your local support team as soon possible. This lets things be dealt with quickly, and hopefully without any impact on your overall volunteering experience
Explore the country
Get to know the county and its people in greater depth, and explore its many spectacular landscapes Seek out adventure, learn about Sri Lanka's history and heritage, search out rare and exotic wildlife, visit beaches and mountains, cities and rural towns, jungles and tea plantations. Go on a journey and explore the island of Sri Lanka, and get to know the warm hearted people who call it home.
Safety While Volunteering In Sri Lanka
Sri Lanka is a developing country with a fairly recent history of unstable and unpredictable security situations. Although many regions are now safe to travel in a general awareness of safety is necessary at all times.  Non violent crimes such as petty theft, pick pocketing credit card frauds are fairly common in the capital city and bustling tourist spots, so all visitors should remain aware of tis and take the usual precautions.
Being a tropical island in the Indian Ocean, Sri Lanka is prone to dangerous tides and severe weather conditions, especially along the coastal areas. 
Before you travel to your volunteer placement in Sri Lanka:
pay attention to up to date travel warnings and advice http://travel.gc.ca/destinations/sri-lanka
http://www.smartraveller.gov.au/zw-cgi/view/Advice/Sri_Lanka
Make sure you have a valid visa for entry into the country
Purchase a high quality travel insurance policy with maximum cover and protection
Make sure you have had all the required vaccinations and have packed any medications you may need
Research your destination – read reviews, blogs and travel guides to gain an insight on safety issues
Give a copy of your itinerary and travel documents to your family or close friends
Get all contact details for your organization, local support, embassy, and emergency services in Sri Lanka
Notify your financial institution of your travel plans in case your cards are lost/stolen or blocked for your own protection
Register your travel details with your embassy; many countries have online sites where you can do this.
Australians - Australian Government
New Zealanders - New Zealand Safe Travel
US Citizens - Smart Traveler Enrollment Program
When in Sri Lanka:
Always carry around a copy of your passport and visa
Remain aware of your surroundings at all times
Know where emergency services, consulate, hospitals and tourist information offices are located
Try not to travel on your own
Respect the culture and religious beliefs
Do not get willingly involved in any illegal activities
For your health and safety do not drink tap water
Dress and behave respectfully to avoid any unwanted attention and situations
Do not leave drinks left unattended at bars, there have been reports of drink spiking
DO
Always be alert and aware of your surrounding area and your belongings
Carry around some tissues or wet-wipes as you may be doing a lot of eating with your hands
Dress appropriately and conservatively, especially if female
Respect and get to know the culture
Learn some basics of the language and practice with the locals
Show passion, commitment and enthusiasm towards your project and the people who you work with
Spend time getting to know your host family and the locals
Explore the country and take part in cultural, religious, adventure and relaxation activities or events
Remove your shoes before entering religious or sacred buildings. Women should also wear clothing that covers the legs and shoulders and men should wear full length trousers.
Take any photographs of people, sacred buildings or monuments without prior permission
Ever take photographs of military personnel or monks
Eat with your left hand
 Encourage beggars or touts by giving them cash or buying their tickets
Be an easy victim for scams and cons, always have your wits about you
Disrespect any aspects of the culture or religion
Stay longer than your visa allows
Volunteering in a developing country can lead to culture shock when you are faced with quite dramatic differences in living conditions and environments, food, religions, cultures and traditions, sights, sounds and language. This is a common experience amongst those travelling or volunteering abroad, but there are some ways you can help minimise its effects.
Research
Learning as much as you can about your destination, the economic and political situations, the culture and popular religions will help you prepare and perhaps avoid the 'surprise factor' which can trigger culture shock.  It is also useful to read reviews and accounts from previous volunteers' experiences in the country, as well as current travel warnings and news. The more insight you have into what to expect the better.
Embrace the culture
Living in a foreign country can be difficult at times, and although the things that you experience and your living conditions may be different from what you are used to, it is recommended that you integrate yourself into your new environment, learn as much as you can about the people, their culture and religions and simply embrace the opportunity.
Make Friends
At times being in a foreign country on your own can be lonely, so when volunteering in Sri Lanka take every opportunity to make friends with the friendly locals who will welcome you with open arms. Getting to know local people also allows you to truly integrate into the community, and have a more authentic experience. Also make friends with your fellow volunteers, you may not be from the same country but you have the same challenges and opportunities for adventure.
Remember why you chose to volunteer in Sri Lanka
It is important that when you are volunteering in a developing country that you always remember why you chose to take that path. Although everything may be different, and maybe sometimes overwhelming, you probably chose to volunteer because you wanted to have an impact on and help create positive change in people's lives. It is important to keep this in the front of your mind when or if culture shock strikes.  

Sri Lanka is a little paradise, packed full of fun action and adventure, relaxation and serenity, diverse landscapes, exotic wildlife, unique cultures and ancient tradition. It's a place to explore, recharge, immerse, discover the magic and reawaken your spirit and soul. A volunteer experience in Sri Lanka will be a journey through a beautiful country and one of self-discovery, and no matter what you want to do you are bound to find it in Sri Lanka.
Visit the ancient cities of Anuradhapura, Polonnaruwa and Digamudalla
Discover the mystery of lost cities and  ancient ruins
Step back in time at the ruins of Sigiriya, a fifth century AD Fortress
Unwind with a meditation, yoga session or an Ayurveda treatment – a 5000 year old natural healing system which is based on diet and herbs
Indulge your senses with the aromas of the spice markets and gardens or visit a tea plantation
Go on a wildlife safari and spot elephants, leopards and a variety of native, exotic and rare species
Visit north Sri Lanka for Hindu temples and pagodas
Visit the giant statues of Buddha
Enjoy the aquatic life: go scuba diving or look for dolphins and whales
Have an adventure: from trekking, rock climbing, hot air ballooning and caving, to white-water rafting, surfing, windsurfing and kayaking there's lots of choice
Shop for jewellery, jewels, wood carvings, metal wares, porcelain, spices and tea
Enjoy the flavours of Sri Lankan food
Watch a game of cricket or take part in a game with the locals
Explore the diverse landscapes
Go to a festival or event
Attend an performance of traditional music and dance
Explore the bustling cities
Visit temples, monasteries and palaces and learn about their religious
Get to know the Sri Lankan people
Chapter 6: Completion of project & follow up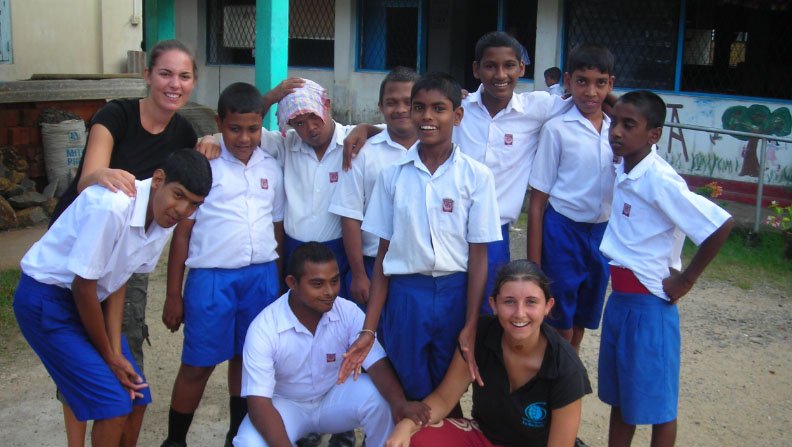 Volunteering in Sri Lanka could well be one of the most amazing experiences you will ever have. When you return home you are likely feel a range of different emotions. Sad to have left the beautiful country of Sri Lanka and the wonderful people, yet satisfaction and a sense of gratitude that you had the chance to help a community in need, and excited to share your experiences.
A great way to share your stories with the world is to create a blog, highlighting your daily life and tasks and promoting your project. Add photos to create a greater impact for your audience. You could even start your blog at the beginning of your volunteer experience so that your readers can be updated of the progress being made, and feel like they are there sharing your journey with you.
It is also important that after you return home you provide honest feedback to your organization about your project, host family and overall volunteering experience. This is useful as it helps them to monitor and assess the quality of their programs, and strive to provide successful and worthwhile opportunities for both the projects and volunteers.
If you are genuinely interested in supporting your cause and project than try and find ways in which you can continue to do so in the long term. Some ideas on how to do this are listed below:
Hold fundraising events
Send resources for your project
Raise awareness to promote the project and social situation
Start an online campaign to support it
Chapter 7: Most frequently Asked Question by Volunteers
How will I get from the airport to my host family/volunteer house?
Your volunteer organization will organise your arrival transfers from the international airport to your accommodation. Once you arrive in Sri Lanka there will be a local staff member to greet you and take you to your accommodation. To ensure this goes smoothly make sure that the organization has all your (accurate) flight details.
Will there be support from staff in country?
Yes, when you volunteer in Sri Lanka there will be local support staff available. In most cases they will be in contact with you throughout your placement, either with visits to your project or via phone or email. In-country support staff will be available for assistance and support 24/7.
How many other volunteers will be participating with me?
This will depend on your project and the season that you plan to volunteer in. The summer season sees the highest number of participants, but your project may only accept a certain number of volunteers at any one time. Check with your organization to confirm exact numbers.
If I volunteer with my friend can we be placed in the project and housed together?
In most circumstances this isn't a problem, but you must notify your organization during the booking process so that suitable arrangements can be made.
Are meals and housing provided?
Yes, your program fees for your volunteer program in Sri Lanka include accommodation with a local host family, along with three meals per day.
Will my host family be able to speak English?
Host families in Sri Lanka are experienced in having international volunteers stay, and most will have at least one member of the family who can speak and understand English.
Can I travel to other cities during my days off?
For sure. In fact you are encouraged to make the most of your time in Sri Lanka by getting to know the country and enjoy its many delights. Travelling on days off is responsibility great way to do this; you just need to make sure that travelling does not get in the way of your volunteering responsibilities.
Do I have to bring my own bedding?
No, when accommodation is provided for you, bed linen and pillows will be supplied.
What if I don't speak the native language?
In Sri Lanka you should be able to get by with not being able to speak the language, however it is a good idea to learn a few of the basic words in Sinhala or Tamil. Some projects may require you to have some understanding of the language, so please check with your organization if this is required for your placement.
How will I get to my project every day?
This will depend on your placement. In some situations you will be expected to organise your own transport, in others it will be arranged for you. It is best to check with your volunteer agency about your situation, and get any information you need on planning your commute.
Can I speak with a volunteer who has worked on my project in the past?
Many organizations have volunteer forums or communities where you can ask previous volunteers questions regarding their experiences. If this is not an option try asking for a direct introduction.
What kind of food will I eat while I'm there?
If you are staying with a host family than you will be served traditional Sri Lankan cuisine, which generally consists of rice, coconut and spices with meat, lentils or vegetables. If you have any dietary requirements it is best to notify your organization when booking your project, so that your host family can be informed.
How many hours per day will I be volunteering?
For most volunteer programs you will be expect to work between 4-6 hours a day. These could be straight shifts or split between morning and afternoon/evening. Check with your organization to clarify how many hours your specific project requires you to work.
How much money do I need to bring?
Your volunteer program fee includes accommodation and 3 meals per day, so you will only need to budget for your personal expenses and any travelling, sightseeing and activities you plan to do while away. Make a list of the things you would like to do before you leave and budget accordingly.
This free ebook has been written as a general reference source of information for potential volunteers. We cannot guarantee the current validity of the contents as there may be changes in the field, so it should not be considered as a definite or authoritative guide to the subject covered.
>
>
Volunteer in Sri Lanka