Volunteer in Peru
Are you seeking a culturally intriguing experience in South America? Would you like to help others in need while you explore a new country? Volunteer in Peru and do both at the same time!
From Macchu Picchu to the Manu National Park in the Peruvian Amazon, this is a country rich in natural wonders. Before heading out to take in the Inca ruins of Macchu Picchu, explore the colonial city of Cusco. Increasingly popular with the foodie crowd, here you'll find some of the most exciting cuisine in the world. Or, head south to the Cruz del Condor, and watch these majestic birds in a beautiful setting.
Amid its beauty and endless tourist opportunities, Peru is an impoverished country where more than a third of the population lives in poverty. Natural disasters (earthquakes, floods, landslides, and drought) converge to hurt agriculture and the food supply, along with the economy. Income inequality is extreme here, with the capital city of Lima having a literal wall dividing the poor from the rich. Discrimination against women is rampant.
Today, Peru desperately needs volunteers more than ever.
Experience adventure while sharing your love and compassion with poor children and disadvantaged communities. You can work in an orphanage or with street children, teach English in a rural school, or support a health care project. There are also opportunities in dental care and working with teenage mothers.
Help orphans and impoverished families in Peru while contributing to lasting change in their lives and communities in which they live.
Plan your volunteer vacation to Peru and get ready for a lifetime of memories in one transformative journey. Click below and choose a program that speaks to you!
Volunteer Work Projects and Locations
IFRE's volunteer programs in Peru provide numerous options for volunteers to choose from projects located in and around Cusco, the Sacred Valley and Manu National Park. As a volunteer in Peru you can choose from the following projects:
Arrangement of Room/Food/Supervision
IFRE manages your living accommodations in Peru. In Cusco, most volunteers live with a host family, but some may live in a hostel. Our host families are socially respected and experienced hosts of international volunteers. They have strong interest in our volunteers' safety and well-being and demonstrate this with caution and care. Host families will prepare three meals a day for volunteers consisting of local ingredients and foods traditional to Peru. In most host family situations, volunteers will share a room with another volunteer of the same gender. Our host families do not offer laundry services, but some will happily take up the task for a small fee. Cusco boasts numerous exciting opportunities for volunteers to see a city that maintains echoes of its colonial and culture-rich past. In Manu, volunteers stay with either stay with a host family or in a volunteer bungalow with indoor "western-style" bathrooms and a kitchen (Eco-volunteers).
Throughout the volunteer project, our local staff stays in contact with volunteers either with face-to-face visits or via email/telephone. Volunteers are always welcome at our local offices in Peru. If project placement is local, we request that volunteers stop by the office once a week to keep us posted on how they are doing with their home stay and project. If project placement is very far, then our local staff members maintain communication by either email and/or phone and try to visit every 2-4 weeks if possible.
Learn Spanish in Peru
Are you considering improving your Spanish language skills? Then IFRE's Peru Spanish Language Program is the perfect choice.
IFRE currently offers highly affordable Spanish language classes. These classes are exclusive to IFRE volunteers participating in the Peru volunteer program. In Peru, IFRE partners with a highly reputable Spanish school. They employ qualified and experienced Spanish teachers and offer the most intensive and effective Spanish courses in Peru. In this program, volunteers work at their volunteer project and learn Spanish simultaneously. For example, volunteers can take Spanish classes from 9:00-11:00 AM (before lunch) followed by volunteer activities. Alternatively, volunteers may take Spanish classes from 3:00-4:00 PM (after their day's volunteer work). Most of the projects are located close to the Spanish school, so it is possible for volunteers to design a personal schedule. IFRE invites you to improve your Argentinean experience by learning or improving your Spanish.
Volunteer Program Free Time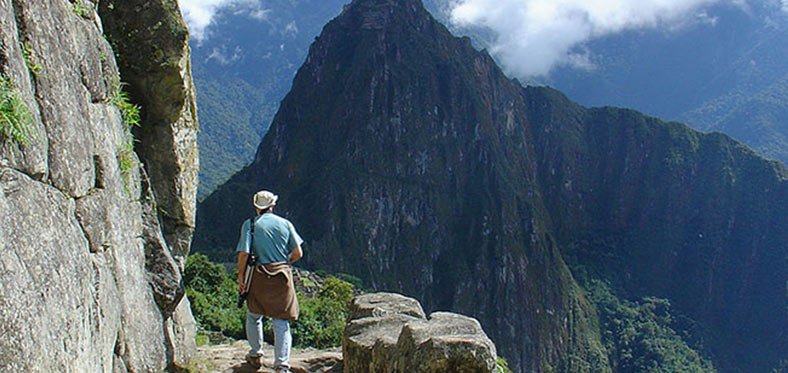 Always keep in mind that IFRE can help launch an amazing Machu Picchu quest from Cusco! In the meantime, there are amazing activities in and around Cusco. Check out the Plaza de Armas. This beautiful square (lit up at night) is lined by churches, shops, restaurants and bars. It is a great place to spend an afternoon. The historical center of Cusco is a beautiful, but hectic experience with street vendors and tourists from all over the world. Coffee shops are abundant in the Plaza de San Francisco area. There are options for whitewater rafting nearby to Cusco. Upstream are the Chuqicahuana or Cusipata sections of the Rio Urubamba/Vilcanota where the water is clean and the rapids are excellent fun, up to class five depending on what time of year it is.
Alternatively, try inflatable canoeing on the Piñi Pampa section of the Rio Urubamba where slow and relaxed self-paddling is not as crazy as class 1 and 2 rapids. Also nearby is the 3 or 4-day Rio Apurimac raft trip. Rio Apurimac is called the true Source of the Amazon and one of the Top 10 rafting rivers in the World. Non-wet mobile adventure options include renting motorcycles, bungee jumping, horseback riding, zip lining, quad biking or mountain bike tours. On the other hand, simply opt to tour the countryside and Sacred Valley where you can enjoy endless Incan ruins, beautiful mountains and craft markets.
Major FAQ
Food and Accommodation
What kind of food do we eat in the project or with the host family?
You will be served traditional Peruvian food. Breakfast is usually bread, jam and fruits. Lunch and dinner often consists of soup, rice, chicken vegetables and potatoes.
Does the project or host family have internet? Electricity?
All host families have electricity and Wi-Fi.
Do we get hot shower in our accommodation?
Yes, you do get hot showers at the accommodations; however, water pressure is less than in western countries.
Is it safe to keep our items in the host family?
Yes, it is safe. You do not need to lock your door.
Is water safe to drink or do we need to buy bottled water?
Host families provide hot boiled water. We recommend you to buy bottled water in Cusco.
Is it an issue if I am vegetarian? I am wheat allergic; would it be a problem to the host family?
No problem please let your local coordinator know about your food requests and she will inform your host family.
Do I get my own room in the host family?
If you wish you can get a single room. Most host families offer 2 bedrooms and they are shared between volunteers of the same gender.
Do the members of the host family or the project speak English?
Not all host families or staff at the project speaks English. If you prefer hosts that speak English, please let your coordinator know in advance.
If I arrive with my friend, or girlfriend/boyfriend, can we stay together?
Yes, you can stay together in a matrimonial room if you wish.
What are the bathrooms and toilet facilities like?
The bathrooms are shared with the entire family. Usually they are relatively small and clean with hot showers, a sink and toilet.
What are the laundry arrangements?
If you need to do laundry please inform your host mother and she will explain where the next laundry service is. Small items can be washed by hand. Laundry costs about 2 USD per 1 Kg of clothing.
Can I use appliances if I bring them from my home country?
Yes, you can bring appliances from your home country. Many houses have US plugs; some have others where you will need an adaptor. Adaptors can be bought for about 5 USD in Cusco. For further details, contact your coordinator.
What bedding materials like? Do I need to bring sleeping bag?
Usually the beds are covered with 2 woolen blankets and sheets as well as one pillow. If you are a person who is cold easily, please bring your sleeping bag. Our host families have neither heating nor air conditioning.
Arrival Information
Which airport do I need to fly in?
Your first stop will be Lima (Aeropuerto Internacional Jorge Chávez) in Peru. This is where your long-distant flight from your home city will bring you. There you need to change flights and fly to Cusco (Aeropuerto Internacional Alejandro Velasco Astete) in Peru.
Do you organize airport pick up?
Yes we do. Please provide your local coordinator with your flight details.
Where do I go from airport?
Upon arriving in Cusco at the airport, you will be transported to your host family by car.
What happens if I missed flight or arrived late?
In case you arrive later than planned, please call or email your coordinator immediately to inform about any flight changes.
Who will come to pick up me? How do I recognize the person at the airport?
You will be picked up at the airport by your volunteer coordinator or her assistant. They will be waiting for you just outside the airport building with a sign and your name written on it. In case you arrive earlier than planned, please stay at the airport and wait until you will be picked up or call your coordinator to inform about any flight changes.
Can you give us direction for meeting point?
The coordinator will be waiting for you just outside the airport building in Cusco. This is the area where all people are picked up and other people are waiting with signs and names written on them.
If my assignment begins on Monday, when should I arrive?
We recommend arriving on the Sunday before your project starts. Cusco is in the high altitude and you will need at least one day to be acclimate to the little oxygen.
If I want to arrive earlier than when my assignment begins, where do I stay and who will organize the accommodations? Does it cost me extra?
Please inform your local coordinator about the exact arrival time, date and flight number. She will make a reservation at your host family for the extra nights. Each extra night costs extra and is not included in the weekly fee. Please contact your coordinator for exact prices.
Who will bring me to the airport for my departure?
Volunteers are responsible for organize transportation to the airport following their volunteer time in Cusco. Your coordinator will gladly call you a safe taxi for a reasonable price. Please let her know 2 days before your departure from Cusco.
Can you help us arranging our flights? Do you recommend any cheapest flights to fly to Peru?
Each volunteer is in charge of booking their own flights.
Visa Information
Can you please provide me the visa information? What kind of visa do I need to apply?
Most countries do not need to apply for a tourist Visa before arrival to Peru and receive their tourist Visa at the airport in Lima. This is due to changes and therefore we recommend contacting the Peruvian Embassy and/or the embassy of your country in Peru, before travelling.
How do I apply for the visa?
Please contact the Peruvian Embassy and/or the embassy of your country in Peru, before travelling for detailed information.
How much does it cost for the visa application?
Most citizens do not need to apply for a Visa before travelling to Peru. This is due to change and thus we ask you to contact your embassy in Peru and/or the Peruvian embassy in Lima before travelling to Peru.
Do I need any documents to apply for the visa? Can RCDP provide us official papers for the visa?
This depends on your nationality. Thus, please contact your embassy in Peru and/or the Peruvian embassy in Lima before travelling to Peru in order to get the information needed.
How long does it take to get the visa approval? Can I extend my visa while I am in the country? Can you help me on this?
Due to recent changes, contact your embassy in Peru and/or the Peruvian embassy in Lima before travelling to Peru.
Safety
Is it safe to travel to Peru?
Peru is one of the most popular travel destinations in South America. Safety has improved considerably over the last 15 years. With increased tourist security in Cusco, travelling has become a lot safer than previous years. When following the instructions of the volunteer coordinator on sight and being aware of personal items, Peru is a safe country to travel in.
What are safety measures you take for the volunteers? How can you guarantee volunteers' safety?
Volunteers receive a safety orientation from their local coordinator upon arrival and are responsible of their own safety. When following the instructions and recommendations of the coordinator volunteers are safe.
How can you help volunteers in case of emergency? Is there someone we can be reached in case of an emergency?
You will be provided with a cell phone number and contact information to reach your coordinator 24/7 upon your arrival.
Is it safe to travel alone?
Yes, it is safe to travel alone.
Money
Are ATMs easily available?
Yes, there are many ATMs in the city center of Cusco as well as banks and ATMs in the surrounding communities. All host families live in neighborhoods with at least one ATM in walking distance.
Where should I exchange my money?
We recommend you exchange your money after you arrive, the exchange rate is better in Peru. The local coordinator will help you and explain where you can exchange money on the day of your arrival.
How much money should I bring with me?
Most volunteers need no more than $80 USD per week for souvenirs and drinks out when they are eating 3 meals daily at their host families. Any travel tours need to be coordinated separately.
What does the weekly program fee covers?
The weekly program fee covers accommodation at a host family in a shared room (max. 2 – 3 volunteers in one room), 3 basic and typical Peruvian meals, tea, hot showers and support of the local coordinator.
Is it safe to carry cash with me?
We do not recommend carrying more than $50 USD with you if not necessary.
Communication
How do I contact to the local coordinator?
The local coordinator can be contacted either via email, local telephone from the home of your host family or by cellphone.
How do I contact my family and friends once I arrive in Peru? How can my family members contact me?
You can reach your family through internet tools, such as email, Facebook messenger, Skype and WhatsApp. The hosts usually have Wi-Fi available for your use. We recommend volunteers bring a smart phone or tablet PC if possible, however do not carry it around in crowded places or on public transportation. You can also provide your family with the local telephone number of your host family where they can call you.
Can I bring my mobile from my home country? Does it work?
Yes, you can bring your mobile phone. Most mobile phones work in Peru and the local coordinator can help you getting the right sim card for your phone. For those that do not work in Peru the coordinator can help you to get a cheap prices cellphone in Cusco (about 20 USD). Please do not carry around your phone in public busses or crowded places.
Climate
Please provide detailed information on year round climate in the country which consists season you have, average temperature and average rainfall in each month.
Cusco has 2 seasons, dry season (high season for travelers) and rainy season (low season for travelers).
Dry Season: May – October
This is the most popular season to visit Peru. It rarely rains and days are usually very sunny. However, nighttime can become very cold. Average temperatures during the day are 70 °F and 40 °F at night.
Rainy Season: November – April
Many people see this as a popular travel time to Peru because less people are around and prices are lower than in other months. This is the season where it rains a lot. Most rain falls in December and January. It rains daily, however, usually the rain is short and followed by sun. Average day temperatures are 66 °F. Average night temperature is 50°F.
Health and Safety
What are the principle health risks in Peru? Is there any mandatory vaccination we need to take?
We recommend asking your doctor for any vaccines you might need. Currently there are no vaccines required by law, except when you are travelling to the jungle where a yellow fever vaccination is mandatory. In general, many people get the following vaccines before coming to Peru: Hepatitis A and B, Rabies, yellow Fever and Tetanus.
General Questions
Where can I use internet? Is there a place where I can use phone to make a call to my family and friend?
All our host families have Wi-Fi. Since we are in a third world country the connection may be weak or breakup, in which case you can use an internet café nearby. All host families have internet cafes in their neighborhood.
What kind of gifts would be appropriate to bring for the host family and the project?
Peruvians love sweets and chocolates. A great gift is something you typically eat in your hometown.
Could you please provide me the packing list?
Original passport and copies of any important documents
1 copy of your passport
2 jumpers
2 long-sleeve shirts
3 T-Shirts/Tops
3 Trousers or Jeans
1 Warm pajamas (there is no heat in Cusco)
Sandals
Trainers
Trekking shoes (if you are planning to make hikes)
Trekking trousers
Rain jacket
Small backpack for weekend excursions
Sun hat
Sun screen
Sun glasses
Photo camera
Adaptor if needed
Cables to charge your equipment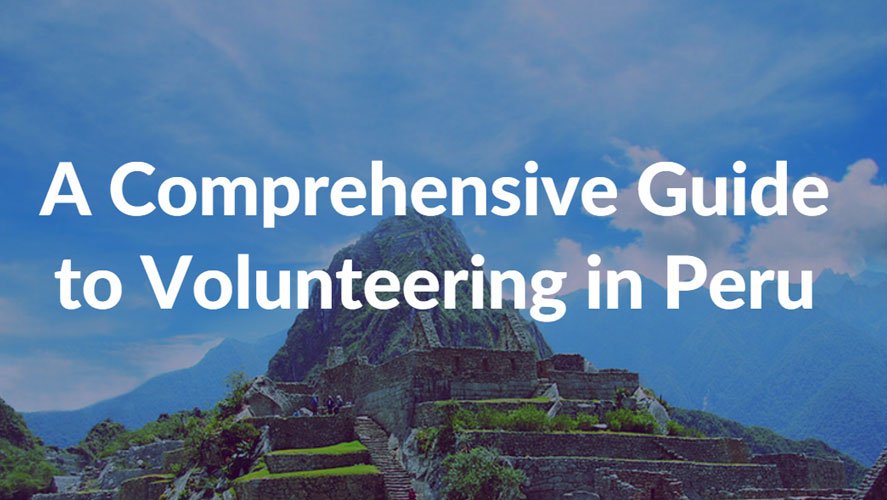 This is a useful volunteer Peru guidebook full of important information and tips to assist you in preparing for your volunteer placement in Peru. Here you will find information on the types of projects available, how to find the best organization, things you will need to help you get ready for your project, and other general information to help you create an unforgettable volunteering experience in Peru.
Chapter 1 :  Getting Started: Volunteer in Peru
Welcome to Peru
Ready for a South American volunteering adventure where you can not only give back to the community and have an impact on peoples' lives; but also be consumed by ancient history, diverse landscapes and cultural richness? If so, than Peru is calling you.
A Peru volunteer experience is one of the best ways to really discover both the true essence of the Peruvian people and the wonders of the country. Not only will you have the opportunity to impact the lives of those in need, but you will also be able to discover the mystery and charm of the country. By immersing yourself in the language, customs, traditions and communities of Peru, while providing support in education, health, conservation, general care, sustainability, business or construction communities you will have the ultimate volunteer experience. Who need it
From the highest peaks of the Andes, the ancient city of Machu Picchu and archeological sites, and the breathtaking landscapes of the Sacred Valley, to the indigenous communities and floating reed islands of Lake Titicaca, sand dune experiences in the desert, and of course beautiful beaches and vibrant cities; your volunteering experience in Peru will be one of discovery, excitement and unique experiences!
Why volunteer in Peru?
Unfortunately many Peruvians still endure poor living conditions and do not have access to quality healthcare and education, so your support and help in Peru is appreciated. Peru is a country which has so much to offer you that the landscapes, culture and Peruvian people are guaranteed to captivate your senses, heart and soul.
Ancient History, Civilization and Sacred Sites:  Peru was once part of the great Inca Empire, and it is not hard to become engrossed in its amazing history and ancient civilizations.  When you volunteer in Peru, you will have wonderful opportunity to explore the great civilization of the world
Adventure: Peru is a land of diverse landscapes and great adventure. Its terrain consists of desert coastlines along the Pacific Ocean, the lush jungles of the Amazon, the mountain ranges of the Andes and deep valleys which provide great action and adventure opportunities. Hike nature trails, sand-board down the great dunes in desert plains, surf the waves of the pacific Pacific, take a boat ride through Amazonian rivers, experience the wonder of great lakes such as Lake Titicaca and discover some of the deepest canyons in the world.   
Local Cuisine: Peru is known for having some of the best cuisines food in all of South America, thanks to its mix of ethnicity ethnicities, cultural exchange and influences from Spain, African Africa, China, Japan and Italy, and as well as  indigenous foods. The fusion of these influences has created unique traditional dishes and flavour combinations. Peru's landscapes and climates vary dependant on the region, this also influences the dishes due to the types of ingredients available and the weather. Due to this This means that when traveling around Peru you will experience a range of different local and regional cuisines. During your volunteer placement be sure to enjoy the culinary journey.
Cultures and Traditions: Peru is a country which continues to maintain its traditions and customs of ancient cultures, and you won't need to go too far to witness some of its unique traditions. From colourful displays of costumes, music and dancing to fishing on traditional reed rafts (Caballitos de Tortora), being mesmerised by the artistry of handwoven tapestries and hand carved stone crafts and experiencing ancestral rites ceremonies such as the "payment to the earth" or witnessing a traditional festival rich in culture, religion and heritage; volunteering in Peru will open your eyes to the wonder of its customs, culture and people.
Learn Spanish and Immerse in the Culture.
Peru is a wonderful country with many opportunities to immerse yourself into the culture and learn the Spanish language.  Most Peruvians have a strong connection with ancient Inca cultures and by talking to the local people you will get a real understanding of this fascinating country and their culture. They are generally friendly and polite and will embrace opportunities to teach you their language.
What are some popular volunteer projects available in Peru
Children's Shelter Peru
The Children's Shelter Peru mission is to protect, support and care for children under 10 years of age who have been placed into the shelter by social services and child protection services The project provides children with access to education, clothes, nutrition, books and a supportive and caring environment. As a volunteer in this project you will help out with daily chores, play games and participate in activities with the children, assist children with homework and help in providing support, care and a positive environment for the children.
Teach Peru: Education for Social Change
The Teach Peru: Education for Social Change project aims to provide education and resources to local students between pre-school and fourth grade who have limited access to education. In this project you will help with the integration of English into all classes and will be required to work alongside a Peruvian teacher to help prepare and teach mini lessons for all subjects in English. You will also be expected to help students with homework, participate in arts and crafts or outdoor activities. This volunteer experience gives the opportunity to learn about the impact of global issues, which effect education in Peru.
Medical Volunteering in Peru
Good healthcare and quality medical assistance is often too expensive and inaccessible for a large proportion of the Peruvian population.  The aim of the Medical Volunteering in Peru project is to provide health care and medicine for those who are most in need.  In this medical based volunteer project you will work alongside medical professionals in either city or rural areas and provide assistance working in hospitals, clinics and specialized projects to aide in providing, assisting, developing and administering quality health care services.
Construction Projects
Construction Projects aim to assist in building and repairing of homes, schools and facilities in rural areas, villages and orphaned children. In this project you will be involved in all aspects of construction including: building frames and structures, mixing cement, carrying bricks, plastering, digging, painting and other construction based chores. This is a physical demanding volunteer project requiring manual labor tasks.
Peru Conservation Project in the Amazon Basin
The aim of this project is to monitor and conduct scientific research; based on the flora and fauna of the Amazon Basin; one of the most biodiverse regions in the world. It aims to assist in finding ways to preserve the nature and monitor the effects of human activities and interaction with the wildlife. This project offers a range of projects in specialist areas for volunteer and intern programs. Each project is devoted to conversing and developing ways to have a positive impact on the ecosystem of the Peruvian Amazon. Projects include Green Living & Forest Ranger programs, creative conservations projects, medicinal plant research and projects based on the study of the wildlife including: mammals, birds, reptiles, amphibians and insects.
What are some popular destination to volunteer in Peru
Peru has become a popular destination for volunteering as it provides many opportunities to experience the culture and lifestyle of cities and rural areas while helping to create a positive impact on the Peruvian and their environment. You will find many volunteering opportunities throughout Peru in areas of education, construction, health care, human services conservation and environmental care.
Below is a list of some of the popular destinations in Peru where you can take part in a volunteer project. There are many projects throughout the country so be sure to also do your research and discover more destinations and find a project which supports your passion and cause.
Lima is the vibrant and historic capital city of Peru located on the West Central Coast. It is modern and sophisticated and steeped in ancient history and culture. Full of many hidden treasures Lima is a city which needs to be explored. It is home to pre-Columbian temples, archeological sites and museums, fabulous beaches, nature reserves, adventure activities, culinary delights and great nightlife. Take part in a volunteering placement in Lima to really discover all that the city has to offer.
Popular volunteer projects in Lima are: Teaching English, Childcare, Medical/Healthcare placements and Construction.
Cusco is located in the south of Peru in the Andes mountain range and is the gateway to the Sacred Valley and Machu Picchu. It is a city of ancient history and influences from the Incas and colonial Spain which is exhibited in the stunning architecture. It is a city where you can experience popular traditions, visit religious monuments, admire the colorful handcrafts and artworks of the locals, witness the wonders of the ancient world and experience the thrill of adventure sports and activities.  When volunteering in Cusco be sure to explore this magnificent city and the surrounding Sacred Valley.
Popular volunteer projects in Cusco are: Construction, Care for Wildlife, Jungle Conservation and Protection, Working with special needs adults and children, Childcare, Teaching English, Healthcare and Farm/Agricultural work.
Huancayo is located in the highlands of Peru in the region of Junin and is surrounded by picturesque mountain ranges which reach up to over 3,000 meters.  It is a cosmopolitan and bustling city mixed with modern style, strong traditions and excellent dining experiences. Away from the main tourist hubs of Cusco and Lima, you will find a more authentic Peru experience. It is the perfect city for immersing yourself into the cultures and traditions of Peru and learning the Spanish language while participating in your volunteer placement.
Popular volunteer projects in Huancayo are: Healthcare, Medicine, Working in orphanages, Childcare, Education, Special needs support, Street children's programs
Urubamba is a small town surrounded by snow covered mountain peaks and is located in the Sacred Valley of the Incas. It enjoys a pleasant climate and is a great base for exploring some of Peru's natural wonders such as the salt flats of Salinas and plays host to an expansive range of adrenalin based activities such as paragliding, hand-gliding and rafting.
Popular volunteer projects in Urubamba are: Conservation and Archeological projects.
What is the best season to volunteer in Peru
The best season to volunteer in Peru is really dependent on the type of project in which you will be undertaking. Teaching, healthcare, construction and personal care positions are generally available year round however projects working with conservation and wildlife can be dependent on seasons and climate. It is best to check what time of year your chosen project accepts volunteers.
Peru's climate consists of two distinct seasons, the dry season which runs between May to October and the wet season which runs from between October to April. The country experiences its highest visitor numbers during the dry season especially during the months of July and August. Peru is divided into three regions and each region experiences different climates and temperatures. On the Pacific Coast you can expect to experience a mostly dry, arid and mild climate, while in the eastern lowlands you are more likely to endure tropical humid weather conditions. In the Andean region you can expect much cooler temperatures.
How can I select the best organization
Finding the best organization to volunteer in Peru is not always easy as there are so many projects to choose from, but a little word of advice "The best volunteer organizations will always stand out in the crowd in terms of quality and professionalism". With that in mind, by doing some research and knowing what you are looking for, you should easily be able to find and select the best organization and project for volunteering in Peru.
Here are a few tips to help you out.
First impressions: First of all it is important to check the professionalism of your chosen organization. Check their website and the overall presentation, read about their history, experience and achievements. First impressions often mean everything so check to see if information presented is well written, easy to find, informative and up to date.
Program Costs: Prices for volunteering in Peru vary greatly. It is important that you check how much your project is, know what is included in the program fee for you (i.e. accommodation, food) and how your fee supports your project or host family. A professional and reputable not-for-profit organization will ensure that a decent percentage of your fee goes towards supporting your chosen project.
Reviews: To help you understand the organization and its projects more and assist you in choosing the right organization, be sure to check out online reviews and testimonials. These are a great guide as you can read about the experiences and stories of past volunteers.
Responsiveness: When choosing an organization you want to know that they will there to help you create the best possible volunteer experience. The best way to do this is to send them an email, see how quick they are to respond to your query and how professional their response sounds and how willing they are to help you out. You want to know that the organization is there to help you and will do so in a professional and time effective manner.
Chapter 2 :  Getting ready to volunteer in Peru
Now that you have chosen your volunteer project in Peru it is time to start planning for this adventure of a life time. There are always so many things to think about when travelling abroad so here are a few important things for you to consider.
Visas
Citizens of the US do not need to apply for a visa prior to travel. Once in Peru you will receive a tourist visa stamp. Which will allow you to stay in Peru for up to 183 days. Your passport will need to have at least six months validity and at least 2 free pages to be granted this.
Passport
For entry into Peru, citizens of the US must hold a valid passport with at least a 6 months validity from the date of arrival into the country. When in Peru it is recommended that you carry around your passport or at least have a copy of it with you at all times.
Vaccinations
Before entering Peru it is recommended that you have the following vaccinations and they are up to date: Tetanus, Rubella, Mumps and Measles Chicken Pox, Polio and a flu shot. Hepatitis A vaccination is highly recommended as this can be contracted in Peru through contaminated foods or water.  Typhoid vaccinations are also strongly recommended especially if you are volunteering in smaller cities or rural areas of Peru. Other vaccinations that you may want to consider are Hepatitis B, and Rabies.  Malaria and Yellow Fever are suggested if you are volunteering in areas of the Amazon.
To keep up to date with all required vaccinations and medical advice for Peru be sure to check the website before you travel.
Air ticket
Your flight to Peru might be one of the most expensive parts of your volunteering experience, but there are many ways in which you can keep an eye out for the best deals. Here are some tips to help you.
Create a Peru air ticket deal in your Google alerts
Sign up to newsletters of airlines who fly to Peru
Check and compare flying from and into alternate airports
Compare prices using search engines such as Tripadvisor.com, kayak.com, cheapoair.com.
Have flexibility in your travel dates.
Raising funds
Embarking on a volunteering placement in Peru may seem like an expensive undertaking, but fear not! These days there are many ways that can help you fund your adventure including several online fund raising sites such as Go Fund Me or Volunteer Forever. These sites allow you to set up your volunteering experience as a campaign, where you can get family, friends and local communities to help support you and donate towards your cause. Check out the sites below for more information on getting started with setting up your campaign.
These online campaigns are simple to set up and use, however if you do not feel confident using an online system than there are many other ways in which you can raise funds to support your trip. Check out for some other effective fund raising ideas.
Suggested reading
To help prepare you for your Peru trip it is recommended that you obtain one of the following useful guidebooks which will provide you with relevant destination information, travel advice and important information about traveling in Peru.
Lonely Planet – Peru Travel Guide
Rough Guides – The Rough Guide to Peru
Fodor's Peru
The above guides are available in hard copy or online versions.
Some suggested travel literacy books to check out are:
Inca Land: Explorations in the Highlands of Peru, by Hiram Bingham - A classic traveler's tale of Bingham's treacherous journey and the discovery of the lost city of Machu Picchu.
At Play in the Fields of the Lord by Peter Matthiessen – A thriller set in the jungle of South America about the conflicts between religion, development and forces placed upon the indigenous people of the Amazon.
What to pack
When packing for any trip abroad there are always many things to take into consideration. Some things to take into consideration when packing are:
1: The country's culture, religion and beliefs. It is important to respect the beliefs and rules of the country so do your research before you go to ensure that you pack appropriate clothing
2. Climate – Due to varying climates throughout Peru it is very important to know the type of climate and temperatures that you will be enduring during your volunteer placement so you can pack accordingly. A useful guide for what to pack for different regions in Peru is LAN Airlines: An Insider's Guide to the Ultimate Peru Packing List
3. Type of volunteer work you will be undertaking will also be a good guide for packing. If you are working in areas of Medicine, Childcare, Teaching and Supporting people than you are most likely be required to wear formal or smart/neat casual. If you are doing construction or conservation work than you may need to consider packing comfortable, durable and protective clothing.
Below is a general list of things to pack when volunteering in Peru.
Travel document – passport, insurance, itinerary, tickets
Credit cards (remember to let your bank know that you will be traveling to Peru before you go.)
Cash in local currency (Peruvian nuevo sol)
Camera, charger and memory cards
Comfortable walking shoes
Headlight/torch for volunteer work in rural areas and the jungle
Light weight clothes that dry quickly are recommended for areas with high humidity
Long socks if doing volunteer work in the Amazon jungle to prevent being attacked by the sand flies.
Warm clothing for Cusco especially for working inside and for the cooler evenings.
Clothes that are suitable for layering.
Rubber boats (especially if you are working in wet rural areas or the Amazon)
Day pack for excursions and day trips
Beach wear
Lightweight rain jacket and umbrella
Towel and toiletries
Spanish phrase book
Insect repellant for the Amazon rainforest and areas that experience high humidity
Scarves and gloves for cooler climates
Travel pillow, sleeping bag or sleeping sheet if bedding is not provided.
Gifts for the project
Giving a gift to your project is a great sign of respect and appreciation. What type of gift you give really depends on you the type of project you are undertaking. If you are working with children then some common gifts are stationary (pens, pencils, sharpeners etc.), notebooks, coloring-in and story books, board games and educational supplies. Check with your project to see what types of gifts are usually given.
Get all details and info about your project in Peru
Embarking on an exciting volunteering experience in Peru can be both exciting and a little scary. You are never going to be fully prepared for what this experience will bring but there are steps which you can put into place before you go to help you prepare the best you can for your project.
Ask your organization as many questions about your project as you need, to ensure you are fully informed before you go. Some good questions to ask are:
What exactly is required of you and what you will be doing during your placement (jobs you will be undertaking, hours of work, who you are working with)
Who will be looking after you (your host family and volunteer placement supervisors)
How you will you get to and from your accommodation and project
What you may need to take with you. (For some projects you may need to take certain equipment or clothing)
Location of project and climate
If any in-country support is available
Learn  about your host family
As part of your volunteer program in Peru you are likely to be provided with accommodation in a host family. Your host family will be your home away from home and will be there to not only provide you with accommodation, food and support but will most likely want to help you embrace your experience by providing true Peruvian hospitality, and help you to integrate into the community, practice your Spanish skills and teach you about their traditions and customs.
Before you arrive in Peru it is a good idea that you find out some information about your host family so you can start to get to know them.
Be sure to find out the following:
Where they live, and what the area is like.
Names of the family members
If any meals are provided or facilities to make your own meals are available
If you will have a private or shared room and what access you have to the rest of the house (i.e. laundry, kitchen, lounge area)
If bedding supplies, towels and toiletries are supplied
Whether there are any cultural immersion programs available
If they have any house rules which you will need to respect and abide by (i.e. curfew, no smoking)
Get connected with local support
Most International volunteer companies provide a local office or hire local staff to ensure that you have a main contact point and support during your placement. Before going to volunteer in Peru it is strongly recommended that you get to know your contact and introduce yourself to them through an email or phone call. They will be your point of contact in Peru if any issues or problems may arise during your volunteer placement.
Make a final call before leaving
To ensure that you have peace of mind when you arrive in Peru for your volunteer placement it is important to make a final call to your organization or project before leaving your home country. This is to help ensure that there are no misunderstandings in communication and everything will run smoothly when you arrive. Be sure that you have given the organization all the correct details and if you have any flight delays make sure you inform them of these. Make sure you have a clear understanding of your project and what is required of you, who your main point of contact is and ask any questions that you still need clarified.
Chapter  3: Arrive in Peru and Volunteering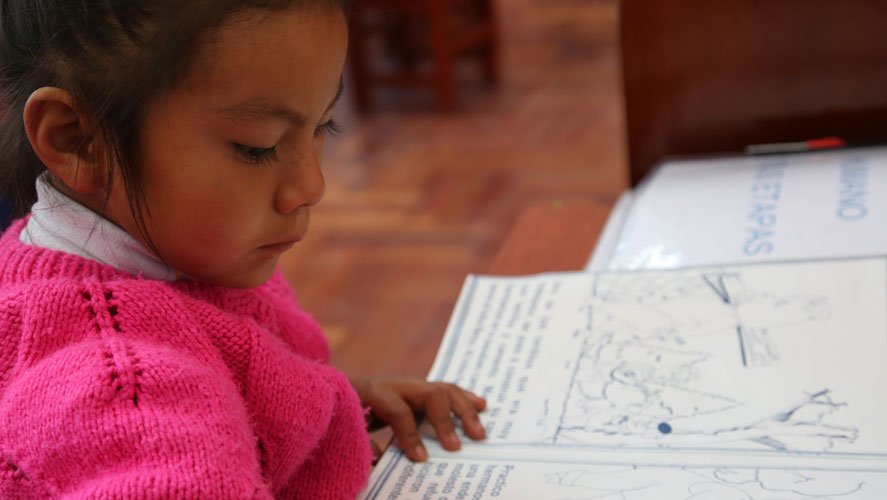 Once you arrive in Peru for your volunteering placement you may feel a little overwhelmed. You will be surrounded by new sights, sounds, environments and a whole new way of living. You will never be fully prepared for your experience and you will never know what impact your volunteering placement will have on you and those you work with, however this is all part of the incredible journey you are about to embark on.
Below are a few tips to help you embrace your experience in Peru and make it a memorable and rewarding one.
How to help make your volunteer experience rewarding
Be Prepared & Be Organized
This is the first step to ensuring you have a positive experience when you arrive.
Before leaving your home country:
Make sure that you have a copy of all your important documents. A good idea is to email them to yourself and family so there are copies available if you happen to lose them.
If you are taking your phone with you, you may want to let your phone provider know that you are travelling abroad and get your international roaming turned on or buy an international sim card. This is handy in the case of an emergency or needing to contact someone on arrival.
Make sure you have some Peruvian money (Peruvian nuevo sol) with you before you leave your country.
Confirm that there is going to be someone there to pick you up at the airport.
Do your research before you go, so you have an understanding of Peru
Before you go it is useful to understand some basics about the cultures, customs, language, geographic regions, economical situation, education, healthcare systems and laws that exist in Peru. Read travel guides and blogs on Peru to help you prepare yourself for your experience. Also it's a good idea to read news articles to find out if there are any safety concerns you need to be aware of before you go and what current events are happening, showing an interest in what's going on in the country can help you when interacting with the locals.
Networking and Support
This is especially important when you are far away from your friends, family and comforts of home and may feel homesick at times. During your volunteer placement there are likely to be many others who have experienced or are also experiencing these feelings. Build yourself a network of friends with fellow volunteers and locals from your project. It is often so much more fun when you have people to hang out with and to experience a new place with, especially with locals who know the place, local hangouts, language and culture.
Also build a bond with your host family and really get to know them. They are after all, your Peruvian family and most will embrace you as part of their family.
Embrace the culture, destination and people:
Peru has so much to offer in terms of landscapes, adventure, exploration, traditions and cultures and friendly, polite locals.
Make the most of your volunteering experience, get to know the people you work with. If working with children spend time with them, a child's smile can sometimes make all the difference. Get to know them and their family. If working with the elderly listen to their stories, you are likely to hear some remarkable tales while learning about Peru. Find Peruvian people your own age and share stories about your cultures and see if they will show you around. Most will be more than happy to share the wonders of their country with you. Also use these bonds to help you learn and practice the local language.
Experience the culture and traditions first hand. In Peru there are many places where you can witness and learn about their traditions, customs and cultures. Indulge in the regions cuisines, spend time at local arts and crafts markets, visit museums and archeological sites and attend festivals and events.
Get out and explore the varied landscapes, participate in some adventure activities, and discover the real Peru for yourself.
Take pride in your actions and small achievements
If you have signed up to volunteer in Peru it means that you have a passion in wanting to change the lives of others and want to have a positive impact on the world, but let's face it; all your efforts are not going to be able to make the world a better place in a short period of time.
Change however is progressive, know that although you cannot change the world you can certainly change the lives of others in a small space of time. Take pride in your actions and passion for your cause and you will notice the small achievements. Taking care of children in an orphanage, listening and observing your students' progress, building a home for a rural community, providing medical assistance to someone in need, conserving the environment, interacting with those you work with and building bonds and friendships. These are some of the small day to day activities that you might take for granted, but these activities are creating positive impacts for the community and Peruvian people involved. Every small step you take to create a positive change, can be a big step to positive change for those in need.
Raise any issues or concerns
If you have any issues or concerns regarding your volunteer project or host family in Peru it is really important that you raise these with your local support member, organization, host family or project. This is so the issue or concern can be addressed and resolved and that your placement can remain a positive experience. If you do not raise the issue then you may find you start to think and act negatively towards the project and your overall experience.
Safety while volunteering in PERU
Your safety when traveling abroad is a huge factor in ensuring that you have a positive and rewarding experience. When volunteering in Peru here are a few things to consider for your safety.
Be sure to purchase a good travel insurance policy
Register your travel plans with the local embassy
Ensure your family and friends have a copy of all your important documents.
Get the contact details for emergency services in Peru (police, ambulance) along with details for the embassy and your country coordinator
Carry a copy of your passport at all times. Make sure you have a copy of your photo page and page which shows your entry stamp into Peru
When traveling to any destination it is useful to apply simple common sense to not bring unwanted attention upon yourself. Street crime is present throughout Peru especially in the larger cities. Be sure to take precautions to minimize your chances of being a target of this. It is also useful to know that Peru is a developing country and health care and hygiene are not up to the standard of the Western world, so take precautions when eating street food.
Do's and Don'ts for travelling in Peru
Here are a few tips to help you with your safety while travelling and volunteering in Peru.
DO
Always carry around a copy of your passport
Use an official taxi service
Be aware of your safety and who might be watching you when withdrawing money or using your credit cards
Be sure to only drink bottled water. Water in Peru is not safe to drink without boiling first
Always carry tissues with you as toilet paper is not always supplied in public bathrooms. Also note that you may need to pay to use these services so always have some cash available.
Be aware of your surroundings when carrying around valuable items
Try to travel in a group
Dress appropriately and don't bring unwanted attention upon yourself
Learn some Spanish words and phrases to help you get around
Try the local cuisines. Peru is known for its culinary delights around the world, so be sure to experience it.
Respect the people, culture, customs and environment
Explore the city and surrounding areas. If you are traveling on your own or even in a group, join a tour or hire professional guide to show you around.
DON'T
Don't venture into areas where the streets are empty and you feel unsafe, especially at night.
Don't carry all your valuables or have them clearly visible, otherwise you will look like a potential target.
Don't leave your bags unattended in any public places.
Don't leave drinks unattended. There have been reports of drinks being spiked especially among female travelers.
Do not use unregistered taxi services. There are often many people trying to offer to take you places and possibly for a cheaper price. Although this may sound appealing this is not always safe and you cannot always trust them.
For more information on safety and the do's and don'ts in Peru check out the following useful sites.
Peru travel and sefety recommendations
Culture Shock
Culture Shock comes in many forms, and is something that you are bound to experience during your volunteer placement in Peru. Work conditions, living conditions, daily living and hygiene standards are all different to what you are probably used to, and at times the acceptance of the new cultures that you experience will be hard.
Here are a few tips to consider to help you deal with culture shock in Peru.
Learn the Language:
Arriving to a country where you don't know the language is always a little daunting. Before you go learn some greetings and phrases to help you get by when doing day to day tasks like ordering food, asking for directions, asking for help or doing some shopping.  Buy a phrase book or download a Spanish learning app to your smart phone. When in Peru make the most of your time with the Peruvian people, interact with them and practice your language skills.
Read about what volunteers have to say
You are not the first person who has embarked on a volunteering journey to Peru. Many volunteers are overwhelmed by their volunteering experiences in Peru and have written about their experiences. Search the internet and you should be able to find blogs and reviews from previous volunteers. These are great reads to give you an insight into their volunteering placement and to also give you a small insight into what you can expect from your placement and Peru. Remember these are personal opinions and everyone's experiences are different, use it as a guide but create your own perceptions and journey once you arrive.
Expect the unexpected.
Remember that cultures and traditions in Peru are very different from what you are probably used to. Be prepared that you may see sights, hear noises and experiences environments which are completely foreign to you, these however will all have an impact on your unique volunteer experience in Peru.
This article by Paige Claassen gives a great overview of culture shock and the unexpected experiences she endured during her Peru experience. 
Learn about the culture, customs and tradition of Peru:
These will be very different from what you know. You might find many of them hard to understand and you may even find that they seem prehistoric or go against your beliefs. It is important to learn about these, understand where they come from and why they are present. This will help you to gain a greater appreciation for the people and by showing an interest in learning these it will help you connect more with the ways of life in Peru. Try the local cuisines, attend cooking classes, learn about medicinal plants, watch the ladies and men masterfully create their colorful arts and crafts by hand, attend a religious ceremony or custom, take part in a celebratory festival and really get to know Peru, the people and its cultures.
Things to do in Peru
With such diverse landscapes, climates and traditions, rich history and ancient archeological sites - Peru is a land of mystery and wonder and has so much to offer its visitors. Below are a list of just a few things you should not miss. But sure to do your research and discover Peru for yourself as it has so many hidden treasures for you to encounter and explore!
Hike the Inca trail and discover the wonders of the ancient city of Machu Picchu.
Experience the diverse ecosystem of the Amazon Rainforest. Take a boat ride along the expansive river and stay in an Amazon jungle lodge for a true jungle encounter.
Take a tour to the remarkable floating reed islands of Lake Titicaca and gain an insight into the lives of the indigenous Peruvians who call these islands home.
Embark on an adventure into the desert of Huacachina for some sand-boarding action down giant dunes or some dune buggy fun.
Visit the Sacred Valley and the areas along the Urubamba River for remarkable landscapes, adrenalin, adventure, history and archaeological sites.
Indulge your taste buds and experience the diverse flavors of the local and regional cuisines
Visit local arts and crafts markets and attend local festivals
Take a boat out to the Ballestas Islands to witness the diverse marine life and species of birds
Explore Peru its many museums, cathedrals and archeological sites. Also be sure to enjoy its shopping opportunities, Peruvian food and vibrant nightlife.
Find your perfect beach spot along the Pacific Coast to swim, surf, snorkel or just relax.
Chapter 4 : Completion of project & follow up
No matter how long your volunteer placement in Peru is, it is likely to be a life changing experience. You will want to share your experiences and stories with others. Start a blog outlining your experiences, perceptions of Peru, highlights, unexpected moments and even difficult times.
You will find sharing your experience with others valuable for raising awareness of your experience, but also of what others in less fortunate positions endure and the positive impact you had on your project. This is also a useful tool as future volunteers can gain insight through your experience. It is also a good idea to write an honest review of the project on the organizations website. Another good idea is to provide the organization and project with constructive feedback which can be used to help enhance and continually develop the project for the future.
Keep the passion of your cause and experience alive. Although you may not be able to provide your service as a volunteer again you can still support your cause, by donations and raising awareness in your community. Also keep in contact with all those that helped in making your volunteer position a positive one, your host family, locals you meet along the way and volunteers who you worked alongside of.
Chapter5: Most frequently Asked Question By Volunteers
How will I get from the airport to my host family/volunteer house?
When you volunteer in Peru most volunteer organizations will arrange transfers from the airport to your accommodation. To ensure that there is someone to greet you at the airport be sure that you have confirmed all your details with the organization and that they have been received. Make sure you have a contact for the organization so you can contact them in case of any flight delays.
Will there be volunteer support from staff in Peru?
Volunteer programs in Peru generally employ local staff or partner with local organizations.
When you volunteer in Peru there should be support available for you however it is strongly suggested that you make contact with your local support before you leave to ensure that they will be a valuable, helpful and responsive source while in Peru. To find out more about local support when undertaking your volunteer work in Peru call your booking company as they should be able to help provide you with this information.
How many other volunteers will be participating with me?
Volunteering in Peru is becoming increasingly popular but the number of people you will volunteer with will depend on many factors. What season and time of year you are undertaking your volunteer program, how many volunteers the project requires and takes in at one time, if you have booked through a small or large booking organization, the type of project you are volunteering for. Summer however is a popular time for volunteers to offer their time so you may find a higher number of volunteers during this period.
If I volunteer with my friend can we be placed in the project and housed together?
Yes, if you your friend/partner or family are all volunteering in Peru then you can be placed in the same project and accommodation. It is best to advise your organization of this when confirming your placement so that appropriate accommodation can be sourced for you.
Are meals and housing provided?
When undertaking volunteer work in Peru it is most likely that accommodation will be provided with a host family. In most cases meals will are included and prepared by your host family but it is best to check with the volunteer organization how many meals will be provided and what your fee actually includes.
Do I have to bring my own bedding and mosquito nets?
If your program fee includes accommodation in Peru then you will have a bed which usually comes with a sheet, blankets and pillow. If you feel the cold then it is suggested that you take a sleeping bag for winter evenings. Most host families do not have heating or cooling.  If your Peru volunteer project is in the areas of the Amazon jungle or areas where high humidity is present then a mosquito net is recommended.
What if I don't speak the native language?
When volunteering in Peru it is advisable that you have some basic understanding of the Spanish language. Some programs will require you to speak and understand the language for your project. Be sure to check with your provider if knowledge of the language is a pre-requisite for undertaking your volunteer project in Peru. Also note that not all host families or project staff will speak English. If you would feel more comfortable with English speaking hosts than it is recommended that you let your booking coordinator know in advance so they can find you a suitable host family
How will I get to my project every day?
When in Peru volunteering, how you get to your project each day will really depend on where you are based. If you are partaking in a city based project then you may be required to find your own way to and from the project, however if undertaking a project in a rural area transport may be arranged for you. It is strongly recommended that you speak directly with your provider to confirm these details to ensure you know exactly how you are going to get to your project each day.
What kind of food will I eat while I'm there?
When staying with a host family during your volunteer placement in Peru you will no doubt experience the flavors of traditional Peruvian cuisines. Your breakfast will usually consist of bread, jam and fruits, while your lunch and dinner will often consist of rice, chicken or meat, vegetables and potatoes. This may however vary dependent on the region in which you are volunteering in.
Do the volunteer project or organizations s offer treks or excursions, or what can I do on the weekend?
No, your volunteer abroad provider does not offer or organize any excursions. You will need to arrange any activities or travel within Peru that you want to do yourself. Your local support member or staff of your project may be able help you out with providing details of local providers for booking your travels and experiences.
Peru is a fascinating country which has so much on offer, from action to adventure, history and archeology, rich culture and tradition, unique food experiences, breathtaking landscapes and hidden treasures. Be sure to make time to discover the wonder of this country for yourself.
How many hours per day will I be volunteering?
How many hours a day you work and what hours you work while volunteering in Peru will really depend on the type of project in which you will be undertaking. Most volunteer projects however work between 4-6 hours a day. Please check with your organization and project to find out your required volunteer hours each day along with start and finish times.
How much money do I need to bring?
Peru is a relatively inexpensive country to travel around. During your volunteer placement in Peru you should be able to get by with around $80 USD per week for personal expenses. Most meals will be provided by your host family so you will not need to spend much money on meals. Your personal expenses really depends on you and what you want to do and how you want to experience Peru. If you plan on exploring the country, travelling around, going out, shopping, visiting museums and galleries and participating in lots of activities than you may want to allocate more for this and budget accordingly.
This free ebook is just written to help volunteers. So please use this book just as a general reference or source of information. We do not guaranteed the validity of information as we cannot keep yourself updated with changes in field or situation. So please do not use this book as a definite or authority guide. It is simple information to help volunteers