Volunteer Reviews
Volunteer Reviews
Failed to connect to MySQL: Access denied for user 'uq45eqbq92b4d'@'localhost' (using password: YES)
Evaluation Form
Name: Lisa Uresti
Country of Volunteer : Peru
Please rate the following as 1--poor, 2--good, 3--very good or 4-- excellent:
| | | | |
| --- | --- | --- | --- |
| USA Staff | 4 | | |
| Airport pick up | 4 | | |
| Food | 4 | | |
| Accommodation | 3 | | |
| Host Family | 4 | | |
| Volunteer Project | 3 | | |
| Field staff | 4- Sophia | Kaela – 1.5 | Angelika – 3.5 |
Please summarize your about volunteer experience (please attach extra sheet if necessary) with IFRE.
I have volunteered at 3 projects. I started in a rehab for kids with disabilities. I then went to an orphanage. Now, I am teaching English. Sophia has been very accommodating in helping me find the perfect volunteer organization fit. In the orphanage I am able to work with kids who need love and attention. I was also able to work with other volunteers. Since this was the first volunteer experience, working with others was helpful in getting to know types of things and activities I could do with the volunteers. Now that I am teaching, I work on my own. However, I have already gotten to know Peru and the culture that I am comfortable with this situation. Teaching is an area that I love and I am glad that Angelika and Sophia (staff) helped me be places there. Without their help and dedication I would have had to stay in the first volunteer place I went to (clinic). Although I think the clinic with disable children is a great place, it was not a great fit for me. However, many volunteers love it.
I am happy with my stay. My house mom works very hard to prepare Great meals. She always serves me a different dish when she is cooking me because I am vegetarian. I am the first vegetarian that she has had live with her. She has also been very helpful in helping us navigate around the city and nearby cities. She seems to care about her volunteers and treats them very well. She sits down at dinner with us and talks to us I Spanish which I love ---- this is why I decided to live with a family----I need to practice my Spanish. I always feel safe.
The Spanish classes offered by IFRE were horrible. The teacher was not prepared. When she did not feel like having both the beginner class and intermediate, she would combine them. She also cancelled class several times. She would take long breaks, start class late and end early. She conducts her activities in English – which is absurd since we are here to learn Spanish. I had to pay more than I anticipated to take Spanish courses at another school. I would definitely recommend IFRE hire another Spanish tutor.
Overall, this was a great experience. I was able to do the two things I came for. I have learned more Spanish than ever. I have also been able to help those less fortunate. I have gained a new perspective on life. I feel very fortunate to have been a part of this program. One recommendation I have is to have more activities with the volunteers. I never met any of the volunteers outside of my orphanage experience. I think the only activities held were dinners. However, I eat dinner with y family so I could not make it.
Do you recommend IFRE program for others (please circle) Yes No
Can we pass your e-mail to interested potential volunteers? If yes, e-mail: No
Hello Swoyam,
I am having an amazing time here in Cuzco. Teaching the kids at Romeritos is an amazing experience. Sophia is wonderful and I couldn´t imagine having a better on the ground coordinator.
Xander Robinson
xanderrobinson3@gmail.com
Hello Swoyam,
I am having a great time, and I am enjoying every minute of my project! The kids are awesome, and the other volunteers are great as well. I love Sophia and Ernesto, the couple I am staying with. They are great and have been very nice. I have learned so much spanish from my spanish instructor that ifre hooked me up with, and I couldn't be any more appreciative for this entire experience!
Thank you for your time,
Darci
Everything has been wonderful. Mr. Joshee is amazing at his job and just an amazing person in general. The family is great and the clinic is a great learning experience for all levels of medical students or volunteers.
I will definitely write more at a later date. I have nothing but good things to say about this whole trip so far. Peru is a great country to visit and volunteer. Thanks so much for following up and for the opportunity of a lifetime!
Vicky Kosakowski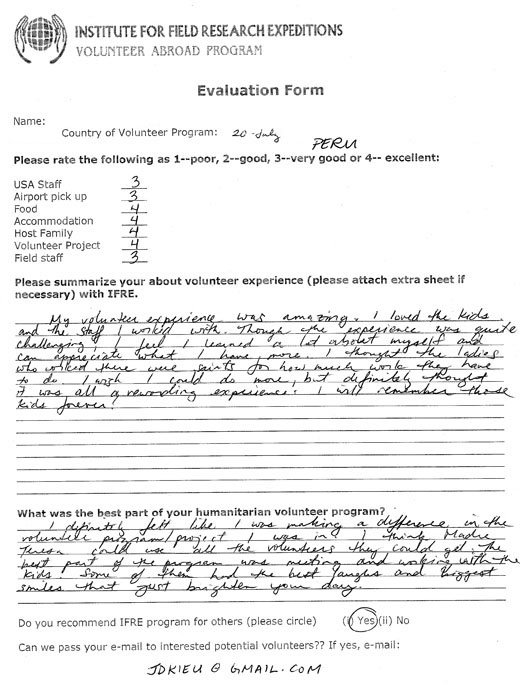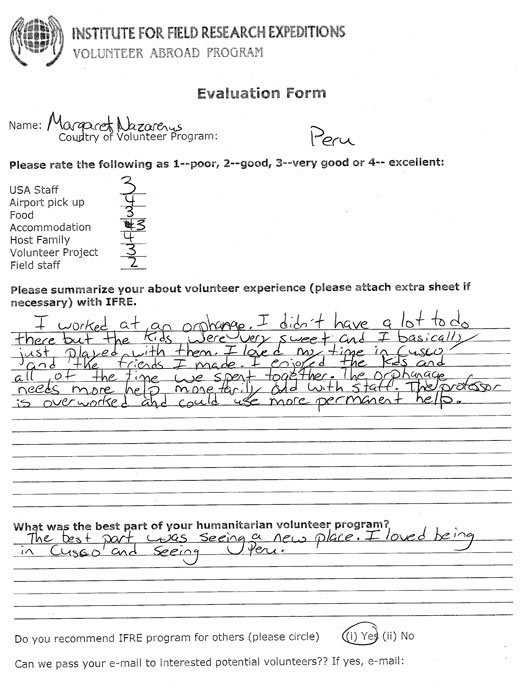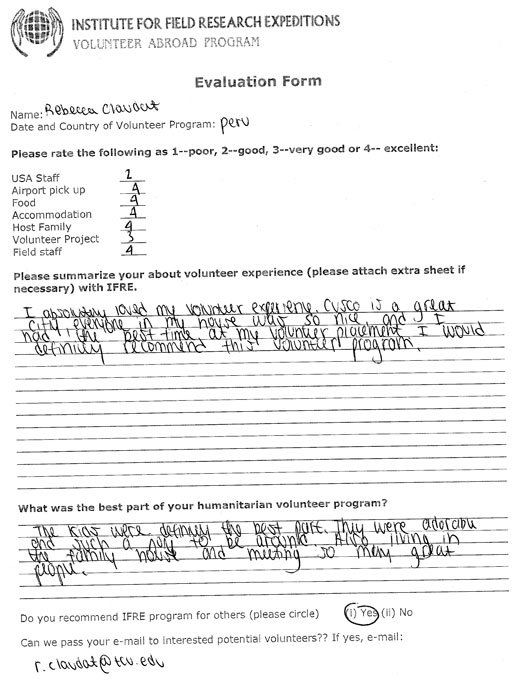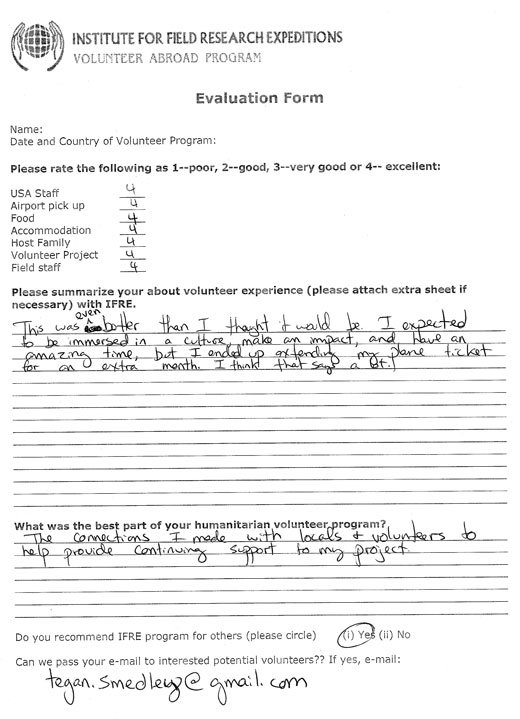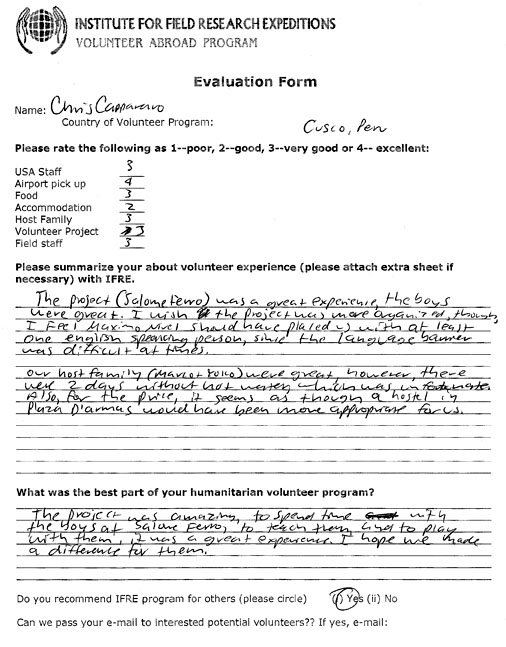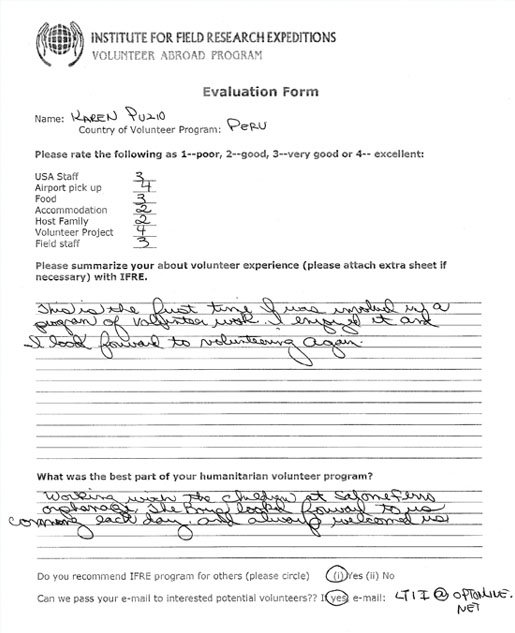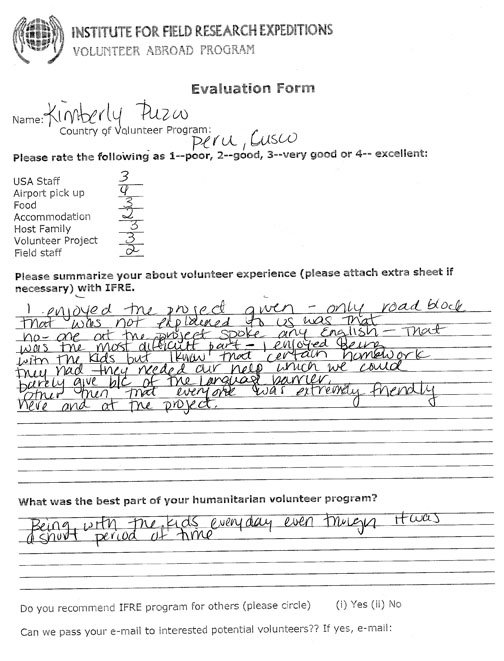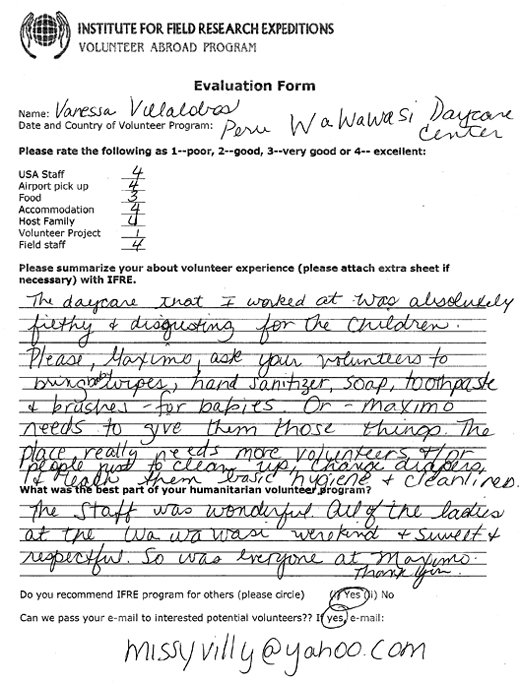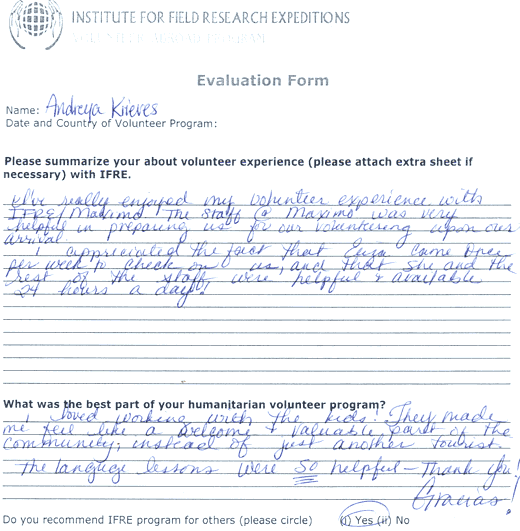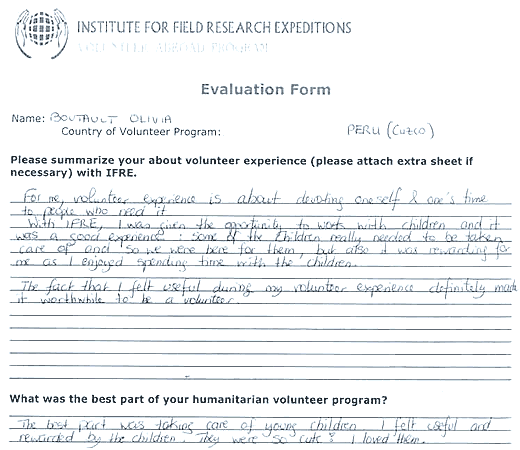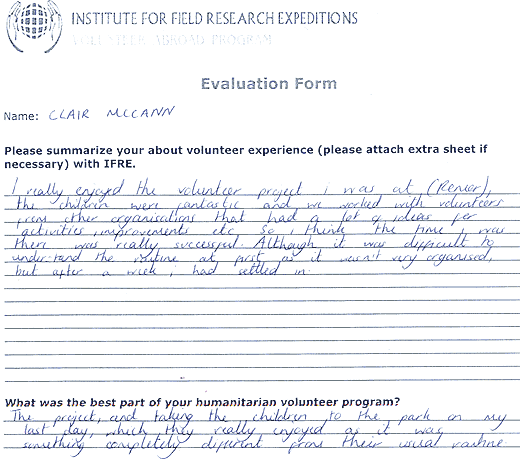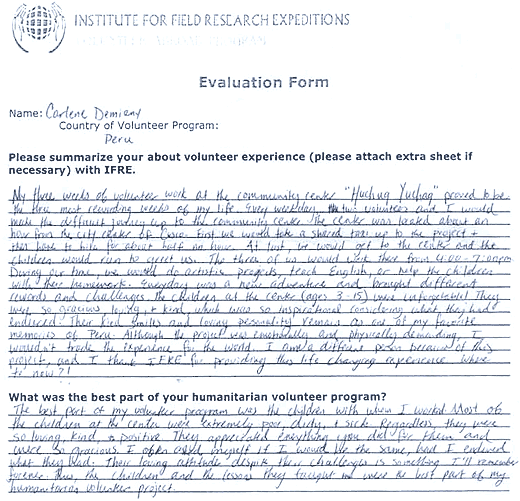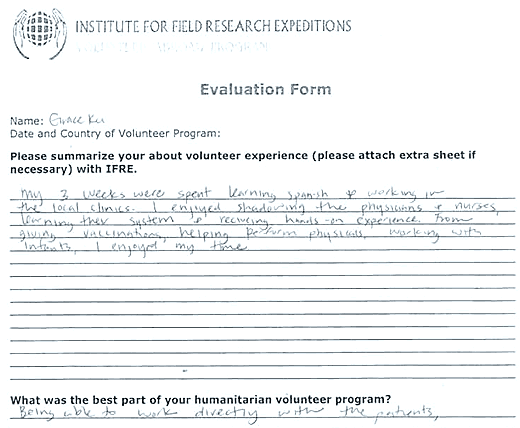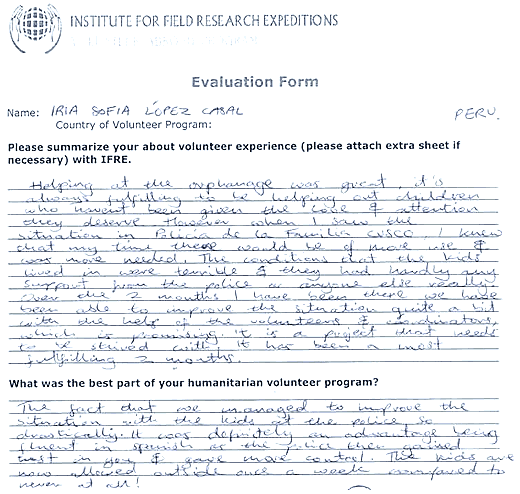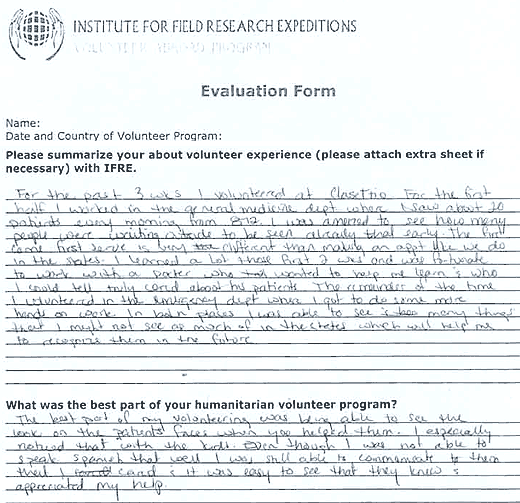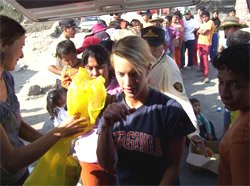 Earthquake Fundraiser
I just wanted to let you know that the donations trip to Ica was a great success. We coordinated the donations through the hospital in Ica 'Essalud". Based on the doctors' recommendations, we put together essential food kits for approximately 350 people. Each kit contained rice, sugar, oil, milk, water, and a pack of spaghetti. We also handed out salted crackers to the children. The food was distributed in an area in Ica called "Los Molinos" where there was a lot of destruction due to the fact that the majority of houses in this area were made from adobe bricks.
Eliza Raymond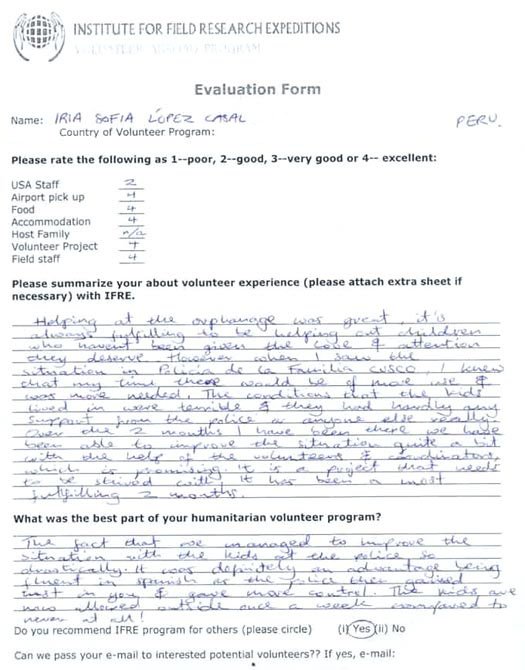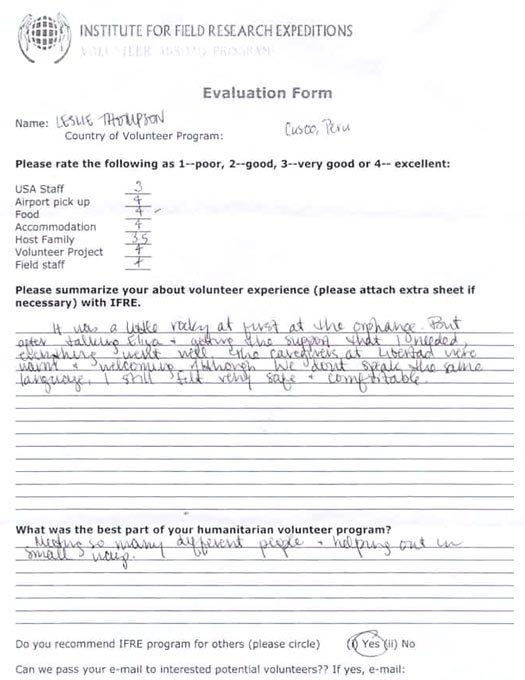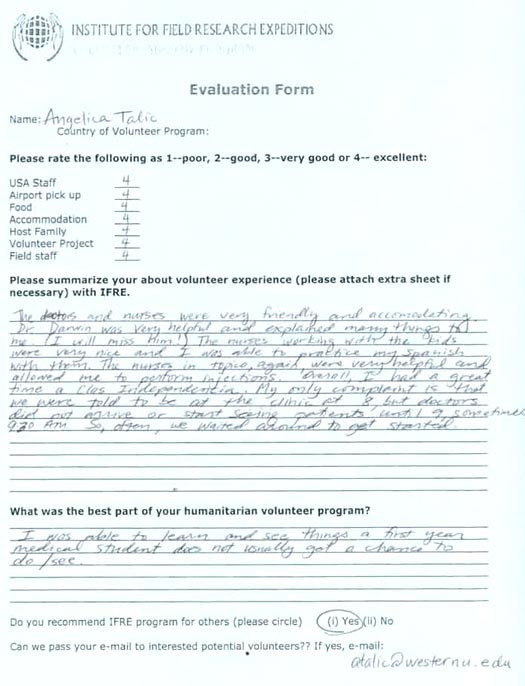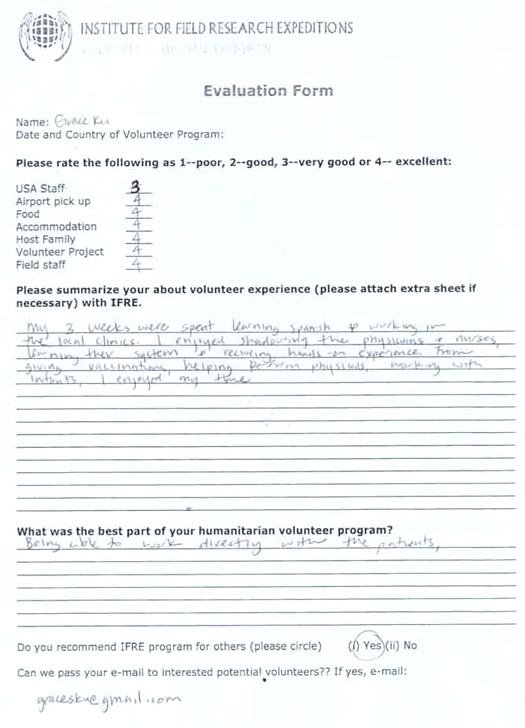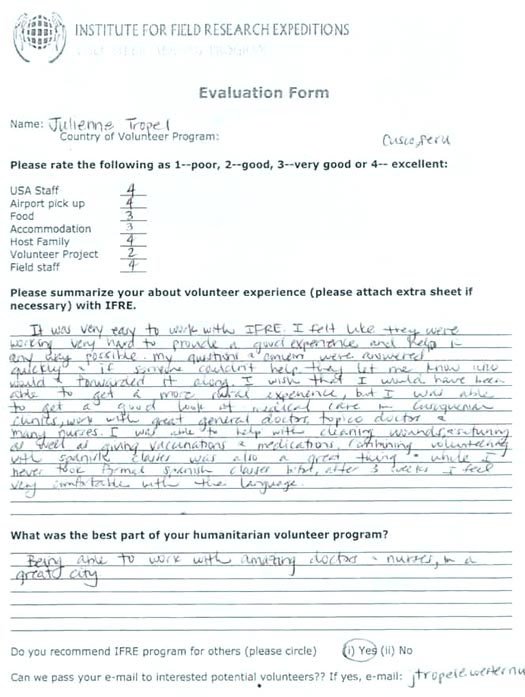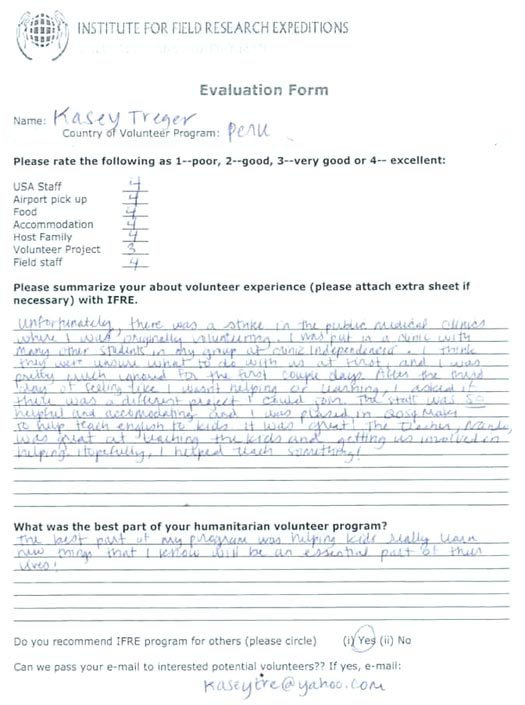 Volunteering in Peru
Volunteering in Peru was an amazing experience for me. I was able to meet a lot of wonderful people - both locals and other volunteers. Volunteering was a great way to experience the country in a way that a tourist would never be able to. The Family House was very comfortable and it offered me a lot of freedom to do what I wanted to.
The city of Cusco is a wonderful place, and I recommend travelling there to everyone. I appreciate all your help in setting up my volunteering program.
Michelle
Pictures of Michelle Trip: http://michellediedrick.myphotoalbum.com
My experience was much more than I hoped for or even expected
As far as the experience in general, I could not decribe in words how great it was. I was lucky enough to work in two differnet orphanages. One of them was all boys and the other was all girls. Since I did not know any Spanish when I first arrived I had to work extremely hard to understand the children. The kids were wonderful in helping me learn Spanish and it did not take long before I could communicate with them. I was also very thankful for IFRE and the Spanish lessons and teachers they provided me with.
My experience was much more than I hoped for or even expected. Everyday was challenging, both metally and phsyically. Getting into the minds of the children and really getting them to relate to me was difficult. I felt as though some of them really wanted to have fun with you and some didn't care because they knew you would be leaving in a short time anyway. When my last days came at the orphanages, I was the one who was unfulfilled because I had developed such and attachment to all of them in different ways. I saw both amazing and sad aspects of the culture and it's people. My trip was an enlightening learning experience. I loved the time I spent in Peru and hope I can go back in the future.
Thank you so much for the opportunity to volunteer abroad!
Casey Richards