Volunteer in an Orphanage in India
Make a difference and be a part of a great volunteering family to those who have none
Experience the warmth of the Indian culture

Be a friend, a mentor and a teacher to children who need it 

Use the power of your creativity to play and connect with local children

Be part of a heart-based project that makes children smile

Cooperate with a dedicated trustworthy volunteering organization

Join one of the most affordable programs starting at $250 and trusted by over 22,000 since 2006
Take a minute to complete the form and we will be in touch.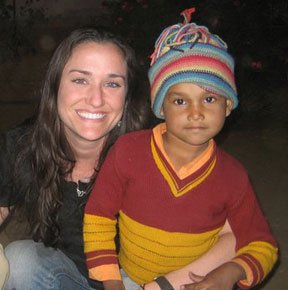 The orphanages in India offer homes, education, hope and love for orphans. Volunteers in the IFRE orphanage program will primarily help children by teaching basic English and organizing creative, extra-curricular activities such as game, singing, music, drawing, etc.
Resources and manpower to support orphanage programs in India are spread thin and volunteers in Indian orphanages provide relief.
This program is the perfect place for volunteers who are looking for opportunities to share their love, passion and skills with very-unfortunate children who crave (and deserve) support and attention.
Skills/Qualifications Needed
There is no specific qualification needed to join the orphanage volunteer project. However, volunteers must be flexible and patient. You should have passion and love for orphans.
Volunteer Responsibilities
When you volunteer in an Indian orphanage project, you will teach English in either the orphanage or school (where kids go for day schooling). Volunteers will also help with day-to-day life skills, assist children as they dress properly for their day and escort them to reach school safely.
Volunteers may also organize games, art lessons, singing, dancing and other creative, educational and extra-curricular activities for the children. This may include group sports training, teaching arts and crafts organizing inter-school football (soccer) or cricket matches and playing music. Volunteers may tutor for other subjects such as mathematics, world affairs, personal hygiene and nutrition.
The possibilities are endless! In the evening, volunteers help the children with homework and encourage academic progress. Some participants will assist in the care of the children who cannot yet attend school, and others may lend a hand with food distribution, kitchen work and garden maintenance.
Room/Food/Supervision
IFRE manages living accommodations, provides meals and supervision for volunteers for the entirety of their stay in India. During the volunteer period, most volunteers stay in our safe and secure home base, a project hostel or a host family. Dependent on the season and flow of volunteers, you may be placed in any of the following:
Our office and home base is located in Gurgaon, a beautiful city 40 miles a way of Delhi international airport. This location is very safe and manned with onsite security. It is a clean, sparsely furnished apartment but will meet all your needs as an IFRE volunteers.

It is close to the local bus station. This is the ideal arrangement for sharing your daily experiences with fellow volunteers and local staff.

Home base bedrooms have multiple beds, so volunteers will usually share a room (same gender). Our in-country coordinator also lives at our home base to assist our volunteers 24/7.

Our local host families are socially respected and are experienced with hosting international volunteers. They have strong interest in our volunteers' safety and well-being and demonstrate this with caution and care. In most host family situations, volunteers will share a room with another volunteer of the same gender.
Another viable option is an at-orphanage or project hostel stay. Many orphanages in India have set aside special rooms to house international volunteers.
IFRE arranges room, food and supervision for volunteers throughout the program.
All of IFRE's cooks prepare a variety of delicious Indian food (naan, dahl and chapatti breads, curries, rice and pickles/chutneys). Details covering the arrangements for room/food are outlined in the prepared placement details.
Volunteers will also have 24/7 access to IFRE's office as well as the mobile numbers of in-country coordinators. In addition, the director of the orphanage will serve as a local contact person for volunteers. IFRE's staff also visits each volunteer every 1-2 weeks as part of our program.

These last six weeks of volunteering have been a truly amazing and life-changing & very wonderful experience for me.
Alexandra Miller
- USA

I had an excellent time, better than I ever could have imagined. Other volunteers were so nice and willing to help.
Leslie Slade
- Vermont, USA

I had a wonderful experience. I had the opportunity to teach children of all different ages.I am sad to leave!

Don Maddocks
- USA

My volunteer experience with IFRE has been unforgettable. It has opened my mind & heart. Staffs were very helpful.
Manko Blakely
- Germany
FAQ
What is the typical day for volunteers in an Indian Orphanage?

While volunteering in India, volunteers generally stay in the orphanage where their project is. Most of the orphanages of India have built separate rooms to host volunteers.

A typical schedule in an Indian orphanage volunteer program would be as follows:

7:30 am

–

Breakfast

8:30 am

–

Volunteers assist in preparing breakfast, which can include cooking, serving food or cleaning up after the meal.

9 am

–

Children depart for school and volunteers can assist with cleaning, planning activities or lesson plans.

1 pm

–

Lunch Break

2 pm

–

Volunteers can visit the local market or utilize this time for internet access.

4 pm

–

Children return to the orphanage from their school day. Volunteers can teach the children English, Math, or any other subjects including conservation and personal hygiene, drawing, painting, rhymes and many other topics.

7 pm

–

Dinner

Could you please send me the contact details of the project?

Contact details are provided within your placement details following the completion of your application.

How many children are in the orphanage and what are their ages?

We work with a number of orphanages in India, so it depends on which orphanage you are working with. The minimum number of children is 15 and the maximum is 84. Most of the orphanages are girls' orphanages and some of them are mixed. The ages range from 5 to 16 years old. We place volunteers where they are needed most, based on how many volunteers are already working at a certain location.

What are the day-to-day activities in the orphanage project? What do I actually do?

Generally, you will do the following activities daily, but you plan how you want to do it:

Teach English and other subjects and assist children with their homework
Teach health and sanitation
Entertain and run extra activities and games
Help them wash their face and brush their teeth, instilling personal hygiene in the children
Help them eat their meals, serve food or be with them while they're eating so that they can feel family environment.
Check the neatness and the cleanliness of the children, help the children prepare for school and check their attire.
Sanitation of rooms and washing clothes
Drawing pictures or similar art projects

How many hours a day do we work in the orphanage?

In total, you'll work 5-7 hours a day, but there will be breaks because the children go to school and will need some time for rest as well. Volunteers generally help with breakfast in the morning, kitchen duties and cleaning when children are at the school, lunch preparation when the children return, and teaching and homework assistance after p.m. Other activities listed above may vary according to the volunteers' personal daily plan.

Is the orphanage available year-round? When will it close and for how long?

Yes, voluntary work in Indian orphanages is available year-round, but there can be less work during the holidays, festivals and the school exams of the children. These exams can take place at various times.

Is there any other important information that you want to share about this project?

You need to come with an open mind. The children at the orphanage speak less English than usual, so you need to act accordingly. Their children are all very different, so you may ask many questions to gain a better understanding of them, which will make it easier for you to work. The work is challenging but very rewarding.