Volunteering in Argentina with Underprivileged Children
Do you love working with kids? Would you like to provide support to struggling families? Then this is the Argentina volunteer project for you!
Argentina is a South American country with a turbulent yet colorful past. Latin dances, delectable cuisine, and beautiful landscapes are all part of the allure of this unique destination.
Many poor families lack access to affordable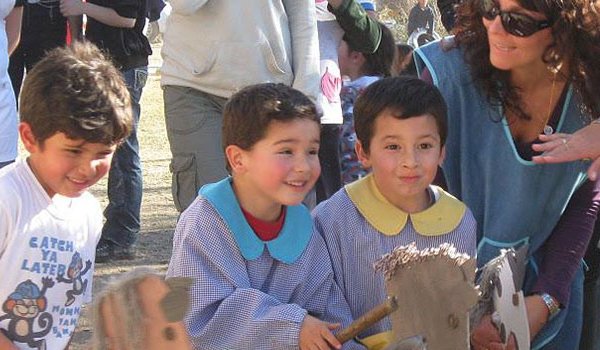 childcare, and since they are forced to go to work, their children end up missing out on things like companionship, adequate nutrition, guidance, a stable education, and the personal attention they crave and deserve. Kids like these are at risk for getting caught up in the streets and involved with crime or drugs. That's where volunteering in Argentina with underprivileged children comes in.
IFRE teams up with a number of Argentinean non-profit organizations, municipalities and schools to place volunteers in numerous "buddy roles" in an attempt to provide love, friendship, support and care for underprivileged children. You'll help kids with homework, serve nutritious meals, and make sure they are well cared for.
With your support, you can help keep children off the streets and away from negative situations, which are counter-productive to their education and brighter futures. While this Argentina volunteer project requires patience and dedication, you will have a unique and unforgettable experience creating positive change in the lives of children who need it the most.
Are you interested in saving children from a life on the streets and being involved in crime and drugs? Then contact IFRE today for more information about this amazing opportunity!
Volunteer Responsibilities & Impact
Teaching basic English, health, math, science or other subjects
Providing daily care to children
Helping prepare and serve food for children
Teaching children life skills such as gardening, painting, building, sewing, etc.
Leading extra curricular activities such as games, sports, art, music, dancing, etc.
Promoting fundraising activities
Performing administrative tasks
Helping plan events and excursions
Assisting families
Assisting medical staff
Skills and Qualifications:
The main thing you need to work at this project is a love for working with kids, and the patience and dedication required to help improve impoverished communities.You are expected to be sensitive, flexible, adaptive, patient and proactive.
Volunteers must be at least 18 years old.Intermediate level Spanish is required.. If you cannot speak more than basic Spanish, we suggest you enroll in our Spanish language course to make your stay more rewarding – both for you and for the children you are helping in this Argentina volunteer project.
Your time spent working in this youth outreach program will be rewarding and enjoyable. Each day will present you with fun and exciting experiences and also interesting challenges.
IFRE works with a number of childcare and youth outreach programs in Argentina, so your daily schedule is going to vary and depend on the particular project placement you are assigned. Here is a sample schedule to give you an idea of what to expect.
First Day Our in-country coordinator will bring you to your exciting new childcare project and introduce you to the caring staff you'll be working with. You'll meet the kids and receive your orientation. You'll learn everything you need to know about your project, daily schedules, safety measures, and the customs and culture of Argentina.
Weekdays: Your work begins on the second day, and atypical volunteer day is as follows:
6.00 to 7.30 AM: A delicious Argentinian breakfast.
7.45 AM: Head out to your childcare project and spend the day helping provide a fun positive environment for kids in need.
12.00 PM: Break for lunch.
3.00 PM: Around this time everyday your service work will end, and you will be free to explore Cordoba and have a great time.
Weekends: You are totally free to take excursions and discover new places al across Argentina.
Volunteering in Argentina with Underprivileged Children: Dates and Fees
Program Dates
IFRE programs begin every Monday year-round. If you have travel constraints, you can still start your chosen program on any day of the year.
Underprivileged Children Project is not available in December,January and February, 2020.
Our Fees
Since 2006, IFRE has been the most trusted and respected volunteer abroad organization in the world, and also the most affordable. We're dedicated to providing the highest quality volunteer programs at the lowest fees, which make it possible for everyone, especially students, to volunteer internationally and make a positive impact in the lives of others.
We believe in 100% transparency. Rest assured, we never use middlemen. Your one-time registration fee of $299 covers our administrative costs. The low weekly fee is paid in the host country directly to your host family and project (via country coordinator), and includes housing, food, and minor expenses. IFRE is a non-profit organization, so your program fees are tax deductible.
Volunteer Program Fees (US$)
| Weeks | Hostel Shared Room/ No Meals | Host Family Private Room/Half Food |
| --- | --- | --- |
| 1 Week | $404 | $460 |
| 2 Weeks | $488 | $600 |
| 3 Weeks | $572 | $740 |
| 4 Weeks | $656 | $880 |
| 5 Weeks | $740 | $1,020 |
| 6 Weeks | $824 | $1,160 |
| 7 Weeks | $908 | $1,300 |
| 8 Weeks | $992 | $1,440 |
| 9 Weeks | $1,076 | $1,580 |
| 10 Weeks | $1,160 | $1,720 |
| 11 Weeks | $1,244 | $1,860 |
| 12 Weeks | $1,328 | $2,000 |
Comprehensive Travel Insurance $3.49/day »
How your fee is allocated?
Program Fees Cover:
Accommodation (host family)

Food (only breakfast and dinnery)

Program Orientation

In-country support

Personalized project

Pre-departure information

Certificate of completion

Fundraising ideas and letters

Discount for returning volunteers
Program Fees Exclude:
Visas

Airfare

Personal expenses on soft drinks and foods

Daily transportation

Airport return transfer
Accommodation and Meal
For our Argentina volunteers, we offer two fantastic housing options that are both safe and comfortable. One is a volunteer house where you'll meet lots of other amazing like-minded volunteers from all over the world, making friendships that can last a lifetime. The other option is staying with a welcoming host family, in a home away from home that will have you fully immersed in Argentinian culture. We offer three flexible meal plan options.
Learn more about your volunteer accommodations in Argentina.
Free Time and Weekend Exploration
Visiting Argentina is the thrill of a lifetime, and IFRE wants to make sure you make the most of your time abroad. You'll have evenings and weekends free to travel and sightsee, and all our projects are located right in the heart of exciting destinations and activities.
Check out everything you can do whileyou're volunteering in Argentina.
Safety and in Country Support
IFRE has your safety and security in mind at all times, and we go out of our way to offer a superior and professional volunteer abroad experience for you. From travel insurance to safe housing to in-country guidance and support available at all times, we've got you covered.
Volunteer Orphanage Children Argentina:FAQs
Arrival and departure
You will fly into the Pajas Blancas International Airport (Aeropuerto Internacional Ingeniero Ambrosio Taravella) in Cordoba city. We suggest arriving one day before the start date of your volunteer project.
Make sure to provide correct flight details to our in-country coordinator before leaving your home country so we can pick you up at the correct time. We do not offer airport drop off services, so you'll just need to ask someone at your accommodations how to set up a taxi to the airport when you're done volunteering, and they'll be happy to help.
Volunteering in Argentina with Underprivileged Children: Visa
You are going to need a tourist visa for your volunteer trip in Argentina. You can visit the official embassy of Argentina in your home country and apply for a tourist visa. The visa processtakes time, so you should apply for a visa a few weeks before your flight.
You can also get a visa on arrival at the airport, depending on your nationality. On-arrival-visas will last for exactly 90 days. Citizens from countries such as the USA, UK, New Zealand, Canada, and Australia don't need a visa to visit Argentina. However, diplomatic or official passport holders must get visas prior to arrival. Having a passport with a validity of 6 months is enough. Check the requirements for your home country prior to travel.
Volunteers who want to stay longer and continue working in our volunteer work projects in Argentina can extend their tourist visas for additional 90 days by visiting the office Dirección Nacional de Migraciones.
Check out this website to get more information about Argentina's tourist visa.
Vaccination
To make the most difference, you'll need to stay healthy. While traveling abroad it pays to plan ahead. Get vaccinated and avoid getting sick on your volunteer trip
Hepatitis A, hepatitis B, typhoid, yellow fever, rabies, meningitis, polio, measles, mumps and rubella (MMR), Tdap (tetanus, diphtheria and pertussis), chickenpox, shingles, pneumonia and influenza are the vaccinations recommended to those planning to volunteer in Argentina.
However, you must visit your local doctor and ask them for proper advice before vaccination. You can learn more about vaccinations for Argentina here.
For further readings:
Safety tips for your volunteer abroad trip
Any important information you want to share about this project?
Intermediate knowledge of the Spanish language is not required, but recommended to better facilitate communication between volunteers, fellow adults and the children.
Why Volunteering in Argentina with Underprivileged Children?
Volunteering in this children and youth outreach program in Argentina is a greatly rewarding experience that allows you to make a difference for countless children in need while travelling in an amazing and fascinating part of the world.
Make a positive impact and provide a better future for destitute children.
When you join orphanage children orphanage project, you offer a productive, caring, and educational environment for poor children who need your guidance and support. Help them have happier and healthier childhoods.
Gain experience working with kids.
Do you love kids? Are you pursuing a career working with them? Gain practical hands-on experience that will help you in your future jobs and look great on a resume.
Dedicate your time to create a healthier and safer environment for kids to live in
Kids who are well-cared for and supervised will be encouraged in positive activities and avoid the pitfalls of things they might encounter on the streets like drug or crime. Help inspire young children to find joy and be creative in healthy and safe ways.
Help change the lives of underprivileged children
The positive environment provided by this program will help kids grow into positive and successful adults, who will go on to transform their community and make a better future for themselves and others.
Assist local care centers in their struggle to look after children
As a volunteer in Argentina orphanage project, you can support the people who are dedicating their lives to helping care for these kids. Truly make a difference in the lives of children in need, and support poor, struggling families by offering much-needed childcare.
Contact IFRE today to learn more about volunteering in orphanage and childcare in Argentina!
Explore our other volunteer projects in Argentina!
In addition to our professional support project, we also have a variety of other amazing and impactful programs available in Argentina you might be interested in. You can
provide medical care or dental care,
offer professional support and much more.
If you are traveling with a group, we offer a variety of group programs for high school and college students and families.
Other Volunteer Opportunities with Children Worldwide
There are children in need of love care and attention all over the world. To help provide this, IFRE arranges volunteer projects to help children in many different countries, and you can see a list of our most popular ones below: