Dental Volunteer Opportunities Abroad [Argentina]
Do you dream of a career as a dentist and want to gain valuable experience in the field? How about an exotic vacation in South America while you're at it? IFRE's Argentina Dental volunteer program is your ticket to an educational and rewarding adventure abroad.
Home to a wide variety of wildlife from penguins to jaguars, Argentina is a large country in South America with a vast diversity of climates and ecosystems. Nowhere else in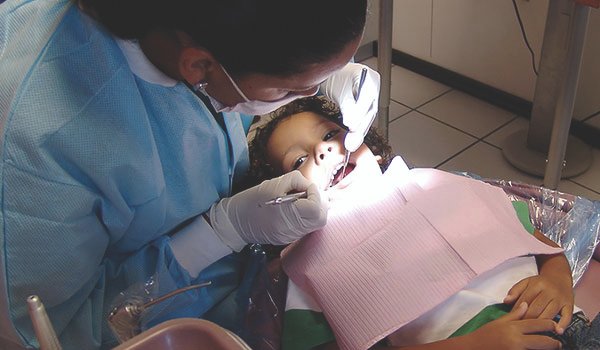 the world will you find glaciers, jungles, volcanos, mountains, and beaches all in the borders of one nation.
Sadly, there are thousands of people in Argentina who lack access to reliable, quality dental care, and kids especially need education regarding how to have good dental hygiene and care for their teeth.
By helping to provide oral hygiene education to local kids and working directly with and learning from local dentists you will provide much-needed dental care to disadvantaged people in Argentina and learn a great deal about dental care, acquiring valuable hands-on experience in the process.
Are you interested in making a huge difference in Argentina while gaining incredibly valuable real-world experience? Then contact IFRE today to learn more about volunteering in Argentina!
Volunteers' Responsibilities & Impact
As a volunteer/intern in IFRE's Dentistry Program, you will be working with local dentists and assistants, learning from them while helping patients. Daily activities may include:
Helping with lab work
Preparing for procedures
Assisting dental professionals
Learning about dental procedures
Cleaning and disinfecting procedure areas
Sterilizing instruments
Stocking materials
Assisting with office maintenance
Following up with patients
Learning how to perform diagnosis and treatment plans for patient cases
Working with case presentations
Reading and understanding radiographs
Learning types of numbering/notation for teeth
Practicing terms related to dentistry such as instrument names, tooth names, tooth surfaces, etc.
Reviewing daily care and procedures with patients
Making patients comfortable
Assisting with administrative tasks and office procedures
Educating children on good oral hygiene practices
By joining our Argentina dental volunteering program, you will gain valuable skills and experience working in the field. You'll also get the chance to visit an exciting new country and immerse yourself in a fascinating culture while giving back and helping others.
Skills and Qualifications:
This exciting informal Dental Volunteer Opportunities in Argentina- is designed for college students who are pursuing a career in dentistry. This is your chance to get some experience working hands-on in the field while traveling abroad! You should be a patient and kind person with a great degree of love and passion for disadvantaged children and people.
Volunteers must be at least 18 years old. Intermediate Spanish is required. If your Spanish skills are poor, we suggest enrolling in our Spanish Language program to get the most out of your experience, both for you and the patients you work with.
You must commit for a minimum of 20 hours per week in order to participate in our Argentina dental volunteer program. In addition, you mustrespect our host organizations and be caring, polite and responsible when working with patients.
Your time as a dental volunteer in Argentina will be greatly rewarding and each and every day will be filled with fun and novel experiences.
Your schedule will vary based on your project placement and what's going on when you arrive, but this sample daily schedule will give you a basic idea of what to expect.
First Day: On your first day of volunteering in Argentina, our in-country coordinator will bring you to your project. You'll meet the dentist and other dedicated staff you'll be working with, and then take an orientation class. During orientation, you'll learn all about your dental internship, your daily schedule, safety measures, and have a briefing on Argentinian customs and culture.
Weekdays: Your work starts properly on the second day, and atypical volunteer day will look something like this:
6.00 to 7.30 AM: You'll eat a delicious Argentinian breakfast to start your day off right.
7.45 AM: You'll travel to your volunteer placement at the scheduled time and get ready for an exciting and informative day of assisting in dental procedures and learning what it takes to be a dentist!
12.00 PM: You'll get a break for lunch, which is a great time to chat with any fellow volunteers or the local project staff.
3.00 PM: Around this time your volunteering will conclude, and you'll be free to explore Argentina or go back to your accommodation and relax.
Dental Volunteer Opportunities Abroad [Argentina]- Dates and Fees
Program Dates
IFRE programs begin every Monday year-round. If you have travel constraints, you can still start your chosen program on any day of the year.
Our Fees
Since 2006, IFRE has been the most trusted and respected volunteer abroad organization in the world, and also the most affordable. We're dedicated to providing the highest quality volunteer programs at the lowest fees, which make it possible for everyone, especially students, to volunteer internationally and make a positive impact in the lives of others.
We believe in 100% transparency. Rest assured, we never use middlemen. Your one-time registration fee of $299 covers our administrative costs. The low weekly fee is paid in the host country directly to your host family and project (via country coordinator), and includes housing, food, and minor expenses. IFRE is a non-profit organization, so your program fees are tax deductible.
Volunteer Program Fees (US$)
| Weeks | Medical (Hostel Shared Room/No meals) | Medical(Host Family Private Room/Half Food) |
| --- | --- | --- |
| 1 Week | $454 | $510 |
| 2 Weeks | $588 | $700 |
| 3 Weeks | $722 | $890 |
| 4 Weeks | $856 | $1,080 |
| 5 Weeks | $990 | $1,270 |
| 6 Weeks | $1,242 | $1,460 |
| 7 Weeks | $1,285 | $1,650 |
| 8 Weeks | $1,392 | $1,840 |
| 9 Weeks | $1,526 | $2,030 |
| 10 Weeks | $1,660 | $2,220 |
| 11 Weeks | $1,794 | $2,410 |
| 12 Weeks | $1,928 | $2,600 |
Comprehensive Travel Insurance $3.49/day »
How your fee is allocated?
Program Fees Cover:
Accommodation (host family)

Food (only breakfast and dinnery)

Program Orientation

In-country support

Personalized project

Pre-departure information

Certificate of completion

Fundraising ideas and letters

Discount for returning volunteers
Program Fees Exclude:
Visas

Airfare

Personal expenses on soft drinks and foods

Daily transportation

Airport return transfer
Accommodation and Meal
Whether you're staying in a comfortable hostel with fellow volunteers, or in a home away from home with one of our respectable host families, IFRE makes sure you are housed safely and comfortably on your Argentina volunteer trip. We offer three different options for meal plans, so you can select the one that is best for you.
Learn more about your Argentina accommodations and our flexible meal plans.
Free Time and Weekends Exploration
Whether you plan to Tango the night away, hike up a volcano, or go horseback riding, Argentina is chock-full of things to do in your free time. Since you won't be volunteering evenings or weekends, you'll have plenty of time to explore and enjoy this fascinating country.
Dental Volunteer Opportunities Abroad [Argentina]: FAQs
Before you rush off to board a plane for Argentina in your hurry to start your volunteer adventure, there are a few details we should go over, so that you're prepared. Take a look at the necessary info we're provided here, and if you still have questions, IFRE is happy to help provide the answers you need.
Arrival and departure
You will fly into Pajas Blancas International Airport for our Argentina dental volunteer program. Be sure to provide our in-country coordinator with your flight itinerary, and they will schedule for our local representative to pick you up from the airport. You'll find them waiting for you with a sign with your name on it, and they will escort you to your accommodations.
Following the completion of your volunteer project, you'll need to arrange and pay for your own departure transportation. Our local project staff will be happy to let you know how to book a taxi to the airport.
Dental Volunteer Opportunities Abroad [Argentina]- Visa
You will needto obtain a tourist visa from the embassy of Argentina prior to your departure from your home country in order to participate in our Argentina dental volunteer program. Most single-entry tourist visas last for about 90 days.
However, citizens of countries such as New Zealand, America, the UK, Australia and Canada can enter Argentina without obtaining a tourist visa and can get a visa stamp of 90 days upon arriving at the international airport in Argentina. Do some research ahead of time to learn the requirements for your home country.
You just need to pay a visit to the Immigration Office and fill out a visa extension form in order to extend their visa if they wish to stay on longer than originally planned. You can learn more about Argentina tourist visas here:
Vaccination
If you want to travel to Argentina then it is necessary to get vaccines for mumps and rubella (MMR), pneumonia, chickenpox, influenza, meningitis, polio, measles, typhoid, hepatitis B, hepatitis A, yellow fever, rabies, Tdap (tetanus, diphtheria and pertussis) and shingles.
We suggest consulting your local doctor before getting vaccinated for your Dental Volunteer Opportunities Abroad- Click here to get more information about these vaccinations.
For further readings:
Safety tips for your volunteer abroad trip
Additional/Important information you want to share about this Project?
This project is an ideal placement for a pre-dental or dental student with a good understanding of the Spanish language and a professional demeanor.
Why volunteer in ourdental program in Argentina?
Working as a dental volunteer in Argentina will let you make a difference for countless people while learning and gaining valuable experience in the process.
Improve dental hygiene among the less fortunate
Thousands of people in Argentina have no access to proper dental clinics and hospitals. You will see people with various dental problems in Argentina and help provide them the care they are in desperate need of.
Educate locals about dental health and hygiene
This is an impactful opportunity to educate local Argentineans and about dental health and hygiene which will help them avoid tooth aches and prevent tooth decay while they're still young.
Gain professional experience in dental health
IFRE's dental volunteer project in Argentina will help you gain professional experience and learn new things each and every day while interacting with patients and local dentists. You will gain valuable knowledge and skills you can use in your future career.
Unique chance to learn from local dentists and professionals
Participating in this project means you get the chance to meet and learn from local dentists who have years of experience handling countless cases. You will greatly benefit from their experience and learn a lot during this program.
Performing diagnosis and treating patients
Gain hands-on experience actually helping patients! While you will observe dentists at work, you will also have the chance to assist them in procedures and participate actively in diagnosing and treating the people of Argentina who need dental care.
Explore our other volunteer projects in Argentina!
In addition to our unique dental internship, we also have a variety of other amazing and impactful programs available in Argentina you might be interested in. You can
help with community development,
participate in youth outreach,
work with disabled children and much more.
If you are traveling with a group, we offer a variety of group programs for high school and college students and families.
Other Dental Volunteer Opportunities Abroad
Dental hygiene is an often-overlooked issue in many parts of the world. To help improve this and provide critical dental care to disadvantaged people, IFRE arranges dental volunteer programs in many different countries, and you can find some of our most popular of these projects in the list below: