Volunteering Argentina with Disabled Children
Do you want to lend a helping hand to disabled children? Would you like to travel to Argentina while giving back to this worthy cause? IFRE's safe and affordable volunteer program in Argentina is just what you need to make a difference!
Argentina is home to a wealth of contrasts from its vibrant, Tango-filled cities to the glacial peaks of the Andes and the mighty Iguazu Falls. An intense country with a wealth of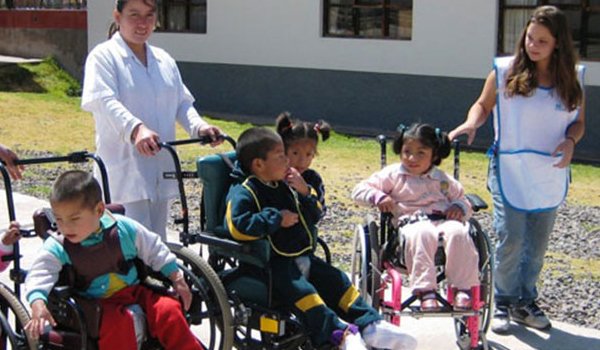 culture, history, and natural splendor, Argentina is the ideal location for your volunteer experience abroad.
As rich in wonder as Argentina may be, many of its people are poor and suffer from all the ills that come along with poverty. Disabled children from disadvantaged families face even greater struggles, and they desperately need the help of dedicated international volunteers like you!
IFRE partners with a number of local non-profits, municipalities, and schools for our Argentina disabled children volunteer program. When you join us, you will be placed in a buddy role and provide support, friendship, compassion and care to disabled children.
You will help these children in need have a better quality of life, providing them with the love, care and attention they need, and in turn they will touch your life and give you unforgettable memories that will stay with you for a lifetime.
Are you interested in providing much needed relief to disabled children? Then contact IFRE today to learn how you can touch the lives of these children in Argentina!
Skills and Qualifications:
Anyone who is committed to working with disabled children is welcome to join this meaningful and impactful Argentina volunteer program! You don't need any specific skills or qualifications to participate, but you will need to have patience, compassion, and have a deep love and passion for disabled children. Working with disabled children is extremely rewarding, but not without its challenges, so you should be prepared for this.
Volunteers must be at least 18 years old.Intermediate level Spanish is required. If you cannot speak more than basic Spanish, we suggest you enroll in our Spanish language course to make your stay more rewarding – both for you and for the children you are helping
Volunteer Responsibilities and Impact:
Volunteering with disabled children in Argentina will give you the chance to participate in a variety of activities which will make a real difference in the lives of the kids you are working with. Depending on your skills and interests and the current needs of the project daily activities may include:
Teaching basic English, health, math, science or other subjects
Providing daily care to children
Helping prepare and serve food for the children
Teaching children life skills such as gardening, painting, building, sewing, etc.
Leading extracurricular activities such as games, sports, art, music, dancing, etc.
Promoting fundraising activities
Assisting in administrative tasks
Helping plan events and excursions
Assisting families
Assisting medical staff
Your time at this Argentina volunteer project will have a tremendous impact on the disabled children you are helping and will give their families peace of mind knowing they are being well taken care of. You can feel amazing knowing you are providing a positive and enriching environment to children who truly need your help.
When volunteering with disabled children in Argentina, each and every day will be fun, exciting and present you with rewarding experiences.
IFRE works with a variety of non-profits, schools, and municipalities in the interest of supporting disabled children, so your daily schedule is going to vary and depend on the particular project placement you are assigned. Here is a sample daily schedule to give you an idea of what to expect.
First Day: On your first day of volunteering in Argentina, you will be escorted to your placement by a local coordinator and introduced to the passionate people you will be working with. You will have an orientation where you will learn all about your project, your daily schedule, safety measures you need to keep in mind, and the customs and culture of your host country.
Weekdays: You start working on the second day, and atypical volunteer day is as follows:
6.00 to 7.30 AM: Depending on your meal plan, you will be served a delicious Argentinian breakfast.
7.45 AM: You will leave home and travel to your placement, which you can expect to be about 25 minutes from your accommodation. Your work hours will vary depending on your placement, but you can expect to spend about 5 hours a day helping make a difference in the lives of disabled children.
12.00 PM: A break for a delicious and authentic lunch.
3.00 PM: Your volunteer work usually concludes at this time, so you are then free to sightsee, explore, or return to your accommodation to relax and connect with your fellow volunteers.
Volunteering Argentina with Disabled Children : Dates and Fees
Program Dates
IFRE programs begin every Monday year-round. If you have travel constraints, you can still start your chosen program on any day of the year.
Volunteering Argentina with Disabled Children Project is not available in December,January and February 2020
Our Fees
Since 2006, IFRE has been the most trusted and respected volunteer abroad organization in the world, and also the most affordable. We're dedicated to providing the highest quality volunteer programs at the lowest fees, which make it possible for everyone, especially students, to volunteer internationally and make a positive impact in the lives of others.
We believe in 100% transparency. Rest assured, we never use middlemen. Your one-time registration fee of $299 covers our administrative costs. The low weekly fee is paid in the host country directly to your host family and project (via country coordinator), and includes housing, food, and minor expenses. IFRE is a non-profit organization, so your program fees are tax deductible.
Volunteer Program Fees (US$)
| Weeks | Hostel Shared Room/ No Meals | Host Family Private Room/Half Food |
| --- | --- | --- |
| 1 Week | $404 | $460 |
| 2 Weeks | $488 | $600 |
| 3 Weeks | $572 | $740 |
| 4 Weeks | $656 | $880 |
| 5 Weeks | $740 | $1,020 |
| 6 Weeks | $824 | $1,160 |
| 7 Weeks | $908 | $1,300 |
| 8 Weeks | $992 | $1,440 |
| 9 Weeks | $1,076 | $1,580 |
| 10 Weeks | $1,160 | $1,720 |
| 11 Weeks | $1,244 | $1,860 |
| 12 Weeks | $1,328 | $2,000 |
Comprehensive Travel Insurance $3.49/day »
How your fee is allocated?.
Program Fees Cover:
Accommodation (volunteer house or host family)

Food (only breakfast and dinnery)

Program Orientation

In-country support

Personalized project

Pre-departure information

Certificate of completion

Fundraising ideas and letters

Discount for returning volunteers
Program Fees Exclude:
Visas

Airfare

Personal expenses on soft drinks and foods

Daily transportation

Airport return transfer
Accommodation and Meal
Our volunteers in Argentina will have safe and secure housing, and an option of three meal plans. You will stay in a hostel with fellow volunteers, or in the home of a selected and welcoming host family giving you plenty of cultural immersion and exchange.You will stay in a comfortable room with modern bathroom facilities.
Learn more about your accommodations and meals in Argentina.
For more readings:
Free Time and Weekends:
You will have every evening and weekend free to explore the beautiful city of Cordoba and the exciting surrounding areas. A wealth of cultural and natural attractions, Argentina has plenty to do to keep you busy and is the ideal destination for a unique volunteer abroad experience.
Discover more about how you can fill your free time in Argentina.
Safety and in Country Support
Your safety is our number one priority and we will be there for you every step of the way during your volunteer trip in Argentina. We go to great lengths to ensure you will have a safe, secure, and satisfying experience abroad, and you will have the guidance and support of our experienced and knowledgeable in-country staff who will be available to you at all times, day and night.
Get the lowdown on IFRE's safety measures and top-notch in-country staff.
Volunteering Argentina with Disabled Children: FAQs
IFRE takes care of all the details that go into planning and pulling off your unforgettable volunteer experience abroad. Here are some of those details you know about before traveling with us.
Arrival and Departure
You will have fly into Pajas Blancas International Airport for your disabled children Argentina volunteer program. Be sure to provide your in-country coordinator with your flight itinerary, and they will schedule for our local representative to pick you up from the airport. You'll find them waiting for you with a sign with your name on it, and they will escort you to your accommodations.
Following the completion of your volunteer project, you'll need to arrange and pay for your own departure transportation. Our local project staff will be happy to let you know how to book a taxi to the airport.
Visa
Anyone planning to work in our disabled children and teens volunteer project in Argentina must obtain a tourist visa from the embassy of Argentina prior to their departure from their home country. Most single-entry tourist visas last for about 90 days.
However, citizens of countries such as New Zealand, America, the UK, Australia and Canada can enter into Argentina without obtaining a tourist visa and can get a visa stamp of 90 days upon arriving at the international airport in Argentina. Do some research ahead of time to learn the requirements for your home country.
You simply need to pay a visit to the Immigration Office and fill out a visa extension form in order to extend your visa if you wish to stay on longer than originally planned. You can learn more about Argentina tourist visas here:
Vaccination
To volunteer in Argentina, vaccinations formeningitis, shingles, polio, influenza, measles, yellow fever, pneumonia, rabies, Tdap (tetanus, diphtheria and pertussis), typhoid, chickenpox, mumps and rubella (MMR), hepatitis B, and hepatitis A are necessary.
Don't forget to consult with your local doctor about your trip before taking these vaccinations for your volunteer trip to Argentina.
You can check out this website to learn in detail about these vaccinations.
For further readings:
Safety tips for your volunteer abroad trip
Any important information you want to share about this project?
An intermediate to advanced knowledge of Spanish is necessary for this unique project working with disabled children, particularly because even native Spanish speakers have problems understanding these children and young adults. You will need to be able to communicate with the kids you are working with in order to be able to effectively help them.
Why volunteer with disabled children in Argentina?
Volunteering with disabled children is an amazing and rewarding experience that will broaden your horizons and give you new perspective on life as you make a huge difference for these amazing kids.
Get the opportunity to support disabled people in need of extra care and attention.
Disabled people and children have greaterneeds than others, but rarely do they receive the quality of care and attention they rightfully deserve. This is especially true for disabled children from disadvantaged families.Thisproject allows you to provide that extra needed support to disabled children and teens and to really make a difference in their lives.
Assist local institutions in their struggle to look after disabled children.
There are many childcare institutions in Argentina that are currently struggling to take care of disabled children and teens and they desperately need the support of international volunteers like yourself. You can lend these institutions a helping hand by joining this impactful program.
Provide essential childcare to disabled children.
Taking part in this Argentina volunteer program means you get to share your love, passion and time with disabled children who might otherwise be deprived of a healthy childhood.
Create a safe and effective environment for children
Working with these disabled kids gives you the opportunity to create a safe and effective environment for their growth. They will flourish when they are in a safe space being offered kindness, patience, and compassion.
Teach and help disabled kids learn new skills
You can teach special education classes which are designed specifically to help disabled kids learn new skills, and help these special young people lead fuller and more enriching lives, even after you head back home.
Explore our other volunteer projects in Argentina!
In addition to our professional support project, we also have a variety of other amazing and impactful programs available in Argentina you might be interested in. You can
provide dental or medical care,
participate in youth outreach,
help with community development and much more.
If you are traveling with a group, we offer a variety of group programs for high school and college students and families
Other Volunteer Opportunities with Disabled Children
Disabled children are often overlooked in society and regularly do not receive the attention and care that they need and deserve. To help offer these things to children in need, IFRE arranges programs all across the world that you can take part in. See the list below for some of our most popular projects working with disabled kids: