Teaching English Project
>
>
>
Teaching English In Rural And Urban Schools In Ecuador
Teaching English In Rural And Urban Schools In Ecuador
Share the gift of education teaching English in Ecuador!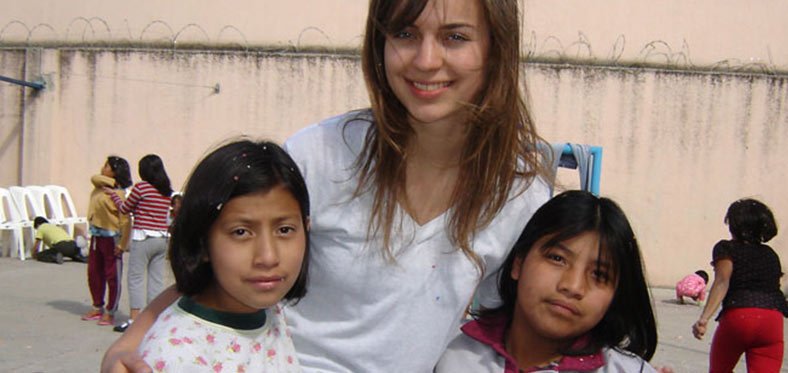 Volunteer in Ecuadorian Schools

Invest your time in young minds

Discover beautiful Ecuador

Volunteer abroad affordably & safely
Project Summary
There is a high demand for English education in Ecuador, yet proper English instructors can be costly and scarce. A solid fluency in English offers many elevated opportunities for Ecuadorians. In partnership with various local schools, IFRE strives to provide English education (primarily conversational English) in local schools. Volunteer teaching English projects in Ecuador are located in both rural and urban communities. Volunteers usually work as teachers in either private or public schools at either the elementary or the high school level – promoting and polishing Ecuadorian students' English-speaking skills. Share your love for education and knowledge today by signing up with IFRE Volunteers.
In July and August, the school will remain closed because of holidays. Volunteers during this period will work in rehabilitation program with disabled children aged 8-16.
Skills/Qualifications Needed
Beginner to intermediate knowledge of Spanish is preferred, but not required. If you cannot speak Spanish, we suggest you enroll in our Spanish language course to make your stay more rewarding – both for you and for the children you are helping. No specific qualifications are required to join the teaching English project in Ecuador. However, interested individuals should have a passion and desire to teach younger children (and occasionally teenagers) and be comfortable fulfilling the role of English-instructors and/or teachers' aides. All volunteers are encouraged to be flexible, patient and adaptive.
A dress code is required for all participants – no shorts or sleeveless shirts are to be worn and volunteers must maintain a presentable appearance (i.e. no excessive tattoos or piercings). Volunteers should be eager to teach and care for these children. Volunteers should have a basic understanding of the Spanish language in order to effectively work within these school-based projects.
Volunteers' Responsibilities
Volunteers in Ecuador's teaching English projects either teach or assist in the teaching of classes at various educational levels – kindergarten, elementary and high school. If experience or knowledge warrants, other areas of education may be taught, like Art, Physical Education, Mathematics or specialty classes like Music or Computer Skills. Volunteers' help is also needed with organizing of extracurricular activities as well enlightening the children regarding issues of sanitation and personal hygiene. Classes will usually be held Monday through Friday. Volunteers are encouraged to use a number of interactive methods to aide in the teaching of English, including: flash cards, singing songs, etc. We believe education in general is the key to enabling this South American country to rise from the dredges of poverty, so your volunteer contributions reach further than just the student you directly influence.
Room/Food/Supervision
IFRE manages living accommodations and food in Ecuador. Our project volunteers stay with carefully selected host families. All volunteers receive three (3) meals a day. Prepared meals are typical of the Ecuadorian diet. Occasionally, if volunteers are away from their host families during lunch, they may be required to pack their own 'to go' lunches, with food the host family provides. Your host family is responsible for preparing three meals for you each day. If traditional Ecuadorian fare doesn't appeal to you, you are welcome to buy your own food and prepare it yourself. The simple rule is to please not use the family's food for your own use. If you have other needs for food outside of these meals, you are able to purchase snacks and meals at local restaurants and grocery stores. You will be sharing the house, kitchen and bathrooms with the family members. You will have the ability to do your laundry in the house or the host family may offer to do it for you.
Host family residences are simple and clean. Generally, our Ecuadorian host families are respected members of their communities and they live in well-off neighborhoods. Most of our host families are experienced with hosting international volunteers. Rooms may be shared with another same gender volunteer. Bathrooms are shared with the family. Toilets are 'Western style', yet often there is not always hot running water. Throughout the volunteer project, our local staff stays in contact with volunteers with either face-to-face visits or via email/telephone. With longer placements, we visit our volunteers every 2 weeks (when possible) and volunteers are always welcome at the local office. If project placement is local, we request that volunteers stop by the office once a week to keep us posted on how they are doing with their home stay and project. If project placement is very far, then our local staff members maintain communication by either email and/or phone.
FAQ
Please provide a typical day schedule for this project.

Dependent on the school the volunteer is assigned to will affect their exact schedule; however, volunteers can expect to begin their day by enjoying breakfast with their host family. They will then take local transportation to their school where they will assist in Teaching English for several hours a day, Monday-Friday.

How far is the project from the homestay?

The homestay is about 30 minutes by bus from the school.

What is the name of the school where I would be placed?

We collaborate with several schools in Ecuador; volunteers receive their placement information following registration for the program.

What is the age range of the students in the school?

The students at the schools range from 6-12-years-old.

How many students are in the school?

There are about 200 students.

How many students are in each class?

Class sizes vary, but 26 students is common.

Will I be handling the classes on my own or will there be someone assisting me while teaching?

No, the official English teacher in the school will be working with you in the classroom.

Do they have a teaching curriculum?

Yes.

How many hours a day do I need to teach?

You will teach 2-3 classes per day, and each class will be about 45 minutes long.

Do I need to bring teaching materials? Or does the school have teaching materials that I can use?

The school has teaching materials but they always welcome personal or new materials from volunteers.

Is teaching available year-round? If not, when is the school open to volunteers?

Schools are closed August – October. The English Teaching volunteer program in Ecuador is open October- July.

Other relevant information:

You do not need to have official teaching credentials to volunteer as an English teacher in Ecuador. Depending on the particular volunteer opportunity you choose, you may be working with poor, disabled, or otherwise disadvantaged children and you'll have the chance to make a difference in their lives.