Volunteer in Galapagos Conservation Program, Ecuador
Have you always dreamed of going to the Galapagos Islands? How would you like to help conserve the delicate and unique ecosystem and help save threatened species while you're there? This project in the Galapagos allows you to do just that!
San Cristobal Island is one of the famed islands of the Galapagos chain visited by Charles Darwin that inspired his ground breaking research and theories on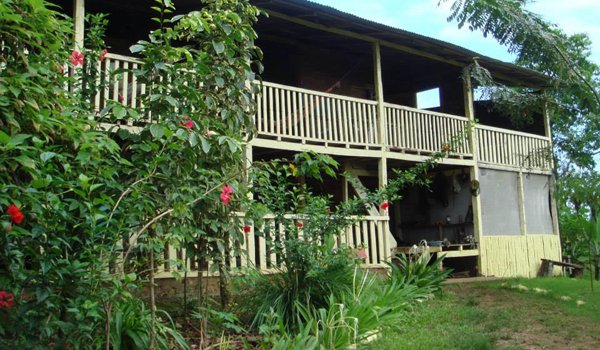 evolution. The island is home to truly unique species like giant tortoises, sea lions, marine iguanas, sea turtles, and a variety of rare and specialized bird species.
Human development of the island, including the construction of a port and an airport, has led to a destruction of the fragile habitats and an introduction of invasive species that threatens to disrupt the delicate balance of this singular ecosystem and puts the native species in danger of extinction. International volunteers in Ecuador are needed to help protect the Galapagos Islands!
Join IFRE'svolunteer conservation program in Galapagos, working in the areas of sustainable agriculture, the promotion of ethical, low-impact tourism, and work preserving and reforesting the natural environment. You'll help out with trail maintenance, collect and classify seeds, and help establish much needed biological corridors throughout the island.
Your time at this project will make your dream of visiting the Galapagos come true, and also have a huge impact on protecting and saving this natural wonder of the world.
Do you want to help save this natural treasure? Then contact IFRE today to learn more about volunteering in Ecuador's Galapagos Islands!
Volunteer Responsibilities & Impact
When you first arrive at the Ecuador Galapagos conservation volunteer program, you'll take a guided hike through the reserve and nearby areas and learn about the island's biodiversity, natural history and ecology. You can expect to volunteer a full workday Monday through Friday, and sometimes work a half day on Saturday. We encourage you to develop your own project to help support the conservation of the island, so get involved!
After joining the Galapagos volunteering project, you will work on both agricultural and habitat restoration projects. Local staff will take you on several destinations such as hikes to a nearby lagoon, native forests, beaches, and local villages and clarify the diverse eco-system of Galapagos. You will also have the opportunity to work on group research and monitoring projects.
Following are some of the major activities of the volunteers during Galapagos project:
Habitat restoration: removal of non-native/invasive vegetation
Reforestation/ Replantation with the natives: seed collection and classification, nursery work, maintenance of reforestation lines
Help preserve food production for the station through agroforestry and organic agricultural activities
Station maintenance
Personal project (You can build your own program or aidvaried conservation programs that are being built at the station at the time)
Sign explanation for trails
Trail maintenance
Basic construction activities
Support to clean fresh water supply
Help in kitchen
Observation of petrels: clearing the nests to help the entry of mother, bird's behavior observation
Phenology studies and flora inventories: observation and classification of native, endemic and invasive species.
Identify the native birds, endemic or invasive through observation of the birds at the reserve
Germination Project: Research to determine the most effective method for germination in vegetable production
Guided hikes to the entire reserve and/or neighboring areas (get knowledge about biodiversity, natural history, and ecology).
Sometimes, you are expected to contribute half days on Saturdays. The rest of the weekend, you can spend your time taking rest, reading, washing clothes, and/or roaming around Galapagos.
Your time on San Cristobal Island will be filled with memories that last a lifetime. It will be incredible to experience such uniquely adapted natural splendor, and even better to know you are helping protect and conserve it.
Skills and Qualifications:
Anyone who loves the earth and wants to visit and conserve the Galapagos Islands can join this exciting project. You don't need a background in conservation, but you will need a passion for the environment and a willingness to help wherever it is needed. The living conditions are basic, and the area is somewhat remote. You'll be without internet or a phone, so you'll need to be ready to connect with nature.
Visiting the Galapagos is something most people can only dream of, so this volunteer experience will be an amazing time filled with fun and exciting experiences.
When volunteering in Ecuador you should keep an open mind and not get too caught up in the idea of a fixed schedule. Your duties and hours will vary, but here's a sample schedule just to give you an idea.
First Day: On your first day our in-country coordinator will bring you to the project site and introduce you to the team of conservationists and volunteers you'll be working with. You'll have an orientation where you learn all about the project, your daily schedule, safety measures, and all about the history and biodiversity on the island.
Weekdays: Your conservation work begins on the second day, and atypical volunteer day is as follows:
7.00 to 7.30 AM: Share a breakfast with your fellow volunteers.
7.45 AM-12 PM: Your hours and duties will vary greatly. You might be working in the nursery, or putting up signs, so what you do from day to day will be quite different.
12.00 PM-1 PM: Share lunch with your fellow volunteers and discuss your passion for the Galapagos Islands!
3 PM: When volunteering is done for the day, you can explore the island and make the most of your time there!
Dates and Fees
Program Dates
IFRE programs begin every Monday year-round. If you have travel constraints, you can still start your chosen program on any day of the year.
Our Fees
Since 2006, IFRE has been the most trusted and respected volunteer abroad organization in the world, and also the most affordable. We're dedicated to providing the highest quality volunteer programs at the lowest fees, which make it possible for everyone, especially students, to volunteer internationally and make a positive impact in the lives of others.
We believe in 100% transparency. Rest assured, we never use middlemen. Your one-time registration fee of $299 covers our administrative costs. The low weekly fee is paid in the host country directly to your host family and project (via country coordinator), and includes housing, food, and minor expenses. IFRE is a non-profit organization, so your program fees are tax deductible.
Volunteer Program Fees (US$)
| Weeks | Galapagos |
| --- | --- |
| 1 Week | $575 |
| 2 Weeks | $1,030 |
| 3 Weeks | $1,485 |
| 4 Weeks | $1,940 |
| 5 Weeks | $2,395 |
| 6 Weeks | $2,850 |
| 7 Weeks | $3,305 |
| 8 Weeks | $3,760 |
| 9 Weeks | $4,215 |
| 10 Weeks | $4,670 |
| 11 Weeks | $5,125 |
| 12 Weeks | $5,580 |
Comprehensive Travel Insurance $3.49/day ( below 28 years) and $4.49/day ( above 28 years)
National Park Entrance Fee - USD 100
Airport Pick up and Drop - 60
Program Fees Cover:
Accommodation (host family)

Food (only breakfast and dinnery)

Program Orientation

In-country support

Personalized project

Pre-departure information

Certificate of completion

Fundraising ideas and letters

Discount for returning volunteers
Program Fees Exclude:
Visas

Airfare

Airfare Galapagos

Personal expenses on soft drinks and foods

Daily transportation

Airport return transfer

Food (if you are volunteering on the Galapagos Islands); Please allot $60-$70 a week to cover the cost of your meals
The volunteering programs in Ecuador fees will cover expenses that will begin on the first day of the program (usually the first or third Monday of the month) to the last day of the program. If you arrive before the first day of the program or you decide you stay beyond your program's last day, you will be responsible for the additional expenses, which would typically be around $30 a day for room and meals at a hostel
Accommodation and Meal
You will have the once-in-a-lifetime chance to stay on San Cristobal Island while volunteering in Ecuador. It is the eastern-most island and connected to mainland Ecuador via an airport and a port. The volunteer accommodations are composed of two houses constructed with bamboo and cement.
There are 11 rooms and resting areas and the kitchen and dining room are located in another building. The space can house up to 35 people, and you will find yourself in the company of researchers, guided natural history groups and other international volunteers just like you!
You will have three meals a day included in the Ecuador volunteer program fee. You will work under the guidance and support of the passionate project staff.
Learn more about your housing and food at IFRE's Ecuador Galapagos conservation project.
Free Time and Weekend Exploration
Things to Do Nearby
Besides of volunteering, there are ample things to do and places to visit nearby. You can expect to see red footed booby in San Cristobal if you are lucky. They are the rarest of the boobies. You may also see Chatham mockingbird Mimus Melantis, which can only be found on the island. Most of the beautiful places can be reached on foot from Puerto Baquerizo Moreno. This serene and spectacular island surely worth the visit.
Travel around and talk to the locals to understand them. Go past the 'Centro de Interpretacion' northeast into the scrub forest to observe where the frigates nest. You can enjoy a remarkable 35 minutes hike to the cliff areas of Cerro Tijeretas without a guide.
There is also a fine surfing area at the Playa Punta Carola. For swimmers, the waves can be daunting and big for swimmers. Therefore, we recommend our volunteers to spend time at Playa Mann (through Avenida Northia) or Playa de Oro. The waters here are calmer along with some of the finest beach hotels. Take a gentle 20 minutes' walk to La Loberia and witness sea lions, birds, tortoises and marine iguanas. Please consider staying on the path and try not to distract the wildlife!
Safety and in Country Support
Your safety is our number one priority here at IFRE, and we bring years of experience to the table and offer you a professional and well-managed volunteer experience in Ecuador. Our knowledgeable and passionate staff care just as much about conservation as you do, and they are there to support you every step of the way!
Read more about our dedication to safety and our great in-county support.
Details You Need to Know
Let IFRE take care of all the details of planning a great trip for you. We offer unparalleled guidance and are here to help. Here are some of the details you should know when traveling with us:
Arrival and departure
For our Galapagos Conservation volunteer program in Ecuador, you must fly into the San Cristobal Airport one day prior to the start date of your volunteer program. As soon as you book your flight, provide the details to our helpful in-country coordinator so they can set up your airport pick-up for you. Our local rep will be there waiting for you when you land holding a sign written with your name on it, and we'll get you safely and conveniently to your accommodations.
You'll be responsible for your own departure transportation. Just ask the local project staff for help setting up a taxi to the airport and they'll be happy to help.
Visa
You may or may not need to apply for a visa before heading off tovolunteer in Ecuador, and this depends on your nationality. Citizens of the USA, UK, Canada, or any European country except France can enter Ecuador without a tourist visa. Just having a passport with a validity of 6 months is enough to gain entry. If that doesn't apply to you, you'll need to apply by visiting the official embassy of Ecuador in your home country. Do your research ahead of time to find out the details for your own situation.
If you plan to stay longer than 90 days, you will have to apply for a visa extension and can do so for another 90 days. You'll need to visit the office of Immigration Department in Quito. If you need advice on this, feel free to reach out to the in-country coordinator.
You can check out this website to learn more about Ecuadorian tourist visa requirements and policies.
Vaccination
Getting vaccinated is a key step in protecting yourself while you travel abroad. Make an appointment with your doctor to discuss your trip and what vaccines you'll need.
In order to volunteer in Ecuador, you must first get vaccinated for yellow fever, hepatitis A, pneumonia, shingles, rabies, hepatitis B, mumps and rubella (MMR), Tdap (tetanus, diphtheria and pertussis), chickenpox, polio, meningitis, influenza, measles, and typhoid.
If you want to learn in detail about which vaccinations to take for a visit to Ecuador then check out this website
For further readings:
Safety tips for your volunteer abroad trip
Why volunteer in the Galapagos Ecuador conservation project?
Staying in the Galapagos is a truly once in a lifetime experience that most people can only dream of.
A unique conservation experience for you
This unique project is a great way to get away from the tourist trail and experience the natural beauty of Galapagos up close and personal. Follow in the footsteps of great thinkers like Charles Darwin!
Lend a hand in protecting the Galapagos environment
The biodiversity the Galapagos Islands is famous for is diminishing at an astonishing rate and a helping hand is needed to restore its lost glory. You can help!
Discover new environments
While taking part in our conservation volunteering project in Ecuador, you will encounter extremely unique environments and species that can be found nowhere else in the world.
Help save the species before it's too late
Join the fight to save the Galapagos' disappearing endemic species and push back the flood of invasive species.
It's a networking opportunity for you
Not only does Ecuador volunteer work provide the hands-on practical experience that employer's value, it is also an opportunity to meet people of all ages and backgrounds from all around the world and forge professional as well as personal connections.
Explore our other volunteer projects in Ecuador!
In addition to our Galapagos project, we also have a variety of other amazing and impactful volunteer programs available in Ecuador you might be interested in. You can
help with conservation in the Andes, and much more!
IF you are traveling with a group, we offer a variety of group programs for high school and college students and families.
Other Wildlife Volunteer Opportunities Worldwide
The planet's animals are under siege by increasing human activity all around the world, and IFRE aims to change this sad reality. We offer wildlife conservation programs in many different countries, and you can find the most popular of these in the list below:
Recommended Equipments List Clothing & Footwear:
Well-fitting rubber boots (knee high) are indispensable! Best to buy them here in Ecuador, brand name Venus, without the white lining ($5.00 to $10.00). However, you can only find up to size 44 (European; US size 10) in Ecuador.
Poncho or LIGHT rain jacket.
Shoes to walk and/or play sports in.
Sandals/flip flops
Fast drying clothes are recommended, however any old shirts and trousers/pants will be good to work in. Just make sure you bring some extra clothes.
4 or 5 long sleeve shirts with collars (all of which you should be prepared to throw away as the DEET spray will stain them) in light colors (dark blue or black attract mosquitoes)
10 white t-shirts (mostly long sleeve) to wear under your shirt or for breakfast, lunch and evenings
Long and short trousers that can get messy – again, avoid blue or black
Fleece or anything else warm for evenings
Swimwear
Face net for mosquitoes (especially through December to April) Toiletries & Medication: • BIODEGRADABLE soap & shampoo, tooth brush, tooth paste, etc.
First aid kit: hydrogen peroxide, bandaids, gauze, bandages, iodine, ibuprofen or paracetamol, topical antibiotic cream, anti-hystamine tablets, sports tape in case of twisted ankles, and any medications you already take.
Sunscreen
Sunhat/cap
LOTS OF insect repellent with high DEET content
Feminine hygiene products (if necessary)
Other necessary items
Light sleeping bag
Towels
BIODEGRADABLE laundry detergent
Sunhat or cap
Work gloves
Torch/flashlight/headlamp with enough spare batteries
Small daypack for hikes and work
Water bottle
Ziplock bags
Diary, writing pad, pencils & pens, etc.
Enough money for traveling expenses, mules, community visits, beer or coke, etc., (about $100 for a month, please bring many small $5 and $ 1 notes!).
Recommended, but not necessary, items: Binoculars (preferably waterproof), camera, books, playing cards, pocket knife, chocolate and/or energy bars, biscuits, sweets, snacks, etc