Nature Conservation Volunteer Nepal
Do you want to travel to Nepal and help save the planet? Are you ready to get your hands dirty and plant trees that will help fight back the effects of climate change and deforestation?
Nepal's natural wonders are sure to make you fall in love with this extraordinary country.Home to exotic wildlife, some found nowhere else in the world, you might get the chance to glimpse Asiatic elephants, one-horned rhinoceros, leopards, monkeys, Bengal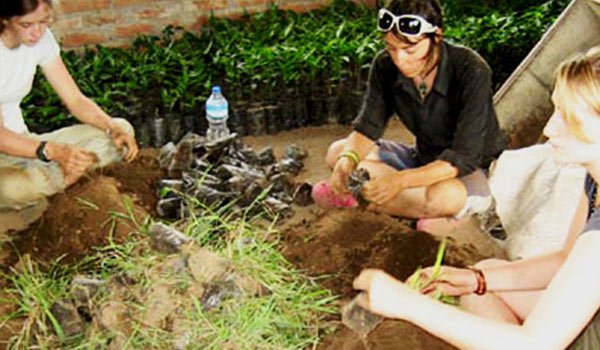 tigers, hyenas, jackals, wolves, sloth bears, crocodiles, freshwater dolphins, and even the elusive snow leopard.
Sadly, Nepal faces many environmental threats to its fragile ecosystems. Trees are cut down at an alarming rate for fuel, which leads to other problems such as flooding, desertification, and soil erosion.
You can help make a difference! Nature conservation volunteers in Nepal can help plant trees to fight back the threat of deforestation. Your efforts as a volunteer will give the people, plants, and animals who make their home in Nepal the chance for a better and brighter future.
Do you want to fight climate change and protect threatened ecosystems? Then contact IFRE today to join us in our fight to help save the planet!
Skills and Qualifications:
You do not need any specific skills, education or experience to volunteer in this nature conservation project.The most important qualification you will need to join ournature conservation project in Nepal is a dedication to conserving the environment.
Much of the work is quite physical, so you will need to be in good physical shape. An outgoing and determined spirit is helpful, and an ability to follow directions well.
Volunteers' Responsibilities & Impact
You will be helping raise indigenous tree seedlings in a nursery. You will do things like dig and prepare nursery beds, sow seeds, weed, trim, prune, water, collect seeds and do whatever is needed to help these trees grow big and strong.
You will then help distribute these native trees to villagers throughout Nepal. You will also help grow nutritious vegetables that will go to feed hungry orphans who otherwise would not have access to fresh, healthy produce.
As a nature conservation volunteer in Nepal, your impact will be huge! You will be helping new forests grow where they have been cut down and teaching the Nepali people how to turn back the damage that has been done to their beautiful country. Every seed you plant in the ground will become a seed of hope for a brighter future.
(IFRE also supports a small orphanage and school in Chitwan. Conservation volunteers can teach English or work in the orphanage in their free time. This can be arranged upon arrival in Nepal.)
Your days as a nature conservation volunteer in Nepal will be greatly rewarding and fun. Each day will bring with it new experiences and challenges that will keep you engaged and motivated.
When you become a Nepal nature conservation volunteer, you should expect a variable schedule and to get involved in a variety of activities. At this project, the work hours vary seasonally. Here are a couple of sample schedules to give you an idea of what to expect.
First Day: Our in-country coordinator will bring you to your project site and introduce you to the dedicated local project staff. You will undergo an orientation, and learn all about your service work, schedule, safety measures, and the customs and culture of Nepal.
November to February, you willwork 10am-5pm:
8.00am - Awake to breakfast and tea with your welcoming Nepali host family.
9.30am - Lunch –Enjoy a traditional meal of Nepali rice and connect with fellow Nepal nature conservation volunteers.
10.00am to 1.00pm –Spend your time working in the nursery, distributing seedlings, growing food for orphans, and more!
1.00pm – 2.00pm –Take a break from your hard work to enjoy Teatime.
2.00pm to 5.00pm –Return refreshed to your important conservation work.
March to October,Nepal conservation volunteers will work 7am to 10 am in the morning and 3pm-6pm in the afternoon
6.30am - Awake to breakfast and tea with your Nepali host family.
7.00am to 10.00am - Spendthe morning working hard to help save the planet!
10.30am –Return to your host family for a traditional Nepali lunch.
10.30 to 2.00pm –After you finish your lunch, you'll be free to relax until 2 pm.
2.00pm –Refuel with a refreshing tea &snacks with your host family before heading back to work.
3.00pm to 6.00pm –Dig your hands back into the soil and plant the seeds of change!
7.00pm –End your day with a lovely traditional Nepali dinner with your host family. Practice their language and see what it's really like to live in Nepal.
Program Dates and Fees
Our Fees
IFRE is the most trusted and respected volunteer abroad organization in the world, and also the most affordable. We're dedicated to providing the highest quality volunteer programs at the lowest fees, which make it possible for everyone, especially students, to travel internationally and make a positive impact in the lives of others.
We believe in 100% transparency. Rest assured, we never use middlemen. Your one-time registration fee of $299 covers our administrative costs. The low weekly program fee goes directlyto your host family, and includes housing, food, project donation and minor expenses. IFRE is a non-profit organization, so your program fees are tax deductible.
Program Dates
IFRE programs begin every Monday year-round. If you have travel constraints, you can still start your chosen program on any day of the year.
NepalNature Volunteer Project Fee (US$)
| Weeks | Nature Conservation |
| --- | --- |
| 1 Week | $150 |
| 2 Weeks | $270 |
| 3 Weeks | $390 |
| 4 Weeks | $510 |
| 5 Weeks | $630 |
| 6 Weeks | $750 |
| 7 Weeks | $870 |
| 8 Weeks | $990 |
| 9 Weeks | $1,110 |
| 10 Weeks | $1,230 |
| 11 Weeks | $1,350 |
| 12 Weeks | $1,470 |
Comprehensive Travel Insurance $3.49/day »
Language and Culture Program fee $250
Program Fees Cover:
Accommodation (host family)

Food (only breakfast and dinnery)

Program Orientation

In-country support

Personalized project

Pre-departure information

Certificate of completion

Fundraising ideas and letters

Discount for returning volunteers
Program Fees Exclude:
Visas

Airfare

Personal expenses on soft drinks and foods

Daily transportation

Airport return transfer
Accommodation and Meal
IFRE takes care of all your housing and meal needs while you are volunteering in conservation in Nepal. You'll be staying with one of our socially respected host families in their safe and comfortable home, an amazing chance to immerse yourself in Nepali culture. They will serve you three local meals a day and watch over you during your time abroad.
Learn more about your housing and food in Nepal.
For more readings:
What It's like to Stay with a Host Family
Free Time and Weekends:
You will be volunteering in Chitwan, Nepal, an exciting destination to get out and explore. Wildlife safari opportunities abound, and you can even check out a traditional indigenous village. Nepal is a traveler's dream, so get out and explore it during the evenings and weekends, which you'll have free.
Safety and In Country Support
Your safety while volunteering in nature conservation in Nepal is our biggest priority. We have a dedicated team of humanitarians who are right there in Nepal to offer you in-country support. We carefully plan every aspect of your trip, offer comprehensive insurance coverage, and go out of our way to make sure you have a secure and successful volunteer trip abroad.
Frequently Asked Questions: FAQs
IFRE has been helping volunteers take meaningful trips abroad since 2006. Every day we are asked questions by prospective volunteers, so we've compiled the most important information for you to know about this project right here.
Arrival and departure
You will fly into the Tribhuvan International Airport (TIA) for your Nepal nature conservation volunteer trip. IFRE has you covered as soon as you land, and we'll have a local representative waiting for you with a sign with your name on it. They'll take you safely to your destination, so you needn't worry about a thing.
When you finish up your volunteer program, you'll need to arrange a taxi to the airport. Just have a chat with the local project staff and they'll be happy to offer advice in this regard if you need it.
Visa
You will need a tourist visa to volunteer in Nepal nature conservation. If you haven't traveled internationally a lot, you might be a little nervous about getting a visa. Relax, because IFRE is here to make the process a breeze.
Depending up on your nationality, you may be able to obtain a tourist visa upon your arrival at the airport in Nepal. The lines can be quite long during peak tourist season, so we recommend applying for your visa ahead of time through your home country's consulate.
You will get a 90 days tourist visa and you can extend it by visiting the immigration offices located in Kathmandu. Before joining our program, we suggest you do your research ahead of time regarding what travelers need to do coming from your home country. Check out Nepal's immigration website to learn more.
Vaccination
Getting vaccinated is an important step in preparing to travel abroad. Make an appointment with a travel doctor and discuss your upcoming trip and get up to date on needed vaccines.
The main recommended vaccinations for visiting and volunteering in Nepal programs are Hepatitis A, Typhoid, and Meningitis. However, you may also need vaccinations against Hepatitis B, Japanese Encephalitis and Rabies depending on your project placement.
Please visit Centers for Disease Control and Prevention, Global Health Canada or Travelers' Health United Kingdom for more information.
For further readings:
Safety tips for your volunteer abroad trip
What is the name of the Project I will be placed in?
There is a conservation and ecological project as well as a vegetable garden located in Chitwan where volunteers will work. You will receive the final details of your placement after your application has been processed.
Will I be working in the project on my own, or will there be someone assisting me?
You will be working alongside anursery leader who develops schedules and projects for visiting volunteers.
How many hours a day do I need to work?
You can expect to work around 4-5 hours each day, Monday- Friday.If you are visiting the Nepal conservation volunteer project November-February, you willwork 10am- 5pm. March-October, you will work 7am-10am and 3pm-6pm.
Any important information you want to share about this project?
The project is physically demanding and requires volunteers who are physically fit and willing to work outdoors for long periods of time. It is recommended that youbring sun block, a hat and gloves.
Help save the planet!
The natural environment is in peril due to human destruction, but all hope is not lost! Plant the seeds of change at this exciting conservation project and do your part to help save the planet!
Gain experience in the conservation field
Are you pursuing a career in the field of nature conservation? Gain hands-on experience that makes a difference and looks great on your resume!
Connect with like-minded people
Your fellow Nepal conservation volunteers will be like-minded people from all over the world that are just as passionate as you are about helping the earth. Connect with them and make friends from around the world!
Grow as a person
Volunteering your time to a worthy cause is good for your soul. Giving back helps build character and makes you feel great knowing you are doing your part to make the world a better place.
Travel to exciting Nepal
Nepal is an exciting destination that attracts travelers from all over the world. From snow-capped mountains to steamy jungles, Nepal will take your breath away.
Other volunteer opportunities in Nepal
You want to volunteer in Nepal, but perhaps you're looking for something less physical? With IFRE you can work in an orphanage, teach English to Buddhist monks or disadvantaged children, work in the medical field, learn photojournalism and much more. Contact IFRE today for more information about these exciting opportunities!
Conservation volunteering in other countries
Ecosystems and biospheres across the world are sadly in danger. To help solve this problem and protect the planet, IFRE arranges conservation projects all over the world in many different countries.