Volunteers' Reviews
Ghana - Volunteers' Reviews
Hello!
I am having a wonderful experience so far in Ghana. The language and culture week prepared me a lot for the culture I was getting into, and was taught wonderfully. We went on a week long safari which was life changing and awe inspiring. Now, I have finally started my project. Thanks!
Sasha
Hi Swoyam,
"I spent approximately two weeks in Ghana with my son and two of his friends volunteering through IFRE at the Good Shepherd Orphanage in the Kasoa area just outside of Accra. Overall we had a very positive experience in Ghana and it was in large part due to the excellent staff at our home base in Kasoa. Franklin, his brother Wisdom, and the two housekeepers/chefs were always kind, generous with their time, and willing to assist us in any way.
I can't speak more highly of Franklin, who literally spends all his days and many of his nights trying to make the volunteer experience better for those coming to do service in his country. He is gracious, open to feedback, and very helpful. In preparation for the trip, I spent several months communicating with the U.S. IFRE staff and Franklin in Ghana. Both sides were essential in helping to coordinate all of the elements of our trip from the United States and ensuring that we had as much information as we could before leaving for Africa. No email went unanswered and I was able to relay information to the parents of the boys I was taking with us to Ghana. Once we arrived in Ghana, the IFRE staff was there at the airport ready to take us to home base in Kasoa. Home base is a well-maintained compound within walking distance of all needed services in the area and not too far from our actual project site at Good Shepherd. The structure is kept clean and safe by the staff and is very comfortable for the volunteers.
For those coming from the U.S. and other countries thinking they will be staying at a luxury hotel, they will be in for a surprise, but we didn't expect that nor was it part of the experience we wanted. Home base feels like a home for the volunteers and everyone we met there was very congenial and happy with the house. The food was prepared with skill and was in abundance. The diet is primarily starch-based, as is the case for much of the diet in the country, but the cooks were always happy to try something we suggested and there was always fresh fruit at meals and a salad. We had a good experience at our project because we made it so. It's important for volunteers to realize, and it should be communicated to them through IFRE, that volunteer projects don't always have the greatest amount of structure before the volunteer gets there. Some do and some don't – it varies. If volunteers can come with some ideas or discuss them beforehand, it would make for a better experience for all. I spent much time coordinating our days and what we would do, and it was a great experience for me as a project manager.
However, I'm an adult with lots of experience in such matters, and most of the volunteers are students without such a background. It would also be helpful, and Franklin and I discussed this, to let volunteers know there are a variety of places where they can work once in Ghana, and not just at their own site. This would make for a robust experience in many ways especially if a project is a little light on work. Americans and Europeans come with the idea that they will be putting in 12-14 hour work days as we do at home and this isn't often the case. Fortunately for us, we had a very receptive counterpart at Good Shepherd and were able to keep busy almost the entire time. And there were other options for us if we wanted to join other volunteers at their project sites. Most of them actually joined us at Good Shepherd for our activities. It's important for volunteers traveling to Africa for the first time to realize there are cultural differences and that flexibility is key. People will have a much better experience if they can go with the flow a bit more and not come with so many pre-conceived ideas about what will be happening.
As stated above, we had a great experience due to the combination of our attitudes, willingness to try many different things, and the excellent staff who assisted us in making Ghana such a great place to volunteer. We hope to return someday and will definitely recommend IFRE as an organization to volunteer through when going abroad. "
Thanks for everything,
Melissa Taustine
My trip to Ghana so far
Hello,
I just arrived to my location in Ghana to begin my 12 week long trip here working in an orphange. Just to update you, the organization has been incredible. Besides a very helpful orientation, Richard and Naomi have both been extremely helpful in getting me aquainted with the culture. I am having a great time and am looking forward to the rest of my time here!
Thanks for everything,
Melissa Taustine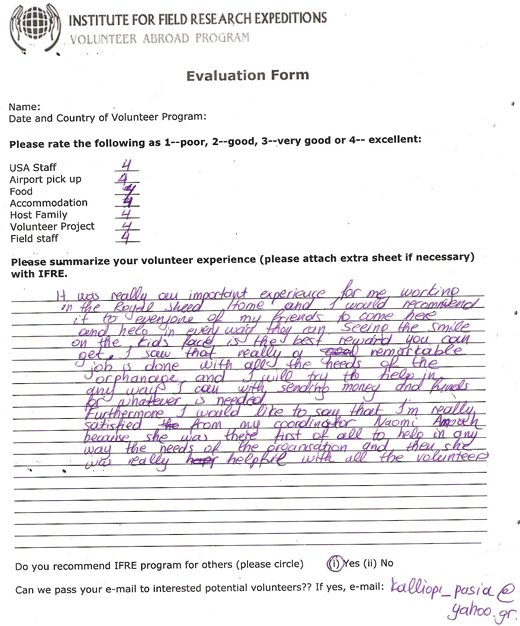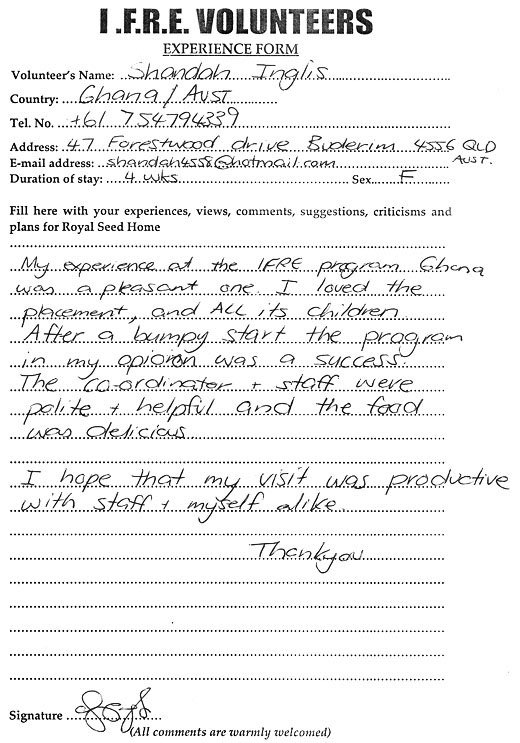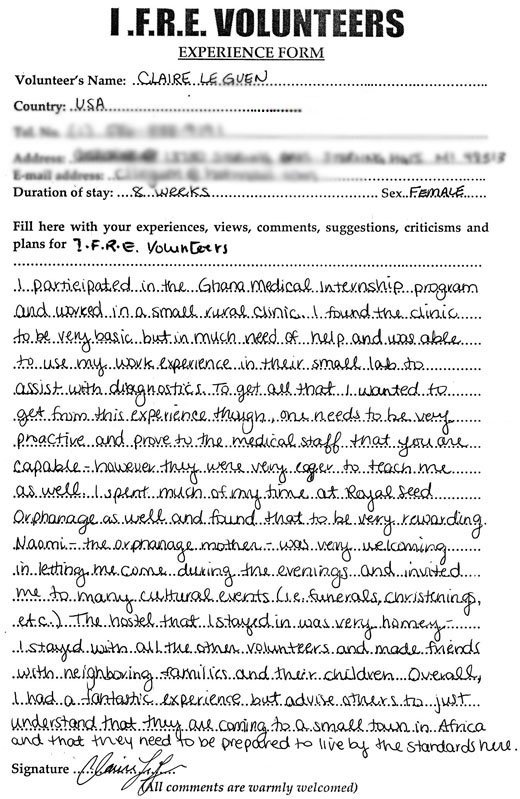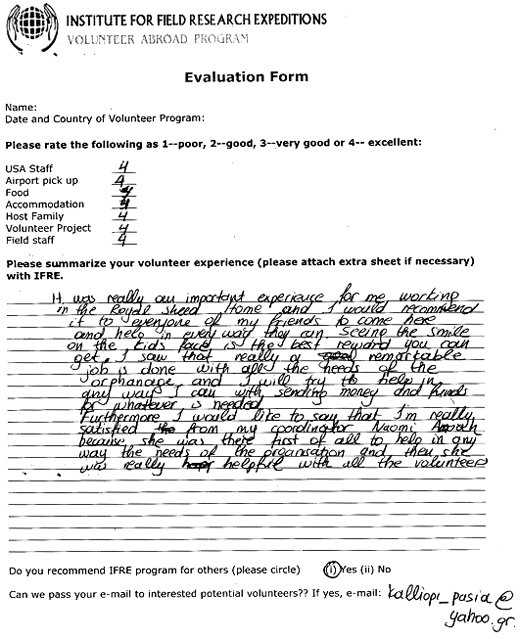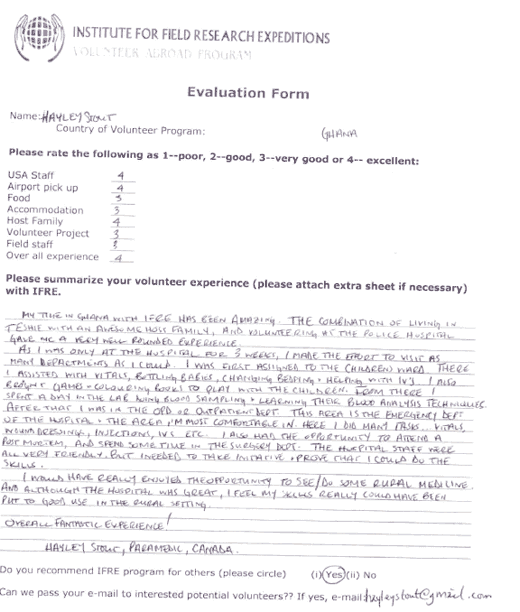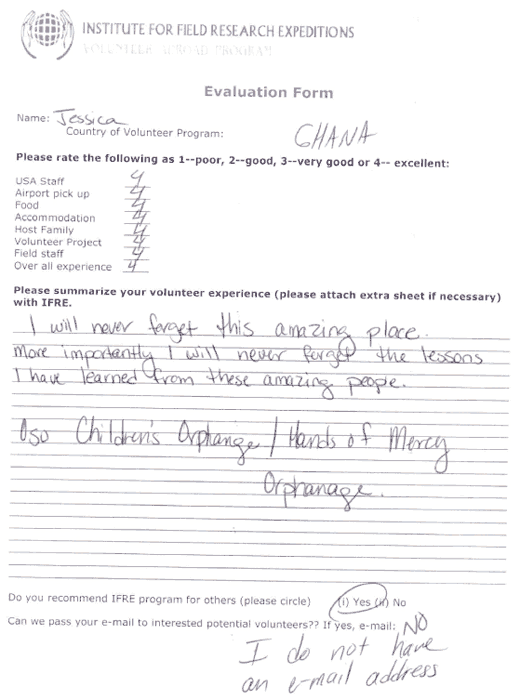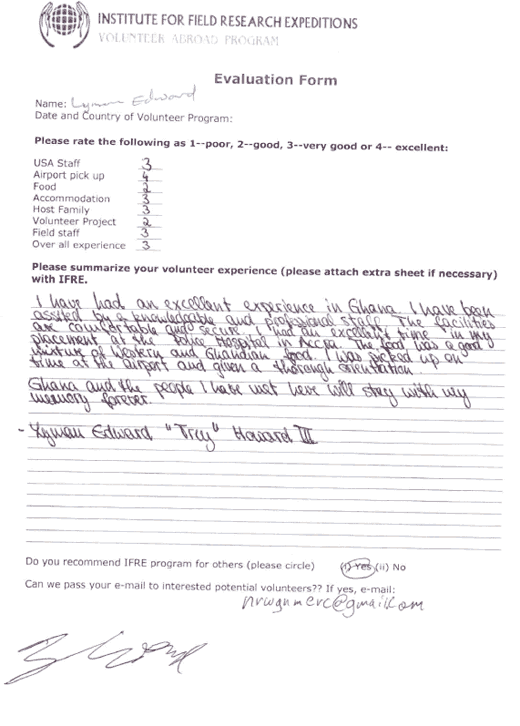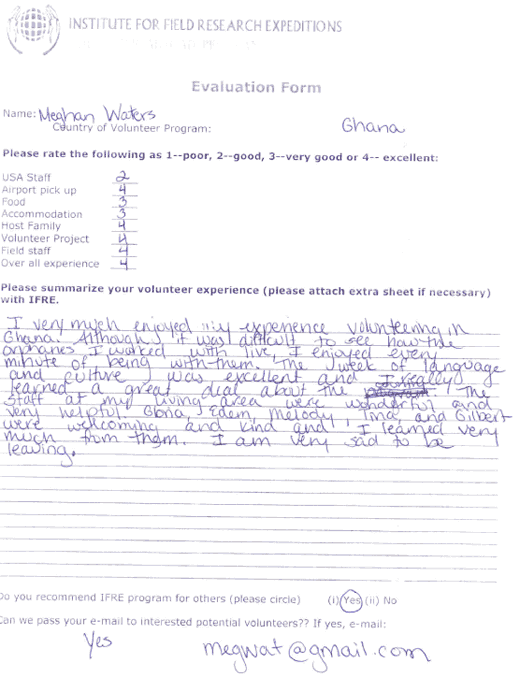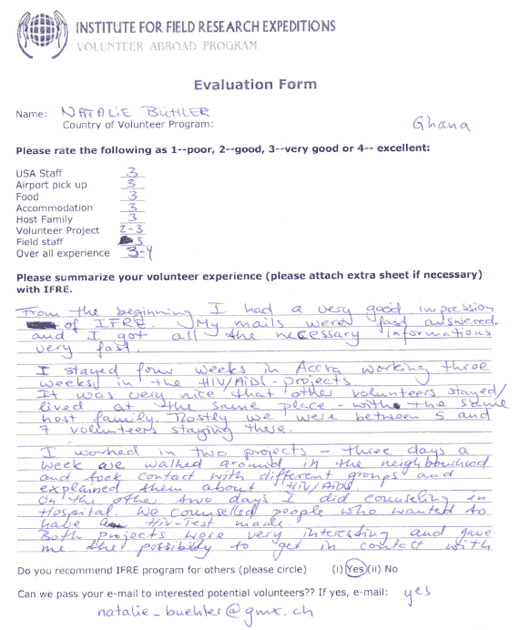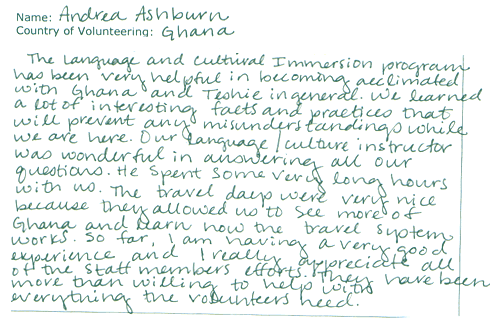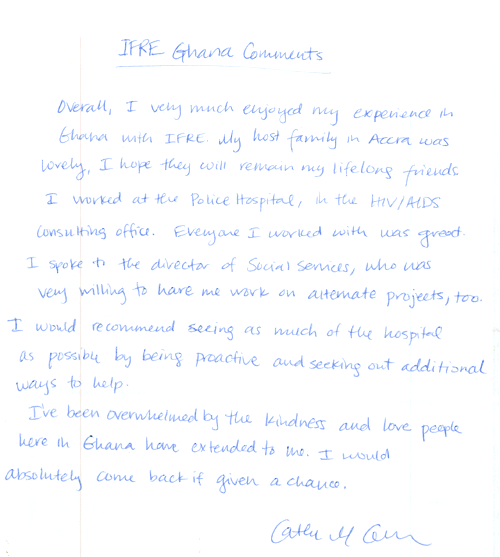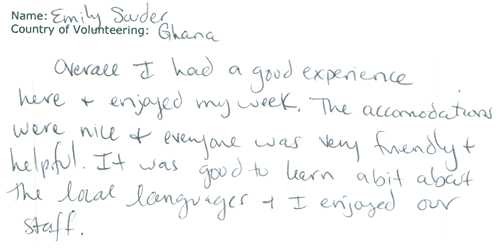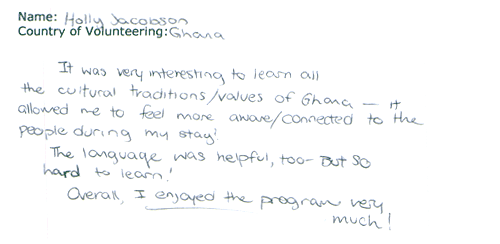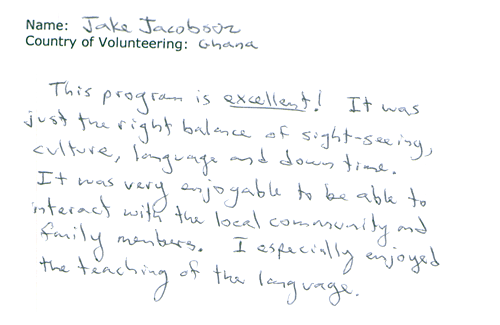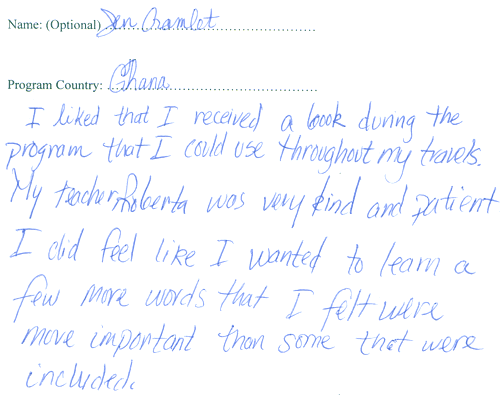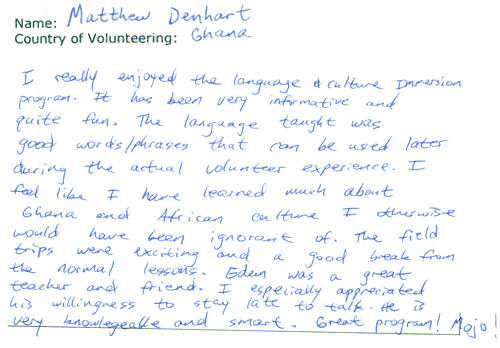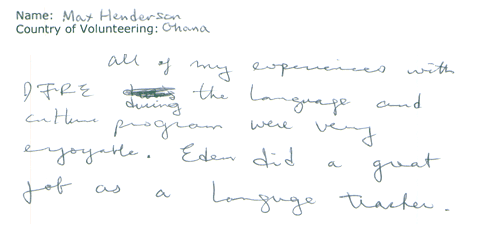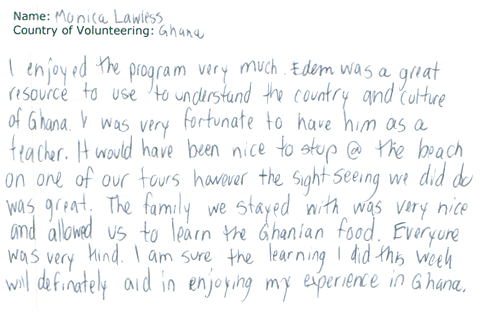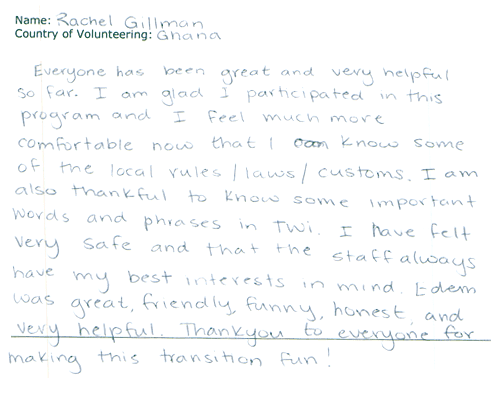 Finally back in the swing of things...
Phoebe and I had a great experience in Ghana. Since then we
have told many people about IFRE. I think a couple might have signed
up. One organization with which I am involved really supported the
trip. They sent us with donations for the orphanage and are going to
run a story about the trip in their news letter. This organization is
hosting a scholarship gala in November in DC. Will IFRE run an
advertisement in the program book? I think it will be an excellent way to
continue reaching potential volunteers. Please let me know as soon
as possible. Thank you.
-Lynette