Medical/Healthcare Projects
Medical/Healthcare Projects
Explore Ghana while experiencing the medical industry.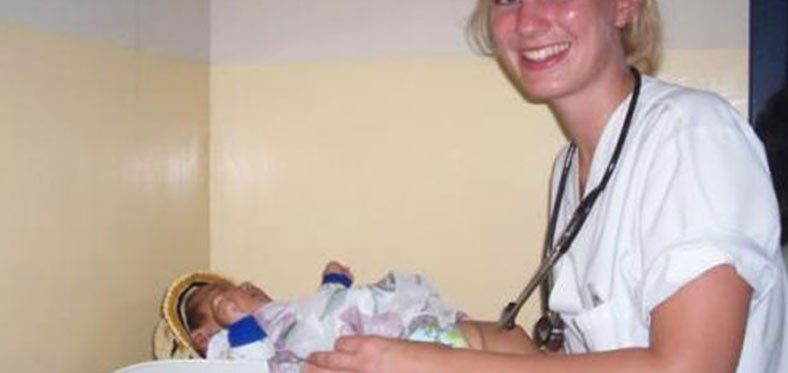 Immerse yourself in the healthcare industry of a different country

Work alongside Ghanaian medical professionals

Assist in making a difference in patients' lives

Volunteer abroad affordably & safely
Project Summary
IFRE's Ghana Volunteer Health projects aim to increase access to basic healthcare for rural people, decrease the prevalence of endemic disease and improve overall village health by providing public health projects and promoting health education in the villages. Volunteers will assist the local nurses at the District Hospital with all aspects of clinical nursing and act as a primary health worker with the community nurses. Volunteer duties may include working in the consultation rooms, medicine dispensary or operating theatre (operating room). Duties consist of helping with physical therapy, treatment of minor injuries, maternal assistance and childcare. Other occasional tasks may be assisting midwives on home-visits, verifying or recording patient's personal/medical information.
Skills/Qualifications Needed
Volunteers interested in joining our volunteer healthcare program do not need previous healthcare experience or education. Our programs are designed to accommodate volunteers of a variety of backgrounds. Whether you are a student, professional, or retiree, there is a vital role within our healthcare program for you.
Volunteer Responsibilities
A volunteer's role can range from observational to basic assistance, dependent on education, skills, experience and qualifications and also on the community's current needs. Volunteers are not permitted to perform major exams or surgeries. You will work with a doctor or nurse, spending time in various departments of a busy hospital. Departments you might support include Gynecology, Neurology, Orthopedics, Obstetrics, Pediatrics and Surgery. Volunteers may change bandages, take blood pressure and contribute to education efforts regarding about basic disease prevention. An important element to these volunteer placements in Ghana is learning about and being comfortable with a different culture's healthcare practices.
Room/Food/Supervision
IFRE manages living accommodations, provides meals and supervision for volunteers for the entirety of their stay in Ghana. We offer a "home base" in Ghana. Our home base is about an hour drive from Accra. We try to create a "home away from home" for volunteers staying at our home base. It is a perfect situation for volunteers to live safely and comfortably while making many new friends and sharing experience every day. Most of volunteers project in Ghana are located within 1-20 KM of our home base so you may walk or ride a local bus to your project. In the evening when you return to home base, you can relax, eat dinner, explore local areas or simply share experience with volunteer comrades.
Occasionally if a project is located far from the IFRE home base or when our home base is fully occupied with volunteers, we will place volunteers with host families. Our host families are carefully screened, socially respected and experienced with hosting international volunteers. Wherever you stay, your accommodation with IFRE is safe, clean and comfortable. In most cases, you will share a room with volunteers (of same gender). In Ghana, our field staff is an experienced team comprising of country coordinators, assistant coordinators, managers, cooks and field assistants. Our field staff visits volunteers regularly and always happy to help our volunteers in any way needed. We offer 3 meals a day of local cuisine. Typically, volunteers eat breakfast and dinner at the home base (or host family) and have lunch at their project. We offer fresh, nutritious and safe local foods to our volunteers to eat. We also work extremely hard to maintain our facilities in a positive condition.
FAQ
Please provide a typical day schedule for the healthcare project.

Our Healthcare Project volunteers in Ghana generally work from 8am-3pm daily.

What kind of activities volunteers do in healthcare project in Ghana?

Daily activities for healthcare volunteers will include:

Weighing patients
Taking temperatures
Taking bio-data
Preparing patients to see the doctor
Assist in taking blood samples at the laboratory
Assist the doctor in the consulting room
Helping in the labor ward/delivery room

Where are they placed; in clinic or hospital?

For those who want hands on experience in the medical field, we will place them with the clinics where they are able to get a lot of experience. Placement at the hospital will only be for observation and volunteers will not be able to utilize the skills they observe while in Ghana.

What are the requirements to join the program?

Volunteers with a medical background or those preparing to attend medical school are preferred but there is also the room for others who do not have any medical background. Those without a medical background will only be allowed assignments in the clinics and the hospitals.

Do we get hands on experience at this project?

Volunteers will receive hands-on experience from the clinics, which serve over 100 villagers per day. You will also help in the Delivery room/labor ward of the clinics. No hands on experiences are guaranteed at the hospitals. It also depends on the level of your experience/expertize.

What kind of support do we get during the project time?

You will be supported by nurses and doctors who are at the project, your country coordinator will also be readily available to assist you.

How many hours a day do we need to work?

Volunteers generally work a minimum of 6 hours a day.

Is healthcare available all-round the year? When will it close for how long?

Yes, the volunteer healthcare placement in Ghana is available year-round.

Any important information you want to share about this project.

Ghana still uses primitive methods of medicine; many of the complex machines and modern devices available in Western culture are not available in Ghana. Volunteers must readily adapt to the methods available and willing to learn from the nurses how they are able to save lives without machines.
Learn more about Ghana programs