Childcare Project
>
>
>
Childcare/Child Development (Ayutthaya)
Childcare/Child Development (Ayutthaya)
Assist with providing much-needed childcare in Thailand!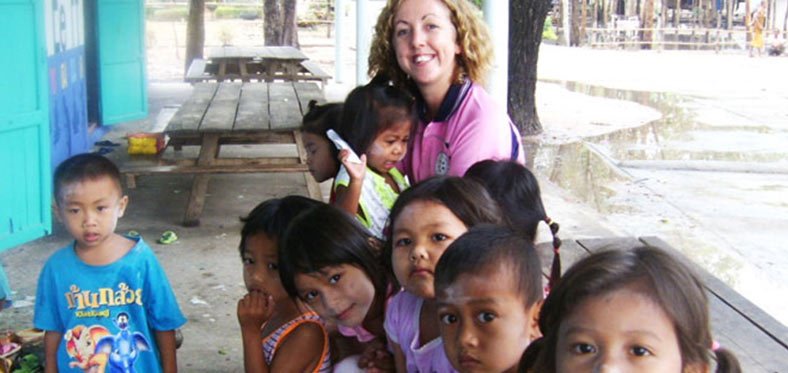 Educate and encourage young minds of Thailand

Provide support to local child development staff

Immerse yourself in the culture and people of Thailand

Volunteer abroad safely & affordably
Project Summary
Volunteer with poor and deprived children in Thailand and help poor farmers, factory workers and other low-income people in Thailand who cannot pay for often-expensive childcare services. Local government and Buddhist temples have established childcare centers to support children between the ages of 2-6, especially for children of poorer families. Most of these childcare centers are located near or within the compounds/confines of a local school or temple with the purpose of providing educational as well as recreational opportunities for these young children. The parents usually drop the children at the respective childcare center prior to work and retrieve them at the end of the workday.
Skills/Qualifications Needed
There are no specific qualifications needed to volunteer in the childcare/child development program in Thailand. However, volunteers are expected to be flexible and patient as well as possess a passion and love for children.
Volunteer Responsibilities
As a volunteer in the Childcare/Child Development Project, volunteers work with schools, temples and nonprofit organizations 4-5 hours per day, Monday through Friday. Depending on individual skills and interests and the needs of the local teachers and staff, daily activities may include:
Teaching basic English, health, math, science or other subjects
Teaching computer lessons
Providing daily care to children
Teaching children life skills such as gardening, business skills, painting, building, sewing, etc
Leading extracurricular activities such as games, sports, art, music, dancing, etc
Helping to ensure the children are healthy
Providing love and attention
Watching over the children
Making children laugh
Teaching children about the world
Promoting fundraising activities
Assisting local administrations
Helping plan events and excursions
Assisting families
Room/Food/Supervision
IFRE manages living accommodations, provides meals and supervision for volunteers for the entirety of their stay in Thailand. IFRE's Thailand office is located in a beautiful area about 50 km from the Suvarnabhumi International Airport in Ayutthaya City – the former capital of Thailand. We offer home base in Thailand. Our Home base is very safe. It is a clean, sparsely furnished home but will meet all your needs as an IFRE volunteer. We try to create a "home away from home" for volunteers staying at our home base. It is a perfect situation for volunteers to live safely and comfortably while making many new friends and sharing experience every day. Most of volunteers project in Thailand are located within 1-10 KM of our home base so you may walk or ride a local bus to your project. In the evening when you return to home base, you can relax, eat dinner, explore local areas or simply share experience with volunteer comrades.
Occasionally, depending on volunteer traffic, available projects or distance to a volunteer's assigned project, we may also place our volunteers with carefully pre-screened host families. Our host families are socially respected and are experienced with hosting international volunteers. They have strong interest in our volunteers' safety and well being and demonstrate this with caution and care. In most host family situations, volunteers will share a room with another volunteer of the same gender. Volunteers staying with a host family will be able to have home cooked meals with the family. Those who have stayed with a host family describe an enriched experience as a result of having done so. Once you have applied, you will receive specific details of your accommodations in your personal placement documents.
Our field staff visits volunteers regularly and always happy to help our volunteers in any way needed. We offer 3 meals a day of local cuisine. Typically, volunteers eat breakfast and dinner at the home base (or host family) and have lunch at their project. We offer fresh, nutritious and safe local foods to our volunteers to eat.
FAQ
Please provide a typical day schedule

Days are typically 9:00 – 3:00 but may vary depending on the center's schedule. Monday to Friday, you will take a short walk from your accommodations to the childcare center. During the mornings 09:00 – 11:30 you will work directly with the children. At lunch time (11:30 – 12:30) you'll assist with serving the children food. Lunch will then be provided for you at the center. In the afternoons (12:00 – 3:00) the children take a nap. During this time our coordinators will support you with the renovation of the center's facilities or working on small community projects around the village. Full details are provided during orientation.

How far is the project from the accommodation? How do I commute daily?

You will volunteer at a rural village childcare center outside of Surin city. You will be picked up by Song Taew (Typical Thailand public transport – pickup trucks with covered seating) All drivers are licensed and vehicles carefully vetted before use. The journey to the childcare center will take approximately 20-30minutes.

Could you please send me the contact details of the host family and the project?

We will provide you the detail of host family, project, and coordinator once you apply to the program

How many children are in the disadvantaged children project and what are their ages?

The center supports approximately 50 children aged 2 to 5 years of age.

What are the day to day activities at disadvantaged children project? What I actually do?

You will help familiarize the children with English language and may be expected to spend a short time each day teaching alphabet, numbers and simple vocabulary to the children. To have the most rewarding experience, it is helpful to spend a little time preparing. Volunteers are encouraged to be creative and have fun planning additional activities such as arts and crafts as well as songs and games. Your Coordinator will help you liaise with childcare staff to structure your activities as well as provide translation. Other duties include preparing and serving the children's food. You are also responsible for helping to keep the center clean and safe.

You will be provided a traditional Thai Style lunch every day while at the project (Monday—Friday).

At 12:30 the children will settle for their afternoon nap.

For the remainder of the afternoon until 3:00, our coordinators will ask your assistance on micro-development projects either at the center or around the local area. Past examples include renovating / redecorating classrooms, repairing playground equipment, maintaining the gardens and joining in with community events and festivals.

Your coordinators are available to assist you in any way they can. No previous experience or skills are necessary and training is provided on site.

The program focuses on cultural immersion and facilitates learning experiences for our volunteers. We remind you that the program is not about intervention and suggest that a flexible attitude is key to having the most rewarding experience

How many hours a day do we work in the disadvantaged children project?

Typical project hours are 9:00 am to 3:00 pm. The mornings 9:00 am – 11:30 am, are spent working with the children directly. During the afternoon the children will nap so you will have the opportunity to join in with the micro-development work to renovate the center or assist with general duties.

Is disadvantaged children project available all-round the year?

The childcare center follows the Thailand School year. The Center will be CLOSED during October and during April and May.

Please note that over the Christmas and December/January New Year period our local teams will be on annual leave and projects will be closed for 1 week.

If you are wishing to volunteer during this time please make an enquiry to confirm that the project will be available

Any important information you want to share about this project.

Working with children is great fun and extremely worthwhile. The center provides childcare enabling parents and family members to work during the day.

Your involvement with the program offers increased resources for the center for renovation and expansion of facilities. You will also give valued support to the local Thai professionals and the children in their care. The program aims to provide awareness and understanding of the local community and provides opportunity for cultural exchange.

You will experience the traditional way of life in a Thai village. You will have fun helping at the childcare center and will contribute further with micro-development and renovation projects.