Work in an Orphanage
>
>
>
Work in an Orphanage
Work in an Orphanage
Discover an awarding adventure volunteering with Orphans in Ghana!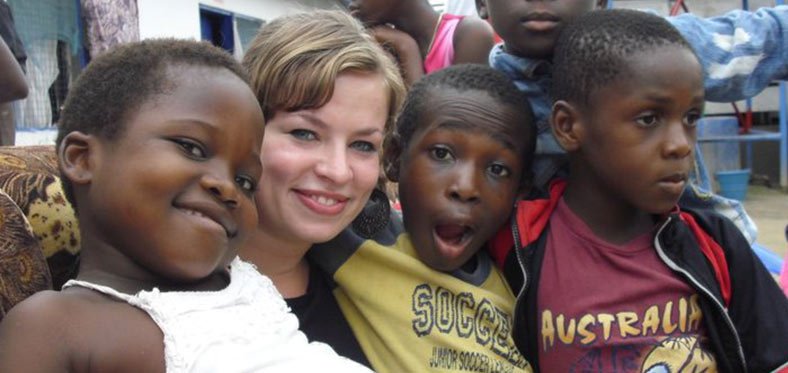 Provide love, compassion and support to abandoned children

Assist in effectively running an orphanage

Give back in Ghana and explore a new culture

Volunteer abroad safely & affordably
Project Summary
Extreme poverty, the growing challenges of HIV/AIDS and other different social problems leave many orphans in Ghana. These lovely children are in urgent need of adult help and support. In Ghana, IFRE partners launched an orphanage and street children program to shelter these orphans. The project offers room/food, education, encouragement and support. Unfortunately, many Ghana orphanage projects are without strong financial support, under staffed and face additional hurdles with trying to effectively run their programs. Help is needed with every task: cooking and serving food to the children, assisting with their basic education and physical fitness (sports) and there is an immense need for English lessons, but the most important thing you offer these poor children is love and attention that they so desperately crave. Resources for orphans are spread thin. Orphanage workers in Ghana do their best, but manpower is low and it is the face to face contact that this children desperately need. Love and support that comes from volunteers working with orphans in Ghana are priceless! Many volunteers joining orphanage Ghana program as life changing and rewarding. This is the perfect project if you want to serve humanity or share your love, passion and time with children deprived of their parents love and care.
Skills/Qualifications Needed
There is no specific qualification needed to join the orphanage volunteer project. However, volunteers must be flexible and patient. You should have passion and love for orphaned children.
Volunteer Responsibilities
Volunteers working in Ghanaian orphanages generally show support by teaching English to children either in the orphanage or possibly in a local school. Volunteers are also welcome to teach other subjects like math, science etc. The orphanage requires extra pairs of hands to help with the day-to-day running of the project, so you will be expected to assist with cleaning, cooking and serving food to the children. You also help with organizing Physical Education/Sports lessons. You may also be required to assist the staff with counseling the children. The job responsibilities of orphanage volunteers in Ghana depend on the need of the orphanage as well as the skills and interests of the volunteers.
In the orphanages where the children attend a school, daytime activities for volunteers may include: administrative work and helping with cleaning, cooking, gardening and physical maintenance. Evenings are fun times as you organize games, art activities, singing, dancing and other creative education and extra-curricular activities. You will be there to help with homework and encourage their academic progress.
Room/Food/Supervision
IFRE manages living accommodations, provides meals and supervision for volunteers for the entirety of their stay in Ghana. We offer a "home base" in Ghana. Our home base is about an hour drive from Accra. We try to create a "home away from home" for volunteers staying at our home base. It is a perfect situation for volunteers to live safely and comfortably while making many new friends and sharing experience every day. Most of volunteers project in Ghana are located within 1-20 KM of our home base so you may walk or ride a local bus to your project. In the evening when you return to home base, you can relax, eat dinner, explore local areas or simply share experience with volunteer comrades.
Occasionally if a project is located far from the IFRE home base or when our home base is fully occupied with volunteers, we will place volunteers with host families. Our host families are carefully screened, socially respected and experienced with hosting international volunteers. Wherever you stay, your accommodation with IFRE is safe, clean and comfortable. In most cases, you will share a room with volunteers (of same gender). In Ghana, our field staff is an experienced team comprising of country coordinators, assistant coordinators, managers, cooks and field assistants. Our field staff visits volunteers regularly and always happy to help our volunteers in any way needed. We offer 3 meals a day of local cuisine. Typically, volunteers eat breakfast and dinner at the home base (or host family) and have lunch at their project. We offer fresh, nutritious and safe local foods to our volunteers to eat. We also work extremely hard to maintain our facilities in a positive condition.
FAQ
Please provide a typical day schedule for the orphanage project.

Education is a prominent aspect of working with orphanages in Ghana; therefore, volunteer working in orphanage project will also join school (teaching) during the week from 8:00 am – 3:00 pm.

The typical school day is:

7:00am

–

breakfast, make kids ready for school

08.00am

–

School Begins

10.00am

–

Break

10.30am

–

12.00pm Studies Continue

12.00pm

–

01.00pm- Lunch Beak

01.00pm

–

03.00pm Studies Continue

03.00pm

–

Children are dismissed

0.40 PM

–

return to orphanage- you can do variety of job

How far is the project from the accommodation? How do I commute daily?

Depending on which orphanage you are placed in, your daily commute will be 10-30 minutes by way of a tro-tro which the public transportation in Ghana.

Could you please send me the contact details of the home base and the project?

All contact information for your coordinator and placement will be provided to you once you have completed registration for the program.

How many children are in the orphanage and what are their ages?

The smallest orphanage we work with has 17 children, ages 4-15, while the largest orphanage has 90 children between the ages of 0-21.

What are the day-to-day activities in the orphanage project in Ghana? What will I actually do? What does daily life look like in orphanage?

Your day-to-day activities will, amongst other things, include helping the children with their studies, playing with them during studies break, organizing a sport or activity to engage the children, nursing a child that may not be feeling well, helping in the kitchen and any other duty that may be available. In our Ghana orphanage program volunteers are only given what they feel comfortable doing.

How many hours a day do we work in the orphanage?

Volunteers generally work a minimum of 7 hours per day, however they are welcome to work additional hours if they choose.

Is orphanage available all-round the year? When will it close for how long?

Orphanage placements in Ghana are available year-round, however the most work for volunteers is available while school is in session: January –April, May-July, September-December.

Any important information you want to share about this project.

Most orphanages in Ghana are not very organized. Volunteers must therefore be proactive and willing to take initiative while working with the orphanages in Ghana. Volunteers must be willing to try new things; we are continually working toward developing organization that future volunteers can follow.
could not connect