Teaching Project
>
>
>
Teaching In South Africa Project (Cape Town)
Teaching In South Africa Project (Cape Town)
Share the English Language with the people of South Africa!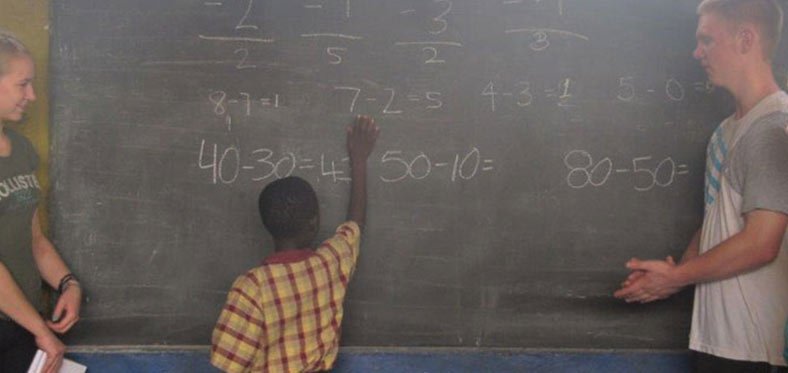 Volunteer teaching English and educate young minds

Gain real world teaching experience working in South African schools

Develop an engaging curriculum for students

Volunteer abroad safely & affordably
Project Summary
Travel to the stunning Cape Town, South Africa to experience the sights and sounds of the beautiful city while helping children gain a better education.
Children in Cape Town are not receiving the education they deserve because of the lack of adequate facilities and the overcrowding of classes. Some classes have 40+ students, with unmotivated teachers. These teachers are in need of help from volunteers to make the class sizes smaller and develop curriculum that both engages and teaches the children in such a way they enjoy learning while receiving the quality education they deserve. Without recreational activities for the students to engage themselves in, such as art, music, or sports, school has become a place void of fun. Volunteers will also help the students with forming recreational activities for them to participate in such as sports games, art, or music.
Volunteers will work in the Kindergarten/Pre-school/Crèche schools, Primary schools, or Secondary schools based on their preference.
Skills/Qualifications Needed
No prior teaching experience is required although we do ask you have a love and passion for working with children, as you will be engaged with the students at school every day. For those teaching the Kindergarten classes, patience is a must, especially with this age group. Volunteers are asked to exhibit the ability to use their own initiative when resolving a problem, always being willing to lend a helping hand whenever possible. For primary and secondary school teaching, we ask that the volunteers have a basic understanding of the structure of each school, and the challenges that the South African educational system faces. In secondary school teaching, volunteers must exhibit the ability to handle basic administration tasks.
Volunteer Responsibilities
Volunteers will work in the Kindergarten, Primary, or Secondary schools. The nature of the work depends on the level of teaching.
Crèche/Pre-K/Kindergarten
Volunteers will be teaching and caring for newborns to children six years of age. Certain Pre-K schools only accept children aged 3-6 years, however, so not every volunteer will be working with newborns. Volunteers will work Mondays-Fridays from 7:00 a.m. to 3:00 p.m. The times may also vary depending on the specific school and class. Duties in the Kindergarten classes include preparing meals and feeding the kids. You will create educational aids and toys to be used in the classroom as well as teach from these aids. In the kids' free time, you will be responsible for watching and playing with them.
Primary school
Primary school teachers are understaffed. Many classrooms have forty or more students for one teacher. Teachers often lack the motivation to teach the students because there are so many and it is hard to provide quality teaching. Limited facilities also add a struggle to provide an adequate learning experience. Kids often do not have any recreational activities such as sports, art projects, or music, making learning boring and less fun than it should be. Because of all of these reasons, there is a dire need for volunteers to help make the class sizes smaller and to provide much-needed resources and recreational activities to the children. Volunteers will be working with students aged 6-13. They will attend school Monday-Thursday from 8:00 a.m. to 2:30 p.m., and Friday from 8:00 a.m. to 12:30 p.m. The school day varies based on location and specific after-school programs. Volunteers will assist teachers in the classroom, but will also occasionally teach a class of their own. Volunteers who have skills in music, art, and sports can contribute greatly to the schools to implement recreational programs for the students.
Secondary school
Secondary schools are also very overcrowded with 40+ kids per one teacher. They also lack proper facilities to house these students and therefore cannot provide the students with quality educations. There are not many recreational activities for these students to involve themselves in, making proper education lacking in many South African schools. Volunteers will help provide these students with the resources to a good education, making them more successful for the future.
Volunteers will teach students aged 14-18 years. School days will be Monday-Friday from 8:00 a.m. to 2:30 p.m., with the exception of Fridays which end at 12:30 p.m. The time for school varies depending on the specific school and after-school programs. Volunteers will assist the teachers in the classroom, occasionally teaching a class without supervision. Volunteers with skills in music, art, and sports can greatly contribute to the schools as they can help with recreational programs making learning more fun for the students.
Other Information
Volunteers will live in and around Cape Town, South Africa. They will have the option of either living with a host family or living in the volunteer house. It should be noted that the volunteer house fills up quickly, so living with a host family is usually more publicized. Living in the volunteer house, accommodations are much like those of a college dormitory. Three meals are provided Monday-Friday with volunteers responsible for their own lunch Saturday and Sunday. Volunteers are also responsible for doing their own laundry throughout their stay. While living with a host family, volunteers will usually reside just outside of Cape Town. They will be provided three meals a day but will be responsible for their own laundry as well.
Projects are located at and around Cape Town, South Africa. Cape Town is the capital city, and the most popular tourist destination, and a major destination for immigrants and expatriates to reside in. It is one of the most multicultural cities in the world. Home to a Mediterranean climate with mild and moderately wet winters and dry, warm summers, there are many sights to explore in and around the beautiful city. You will never run out of things to do in your free time, which include visiting Table Mountain National Park, City Bowl, numerous popular beaches, Chapman's Peak Drive, The Victoria and Alfred Waterfront, Two Oceans Aquarium, and more.
FAQ
How many hours a day do I need to teach?

Schools in South Africa are generally in session Monday-Thurday, 8am-2:30pm and Fridays, 8am-12:30pm. These hours may depending on the school and the availability of extended hours. Volunteers are expected to be on site for the duration of the school day while volunteering with the English Teaching program.

Where do I stay? How far is the project from the accommodation? How do I commute every day?

*Teaching placements are available in the City Centre as well as in the local communities surrounding Cape Town.
Volunteers who are placed in a community-teaching project will reside in a homestay. The communities are approximately 30-40 minutes outside Cape Town. Volunteers are provided with 3 local meals daily while residing in a home stay and their project will be within walking distance from the homestay or a short taxi ride at the volunteer's expense.

Volunteers placed in a City Teaching project will reside in dormitory Volunteer House with fellow volunteers. At the Volunteer House, Breakfast and Dinner are provided Monday through Friday only and volunteers are responsible for their own lunches and meals over weekends as well as their own laundry. The project site will be a 10-20 minute commute via minibus/taxi ride that will cost approximately $2-$3.

What is the name of the school I would be placed?

As we work with various projects in and around Cape Town, specific details regarding projects and accommodations will be delivered one month prior to volunteer's arrival once they have been confirmed their placement.

What is the age range of the students in the school?

Primary school students in South Africa range in age from 6-13.

How many students are in the school? How many of them are in each class?

The exact number of students per school will vary from 500-1000+ children; however, there will be approximately 40 children per classroom.

Will I be handling the classes on my own or will there be someone assisting me while teaching?

Volunteers are placed as teachers assistants only and will not be expected to teach their own classes.

Do they have teaching curriculum?

Yes, all schools have a curriculum to follow and will be of assistance in getting volunteers involved.

Do I need to bring teaching materials? Or does the school have teaching materials which I can use?

We advise volunteers to purchase any materials upon arrival once they have visited their project and can assess what exactly their school may need.

Is teaching available all-round the year? When will it close for how long?

*Our Teaching program is closed the first week of December and re-opens mid-January.
There are also school holidays to consider.

Any important information you want to share about this project.

Requirements for volunteering as an English teacher in South Africa include:

Police Clearance Certificate
An active participant who is passionate about teaching