Disabled Children And Teens
>
>
>
Volunteer With Disabled Children And Teens (Cordoba)
Volunteer With Disabled Children And Teens (Cordoba)
Nurture & Help Disabled Youth in Argentina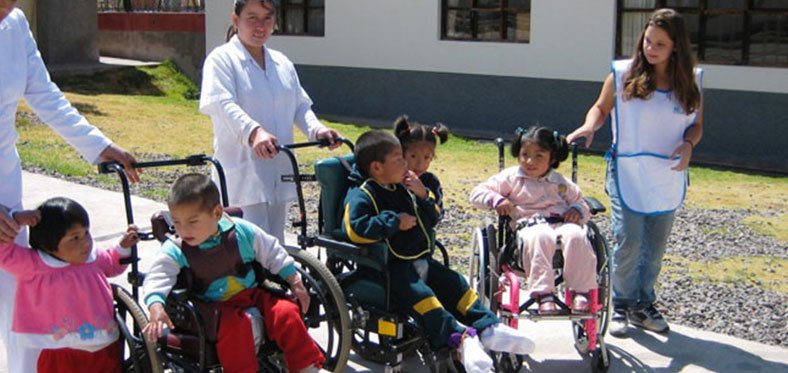 Enjoy beautiful Argentina

Improve the lives of disable teens & youth

Immerse yourself in a new culture

Volunteer abroad affordably & safely
Project Summary
Volunteer with disabled children and teens in Argentina and provide them with friendship, attention, education, therapy, occupational training and recreational opportunities. IFRE works with local institutions where professionals from different teaching areas work together. Volunteers will work as a team with psychiatrists, physical education trainers and educational psychologists. The team of staff and volunteers put their ideas together to create a safe and effective environment for children with special educational needs so they can learn and have fun. This project can be emotionally challenging for volunteers, but extremely rewarding. Volunteers will gain professional experience working alongside other professionals while at the same time, changing futures for disabled children, providing them with the love and support they deserve.
Skills/Qualifications Needed
Volunteers must be 18 years old. Intermediate Spanish skills are preferred. If you cannot speak more than basic Spanish, we suggest you enroll in our Spanish language course to make your stay more rewarding – both for you and the children you help. No additional qualifications are required to volunteer with disabled children and teens in Argentina. However, interested individuals must be enthusiastic, have an affinity for the disabled and be sensitive, flexible, adaptive, patient and proactive.
Volunteer Responsibilities
Working as a volunteer with disabled children and teens in Argentina, you will work 4-6 hours per day, Monday through Friday, but may be asked to work some weekends as needed. Depending on individual skills and interests and the needs of the local staff, daily activities involve, but are not limited to:
Spending time with the disabled and have fun with them

Organize extracurricular activities such as games, sports, art, music, dance, etc

Assisting the teachers and staff with routine tasks and chores

Assessing the physical and mental health of the disabled

Reinforcing information taught in workshops or classes

Organizing events

Assisting children with rehabilitation and therapeutic activities

Leading educational classes or workshops

Supporting organizational and management tasks

Support program development

Fundraising

Working on maintenance of the facilities
Please Note: this project is not available from December 1st to March 1st and 20 days in July, but we can gladly place you in a similar project if you would like to volunteer during this time.
Room/Food/Supervision
IFRE manages your living accommodations either in host family or hostel in Argentina.
Our host families are socially respected and are experienced with hosting international volunteers. They have strong interest in our volunteers' safety and well-being and demonstrate this with caution and care. In most host family situations, volunteers will share a room with another volunteer of the same gender.
Your hostel is located in a charming neighborhood in the city of Córdoba. Córdoba boasts numerous exciting opportunities for volunteers to see a city with a bright future which maintains echoes of its colonial and culture-rich past. Córdoba's vibrant culture has produced a number of influential writers, its own musical style known as "El Cuarteto" (in addition to classical, jazz, rock, pop and techno). There are also many monuments, lively festivals, pleasant theaters and a pulsing nightlife. Volunteers reside in accommodations located just minutes from the downtown area. This unique living situation is often conducive to fellow volunteers getting to know each other. These accommodations also house our local operator's headquarters – ensuring vital and constant contact with our in-country coordinators. Our field staff visits volunteers regularly and always happy to help our volunteers in any way needed.
FAQ
Please provide a typical day activities of the volunteers.

Volunteers generally work in the morning for 4-6 hours, in some cases it can be arranged a change of schedule to work in the afternoon. Volunteer activities are dependent on a volunteer's level of Spanish, their program duration and can include facilitating workshops or classes, organizing events and supporting therapeutic activities. Working with the disabled can be an emotional challenge for volunteers, as well as highly gratifying work.

In this project the participant has the chance to interact with children and teens with disabilities. The institution takes them in and provides them with all the love, attention and a proper education specially planned for them. The staff at the school is formed by professionals of different teaching areas, psychiatrists, physical education trainers and they are all coordinated by an educational psychologist. The ages of those you will be working with in these placements can be varied, and you may find yourself working with young children, teens, and adults.

What kind of accommodation do we get at the disabled children project?

Volunteers will stay in a hostel with fellow volunteers or with a host family, depending on their placement.

How far is the project from the accommodation? How do I commute daily?

There is public transportation available by bus; this place is generally located in the downtown area, which allows volunteers to walk depending on the time of year.

How many children are in the project and what are their ages?

Depending on the location you are assigned to, there may be 30-100 students of all ages, divided between an afternoon and morning shift.

Is this project available all-round the year? If not, when does it close for how long?

No, it is not. Summer vacation in Argentina is January-February with winter break for 15 days in July. The program is not available December 10th – March 1st.

Any important information you want to share about this project.

An intermediate to advance knowledge of Spanish is necessary, particularly because even native Spanish speakers have problems understanding these children and young adults.