Volunteer in Thailand
>
>
Volunteer In Thailand
Volunteer In Thailand
Serve those in need in exotic Thailand!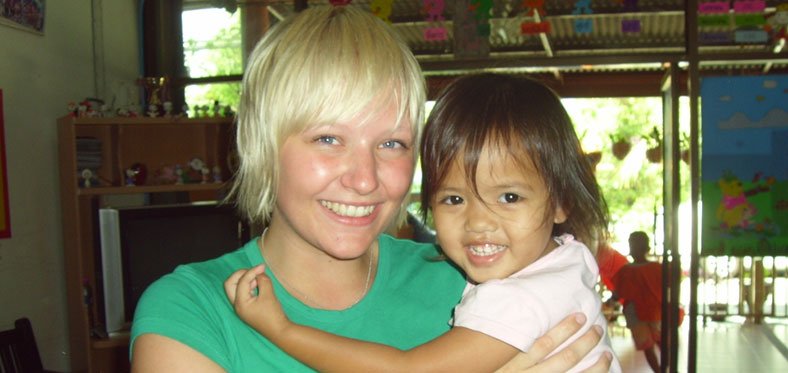 Volunteer in a variety of areas in Thailand

Trusted by thousands of volunteers since 2006

Most affordable volunteer projects, starting at $250

Teach English, work with children, save elephants and more!
Touch the world and be of service to those in need while experiencing the culture of the ancient, beautiful land of Thailand
In Thailand, you will find mega-cities, endless green vistas of rice fields, rugged mountain peaks, age-worn ruins and mystic, picture-perfect beaches. Enjoy the exquisite Thai cuisine and immerse yourself in the language of these venerable people. A choice place to volunteer, historic Thailand is your opportunity to discover ornate, golden temples, urban nightlife and breathtaking natural beauty, while you lend a helping hand to people who need you. As a volunteer in Thailand, you can teach English , work with needy children , volunteer with Buddhist monks and more. Volunteering in Thailand will give you the chance to experience the exotic luster of the country itself and the warm hospitality of its people.
Request your detailed volunteer in Thailand information today.
Volunteer Work Projects and Locations
Volunteer Program Dates
Most programs are available year-round. We recommend volunteers begin their placements on a Monday, scheduling their arrival and departure on the weekends. However, due to flight availability, particularly traveling internationally, start dates are flexible. We ask that all volunteers ensure to communicate their arrival and departure plans clearly to their country coordinator to ensure transportation and accommodations are properly arranged.
Volunteer Program Fee (US$)
IFRE Volunteers strives to provide the lowest fees along with transparency to all of their volunteers!
Most affordable fees
Registered non-profit for tax deductible fees
Transparent transactions ensures volunteers they know where their money goes
Proven quality and safety
IFRE Volunteers is proud to offer the world's most affordable fee for international volunteering and as a 501(c)3 organization, your program fee will be tax deductible.
We are proud to focus on the humanitarian aspect of our business, not on profit. We strive to maintain affordable cost, particularly for volunteers; we recognize the value of your donated time and efforts. We remain devoted to maintaining both the quality of the program and the safety of all volunteers involved.
IFRE fees comprise of two separate fees:
Application fee of $299 USD (covers advertising, staff/office expenses, etc.)
Weekly program fee paid directly to your project (covers room/board, field support, etc).
You will pay your fee directly to host families and projects. In this way, what you pay will go directly from you to the people who deserve it (not for profit).
Weeks
Ayutthaya
Surin:
Teaching/ Childcare
Surin:
Health
Surin:
Elephant
1 Week
$250
$554
$621
$770
2 Weeks
$430
$665
$727
$946
3 Weeks
$610
$752
$837
$1,121
4 Weeks
$650
$850
$944
$1,296
5 Weeks
$800
$931
$1,007
6 Weeks
$950
$987
$1,069
Available
7 Weeks
$1,100
$1,043
$1,132
maximum
8 Weeks
$1,250
$1,098
$1,194
-4 weeks only
9 Weeks
$1,400
$1,154
$1,257
10 Weeks
$1,550
$1,210
$1,319
11 Weeks
$1,700
$1,266
$1,381
12 Weeks
$1,850
$1,321
$1,444
Mandatory Comprehensive Travel Insurance $3.49/day

Airport Pickup & Transfer to Ayuthaya (1 hour) $60

Fee does not cover meals in Sangklaburi and Surin, except in the elephant project. Breakfast is included during the volunteers' stay in Bangkok.

Volunteers arriving on one of your arrival dates to Surin and Sangklaburi will stay in Bangkok for two nights in a hotel and a guided tour of the city will be provided. Following this, you will be transferred to Surin or Sangklaburi.

Summer program $1173 (2 weeks)- includes application fee of $349

Program fee of Medical Project is changing- please email us for latest fee
What's Included in Program Fee? Comprehensive travel insurance, food (only in Ayutthaya and elephant project in Surin), lodging for the entire project period within a home base or volunteer house, donation to project, Thailand office expenses (rent, utilities, salaries, vehicle, etc), communications and international project coordination, 24 hour emergency contacts, full support from our Thailand operations team, the very best daily guidance from our highly experienced in-country coordinators, full and ongoing support.
Two nights hotel accommodation in Bangkok with breakfast and a guided city tour, accompanied transfer to Surin or Sangklaburi, lodging for the entire project period in a volunteer house, 3 meals each day whilst at the elephant project, daily transport to and from the project location, donation to project, daily support of a team member and translator, 24 hour emergency contacts, full and ongoing support, Thailand office expenses (rent, utilities, salaries, vehicle, etc), communications and international project coordination, thoroughly researched and personalized projects, pre-departure information, fundraising ideas and comprehensive travel insurance.
Additional costs for volunteers: International flights, passport, visa, food and beverage expenses, travel vaccinations and your day to day spending money.
Activities in Bangkok before leaving for project location
Volunteers will be personally met at the airport and given complimentary bottle of water.
Free transport and accompanied with a member of staff to their guest house and given assistance with checking in.
Provided with a welcome letter that outlines the orientation and agenda for the weekend.
Free Evening in which to relax at the Guest House or explore Khao Sarn on your own. Our guides will provide recommendations and be on hand to offer 24 hour assistance.
9.00 am Orientation from a member of the team where there project will be based. Our Coordinators will travel from the project locations so that they can meet the volunteers and provide detailed, personal insights into their given project and will then accompany them on all activities.
We then supply a licensed Tour Guide to conduct a walking tour of the major sights in Bangkok such as Wat Pho and the Temple of Dawn with all necessary transportation included. Customers also have the option of visiting the Grand Palace at an additional entrance fee of 500THB.
Later that evening we organise a social event and meal at local restaurant for all volunteers and present staff to chat informally about the project. Food and drink is not included.
Sunday morning the project coordinator will meet the customers at the reception of their guesthouse at a predetermined time to accompany them to either the train or bus stations and ensure that volunteers will board the appropriate transport with them.
Our staff will travel with the volunteers to the project location and offer assistance throughout the journey as needed.
Upon arrival at the project destination, the volunteers will be met by a senior member of the project team and transported to their local accommodation where they will be introduced to fellow volunteers and staff.
Arrangement of Room/Food/Supervision
IFRE manages living accommodations and supervision for volunteers for the entirety of their stay in Thailand. In Ayutthaya, we have a home base for our volunteers. Our home base is very safe. It is a clean, sparsely furnished home but will meet all your needs as an IFRE volunteer. We try to create a "home away from home" for volunteers staying at our home base. It is a perfect situation for volunteers to live safely and comfortably while making many new friends and share experiences.
Volunteers in Surin and Sangklaburi live in volunteer houses with shared bedrooms and communal living spaces. Volunteers will share a kitchen and bathrooms. The volunteer houses are in safe neighborhoods and are close to amenities such as internet cafes, grocery stores, shopping, restaurants, transportation, etc.
Food is not ONLY included in Ayutthaya (3 local Thai meals a day) and is NOT included in Surin. Volunteers in Surin can either cook or eat out. Good local food is inexpensive and readily available. Local food is high quality, inexpensive and a great way for volunteers to engage in the local culture.
Throughout the volunteer project, our local staff stays in contact with volunteers with either face-to-face visits or via email/telephone. IFRE's offices in Thailand and our in-country coordinator serve as points of contact for local volunteers. You can contact us anytime whenever you feel you want to discuss sometime.
Thailand Volunteer Program - Free Time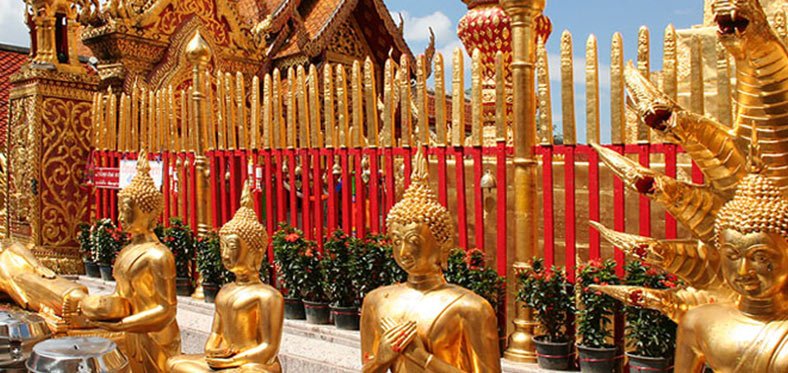 Volunteers have free time for the duration of their volunteer project, weekends and the Language and Culture program. Your free time is an opportunity to explore the nuances of Thai culture at your own pace. While IFRE does not arrange activities during this time off, our local staff, members and coordinators can provide priceless assistance in making appropriate arrangements for travel in Thailand.
There is a Tourist Office in Ayutthaya, which offers information and recommendations. You can take excursions to major tourist areas such as Bangkok. In Ayutthaya City there are old-world charm and an experience, which feels very "Thai." You can see the Grand Palace, many temples and monasteries. This area grants easy access to Bangkok (Ayutthaya) using the nearby local bus (tuk tuk) station, which is only 2 km away, and is easily accessible by walking. This tuk tuk (auto rickshaw) runs to many areas. Useful amenities within 5 km of the IFRE home base are an Internet café, restaurants and supermarkets. The local police station is also located within approximately 5 km from the IFRE home base.
Surin is linked to elephants, silk and the ruins of a Khmer empire. Suay, a tribe of elephant catchers, were domiciled in the forested mountains of this province bordering on Cambodia. Silk weaving is a traditional skill of the province while several Khmer monuments provide the historical attractions. Surin Attractions include: Ban Ta Klang, Phraya Surin Phakdi Si Narong Chang Wang, Prasat Muang Thi, Ban Khao Sinarin, Ban Buthum, Prasat Sikhoraphum , Phanom Swai Park, Prasat Hin Ban Pluang, and Prasat Phumipone. Surin's Elephant Round-up is one of Thailand's best-known festivals, attracting 40,000 tourists during the third weekend of November. Our IFRE local coordinators/staff are available to give you free advice, travel tips and help to book your travel.
Sangkhlaburi is a sleepy town of 15,000 people on the Burmese border. There are people of many ethnic backgrounds in Sangkhlabur like the Karen, the Mon, Thais, Chinese, Lao and even Arakanese and Bangladeshis. This ethnic diversity makes Sangkhlaburi district unique in Thailand. You will love to wander through the local markets, take a ride to Three Pagodas Pass or make a trek to remote villages outside the district town. Sanglkhlaburi is also known for its 400m long wooden bridge that spans across the Vajiralongkorn Lake to connect the Mon village "Wang Kha" with the Thai and Karen parts of the town. Other attractions include the lake, surrounding pristine nature and the submerged temples.
Learn more about Thailand programs