Volunteer in Tanzania
Volunteer in Tanzania
Lions, Tigers & Volunteering in Tanzania!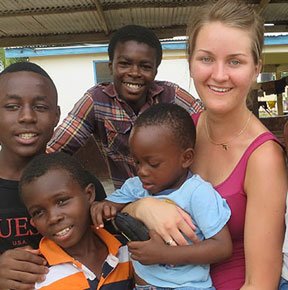 Discover the benefits of volunteering internationally

Trusted by thousands of volunteers since 2006

Most affordable volunteer projects, starting at $150

Experience the culture and scenery of Tanzania through volunteering
As a volunteer, you will enjoy the spectacle of East Africa's Mount Kilimanjaro, or roam through the inspiring National Park of the Serengeti. Challenge your preconceived notions, broaden your horizons and enhance the depth and breadth of your life. As a volunteer in beautiful Tanzania, you can change your life and the lives of others by volunteering in healthcare , education or orphanages . IFRE's Volunteer in Tanzania program allows you to help others while you're savoring the special flavor of a special country!
Travel with us to Tanzania by requesting more information today!
Importance Notice: Volunteers require Class C permit to volunteer in Tanzania. The permit costs US$200 and can be obtained after arriving in Tanzania.
Volunteer Work Projects and Locations
IFRE's Tanzania volunteer program supports local orphanages, women's groups, health centers, local schools and NGOs addressing various social issues. Volunteer projects are available in Arusha, , and Moshi. In IFRE's volunteer Tanzania program, you can use your skills, talents and experiences for the benefit of children and poor communities.
Volunteer Program Fees & Dates:
Volunteer Program Dates
Most programs are available year-round. We recommend volunteers begin their placements on a Monday, scheduling their arrival and departure on the weekends. However, due to flight availability, particularly traveling internationally, start dates are flexible. We ask that all volunteers ensure to communicate their arrival and departure plans clearly to their country coordinator to ensure transportation and accommodations are properly arranged.
Volunteer Program Fees
IFRE Volunteers strives to provide the lowest fees along with transparency to all of their volunteers!
Most affordable fees
Registered non-profit for tax deductible fees
Transparent transactions ensures volunteers they know where their money goes
Proven quality and safety
IFRE Volunteers is proud to offer the world's most affordable fee for international volunteering and as a 501(c)3 organization, your program fee will be tax deductible.
We are proud to focus on the humanitarian aspect of our business, not on profit. We strive to maintain affordable cost, particularly for volunteers; we recognize the value of your donated time and efforts. We remain devoted to maintaining both the quality of the program and the safety of all volunteers involved.
IFRE fees comprise of two separate fees:
Application fee of $299 USD (covers advertising, staff/office expenses, etc.)
Weekly program fee paid directly to your project (covers room/board, field support, etc).
You will pay your fee directly to host families and projects. In this way, what you pay will go directly from you to the people who deserve it (not for profit).
Volunteer Program Fee (US$)
| Duration | All Projects | Medical/HIV |
| --- | --- | --- |
| 1 Week | $175 | $200 |
| 2 Weeks | $300 | $350 |
| 3 Weeks | $425 | $500 |
| 4 Weeks | $550 | $650 |
| 5 Weeks | $675 | $800 |
| 6 Weeks | $800 | $950 |
| 7 Weeks | $925 | $1100 |
| 8 Weeks | $1050 | $1,250 |
| 9 Weeks | $1175 | $1,400 |
| 10 Weeks | $1300 | $1,550 |
| 11 Weeks | $1425 | $1,700 |
| 12 Weeks | $1550 | $1,850 |
Language and Culture Program $250

Summer volunteer and adventure (4 weeks include travel) $2299

Class C permit is required to volunteer in Tanzania costs (US$200 up to 1-8 week) and (US$500 up to 9-12 week).

The permit must be obtained after your arrival in Tanzania. Airport Pick up/Transfer (45 miles) $75
Language & Cultural Immersion program fee includes: Language and cultural training, food and accommodations for 7 days, training materials (books, paper, papers), cost of local sightseeing/tourist sites, recreational activities, cultural programs and additional activities, travel related expenses (one week orientation), Insurance
Additional costs for volunteers: International flights, visa extension, personal expenses on water/soft drinks/entertainment ($1-3 per day), laundry, telephone, immunization.
Language and Cultural Immersion
In Tanzania, IFRE offers one week of Language and Cultural orientation in Moshi. This week long intensive language and cultural immersion program includes: Swahili language training, lessons on history, culture, ways of life, visits to local villages/towns/markets, guided city exploration of Moshi and Arusha and local tourist attractions. This IFRE program aims to submerge you in Tanzanian culture, history and ways of life to vastly improve your time as a volunteer in Tanzania. When you understand the life and culture around you, your experience is richer and more rewarding.
If you choose to participate in this one week Language and Cultural immersion course, your volunteer program will begin the Monday following this one-week of Language and Cultural Immersion taught in and around Moshi. This experience should not be missed! So many international travelers wish they could have an opportunity such as this to receive a briefing on customs, language and history.
Arrangement of Room/Food/Supervision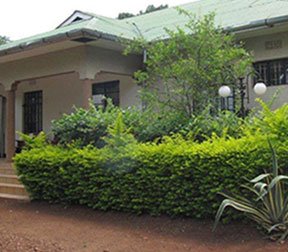 IFRE manages living accommodations, provides meals and supervision for volunteers for the entirety of their stay in Tanzania. During the volunteer period, most volunteers stay in our safe and secure homebase in Moshi/Arusha. IFRE's home base is located in a beautiful area nearly 30 km from the Kilimanjaro International Airport. We try to create a "home away from home" for volunteers staying at our home base. It is a perfect situation for volunteers to live safely and comfortably while making many new friends and sharing experience every day. Most of volunteers project in Tanzania are located within 1-10 KM of our home base so you may walk or ride a local bus to your project. In the evening when you return to home base, you can relax, eat dinner, explore local areas or simply share experience with volunteer comrades. Our home base provides a same-gender shared room and shared bathroom with running water and a "western" style toilet.
Occasionally, depending on volunteer traffic, available projects or distance to a volunteer's assigned project, we may also place our volunteers with carefully pre-screened host families. Our host families are socially respected and are experienced with hosting international volunteers. They have strong interest in our volunteers' safety and well-being and demonstrate this with caution and care. In most host family situations, volunteers will share a room with another volunteer of the same gender. Another viable option is an at-orphanage stay. Many orphanages in Tanzania have set aside special rooms to house international volunteers.
Throughout the volunteer project, our local staff stays in contact with volunteers with face-to-face visits or via email/telephone. IFRE's main office is in Moshi and our in-country coordinator serves as a point of contact for local volunteers. With longer placements, we visit our volunteers every 2 weeks (when possible) and volunteers are always welcome at the local office. If project placement is local, we request that volunteers stop by the office once a week to keep us posted on how they are doing with their home stay and project. If project placement is very far from our main office, then our local staff members maintain communication by either email and/or phone and the local project director serves as a volunteer's contact.
Volunteer Program Free Time
Volunteers have free time for the duration of their volunteer project, weekends and the Language and Culture program. While IFRE does not arrange activities during this time off, our local staff, members and coordinators can provide priceless assistance in making appropriate arrangements for travel in Tanzania. It's the time for self-discovery and learning. It's time to explore Tanzania – it is one of the most unique and amazing countries in the world, offering tremendous opportunities for travel and exploration near IFRE's Moshi and Arusha projects. Our IFRE local coordinators/staff are available to give you free advice, travel tips and helps to book your travel.
Moshi rests on the slopes of Mount Kilimanjaro. This city offers a wide variety of cultural experience as it is home to three major African tribes – the Chagga, Pare and Maasai. Giraffes roam just outside the city and local parks are abundant with wildlife. Local transport is interesting with "Daladalas." These are 16-seat vans, which usually transport about 30 people and/or children and livestock at any given time. A typical Moshi experience is more rural than urban with abundant cultural and market experiences throughout this quaint city where nature's borders and city limits are at times indistinguishable.
Arusha is often overlooked as tourists rush to their safaris, but the city is a diamond in the rough and offers up a cultural kaleidoscope of eating and shopping opportunities, and the interaction with local nature can't be beat. Arusha offers many bars and restaurants, with Indian food being the predominant cuisine. Colorful markets pulse with bargaining opportunities and the local Maasai market boasts and assortment of handicrafts, which can't be found anywhere else in the world. Transport is similar to Moshi's with "daladalas" racing through town. Most travelers see Arusha as a pass-through and not a destination, but an adventurer who embraces this town's eclectic and less-polished vibe will be thrilled with discoveries!
Learn more about Tanzania programs