Nursing and Medical Project
Help disadvantaged people access quality healthcare by joining an
affordable volunteer abroad program
Share your compassion and nursing skills with the disadvantaged to change lives for the better.

Join the ranks of 18.000+ volunteer alumni we have helped make a difference in the world

Choose your favorite program we offer the most affordable volunteer fees you will find anywhere

Work alongside others who treat the patients marginalized from healthcare, and share your vision of a better world for all.

Enjoy traveling with a purpose experience the joy which rewards selfless volunteering.
Take a minute to complete the form and we will be in touch.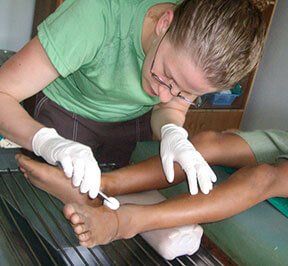 * Medical project in Surin is not available from February 16 to March 30, 2018
Medical volunteers work in Surin, NE Thailand. Volunteers work in a combination of local hospitals, rural community clinics and childcare centers. In addition to our own outreach program, we work in coordination with Surin's Department of Public Health and village leaders.
Our aim is to support rural people in Thailand by providing medical care throughout the year. While volunteers assist existing medical services, our outreach programs bring care to the door of the most needy.
Thailand's rural poor have very little or no access to alternative treatments such as physiotherapy. Presently, medical volunteers are needed in a wide range of medical fields.
General Medical
Thailand's health service provides a limited service to people in rural areas. We would like to hear from all medical professionals in all fields. We are confident that regardless of your area of expertise, we can find a volunteer project for you.
Our medical volunteer work is extensive from assisting medical staff in a rural community clinic, to working on our own outreach program, to helping with healthcare and promotion in schools and childcare centers.
Our outreach program has now been expanded to include more rural villages where medical volunteers assess the health of the villagers, promote health, carry out treatments and provide advice.
For higher efficiency, medical volunteers keep notes to assist future volunteers help these people.
Student Nursing
We seek the support of student nurses to provide nursing care in Surin, Thailand. You will be provided the perfect framework for student nurses to complete their Elective Placement or an internship (subject to agreement from their educational institute).
The scope of nursing work is extensive. Volunteer student nurses will work in a number of walk in health clinics for rural people in and around Surin City. You will assist the qualified Thai staff in all aspects of their work.
Schedule
Volunteers work a 4 day week with the long weekend to relax or travel. On volunteer days our staff will pick you up in the mornings and take you to your project.
Your pick up time will around 8am and you should be returned back to your accommodation by 3-4pm. Our in-country staff works alongside you translating and supporting you throughout your day.
Skills/Qualifications Needed
Applicants interested in joining our volunteer health program must possess a healthcare certification such as an ID as a medical/nursing student, EMT, paramedic certification, nursing, physical therapy, midwifery or physician's credentials.
Volunteers must be proactive, patient, responsible, enthusiastic and passionate about healthcare.
Medical and nursing students looking to join this project must have completed at least their first year of university training.
Room & Food
Volunteers who join the medical and nursing projects will live together in one of several houses rented from the local community. The houses are all located very close to each other and within a very short walk of Surin's excellent amenities including restaurants, supermarkets, shops, internet café's, ATM's, pharmacies, launderettes and much more.
Each house has several twin-shared bedrooms, a basic but fully functional kitchen, bathrooms with hot showers and shared communal areas both in and outdoor. The houses are in safe and well-lit locations of Surin.
Furthermore, the staff office and accommodation is located just 50 meters away and the team is on call 24 hours a day, 7 days a week.
Transport to and from the location is provided for you and included in the overall placement fee. In addition to your transport, a member of our team who will also help to translate your conversations and questions and will accompany you each and every day on your placement.
Meals are not included in the placement fee to give you the opportunity to eat what and when you want too. Food in Thailand, particularly outside of the major cities, is plentiful and very low cost.
There are also many western options easily available should you wish to try a taste of home! For those of you who like to cook, our team will also arrange a couple of evenings to teach you how easy it can be to make your own tasty Thai treats.

These last six weeks of volunteering have been a truly amazing and life-changing & very wonderful experience for me.
Alexandra Miller
- USA

I had an excellent time, better than I ever could have imagined. Other volunteers were so nice and willing to help.
Leslie Slade
- Vermont, USA

I had a wonderful experience. I had the opportunity to teach children of all different ages.I am sad to leave!

Don Maddocks
- USA

My volunteer experience with IFRE has been unforgettable. It has opened my mind & heart. Staffs were very helpful.
Manko Blakely
- Germany
FAQ
DAY 1—ARRIVAL DAY

Upon your arrival in at the airport, you will be greeted by our team who will transport you to, and assist you in checking into your accommodations at Bangkok's famous backpacker hub on Khao San Road.

After you are checked in, you will have the remainder of your day to relax and become familiar with fellow volunteers and travelers from around the world.

Note: If you are not utilizing our transportation services to orientation, please be certain you contact us following check-in so that we may confirm details for your orientation weekend. Complete arrival details will be provided in the 'Making Your Own Way' and 'Airport Pickup' documents.

DAY 2—ORIENTATION & WELCOME

You will begin your day with an introduction to your coordinators and fellow group member followed by an orientation to learn more about your program and Thailand. Following orientation, you will begin a tour of Bangkok that will take you through the old city, with sites of magnificent temples and a riverboat tour. The tour will conclude that afternoon and you will return to Khao San Road for an enjoyable evening.

DAY 3—TRANSFER TO SURIN

For you journey to Surin, coordinators will organize transportation which is typically a 7-hour train ride. Although slow, Thailand's trains are full of character and make the journey and experience in itself.

Upon arriving in Surin, you will be greeted by our local team who will transport you to your accommodations and prepare you for your visit to the medical project the following day. Note: If transport via train is not available, you may be transported to Surin via bus, which also offers a comfortable seat and air conditioning to ensure a comfortable journey.

DAYS 4-7 MEDICAL EXPERIENCE

The hours of the medical project are 09:00 to 15:00. Depending on your schedule and activities, times may vary. You will be informed of any changes by your coordinator.

You will meet with fellow volunteers at a designated location to be transported via truck to the location of your medical program. Travel time from your accommodations to the location is approximately 20-30 minutes.

Upon arrival you will be introduced to the Thai healthcare professionals and be given a brief tour of the facility.

Your first day is normally spent familiarizing yourself with the project surroundings and will be opportunity to observe the Thai medical staff and meet patients. You will break for lunch around midday.

Lunch is not included in the program so you will need to make your own arrangements. Your coordinator can help you order great takeaway meals in advance or you can eat at one of the many local restaurants.

In the afternoon you will have the opportunity to discuss with your coordinator any prior medical experience you may have. Your coordinator will then liaise with the Thai medical team so that they may begin to assign you duties or invite you to observe their practice.

The project will conclude at 3:00 and you will be provided transportation back to your accommodation. Each day you'll be assigned new duties from the Thai medical team through your coordinator or assist/observe them directly.

DAY 8—FREE DAY

Today is free for you to relax and explore Surin. If this is your final week at the program, our team will assist you with planning your onward travel. Those continuing the program will enjoy a three day weekend to unwind fully.

NOTE: Return travel to Bangkok is NOT included, but our team will help you make arrangements.

ADDITIONAL WEEKS: Placements longer than 1 week follow the same format. You'll be at project Monday to Thursday. Friday, Saturday and Sunday are free for exploring.

Where do I stay? How far is the project from the accommodation? How do I commute?

Accommodations are included throughout your stay with us. Your orientation weekend will be spent at a local Guest House on Khao San road in bangkok. Rooms are basic but comfortable:

Twin / Triple Share basis
Air-con,
Warm shower,
Western toilet
En-suite Bathroom
Security Deposit Box at Reception
Wi-Fi (100THB a day)
24 Hour Reception
Buffet Breakfast Included
Refrigerator
Computer Terminals in lobby.

While in Surin you will stay in one of two shared houses with other volunteers The houses are comfortable Thai style homes rented from the local community.

Shared Dormitory Style Rooms with bedding.
Shared Bathrooms with Warm/cool shower & western toilet. (Toilets need to be flushed manually by pouring water from a nearby container. Please put toilet tissue in the bins provided so as to avoid blockages)
Working Kitchen with Utensils, cutlery, kettle, Gas Hob, Refrigerator, kettle
Lounge Area
Free Wi-Fi. (Please note, internet access can be temperamental in rural Thailand)
Fan -Cooled
Mosquito Nets/ Mosquito Mesh Windows

The houses are located a short walk from the Starfish Office and very close to amenities such as ATMs, cafes, restaurants and supermarkets.

You will be picked up by Song Taew (Typical Thailand public transport – pickup trucks with covered seating).

All drivers are licensed and vehicles carefully vetted before use. The journey to the clinic will take approximately 20-30minutes.

What kind of activities volunteers do in healthcare project?

Note: Day to day activities will vary, subject to your experience and current needs of the medical center and community. Typical Duties may include:

Participating in the Hypertension Clinic; focusing on blood pressure, weight and BMI and general health checks.
Participating in the Diabetics Clinic; screening patients for what is a more and more common challenge in the community
Helping educate the villagers about health challenges and remaining healthy.
Joining home visits
Observation
Assessment of child development in the community
Participating in the school health check program including educating young students about the importance of basic hygiene
If you are Medically qualified you MAY be able to assist with the diagnosing of illnesses and treatment, subject to the agreement of the Thai professionals on site and their patients
If you are a qualified Nurse you MAY be able to assist with occasional dressing of wounds, sutures etc although this is of course subject to the agreement of the Thai professionals on site and their patients.
Injection (Need experience)
Assisting with clinics at the local temple, running health checks for the monks
Participating in 'pap' / 'smear' test screening – subject to your qualifications and agreement of the local professionals and patients
Observing the role of the clinic and those working there
Packing the medications and medical materials or packing the medical materials.
Experiencing the way of life in a rural Thai village

Where are the volunteers placed; in clinic or hospital?

Volunteers will work in rural community hospitals. These are comparable in size to most western clinics. In rare cases, volunteers may also be placed at additional and/or alternative locations depend on the changing needs of the community. Volunteer operations are run from our local Surin office:

28/21 Lak-Meung Road, Tambol Nai Meung,
Ampor Meung Surin,Thailand
32000


What are the requirements to join the program?

The program is open to all with an active interest in healthcare. However without formal training your duties will be limited to observation and/or support. Volunteers with formal medical experience may have the opportunity to practice non-intrusive care under the supervision of the Thai medical team. Duties are subject to your competency and formal experience.

Do we get hands on experience at this project?

One of the highlights of the program is the opportunity to help with the treatment of patients. However this will always be subject to the discretion of the professional Thai medical team.

What kind of support do we get during the project time?

You will be assisted at all times throughout the project by an experienced member of our local partner Team. Your coordinator will assist you with translation and liaise with the medical center on your behalf. The professional Thai medical team will supervise you initially, but you'll be given greater independence as you show sufficient competence and confidence.

How many hours a day do we need to work?

The project day is from 9.00am to 3.00pm. However your workload will be determined by the number of patients at the center and schedule of the professional medical team. Typically you will be busiest in the morning as many member of the community will drop into the medical center before they start work. During quieter times, you may be asked to assist with basic administrative duties such as packing medicine.

Is healthcare available all-round the year?

The Medical program is available throughout the year.

Please note that over the Christmas and December/January New Year period our local teams will be on annual leave and projects will be closed for 1 week.

If you are wishing to volunteer during this time please make an enquiry to confirm that the project will be available

Any important information you want to share about this project.

The program is not an intervention, but builds awareness and provides volunteers the opportunity to contextualize the complex healthcare issues of rural Thailand.

This adventure provides a wonderful and culturally immersive experience and we ask that our volunteers have an open-mind and demonstrate a flexible attitude to the practical and cultural differences you may encounter.