Orphanage Project
Work In an Orphanage
Volunteer with the deserving orphans of Nepal!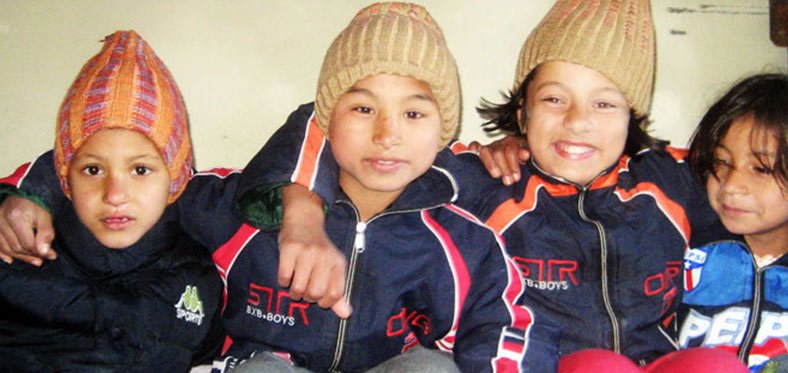 Touch the lives of unfortunate orphans

Plan educational and extracurricular activities for the children

Assist and teach the children in daily life skills and hygiene

Volunteer abroad safely & affordably
Project Summary
A country crippled with political instability and poverty, Nepal needs immediate help for children orphaned by recent wars and violence. IFRE works with more than eight local orphanages throughout Nepal and supporting their activities by sending volunteers and making donations. Volunteers working in Nepal orphanages generally teach basic English skills and organize creative, extra-curricular activities such as games, music, drawing, etc. This program is the perfect place for volunteers looking for a chance to make an immediate and positive difference in the lives of orphaned Nepali children
Skills/Qualifications Needed
There is no specific qualification needed to volunteer in a Nepal orphanage. However, orphanage volunteers should flexible, patient and compassionate. You will be working with young orphans of Nepal, who value love, attention and kindness. We hope that all of our volunteers who work in orphanages realize their importance of gratitude of their presence.
Volunteer Responsibilities
Orphanage volunteers teach English (3-4 hours a day) in the orphanage or local school (where the children attend during the day). Volunteers working in Nepal orphanage offer daily life-skill support with physical and dental hygiene and dressing for school/life. Evenings are a chance for volunteers to show off their creativity by organizing games, drawing, singing, dancing and other creative educational and extra-curricular activities, which may include organizing sports training. Volunteers also playing music and teach subjects such as mathematics, world affairs, personal hygiene and nutrition. The possibilities are endless.
In the evening, volunteers also help children with their homework and help monitor their academic progress. If volunteers are not interested in teaching during the day, they can opt to stay and care for the younger children remaining in the orphanage. Volunteers are also expected to assist with serving and preparing meals, maintaining the garden, various administrative duties and day trip support.
Room/Food/Supervision
IFRE manages living accommodations, meals and supervision for volunteers throughout their stay in Nepal. Volunteers placed in Kathmandu projects either stay at our home base – a permanent home set aside for international volunteers and manned with a local staff, or with well screened host families. Our safe and secure Kathmandu home base is located in a beautiful area of Kalanki, nearly 5 km away from Thamel, a popular tourist hub of Nepal. Most necessary services for travelers are located within 2 km of the home base: internet cafés, restaurants and grocery stores. Our home base is located in the heart of city and provides easy access to volunteer to all parts of Kathmandu. It is a perfect situation for volunteers to live safely and comfortably while making many new friends and sharing experiences every day. Our home base provides a same-gender shared room and shared bathroom with running hot water and a "western" style toilet. Volunteers will have the ability to do laundry at the home base.
Our host families are socially respected and are experienced with hosting international volunteers. They have strong interest in our volunteers' safety and well-being and demonstrate this with caution and care. In most host family situations, volunteers will share a room with another volunteer of the same gender. Another viable option is an at-orphanage stay. Many orphanages in Kathmandu have special rooms set aside to house international volunteers. Volunteers who have stayed with a host family or at an orphanage describe an enriched experience because of having done so. Once you have applied for program placement, you will find the specific details of your accommodations in your personal placement documents for your project. In Pokhara and Chitwan, our volunteers will stay mostly with host families.
Our volunteers will receive three prepared meals per day. Our cooks prepare breakfasts, lunches and dinners of Nepali foods (similar to Indian food, including wheat bread, rice, curry, dahl, chapatti and pickles) for volunteers. If volunteers will be out of the house during lunch hour, they can request a lunch "to go". If traditional Nepali fare does not appeal to volunteers, they are welcome to buy personal food and prepare it.
IFRE maintains offices in Kathmandu, Chitwan and Pokhara to supervise and assist volunteers. However, volunteers working in Pokhara will stay in touch with Kathmandu office by telephone or email and will receive staff visits as often as possible, usually every two weeks.
FAQ
Typical Day Schedule (sample):

7.00am

–

Begin your day with breakfast and tea

7.33 – 9.00am

–

Assist orphans with their homework

9.00 – 9.30am

–

Serve breakfast and help the children prepare for their school day

9.30am

–

Transport children to school

10am – 3.00pm

–

Free time, you can explore the area where you are based, use internet, phone calls, make some travel plans to see around the location. If interested, you can teach in school;

3.30pm

–

Transport children home from school

4.30pm

–

Prepare and serve after school snack

4.00-6.30pm

–

Engage children in activities, sports and assist them in completing their homework

7.00

–

Assist in preparing and serving dinner. The older children will generally read their Books and work on unfinished homework at this time as well.

How far is the project from the accommodation? How do I commute daily?

Volunteers will either be housed on site at the orphanage or within a 10-20-minute walk of their placement, eliminating the necessity of daily transportation.

Could you please send me the contact details of the host family and the project?

Volunteers will receive project details from their country coordinator upon finalizing their application.

How many children are in the orphanage and what are their ages?

We work with several orphanages in Kathmandu, Pokhara, and Chitwan. The number of the children varies in each orphanage with anywhere between 13-35 children in each. On average, there are 20-25 children in the orphanage between the ages of 7-16.

What are the day-to-day activities in the orphanage project? What I actually do?

Help children with their homework
Teach English, science, math, social studies and other subjects as per your interest
Provide love and care to the children
Engage children in indoor and outdoor activities and games
Assist in cooking and serving meals
Lend in maintaining cleanliness by washing the clothes and dishes of the children
If you are interested in raising fund for the orphanage, volunteers are invited to assist in fundraising efforts.
Volunteers are also encouraged to plan an outing or excursion for the children, however please note the volunteer will be funding this.

How many hours a day do we work in the orphanage?

Volunteers normally work 2-3 hours in the morning and 3-4 hours in the evening. There are always plenty opportunities around the orphanage for volunteers to work additional hours like cleaning, washing, shopping and cooking. In average, we say- working hours are 4-6 hours a day from Sunday to Friday. You can take off one day from the project. Since the children do not attend school on Saturday, volunteers are discouraged from taking off this day.

Is orphanage available all-round the year? When will it close for how long?

Yes, orphanage project in Nepal is available around the year.

Any important information you want to share about this project.

It is quite an open project. You have to be very flexible, open minded and ready to help children who are in need. Please do not drink and smoke in front of the children. Volunteers are discouraged from leaving the orphanage after sundown and are expected to return at dusk. The children are extremely loving and volunteers should expect to feel as though this is their home away from home.