Volunteer in Uganda
Volunteer in Kenya
Embark on an affordable and exciting volunteer experience in Uganda!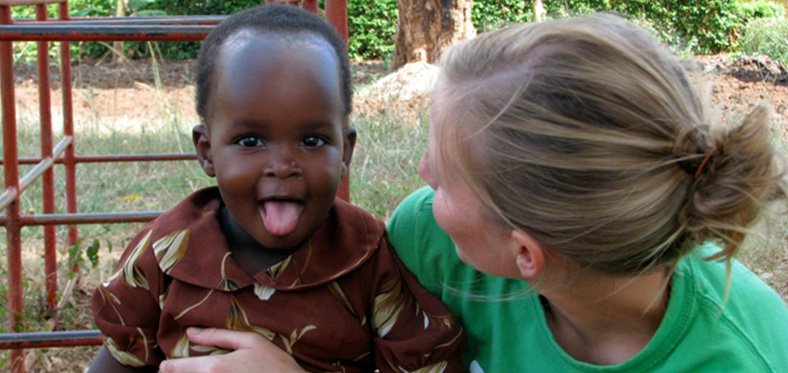 Immerse yourself in stunning culture and scenery

Explore amazing Uganda

Teach English, volunteer with orphans or in medical

Volunteer abroad affordably and safely
Africa – the very name says "Adventure!" And at the geographical heart of the African continent lies the extraordinary land of Uganda. Your opportunity to experience adventure while volunteering to serve the people of Uganda is here today!
Uganda lies astride the Equator, where the East African savannah meets the West African jungle, making this an area of unimaginable biodiversity. There is no other country in the world like it. Over 100,000 species of animals, including 1,200 species of butterflies, call Uganda their home. Explore the world's second largest lake, Lake Victoria, and see the headwaters of the mighty Nile River. IFRE volunteer programs serve orphanages, HIV/AIDS relief, healthcare and language classes. A country full of needs in contrast to its wild panoramas, Uganda offers an indelible experience you will never forget. For all its beauty, the needs in Uganda are great. Your Volunteer in Uganda service will make a difference. To Uganda. And to you. Get more information below.
An email is all it will take to take your first step on this life-changing journey. Write today!
Volunteer In Uganda Work Projects
IFRE's volunteer programs support local orphanages, HIV/AIDS projects, local schools, regional medical/healthcare projects and NGOs working to improve and address various social issues. Our Uganda volunteer projects are located in Jinja, Kampala , and Entebbe . Volunteers can work in any of these volunteer projects in Uganda while sharing their love and skills with the local children and communities.
Volunteer Program Fees & Dates:
Volunteer Program Dates
Most programs are available year-round. We recommend volunteers begin their placements on a Monday, scheduling their arrival and departure on the weekends. However, due to flight availability, particularly traveling internationally, start dates are flexible. We ask that all volunteers ensure to communicate their arrival and departure plans clearly to their country coordinator to ensure transportation and accommodations are properly arranged.
Volunteer Program Fees
IFRE Volunteers strives to provide the lowest fees along with transparency to all of their volunteers!
Affordable fees
Registered non-profit for tax deductible fees
Transparent transactions ensures volunteers they know where their money goes
Proven quality and safety
IFRE Volunteers is proud to offer the world's most affordable fee for international volunteering and as a 501(c)3 organization, your program fee will be tax deductible. We are proud to focus on the humanitarian aspect of our business, not on profit. We strive to maintain affordable cost, particularly for volunteers; we recognize the value of your donated time and efforts. We remain devoted to maintaining both the quality of the program and the safety of all volunteers involved.
IFRE fees comprise of two separate fees:
Application fee of $299 USD (covers advertising, staff/office expenses, etc.)
Weekly program fee paid directly to your project (covers room/board, field support, etc).
You will pay your fee directly to host families and projects. In this way, what you pay will go directly from you to the people who deserve it (not for profit).
Volunteer Program Fee (US$)
| Duration | Fee |
| --- | --- |
| 1 week | $150 |
| 2 Weeks | $250 |
| 3 Weeks | $350 |
| 4 Weeks | $450 |
| 5 Weeks | $550 |
| 6 Weeks | $650 |
| 7 Weeks | $750 |
| 8 Weeks | $850 |
| 9 Weeks | $950 |
| 10 Weeks | $1,050 |
| 11 Weeks | $1,150 |
| 12 Weeks | $1,250 |
Mandatory Comprehensive Travel Insurance $3.49/day

Airport receive/transfer (45 Miles): $75

Language and Culture Program fee $250
Language & Cultural Immersion program fee includes: Language and Cultural training, food and accommodations for 7 days, training materials (books, papers, etc), cost of local sightseeing/tourist sites, cost of recreational activities, Comprehensive Travel Insurance.
Additional costs for volunteers: International flights, visa, daily personal expenses on beverages/entertainment, laundry, telephone, immunizations.
Language and Cultural Immersion
In Uganda, IFRE offers one week of Language and Cultural orientation in Kampala . This week long intensive language and cultural immersion program includes: language training, lessons on history, culture, ways of life, visits to local villages/towns/markets, guided Kampala exploration and local tourist attractions. This IFRE program aims to submerge you in Ugandan culture, history and ways of life to vastly improve your time as a volunteer in Uganda. When you understand the life and culture around you, your experience is richer and more rewarding. If you choose to participate in this one week Language and Cultural immersion course, your volunteer program will begin the Monday following this one-week of Language and Cultural Immersion taught in and around Kampala. This experience should not be missed! So many international travelers wish they could have an opportunity such as this to receive a briefing on customs, language and history. However, you can choose to either enroll in the orientation or go directly to your assigned volunteer project.
Volunteer Uganda Accommodation-Room/Food/Supervision
IFRE manages living accommodations, provides meals and supervision for volunteers for the entirety of their stay in Uganda. We offer a Home Base in Uganda. IFRE's Uganda home base is located in a Kampala. We try to create a "home away from home" for volunteers staying at our home base. It is a perfect situation for volunteers to live safely and comfortably while making many new friends and sharing experience every day. Most of volunteers project in Uganda are located within 1-20 KM of our home base so you may walk or ride a local bus to your project. In the evening when you return to home base, you can relax, eat dinner, explore local areas or simply share experience with volunteer comrades.
Occasionally, depending on volunteer traffic, available projects or distance to a volunteer's assigned project, we may also place our volunteers with carefully pre-screened host families. Our host families are socially respected and are experienced with hosting international volunteers. They have strong interest in our volunteers' safety and well-being and demonstrate this with caution and care. In most host family situations, volunteers will share a room with another volunteer of the same gender. Another viable option is an at-orphanage stay. Volunteers participating in the orphanage project may reside within the confines of the orphanage's compound in a room set aside for volunteers. Once you have applied for program placement, you will find the specific details of your accommodations in your personal placement documents for your project. Our field staff visits volunteers regularly and always happy to help our volunteers in any way needed. We offer 3 meals a day of local cuisine. Typically, volunteers eat breakfast and dinner at the home base (or host family) and have lunch at their project. We offer fresh, nutritious and safe local foods to our volunteers to eat. We also work extremely hard to maintain our facilities in a positive condition.
Uganda Volunteer Program Free Time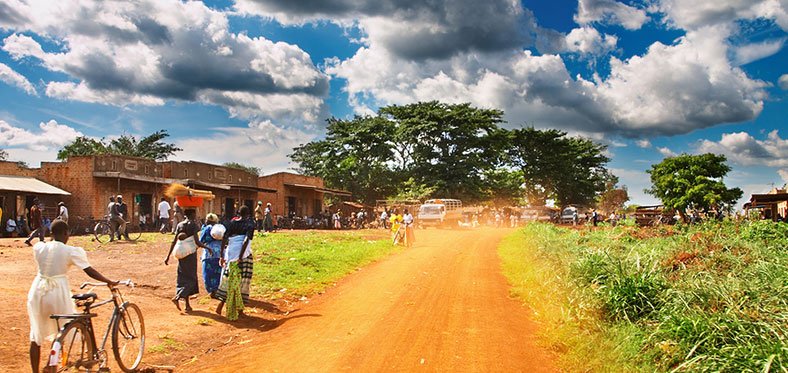 Volunteers have free time for the duration of their volunteer project, weekends and the Language and Culture program. While IFRE does not arrange activities during this time off, our local staff, members and coordinators can provide priceless assistance in making appropriate arrangements for travel in Uganda. It's the time for self-discovery and learning. It's time to explore this foreign culture and exotic land. It's definitely time to visit gorillas or go on safari while in Uganda! Our IFRE local coordinators/staff are available to give you free advice, travel tips and help to book your travel. Uganda has some of the most amazing examples of wildlife, as well as numerous safaris, fascinating landscapes, colorful customs, gorgeous beaches, historic castles, etc. Hikes through the local villages and countrysides can also be the perfect backdrops for an authentic, cultural experience. Our local staff members can provide invaluable assistance in booking travel and/or tours around Uganda. Please discuss your options with our local project staff to find the best way for you to spend your free time in Uganda.
Learn more about Uganda programs